Sheelah Horsfield - 1923-2013
My Mum passed away today - 17 December 2013 - the day of my Dad's birthday. He would have been 97 today. She would have been 90 on 26 December.
She was a good Mum - we're going to miss her terribly.
She posted her Christmas message yesterday and I've left up all Claudia's previous reports.
Crispin.
Sheelah's Christmas message - 15 December 2013
Friday 15 November 2013
Mum probably had a pin stroke today. She was in her chair eating and her eyes rolled into the back of her head and she was out for about 12 mins. It took her a bit longer to recover her speech. We got her back into bed and she slept for most of the day. She is sleeping more anyway these days.
She will quite likely have more.
Saturday 12 October 2013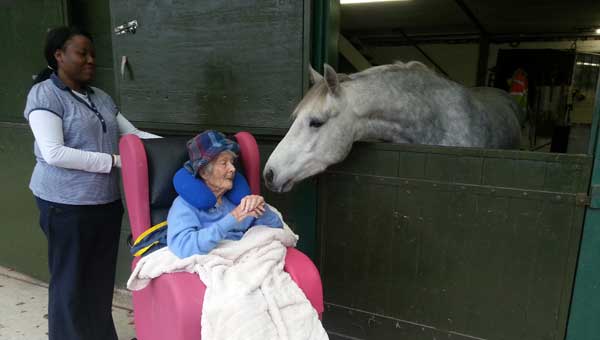 This is Mum saying hello to my new horse Casper. He is just over 15hh, a pure bred Connemara. He is about three and a half years old and has been backed but I will be taking him back to basics.
Saturday 5 October 2013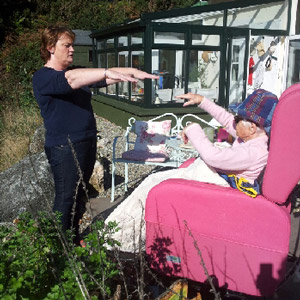 Mum is taking her exercises more seriously. She decided after seeing the Commonwealth torch starting its journey she would mark the occasion by putting her feet on the ground. She has no strength to actually stand but at least she is making an effort.
She is sleeping a bit more during the day but otherwise not much not change really, just chugging along the same.
Wednesday 25 September 2013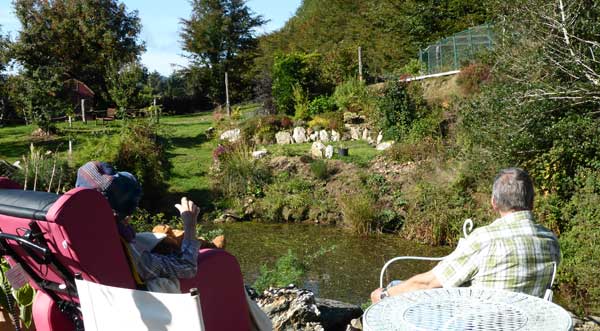 Hugo and David came for a 25 hour visit last week-end (21st/22nd) which gave John and me the chance to stay away a night at a hotel called Monart about 45 mins away. The Spa facilities are in the top 10 in the world and I now have to visit the other 9 to see if I agree!
My nagging has paid off although I do find it very draining. Ma is now exercising her arms and legs daily. Apart from the exercises she does in bed we also put her in her own wheelchair and she makes her best effort to paddle along with her feet.
Sunday 15 September 2013
Crispin reports
I hadn't seen Mum for over two months and she seems fitter than then - though I gather she is reluctant to do the exercises assigned to her by the physio, particularly those for her left arm. That said she did do some exercises on her right arm whilst I was reading to her. She then told me to tell Claudia that she had done the exercises, so clearly Claudia's badgering is having an effect.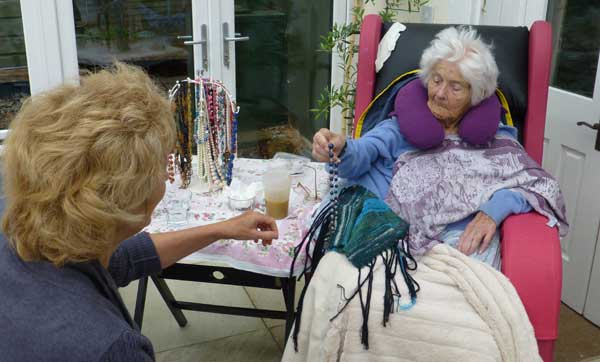 Bev showed her the weaving sample she had done and immediately she was matching necklaces to it. My impression is that she is most receptive to conversation between about 4 and 6:30pm. At other times of day she's watching television - cookery programmes and police dramas seem to be favourite - or reading. Though of course Strictly has started again and this will no doubt keep her interested until Christmas.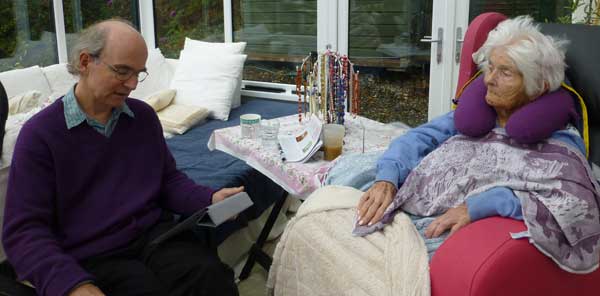 I read The Week to her and, amongst other things, she was concerned with what's happening in Syria and about the economy - so I gave her my take on both. It's good, and somewhat surprising, to find her so engaged with news and current affairs.
Monday 2 September 2013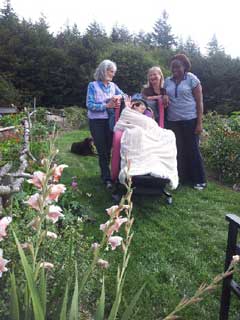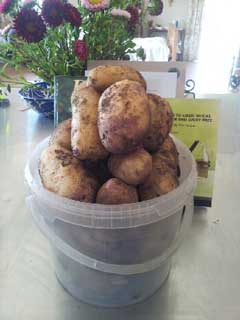 Antonia arrived on Saturday evening and is here until Friday evening. Tina came today so we pushed Mum in her chair into a previously inaccessible part of the garden. It was made accessible with a digger to make a slope that we could push here up on to the lawn. She loved being able to see the the flowers that were planted earlier in the year. I harvested some more potatoes. They were supposed to be early potatoes but we forgot about them so they are huge!
Thursday 29 August 2013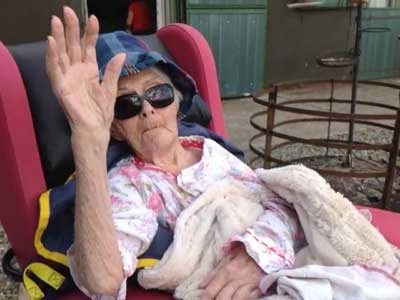 Today Mum ate some lemon cake. It may not sound much but it is the first un-mushed food she has had. You may notice from the picture that she has a new super-duper new riser recliner chair which is bright pink. Hugo took the photos on his iPad because we Skyped him from Mum's iPad to wish him happy birthday. Antonia is coming to stay at the week-end for a week and Crispin & Bev will be arriving on 11 September on a short visit.
Antonia reports
Monday 12 August 2013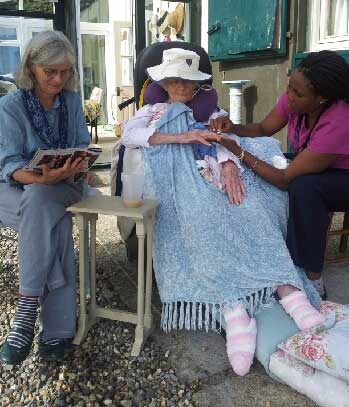 The photo is of Grace painting Mum's nails, a little light relief and keeps her looking as elegant as she would like.
Mum planned a plate painting session for the art group up at the house. This was masterminded by her art teacher, Tina. For a good month Mum has been planning a commemoration plate for her 90th year and today she talked Tina through what she wanted and hopefully we will be able to post a photo when it has been fired and finished.
She also planned a plate for her great grand daughter; Tina again did the sketching in (Mum was very precise about what she wanted so had to start again several times). Claudia and I helped with the painting, quite a group effort! Mum has signed the back of each plate.
Mum retired to bed after a while satisfied to have accomplished this!
Thursday 1 August 2013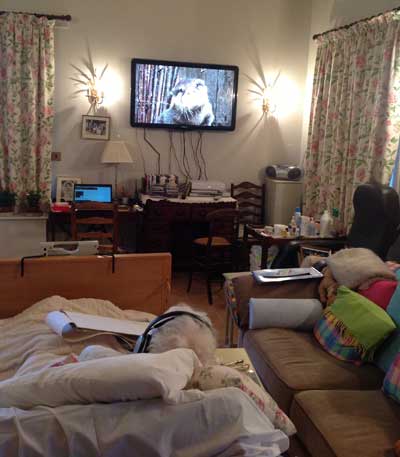 Hugo reports
It's been a month since, we were here last (though it seems like a lot less and even the nurses thought it was a fortnight). Ma has actually made some good improvements. She came off the catheter on Tuesday and this morning had a shower. This afternoon the speech therapist came, to assess her swallowing, so now she can have un-thickened liquids. Her foods can also be mashed and not blended. So - many positives, but she also had an un-responsive moment which may have been her being bloody-minded at being ordered around. She also doesn't like the hoist that gets her in and out of bed, so I suggested she thought of it as a bit like being in the ATA, which she wanted to join in the war. She thought that sounded like a positive way of looking at it. She enjoys watching DVDs on the TV. Today it was Miss Marple (Joan Hickson).
Tomorrow, who knows what we might get up to. Claudia and John are away for a wedding.
Sunday 28 July 2013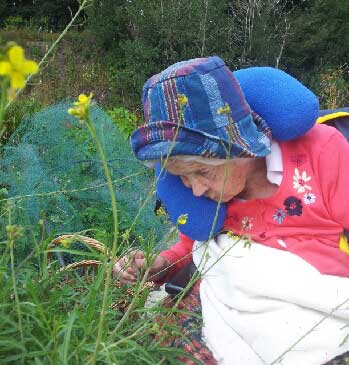 This morning at 2am Mum became a Great Grandmother for the first time! Lucy gave birth to an 8lb (3.6Kg) daughter after 44 hours of labour (eek!). Thank heavens for today being joyful because Mum was very low yesterday. From time to time the restricted nature of her existence gets her down which is not surprising. We tried doing some art without much success. So later in the afternoon we decided to put her in her own wheelchair and take her to the other side of the garden. It took three of us and Mum was a bit nervous but she enjoyed getting into the garden properly rather than just seeing in from the terrace.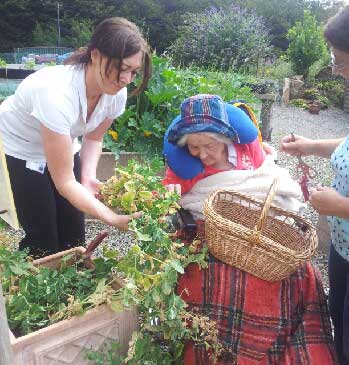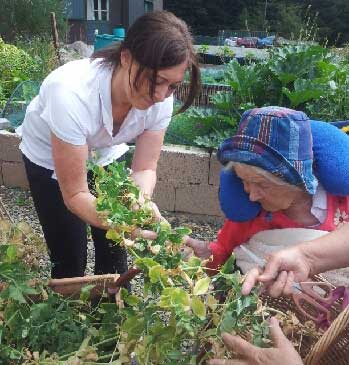 Today we put her in her own chair again and as you can see she managed to do some gardening. She harvested peas, potatoes, courgettes and rocket.
Friday 19 to Sunday 21 July 2013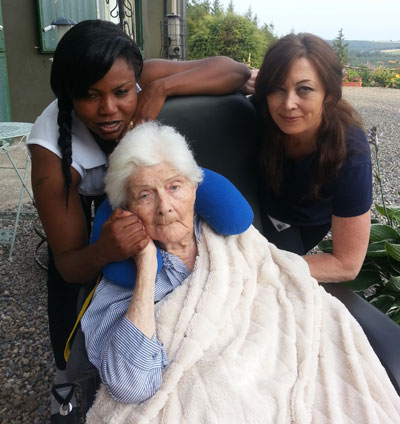 The photo is of Carol and Grace Mum's other carers. Grace is originally from Nigeria but is now married to an Irishman. She met him in the main bus terminal in Dublin, she was heading for Waterford.. .and the romance began. Carol lived in England until the age of 12 years. She has been in Ireland longer than she was in the UK but she has kept her English accent!
It has been very up and down over the past few days. Friday was a very good day. Fionnuala came down and played the harp. Mum was out of bed in her chair in the morning. Spent the afternoon in bed and got up in the evening to sit outside overlooking the garden. It was such a beautiful warm evening.
On Saturday Mum slept most of the morning and was very cranky in the afternoon. She said if there was a doctor or nurse in the room she would stab them with scissors! To tell you the truth I think it was a kidney infection talking. I have learned that sometimes when you think an elderly person is going doddery they in fact have a urinary tract infection. Today she was not in good form so we had the doctor come to see her. He prescribed antibiotics and she seems to have improved.
For those of you that don't know, Mum's first great-grandchild was due today (Sunday) and she did have a chat with her grand-daughter Lucy.
Monday 15 July 2013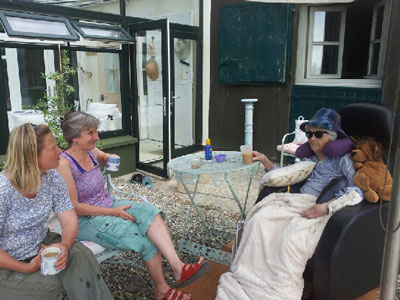 The glorious weather continues. Antonia left this morning at 6 am. She has been the entertainment committee for Ma after Hugo and David left.
Later in the morning Tina (gardener) and a friend Barbara from the art group were here to take morning coffee. Hilary came this afternoon and Ger also came by but Mum was asleep at that stage
Nothing much has changed in Mum's condition. She is still bed-ridden and has a hoist to get her into a chair. The catheter is still there and she has to be changed and washed by the carers. She can use her right arm to feed herself and hold a cup to drink. Keeping her cheerful and entertained is the most important thing although she is sleeping a bit more in the day now.
Wednesday 10 July 2013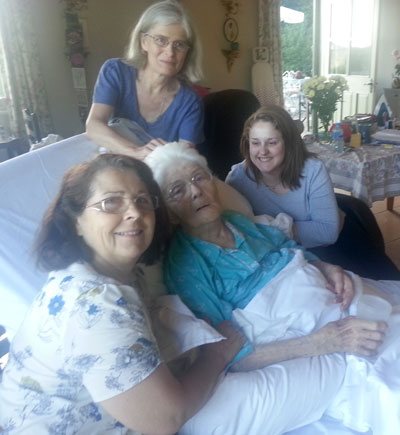 Today Mum had her hair cut by Martina who came to the house. Antonia had her hair cut as well, but in the salon in Shillelagh. We boast two hairdressers and a beautician in our village! In the photo are two of the carers Bernie (left) and Tara (right). Bernie was a nurse in London for twelve years and Tara is a student nurse about to enter her third year. We still have fabulous weather 27°C/80°F in the shade... amazing.
Monday 8 July 2013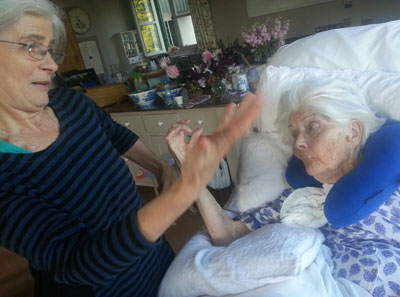 Antonia arrived Saturday evening from Wales. Hugo picked her up from Rosslare and then set off there again with David early the following morning to catch the boat to Wales. The weather is fabulous. If Mum does not feel like being put in her chair to actually sit outside we park her bed in the doorway looking out in to the garden.
Friday 5 July 2013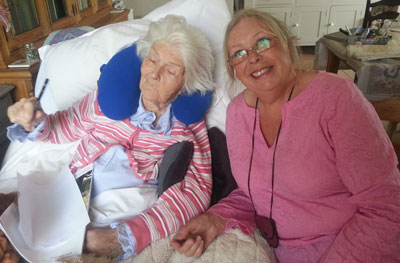 Hugo again: Ma was in her chair watching TV when we went in this morning. Her concentration was total, so we got a cursory wave and that was all. I'm not certain what it was she was watching, but it seemed to involve Italian-Americans. We cut our losses and went off to do some shopping.
Julie Dollman (see Monday) came back after lunch to do some more work with Ma. For this, we pushed her bed over to the doorway so she could see the pond, feel the breeze on her face and get a bit of sunlight on her. After the session Ma dozed and occasionally waved to whoever she could see. Overall a quiet day.
Thursday 4 July 2013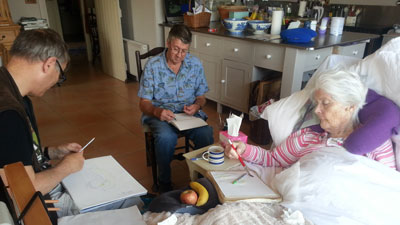 Hugo reports: saw Ma first thing when we arrived off the ferry. She seemed bright (and had quite a hot hand), but apparently had a bit of a disturbed night. We both spent the morning catching up on missed sleep.
After lunch we went in to visit and decided to do a bit of art. David had brought his art toolbox and we raided Ma's supplies as well. I think we can say that pastels get on everything, but aquarelles (watercolour pencils) seemed to work quite well. David meanwhile did a drawing of Ma in bed. By the end of it, we were both pretty tired (hats off to Claudia, however enjoyable, it is hard work). Overall, better than when I saw her last in Naas and much happier for being at home, but this is a slow process and she does hallucinate at times, which can be a bit unsettling. A goodish day then, but with the usual frustrations.
Monday 1 July 2013
Today Mum had a visit from a friend of mine, Julie Dollman, who is a shamanic healer. (For those of you who are interested: www.aynishamanichealing.eu). She opened a sacred space which was a beautiful ritual. Then she sat and talked to Mum. To cut a long story short Mum looks more peaceful and content than I have seen her since she first had her stroke. Mum admitted that she had been in a very black space for the past two days. It is very difficult having a mind which works and a body which does not.
Thursday 27 June 2013
This morning I put on the DVD of Quartet for Mum but it was a bit difficult for Mum to follow so I put a film version of Carmen on with Placido Domingo which she enjoyed. A friend came to visit as well, so a quiet afternoon was in order.
Wednesday 26 June 2013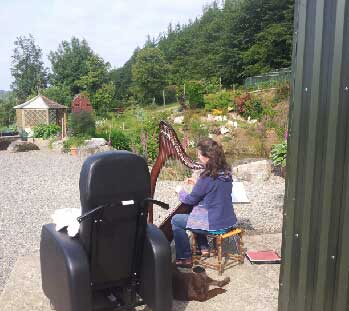 It was such a beautiful morning that we had a concert outside. The birds were tweeting in the background and there was the sound of lapping water as Fionnuala's cocker spaniel swam around the pond... much to Fionnuala's disgust.
Tuesday 25 June 2013 22:10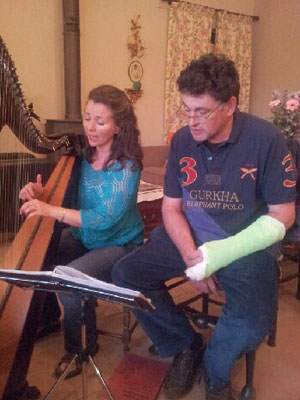 Back by popular demand. Fionnuala gave another recital - this time with John singing from the same song sheet.
Tuesday 25 June 2013 08:52
Now that Mum is back at home, these reports are less likely to be daily, so don't panic! Progress will be slow.
Monday 24 June 2013 21:41
Another busy day today. Crispin and Bev left at 6am this morning to catch the ferry. We had a changeover of carers at 10am. That meant new faces for Mum to get used to. Tina the gardener came at 10:30. Mum wrote on a piece of paper for Tina "Too many faces"! The middle of the day was relatively quiet but Gary the electrician/friend and Johnny (step-grandson) came by around 6pm. They were sorting out a television for North barn... maybe tomorrow will be quieter. Mum seemed to cope well with it all but she was definitely tired this evening.
Sunday 23 June 2013 18:24
The doctor called today and prescribed antibiotics for an infection. After that Crispin suggested putting a TV at the end of the bed and immediately there came the question: "When's the Grand Prix on?" With a bit of luck, the TV can be fixed up tomorrow (Monday) so she can catch up on some of her favourites.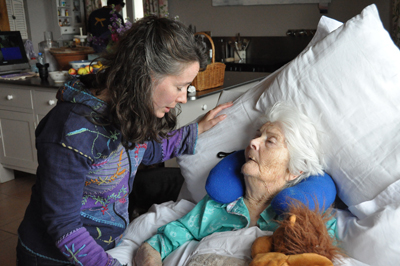 Fionnuala came down from Dublin for lunch and to play Mum some music on her Irish harp.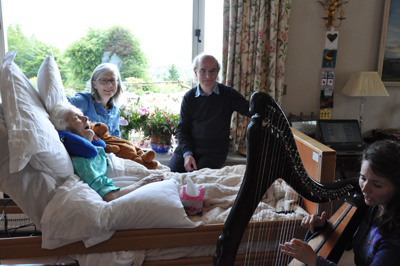 After lunch Fionnuala played songs and lullabyes - one of which sent Mum to sleep - but that's what lullabyes are supposed to do. She did wake up again and John even joined in though his and Fionnuala's words differed from time to time. If you want to hear the kind of thing that was played go to her YouTube page.
Later on Antonia and Lucy skyped Mum separately. She is taking in news because she plays bits of it back to us from time to time.
Crispin and Bev are off tomorrow morning at 6am to catch the boat from Rosslare back to Fishguard. They will be taking the opportunity to pass by Antonia's new house on the way back to Bristol. Antonia, Hugo and David are going to be passing through next week.
Saturday 22 June 2013 21:41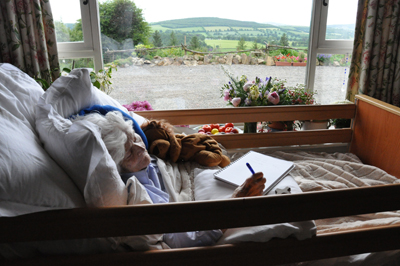 A quiet day today recovering from the exertions and excitement of yesterday's move. It's going to take a few days to get used to the new regime and possibly the fact that she's fairly helpless on her own at the moment, which we guess will be frustrating. She spoke to Hugo on Skype for 10 minutes this afternoon. Brenda called by to give some acupuncture to John (and en passant to Crispin) during which she also said hello to Mum. Tomorrow there is a concert planned - more on that after the event.
Friday 21 June 2013 20:46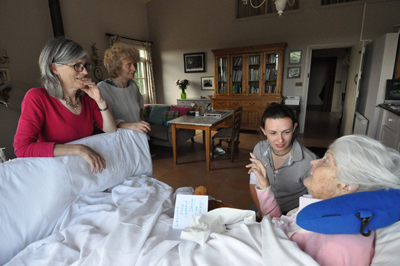 A change of reporter today: Crispin (and Bev) went to Naas General Hospital at mid-day to prepare to take Mum back to Ballynultagh. Mum was very keen to get out of the hubbub of the stroke ward (the radio is on most of the time). Lunch came around but only a few teaspoons were managed. Of the many medical professional that passed by, the dietician said she had a good weight - it turned out to be the same as Bev's(!), so she must be getting enough input from somewhere. The ambulance arrived at about 1:30 and Mum was swiftly transferred to the ambulance. However the driver had never heard of Shillelagh (although it turned out she came from a place on the coast not that far away), so I went in the cab to help with directions. An hour and a half later and she was at 'Horsfield' and the nurses took over and installed her in the sitting room.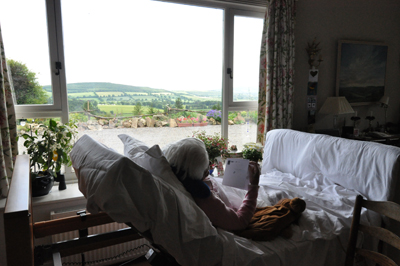 She was shown the flowers and cards that people had sent before having a sleep. It was grand to have her back and she seemed to be visibly benefitting from it. We even had supper together, though Mum's ration had to go through the blender first. When asked if she wanted some Häagen-Dazs ice-cream, the answer was an unequivocal 'yes'. There is no doubt she will be tired today, but she should get a good night's sleep in a quieter environment.
Thursday 20 June 2013 19:58
Mum was put in a chair again this morning and she had another non responsive moment. Never mind because she is coming home tomorrow. Hooray! The ambulance is booked for 2pm so she should be home by 3.30pm. She was very tired when I saw her around 5pm. She ate with her eyes closed, just opening mouth when I asked her. My sister in law Mary said she did chat a little bit but seemed grateful when Mary suggested she should have a siesta and wait for me to arrive.
Wednesday 19 June 2013 20:28
Mum was put in a chair for a few hours this morning and today it proved too much for her. She had a 'non-responsive' moment. So she slept mostly when I was there. She woke up for her tea though and ate quite well. I still do not have the time for the ambulance on Friday but I do know it has been ordered. Only one day and two sleeps to go.
Tuesday 18 June 2013 20:06
The good news is that I finally have a time for the hospital bed, hoist, chair and what ever other equipment is supposed to be arriving... the bad news is it is on Friday morning not Thursday. I should have a confirmed time for the private ambulance tomorrow for Friday afternoon. I will breathe a big sigh of relief when Mum is finally installed. I hate her having to hang on for another day.
She was very tired today because she had a bad night but the nurse said they would give her a sleeping pill tonight. If she has a good night she could be as bright as a button tomorrow.
Monday 17 June 2013 21:14
Mum was tired today but she was sitting in her chair for three hours this morning and I am told that is very tiring. The good news is that they do not think she will need oxygen or intravenous fluids when she comes out. All is still on track for Thursday but I would feel better if I was sitting looking at a hospital bed and the rest of the equipment here in the sitting-room!
Sunday 16 June 2013 20:45
Mum was in good form but a bit tired today. She had been in a chair this morning but had been nodding off so they put her back into bed. My sister in law Mary visited her from 2-4 pm and I arrived at 4 pm. She was quite chatty. She said she had found the short stories I had left her listening to yesterday a bit confusing so that was not a great success, she prefers listening to music. The thought of only being in hospital for three more days is definitely giving her a lift. It is giving me a lift too!
Saturday 15 June 2013 19:03
Mum was much brighter today and more talkative. However when visiting time really gets going it is like being in the middle of a drinks party and you cannot hear yourself speak, so I put the music in Mum's ears and she had a little sleep. When all the others go I stay on and feed Mum so we were able to talk again.
Friday 14 June 2013 20:18
Mum was much the same today. She wanted to sleep at 2pm but there was too much noise from the other visitors so I put the the music in her ears and a scarf over her eyes. She was able to sleep then. She woke up at 4pm and I read to her for a bit until she dozed off again. I discovered at 5pm she had had a bad night, hence the tiredness today. The good news is that she is not on any medication at the moment.
Thursday 13 June 2013 21:37
Mum still seems to be conserving energy. I know this because when I was there she was not talking much but when Lucy phoned she made an effort. Her voice sounded strong and her speech was easy to understand. I brought her a discman and some short stories to listen to with real actors reading... and she prefers live readings! I did however put on Dad's Army for her when I left so hopefully that will have made her chuckle. Hopefully this time next week she will be home.
Wednesday 12 June 2013 20:55
I saw Mum for about 30 minutes this morning before I met with people to plan her discharge. She was sitting in a chair but she was not very lively. I asked her why she was pointing and writing rather than talking and she said she was lazy. I suspect she is finding talking too much effort. When I came back from the meeting she was unresponsive. Her eyes were open and she was breathing but she does not respond to her name or any movement in front of her eyes. They lifted her back into bed and she came back to normality. I stayed with her for a while until she slept and then went shopping (no food in the house!) and got back to her at 4.30 pm. She ate very well but was still not really talking. I read to her and left at 7 pm. All is still on course for having her home tomorrow week with two carers being here around the clock.
It was her wedding anniversary today - just the 65 years - so I took a picture of her at her wedding. Unfortunately the French ATC strike prevented Crispin and Beverly from arriving.
Tuesday 11 June 2013 20:44
Mum was brighter today. John said she ate well but then became tired and went to sleep so he left at about 6.30 pm. I will be going up tomorrow morning. Crispin and Bev will be visiting in the afternoon, French air traffic controllers willing.
Monday 10 June 2013 20:12
The woman from "Home Instead" came by today. We have another meeting planned at Naas Hospital on Wednesday with the doctors and nurses to discuss Mum's requirements. We are still aiming to bring her home on 20th June. Tina, the gardener, went to visit her today. She said she was quite sleepy and would nod off but when they were talking she was on the ball. I went in at about 4.30pm and she was a bit like the dormouse in Alice in Wonderland, she work up for her tea and ate quite well but went back to sleep again! She seems content though and is looking forward to coming home.
Sunday 9 June 2013 20:29
I had a day off visiting Mum today. It normally takes up 6/7 hours of my day with all the driving. My sister-in-law Mary saw her this afternoon and I spoke to Mum on Mary's phone. Johnny, my step-son, saw her this evening and he said she was very sleepy. She was only awake for about 30 mins out of the 2 hours he was there but she seemed quite content and chatty when she was awake. Tomorrow the woman comes from the agency to sort out carers/nurses and equipment for Mum to come home. (Hooray!)
Saturday 8 June 2013 21:56
Mum was quiet again today. She was not put in a chair this morning because of the non-responsive moment yesterday. A doctor came to check her lungs as her breathing is a bit laboured but there did not seem to be any obvious fluid. At about 6.45 pm she went for an x-ray so we came away and will not know what the result is until tomorrow. We finished Clare Balding's book so now I will have to find something comparable.
Friday 7 June 2013 21:49
This morning they put Mum in a chair and then had to put her back into bed because she had a "non-responsive" moment. She was having a echo-gram on her heart when I arrived. She seemed a bit pale and tired and she rested mostly. She did however perk up around 5pm and I thought she ate well - lentils, and leeks from her garden and fresh mango. She was listening whilst I read her book but she was not talking much. I could see her mind was being very active and she asked me for pen and paper before I left. She seems to be working things out on the paper but I could not tell you what the hieroglyphics mean!
Thursday 6 June 2013 20:58
I have set a date for Mum to get out of hospital! The doctor is reluctant to give a date whilst she is medically unstable so I suggested the 20th June. They have two weeks to make her stable. There is a lot to organize at this end from a hospital bed with the air ripple mattress that stops bed sores, winches and of course carers/nurses.
Back to Mum she was sitting in a chair most of the day which is good. She was unable to stand for the physio this morning but she has been in bed for a few days so it is not surprising she is weak. Now that she has a date to work towards I am sure that will help. She seemed bright though and enjoyed the food I brought her.
Wednesday 5 June 2013 20:59
They put Mum in a chair this morning but she did not have any serious physio so she was in good form this afternoon. I have started taking real food in to her now that she can eat. Today it was a banana and apple juice smoothie with a protein powder in it. That went down well and she has requested fresh pineapple and fresh mango for tomorrow! I am just grateful she is taking an interest in food again. Tomorrow I hope to get a release date from the medical team. It would be good to get out of limbo land and Mum would have something to look forward to.
Tuesday 4 June 2013 20:39
Mum was on good form today. I went in this morning in the hope that I might see a doctor, I am beginning to think that they hide in cupboards when I arrive. However Hugo saw one this afternoon and she said they wanted to keep Mum for another two weeks. They would like her to be able to walk before she comes home. They have changed her medication for the constipation and she is on antibiotics for a urinary tract infection.
She is still enjoying Clare Balding's book and she also asked for pen and paper and Hugo thought that her writing was rather good.
Monday 3 June 2013 21:44
The general consensus is that today was a good day. Mum is quite strong because she has not had physio for three days because today is a bank holiday. She is enjoying Clare Balding's book being read to her and it is lovely to hear her chuckle. She also talked to Tina the gardener on the phone and was happy with the update.
Sunday 2 June 2013 21:49
I had a day off from visiting the hospital today but I did speak to Mum on the phone. I thought her voice sounded quite strong and it was easy to understand her. Hugo and David visited her and they said she was quite tired but did perk up at about 7.30 pm. She said she would like to read Clare Balding's new book when she gets out.
Saturday 1 June 2013 21:48
When I arrive to visit Mum I always let her know I am there, even when she has her eyes closed, just in case she is dozing and not sleeping.
"Hello Mum it's me"
"Tina?" she inquired hopefully. Tina is her gardener so I took it as a positive sign that she is thinking about her garden. I got Tina on the phone and she had a conversation with her and then she asked for the music in her ears so that she could go back to sleep with a smile on her face. Hugo and David visited her this evening and found her in good form. They went through the gossip in Hello magazine and when she had had enough of talking Hugo read to her for an hour from her book.
Friday 31 May 2013 19:59
It started off a disappointing day today. I was with Mum for three hours this morning but they had had a few new admissions the night before and the medical team were busy. However my sister-in-law Mary was there this afternoon and the Doctor said they were going to up her fluids by tube, she was allowed to eat and she would have enemas every day.
Despite having had glowing reports from the physio for the past three mornings, this morning Mum was very tired and although not sleeping she was not trying to talk. She did not ask for her book to be read so I put some music on her head phones for her and she dozed. She was also quite quiet this afternoon when Mary was with her. However this evening when Johnny (step-grandson) went in she had good energy, was chatty and demanding cups of tea.
Thursday 30 May 2013 21:47
Two steps forward one step back. Having had the lovely news in the morning it was very disappointing to get to the hospital this afternoon and find that Mum had has an episode of "non responsiveness". To the extent that they thought she was not going to come back. Having said that she was awake and more alert than she has been for the last two days! Everything is so contradictory. Tomorrow I am going to the hospital in the morning to see the 'team' so maybe things will be made clearer. I am afraid she is nil by mouth again.
Thursday 30 May 2013 13:28
John had a phone call from the physio just now and she is very happy with Mum's progress. She is sure that Mum will get home, especially as she understands that we will be able to organize 24 hour care for her. She thinks that she will be walking again and if we or the physio team think that the hospital is holding Mum back then we can have a talk with all parties and sort something out. Nobody wants to put a date on any thing but I am happy to stick my neck out and say we will have her home before the end of the month.
Wednesday 29 May 2013 19:51
When Lucy, Tom and I arrived today Mum had no tubes in her! No oxygen for her nose and no nutrition via a drip. Having said that by the time we left at 6pm they had put a line in her for hydration as they felt she had not drunk quite enough today but it is definitely progress. The nurse said the physio had gone well in the morning but it does tire her out. She only really woke up around 5 pm, a bit like the dormouse, in time for her food. Tom read to her for a bit and then it was back to sleep.
Tuesday 28 May 2013 22:55
Great Progress today. Mum had physiotherapy this morning and went for a small assisted walk for about a 16 foot round trip. She is also eating sloppy food (hooray!) and drinking thickened water. Also she sat in a regular arm chair from 10 am - 4 pm. However it has tired her out. She was asleep when I arrived at 2 pm and she barely woke when they moved back into bed. She was awake to eat a bit at 5 pm and I left at about 6 pm. Lucy and Tom flew from England today and spent half an hour with her this evening.
Monday 27 May 2013 18:38
Mum had a moment of "non responsiveness" today. They think it was to do with the heart rather than the brain, in other words a faint. They had been planning on letting her eat today but this has set the plan back again. When I saw her this afternoon she was tired but completely on the ball. I gave her the "garden report" and mentioned the white Irises that Hilary gave her were in full bloom and looking splendid. When Hilary came in about an hour later Mum told me to tell her about the Irises.
Sunday 26 May 2013 17:34
Tina (Mum's gardener) visited today and Ma was in good spirits - she wants 24 delphiniums and lots of roses planted.
Saturday 25 May 2013 20:15
Ma was very peaceful today... so peaceful that she slept the first two hours that I was there! I noticed the swelling of her right hand and forearm had gone down. When the nurse came to check her blood sugar levels by sticking a "pin" in her I saw just the back of her left hand is swollen now. Obviously that did not wake her because she has no feeling in her left arm.
Even when she awoke she seemed content. She did not talk much but she did tell me last night she had been at 8 mile beach on a sand spit with her father who looked well and suntanned. Her mother and brother were also there and the cook was preparing their breakfast. If I remember rightly when she was a child she, Grandma and Dennis used to go and stay at the beach (in India) and Grandpa would visit them when he could get away from work.
There are not many staff at the hospital on the week-end and the ones looking after her did not really have anything to report.
Friday 24 May 2013 21:03
A much better day today, mind you yesterday was particularly bad! I was summoned to the hospital "as quickly as you can, without breaking the speed limit" because they wanted to discuss a procedure they wished to perform. When I arrived they gave me a long list of things that could go wrong and then they asked me to sign a consent form... you can imagine my state!
Moving swiftly on to today Mum had physio this morning and they had her out of bed in one of those chairs that looks like a better than First Class airline chair. She has a rubbery T-bar to exercise the muscles of her mouth and tongue. She looks like a cross between Popeye and a puppy with a chewy toy. She still has nil by mouth but she is strong enough to use a bedpan so that is progress. Her nutrition is still via a drip. She no longer has the oxygen tube in her nose so they must think the oxygen in her blood is high enough.
On the downside her fore arms and hands are red and swollen especially the left one in which she has no movement. She is pretty good spirits but feels like she is in prison being prodded and poked and cannot wait to get back home to her garden.
Thursday 23 May 2013 14:58
The procedure to clear the blockage is now over, but the results were inconclusive - ie no immediate cause for the blockage was found but there might have been an 'airlock'. We'll have to wait and see if anything has changed.
Thursday 23 May 2013 14:11
She's just going in for a procedure to remove the blockage in her digestive system. Obviously this is not entirely without risk, but she will be sedated rather than anaesthetised.
Wednesday 22 May 2013 20:03
Medical things first. She still has the blockage in her digestive system so it is still nil by mouth. They have changed her drip from just re-hydration to nutrients, so hopefully that will make her stronger. They have taken the tube out that was going to her stomach via her nose which was hurting her nose and uncomfortable in her throat. She seems to be able to hold her eyelids open for longer but her sight is not very good.
She seems in good spirits, quite chatty with my sister-in-law Mary at the 2-4pm visiting hours. When John went in at 6pm they spoke for a bit. Lucy spoke to her via John's phone and then he read to her. She was starting to doze so he left her listening to Andrea Bocelli on the MP3 player.
Tuesday 21 May 2013 20:34
Dear All
Mum was much stronger today but she does have a blockage in her digestive tract. When this clears she can have thick liquid or sloppy food. The 'nil by mouth' is horrible for her. Also the tube up her nose and into her stomach can be removed. So any prayers, meditations, visualizations (whatever your beliefs dictate! ) to clear the blockage would be gratefully received by Mum.
love
Claudia