From Semaphore to Satellite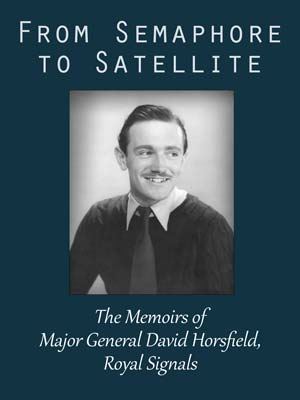 Author: David Ralph Horsfield (1916-2008)
Dedicated to Sheelah
Contents
Chapter 1: Childhood
My story starts with my parents' wedding in 1914 in the Kentish village of Ringwould between Dover and Deal. My maternal grandfather, a parson, was given the living there through a family connection with the Monins family. The large Rectory was a happy family home with the Monins in the main house close by. The children of both families were brought up together and became lifelong friends.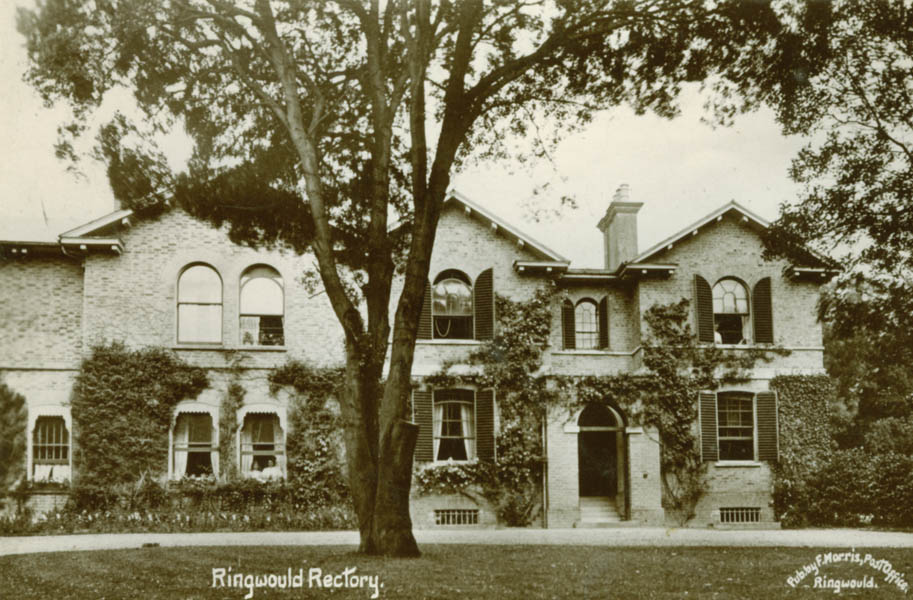 Ringwould Rectory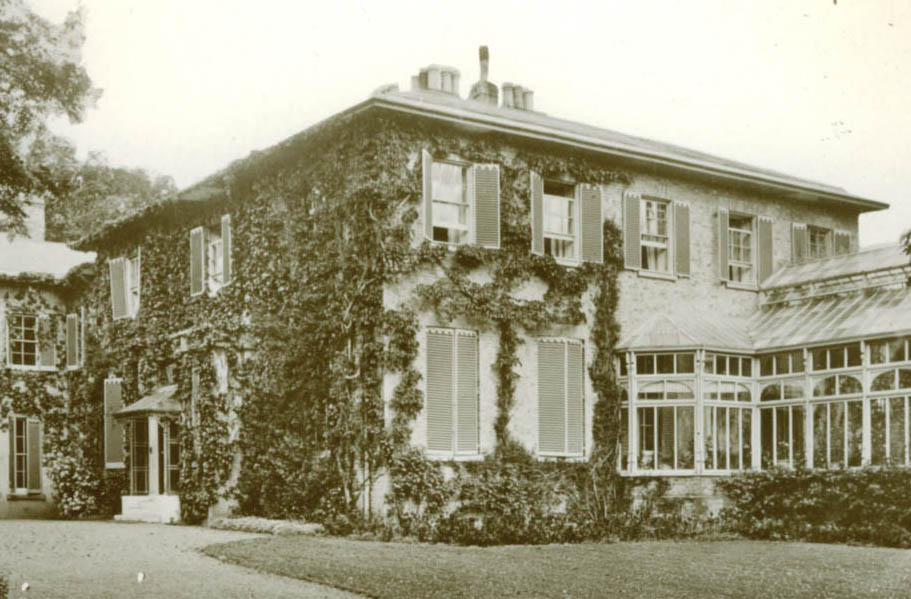 Ringwould House
In one of the family scrapbooks I recently came across a report of my parents' wedding which mentioned that Bridget Monins, a child at the time, had held the bride's bouquet. I sent a copy of the report to her, now Mrs Toynbee and well into her nineties. Her reply said that she remembered it well. She also recalled walking to the station with Isla, my mother's sister, where my father would catch a train back to military duty. My parents lagged behind. My Aunt Isla whispered to Bridget "Don't look round - they are getting engaged".
There had been an earlier hurdle to clear in those days, agreement on the Marriage Settlement. My godfather Cyril Nairne, who was a London solicitor, told me of the long debate that took place between the two fathers in his presence. After a suitable sum had been agreed the two nearly fell out over the timing of the payment. On my paternal side payment at once was suggested but the maternal side favoured delayed payment. Some accommodation was eventually achieved.
This may all sound like the plot of a Jane Austen novel. I tell it to illustrate that little had changed from Victorian times in my early life. In many ways I was brought up a Victorian.
My mother and father, Morah and Ralph, were married in December 1914 - just after the Great War started - and in those tempestuous times the next year was not to be a good one for the new family.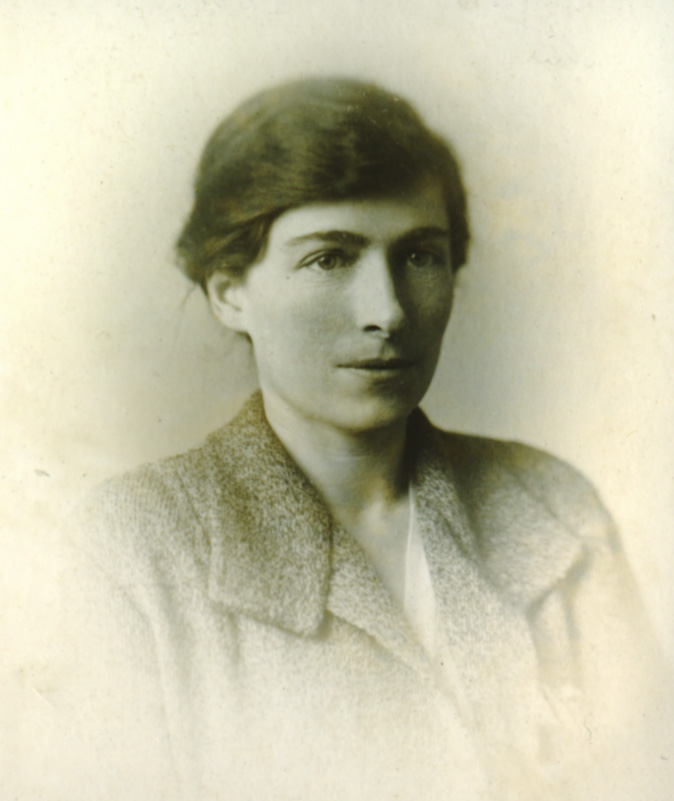 Morah Horsfield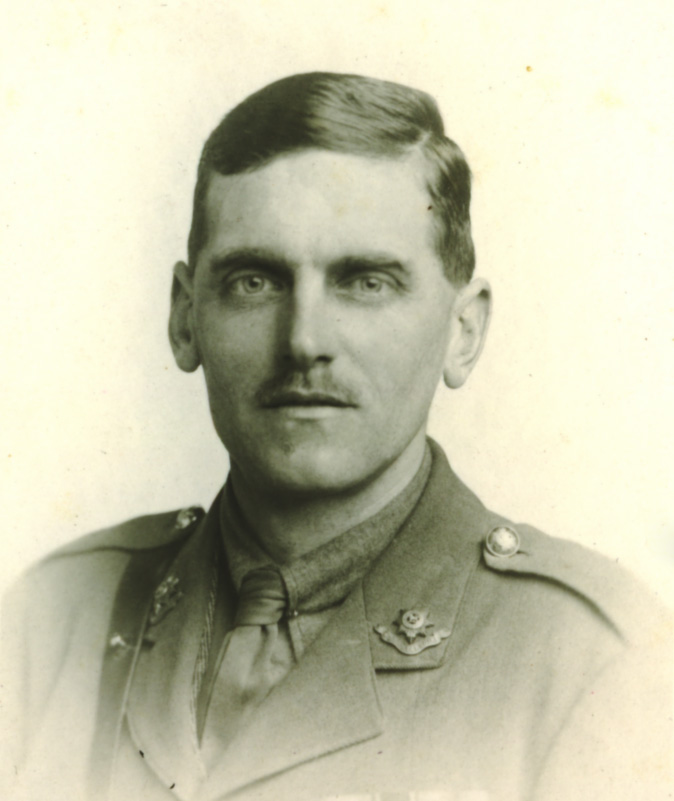 Ralph Horsfield
My father, a Regular Officer with the 4th Worcesters, went to Gallipoli in 1915 with the 13th Division, the Iron 13th. In August Sir Ian Hamilton reported:
'The 13th Division under Major General Shaw had alone lost 6,000 men out of a grand total of 10,500. Baldwin commanding 38 Brigade was gone and all his staff. Ten Commanding Officers out of thirteen had disappeared from the fighting effectives. The Warwicks and the Worcesters had lost every single officer.'
Note: in military terms, 'lost' means left the theatre of war, so includes killed, wounded and otherwise hors de combat.
In these terrible circumstances Captain Ralph Horsfield, Company Commander, was lucky to escape with a serious arm wound. Evacuated to Alexandria he endured amputation above the wrist before repatriation to England. Luckily it was his right arm that he retained entire.
Ralph Horsfield wrote many letters back to his wife Morah during this campaign.
In September my elder brother Nigel was born and at Christmas the following year his nurse noticed that he did not look at the fairy lights. An examination established that 'his eyes were badly pigmented'. He was blind. He did have some small vision and made the most of it, but was brought up reading braille. As far as my mother was concerned, worse things were happening all around her, though few today will have suffered such setbacks as she did by the age of twenty-two. It was not in her nature to dwell on the mishaps. Her positive approach gave her great strength.
I was born a Londoner, in St James Court at the home of my widowed paternal grandfather. The date 17 December 1916 was the second anniversary of my parents' wedding. We soon moved to my mother's parents, who were now living close to Bradford-on-Avon in Wiltshire. For the remaining war years and some time afterwards my father had a variety of military appointments, East Coast, Midlands and Yorkshire, so Fairfield House with its fine trees and walled garden is the first home I remember. With nurses in charge, my brother and I appear to have travelled the country for holidays with our mother who shared her time between her disabled husband and us. Beccles, Mylor and Falmouth, Scarborough, Conway and Portmadoc all get a mention.
In 1919 my father was appointed Adjutant of a TA (Territorial Army) Battalion of the Worcestershire Regiment in Kidderminster. No Quarter was provided so he bought a house. Of greater importance to the family, my younger brother, Malcolm, was born on the first of May 1920. Of sunny disposition from the start, he enabled my mother to enjoy maternity to the full after the considerable strains and difficulties of the first five years of her marriage.
A further important change for us was the arrival of a nursery governess to look after us and start our education. The selection process still mystifies me. She came from Inverness, so presumably there had been no interview and in the end the girl chosen took fright and sent her younger sister instead. Katharine MacGillivray arrived, was called Gill from then on and was an immense success. A diary kept on my behalf records that 'I fought with her a good deal to start with' but I have the happiest memories of the years she was with us ending when I went to boarding school. We kept in touch for decades. She switched to nursing and in due course became Matron of the Royal Infirmary in Inverness.
Another important acquisition was the diminutive May Powell who came to us as cook. She became one of the family, as servants often did in those days, knowing and being known by all the family and a wide range of relations. She served with us or with my mother's sister for more than fifty years. During the war of my generation I would regularly receive from her a Christmas present of a half crown postal order even when I had attained the rank of Lieutenant Colonel.
In those far-off days there was no great premium on space for gardens, in our case providing both vegetables and fruit, a chicken run for eggs, a tennis court, stables and outbuildings and suitable lawns and flower gardens for strolling with one's guests. There had to be room in the house for parents, children, staff and guests. We were towards the edge of Kidderminster with good walks from our doorstep.
My memories of the time form a personal time capsule: -
Pony cart with milk churn and a dip-in measuring can to pour milk into jugs. - The lamp lighter walking from street lamp to street lamp. - Horsed cabs more in use than taxis. - Dancing class - The silent cinema with Charlie Chaplin and Jackie Coogan - Tram trips to Stourport, somehow connected with macaroons. - The arrival of a gramophone - Humoresque and Gilbert and Sullivan. - Walks to a viaduct and the hope of seeing a train steam by. - The Railway station where, for a penny, you could print out your name on an aluminium strip. - Walks to a sandy cliff where sand martins abounded. - Mastering the art of riding a bicycle. - My father in uniform after Church parade, drawing his sword and chopping down cherries for us in our small avenue. - The smell of the wash room in the yard with its big 'copper' of boiling water and the mangle to squeeze water out of wet clothes. - The Wednesday washerwoman who was our laundry and her presenting me with a small bottle of her best dandelion wine. [family furore!]. - Fine frost patterns on winter kitchen windows. It was decades before central heating was experienced. Then there was the knife cleaner of those days before stainless steel. It was a two-foot high drum shaped device with a handle one could wind furiously to contrive the desired polishing of the blades.
Greatest of all there was the day when a T model Ford was collected [NP2591] and mobility came into our lives. For my one armed father it was an advantage that gear changing was a foot operation. Push the pedal half way down and lower gear engaged. Push it right down and you went backwards. The backward gear was the lowest ratio of the lot. For really steep hills you went up backwards. On these early Fords the accelerator, called the throttle, was hand operated. A modification some years later put this control on the floor.
1921 was a very hot summer. One restlessly hot night we were ushered from our beds to the car and took a night drive in the cooler air, a never-to-be-forgotten experience.
My final impression of Kidderminster was that we had many relations who came to stay. Much was to be discovered about our extended family later.
There was an echo from this past some sixty years later at a gathering of Burma veterans of the Battle of Kohima. I talked to a Worcester warrior and mentioned my Kidderminster childhood. He said "I remember Captain Horsfield at Ashbourne House". Asked how he achieved this feat of memory he said that he had been a paperboy and we were on his round.
The County looks after its Territorial Army servants well. I was certainly impressed when a Rolls Royce was sent to pick us up for a children's party at the Perrins of Worcester Sauce fame. I even recall what went on there.
Were there any disagreeable times? I suppose there were. I recall a number of fights over dress. Smocks were suitable wear for small boys. I did not agree. There was a struggle over the wearing of 'cherry knickers' for a party. I do not remember who won. Visiting my grandparents in Bath I was bought a smart overcoat which I disliked. It is reported that my revenge was to sit down in a large puddle outside the shop. In this way my mother and I, both strong-willed people, gradually developed a mutual respect and admiration for each other, which we enjoyed thereafter.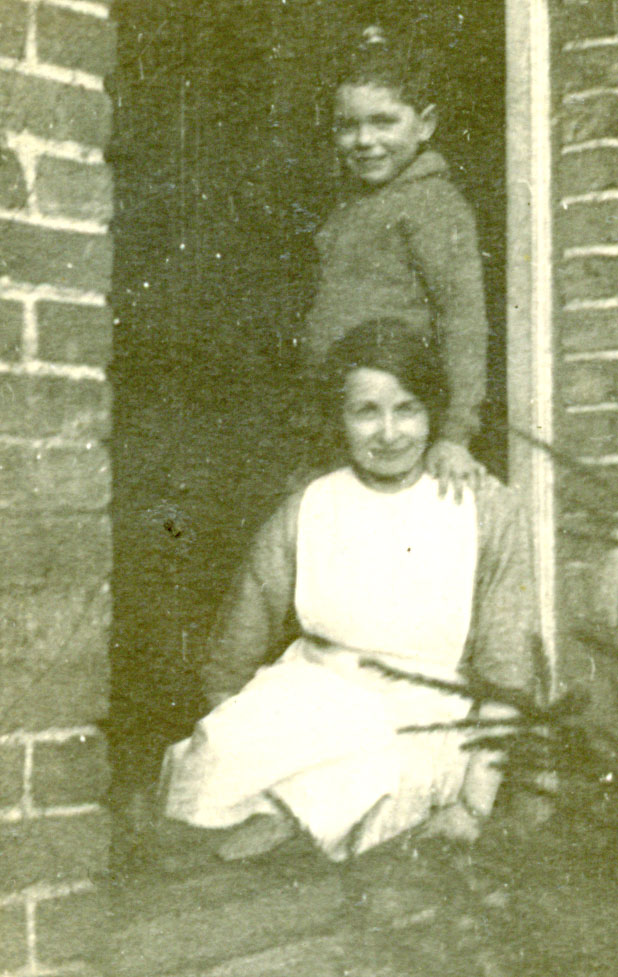 Chapter 2: Brentwood and Colchester, 1924-1930
In 1923 the post-war run-down of the wartime army was taking place. The Worcesters were reduced from four regular battalions to two. (The usual practice in those days was for an infantry Regiment to have one home battalion and one in India or Egypt.) My father was informed that he was to be transferred to the Essex Regiment as a result of these changes.
In 1924 we moved to Brentwood, then still a country market town. The Regimental Depot was at Warley, close by. Moving station within a Regiment meant that there would have been ready-made friends to greet us. A change of Regiment meant that new friends had to be found and children must rely on their parents. For this and many other things hindsight tells me that my mother was an exceptional person, something of her story should be told.
Morah Baynes was the youngest child in a family of four who survived to adulthood. Her father, Malcolm Baynes, was the fourth son of a Baronet, the title stemming from Napoleonic times. Christopher Baynes, who was born in 1755, made a four-year Grand Tour and then with a purchased commission had a dozen years service in the Blues (the Household Cavalry). After selling his commission, he retired on marriage. He formed in 1797 what was to become the Middlesex Yeomanry and was created a baronet in 1801. As a country parson in late Victorian times his descendant, Malcolm, was a man of many skills well into DIY a century before the term was invented. Drains, buildings, early electrics, high-class woodwork and then car repairs were all understood. It was not the boys but my mother who picked up these practical talents. With a one handed husband many tasks inevitably fell to her, but she was in any case the one with aptitude. I was called in as the helping hand from a very early age, both in regard to my blind brother and for jobs to be done. This was very good training.
In their teens the parson's daughters, Isla and my mother, found themselves caught up in all sorts of village activities. They ran Scouts and Guides and one of the earliest Brownie packs in the country. The two sisters provided energy and leadership wherever it was required. Their two husbands, my father and Isla's husband, Maurice FitzGerald, a Canon of Bristol Cathedral, provided much humour. They formed what they called 'The Anti-Baynes League' to protect themselves from these two dynamic ladies.
In the finding of friends for the family Morah showed skill and imagination well beyond wait and see. We soon got to know the Burge family - a family without army connections - and became firm friends at parental level and amongst the combined total of seven children. This friendship has lasted through over seventy years and three generations. At my 80th birthday party Stuart Burge, actor, producer and BAFTA winner, discussed some of the imaginative practical solutions attributed to my mother. Stuart recalled an occasion when our Ford developed a second puncture, leaving us with no spare and the party was stranded. "Oh", said Morah, "I know what we do, we stuff the tyre with grass and that will get us home." Apparently the solution worked. On another occasion we wanted to go to Mersea Island where we had a beach hut. The problem was that my mother had picked up measles or some such childhood illness from one of us and did not want Malcolm, the youngest, to catch it. Solution: she strapped a board and a rug on to the carrier, the iron grid at the back designed for luggage, and rode on this separate outside compartment to the astonishment of other motorists. Stuart, with his actor's eye for character, describes this indomitable lady as an 'independent woman a generation or two before her time'.
Education proceeded steadily with Gill in charge, the syllabus and material being provided by the Parents National Education Union, the PNEU. I have nothing but praise for the system. At the Great Empire Exhibition at Wembley in 1924 there were special provisions for the PNEU and I remember a graphic representation and talk on the 1918 Raid on Zeebrugge. The many sideshows were exciting and I recall a competition called 'Can't a Ford Polo'. Stripped down T Model Fords were the horses with the players with polo sticks standing behind the drivers. A very large ball had to be coaxed through the opposition goal.
Another expedition took us to the Royal Naval College at Greenwich, which trained cadets for a seafaring career. The Scottish Captain in charge was a friend of Gill's family and we had VIP treatment before returning to central London by tram. At home we had a climbing rope to learn that skill and my father organised children's cricket matches in our garden. Holidays took us to Thorpeness where we learned to sail on the Mere. Our parents had their own holidays away from us in the south of France at the invitation of my Horsfield grandfather.
In this period Nigel went off to a small boarding school which catered for children with disabilities amongst their pupils. The Headmaster, a retired naval instructor Commander, was very adaptable and learned braille and a special mathematical braille board to teach this one pupil. For two summers my father was employed at the Small Arms School in Hythe and we lived in rented accommodation on the front at Sandgate. This led to a day trip to France, very exciting, and less fortunately to an accident. Nigel and I had been playing on the shore at Sandgate, after which we walked back to the road. I watched to see if it was safe to cross. On the 'go' command Nigel sprinted off. In those days few cars had four wheel brakes and stopping distances were long even at low speed. To warn drivers behind of their enhanced stopping power the newfangled vehicles displayed a red triangle beside the rear number-plate. A driver of one of the less well-endowed vehicles understandably misread a situation and swerved, hitting Nigel as his car came to a halt and breaking Nigel's thigh bone. Hospital treatment followed and he was prevented from returning to school in September.
This presented another problem. I feel sure that no sort of school fees insurance existed at this time and Nigel, because of his injury, wouldn't be able to return to school at the beginning of the new term. The solution was obvious. I would be sent off, aged seven, to take his place and Nigel would return when he was fit. Launching into a strange environment from a comfortable home is inevitably a traumatic process and returning to school each term was a misery for some years to come, but there was much to enjoy once one had settled in. Terms were thirteen weeks long with no half term breaks or the possibility of visiting one's home. The Grange, as it was called, was situated in the edge of Hadleigh Woods, Cockfosters, next to the Ludgrove of the day, a well-known preparatory school for Eton. The house was a fine small country house of Edwardian date and it seemed to have some of the furniture of its earlier life as we ate off rosewood tables. The main gardens and playing fields were across a piece of the common ground, just outside the perimeter of the woodland.
Cockfosters itself was still a small country village with the large estate of Sir Philip Sassoon to one side, so country walks were readily available. Mr Wyatt Rawson, brother of the head, was one of the masters, He taught us the phonetic alphabet so that our French pronunciation should be good; strange at a very young age but with some success. I doubt if any teaching qualification was available or required to become a Master. One came direct to us on leaving public school and another, who did not stay, was a rather sad war warrior who endlessly purveyed the glories of Empire. In a school of a couple of dozen pupils at this stage it was difficult not to find oneself in the first eleven for any game that was played. To find opponents we would take on lower levels of school teams of larger establishments who were often astonished by our mix of a few class football players and a number of darting and enthusiastic squits, as they might have called them, harassing their every move.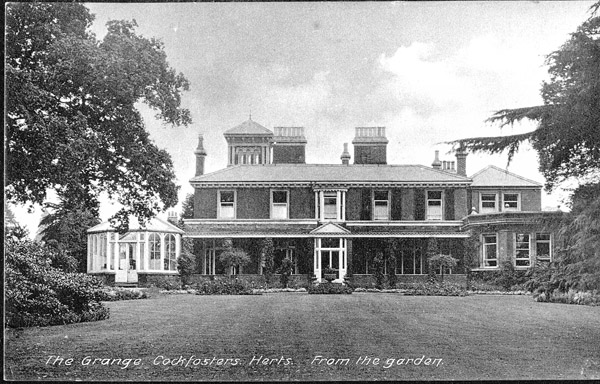 It is at this stage that I will note attitudes I attribute to the Victorians which have had a lasting and in my view damaging effect. Departure for boarding school even at the age of seven was looked upon as the achievement of manhood. The appropriate appellation for parents became 'Father and Mother'. The result was that Mum and Pa were dropped and the formal names proposed were never used. Secondly hugs and kisses, pretty rare at the best of times, ceased entirely. Untouchable became the rule and an inhibition.
Although 'home' remained important one saw less and less of it. Term time with never a single break took two thirds of the year and family holiday trips and visits to relations and friends a third or more of the remainder. Christmas took us to Baynes Grandparents at Upper Swainswick above Bath and Little Somerford nearby where my FitzGerald uncle was Rector. White Christmases were not rare in those days.
In 1927 we moved within the County of Essex to Colchester, a military garrison town, on and off, since Roman times. Once again we had a private house and our own tennis court. Army quarters were to be more liberally available in later days. Even then quarters were not provided with furniture, so one moved, in any case, with all one's goods and chattels. We were moving into modern times: the house was lit by electricity instead of gas; a telephone was much in evidence and a heavy portable wireless set - as radios were then called - replaced the crystal set which could occasionally be persuaded to receive Station 2LO.
In youth one accepts many oddities as the norm, whether at home or elsewhere. My mother started some project wherever she went. On a trip to Scotland we staged with her Cameronian elder brother, in Catterick Camp. Her enterprise led to an attack being launched immediately to help turn the heavy clay of this brand new Haig Road quarter into a garden before we moved on further north. By chance, when our family moved to Catterick seven years later we were allotted the same quarter. This habit of starting projects on other people's property passed down to my generation and may or may not have been cured for the generation after us by the work of this kind which our children found themselves involved in.
Incidentally cars were changing and foot operated gears disappeared. However there were cars with the gear lever on the right hand side which my father could operate, steadying the steering wheel meanwhile with his 'hard hand'. Sunbeams, which had recently been winning land speed records, came into this category and second hand quality cars were reasonably priced. Ours was a 'tourer', open to the winds with wide bench seats back and front.
We bicycled everywhere, became involved in tennis tournaments, had cricket coaching at Lords, roller skated in the Corn Exchange and were generally kept busy. Even so my mother was not satisfied that there was enough for us to do, particularly in winter, and set about solving this problem.
As usual we got to know relations in the area. The Chevalliers at Aspall in Suffolk had brought cider-making from Jersey and lived in an old moated house. The original stone built circular apple crushing device was there to be operated by a donkey harnessed to a radius pole with the crushing wheel, made of stone attached to it. Bee-keeping was there to be studied and the daughters, ten years our senior, took us in hand. These were relations of my Cazenove grandmother and there were Cobbolds too with intricate inter relationships which I have yet to sort out. One Chevallier bride had the distinction of being the mother of Kitchener of Khartoum. Of more immediate interest a small cask of cider was often taken home and we were old enough to appreciate it.
In 1930 the Battalion was warned for Germany and we looked forward to a pleasant life on the Rhine in Wiesbaden. However the Army of the Rhine was withdrawn so we left the East Anglia we had come to know well and moved to the very west of Wales, Pembroke Dock, a one-battalion station.
Chapter 3: The Adventures of Skiing, 1928-1934
One development of enormous importance took place in late 1928. This transformed our lives in many ways. It was a great adventure in its own right.
My mother's search for something suitable to work off the energy of her three sons in the winter holidays bore fruit. Someone said "What about skiing?" Instant fright at the cost of a St Moritz or Mürren would have put many people off but not this lady. She discovered that there was a tiny skiing resort in the Swiss Jura run by an appropriately-named Donald Greenland. In the weeks approaching the season he ran the skiing department in Harrods and there she went. Information was produced, clothes were bought and the expedition was set in hand. She had been at Finishing School in Geneva so had some knowledge of the area. Off we went, regardless of the fact that Nigel's vision was close to zero and my one handed father could only wield one ski stick. They would have to do the best they could.
My mental travel pictures of our first trip include the surging horde crying 'porteur' as the cross-channel ship docked at Calais. Garbed in blue denim jackets and trousers with dark blue berets, their basic equipment consisted of a heavy leather strap which they threaded through the handles of several suitcases, heaving the load to their shoulders and leading the way to a train. Sleepers were a luxury far beyond us. Some compartments had corner seats Pour Les Mutilés, obviously designed for Papa and adding distinction to our presence. The night was a bore as we had not yet developed the technique of sleeping in luggage racks, but the arrival at Lausanne station was bliss. Whilst British railway restaurants had few charms the Swiss ones were a delight. Restored by breakfast and with ever-increasing excitement we skirted the Lake of Geneva to Nyon, boarding there a country train which climbed slowly as our excitement grew to St Cergue. It continued thereafter through a low mountain pass to La Cure in the French Jura.
The village of St Cergue can have changed little in the previous hundred years. Its winter awakening was due to British enterprise by the founder of the Dôle Ski Club, an imaginative warrior of the 1914 war. Swiss hotel keepers were quick to see the value of the winter trade which skiing would bring and Monsieur Auberson was no exception. The hotel in the village carried his name and he also owned the rather smarter Hôtel Observatoire on a ridge higher up towards the Lake of Geneva. It lives up to its descriptive 'Panorama Grandiose' on an early map. Ruskin saw it on his travels and commented favourably on the sight across the lake to evening sun on the Dents du Midi beyond, at a time when summer tours were becoming popular.
The number of members in the resort over the Christmas holidays would have peaked at around 250. Everyone joined the Ski Club, named after the local mountain, and new members were warmly received. Families got to know each other and kept up the contacts in England.
There was no ski shop as such. A general shop with all the things visitors of the day might buy, 'woodwork bears and won't work clocks' as one writer of the time unfairly described them. A small workshop abutted it and here my first skis were bought, wooden objects without trimming on edge or sole. A bent metal fixing held the toe of the boot, with a leather strap and buckle holding the heel. The total cost of the skis was £3 for the pair. One could kneel on one's skis without hindrance and ski boots were light and as good for walking as skiing.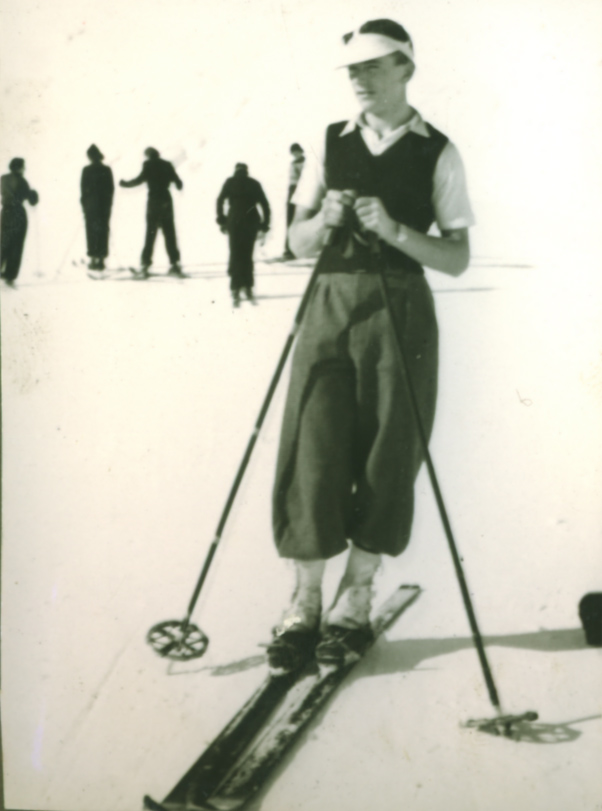 All ski instruction was in British hands with classes for different grades and for children. The Ski Club of Great Britain, already twenty five years old, had tests, but it took a couple of years or more to reach the bottom rung. One had to show that one had mastered the various turns: Stem, Telemark, Christie and Jump as well as completing a qualifying timed run. At a lower level the Dôle Club and others had their own tests. At a time when every vertical foot skied had to be climbed first, gaining experience was a slow process.
There were no village restaurants, tea shops or bars available so all evening entertainment was run by the Club and took place mainly in the Hôtel Observatoire where all were welcome. It will astonish modern skiers to learn that everyone changed for dinner, Dinner Jackets for men and Eton Jackets for boys. With all travel by train there was no baggage weight limit to worry about.
Equally there were no restaurants in the mountains. Pack lunches were provided free by hotels and the whole day was often spent on the slopes. A substantial tea in the hotel on return with hot chocolate and cherry jam was very popular. There would then be great activity in the ski room in the cellars with the smell of hot wax and solid methylated Meta burning in the waxing iron as skis were prepared for next day's activities.
One often took the ordinary train to La Givrine four kilometres away but the vertical gain was less than 600 feet. The run back was pleasant but more akin to langlauf than downhill skiing. M. Auberson would arrange a picnic in the snows at La Givrine each winter with tables and benches constructed in the snow and insulated to some extent for seating. The hotel staff served a fine repast. For the young there was skiing by day with some sledding or lugeing and floodlit skating as it got dark. No wonder we slept well.
The ascent of the 5000ft Dôle, 1500 feet above the railway stop, was attainable in later years. The proper means of preventing skis from sliding backwards down hill was by the use of skins, initially from seals. Tied to the sole of skis, these meant that one could slide one's skis forwards but not backwards. As these were deemed expensive we used ropes which were made of cord, knotted in diamond pattern, which could be slid over the ski. The snag was that the ski had to be lifted and put down for each pace forward. I lived with this system until my resourceful mother discovered a washed up seal on the Pembroke coast and made a set of skins for me.
For three years this programme continued with increasing numbers through taking relations and friends, though my father and Nigel decided that the sport was not really for them. Then came the great depression with its worldwide effects which meant that there was no money for trips of this kind until some recovery was in sight.
Looking back I believe that there were two great advantages for me of the time and the sport. Numbers were so small that one got to know people really well over the three seasons. Secondly, skiing skill rather than age determined the groups that would ski together. As we grew older the friendships resulting across age barriers opened doors for me to many different interests and activities throughout my life. Two people of immense importance were Harold Taylor, a New Zealander of outstanding achievements who became a friend of close on seventy years and Brian Palmes, a retired Naval Captain. He was always referred to a 'God's Uncle'. He became an honorary godfather to us three boys. Both will appear later in my story.
In 1933 we returned to St Cergue to start skiing again. At just seventeen I was able to play an adult part and help the Club in various active ways. The local Challenge Shield was the star race each season. Ski racing was something very different from what the television viewer sees today. It is worth describing the equipment and racing of the day.
Advances had been made in equipment in the two years of the depression when few people had been able to ski. Bindings no longer allowed one to kneel on one's ski without restraint. When the heel was lifted an inch or so some pull started to keep heel and ski together. Hard edges for skis had started to appear providing more bite on the snow when one turned - hard plastic the safest and steel rather daring. Taking the new edge round the curve of the ski, where it might have been useful, was discouraged. Ski sticks, cut from the hedgerow, still carried their species identifying bark and the loops provided were leather boot laces threaded through a hole in the wood. For some reason it was considered unsafe to put the loop over one's wrist. For racing purposes a piece of string was tied to the loop and then with an eighteen inch gap, round the wrist. In the event of a fall the sticks could be recovered in quick time.
Turning to a particular race, the leisurely climb up the course to our lunching place took some time. A packed lunch was eaten. No restaurants or other buildings existed though the odd cow byre was occasionally useful for shelter. After lunch the race was organised before we climbed to the course start. There were ten or a dozen starters and we were issued with racing numbers. It was to be a schemozzle start, all starting off together as in cross-country running.
Next was the steep climb towards the top of the diminutive mountain. Long traverses took us there rather than attempting to scale the steep part which we could race down. This top of the course would be raced on unprepared, previously unseen, unpractised and uncontrolled track. As in athletics it was important to get ahead at once which always led to some confusion. The bold spirits would point for the steepest descent, whereas the more cautious, inconveniently placed might wish to lead off on a traverse. With twelve different choices of starting direction it took time for all to get moving, a problem not found in athletics.
One highly developed skill in this age was the ability to schuss a straight line through bumps and lumps and variations of snow condition. The first 600 foot drop was taken in this way by the better skiers. With much speed and great uncertainty about the snow condition, a decision had to be taken as how to make a sharp turn to head off in a new direction through the trees. It would be easy to be involved in a catastrophic fall which would consume time in recovery. I chose a tactical fall to take off speed, point me in the right direction and have me moving again quickly without being overtaken. The exhilaration of being ahead and reasonable knowledge of the remainder of the course presented no more problems. As the winner I arrived 45 seconds before the next competitor. Today in any major race, the first dozen are spread out over a span of a few seconds.
Years later I remember Peter Lunn, one of Britain's principal racers in the 1930s, divulging that he had come ninth in a World championship race in spite of the fact that he had fallen three times. Perhaps he had refined the tactical fall to its finest point before more sophisticated methods evolved.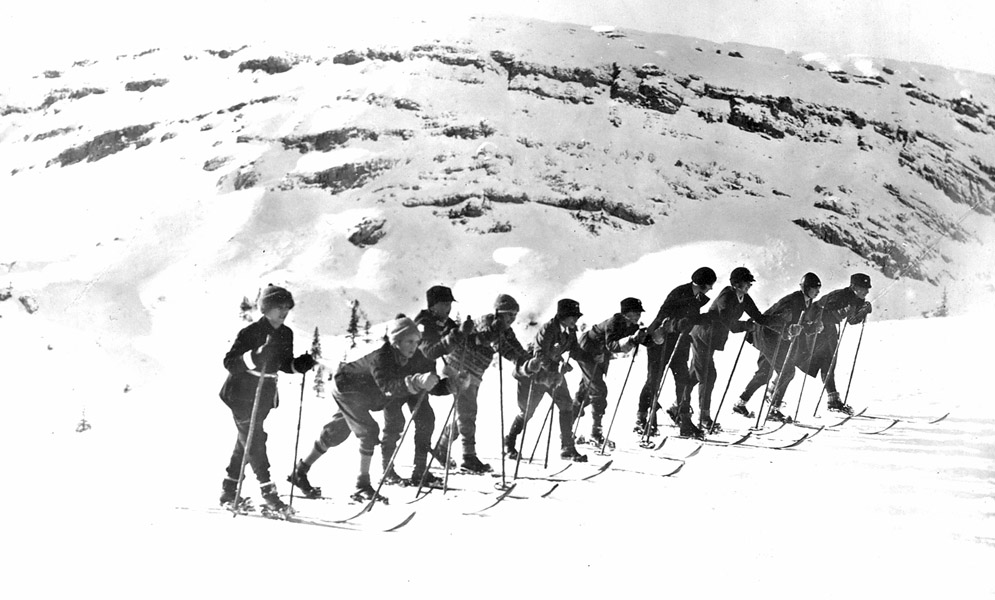 Chapter 4: Pembrokeshire and Public School, 1930-1934
As the year 1930 drew closer several changes were taking place. Warning had been received that the 1st Battalion of the Essex Regiment would be moving to Wiesbaden on the Rhine, which sounded an attractive place to be stationed. However Rhine Army was evacuated before the transfer could take place and we found ourselves in Pembroke Dock, the only regular Battalion in Western Command. The economic depression had hit the neighbourhood very hard. Activity in the dockyard, if any, appeared to be more concerned with dismembering ships than building them. However the position of the Barracks on a hill above the town, overlooking Milford Haven, was very fine particularly for the Officers' Mess and our Quarter which stood next to it. The wild country and coastline called for exploration. Whatever has happened to picnics? We had many then but they have since become a lost art. There were headlands and beaches, cliffs with myriad birds, and the Preseli Hills, the source of the Bluestone for Stonehenge. The choice was so wide that sole possession of a site was common. Nowadays too many people just sit in their cars. Perhaps that is the change.
Then there were the Chargers, as the Infantry officers' horses were called, that we were encouraged to ride. Our groom called the laggard horses 'sooners' on the basis that they would sooner go towards home than on the outward ride, when they needed constant urging. Palmer, the groom, was a great cross-country runner, representing Wales in International events.
In this relatively under-populated area civilian families with children soon made contact with us so that we made many friends. It was a lovely area that brought many relations and others to stay. There were local characters to remember too: Mrs Hopla, our cook, who made a specially popular sort of cake and Mrs Thomas the fish lady who appeared regularly on foot up our steep hill bearing a woven basket containing the freshest of fish.
The other major change of the year was that it was time for me to go to Public School. The selection of such a school often depends on family tradition, which in my case would have indicated Harrow. My grandfathers, my father and my mother's brothers all went there and the earliest family Harrovian noted went there around 1760. I have one important thing which I thank Harrow for. It brought together my father, from a family owning cotton mills in Cheshire, and Keith Baynes, my mother's artist brother. My paternal grandmother was dying of cancer, so my father spent some holidays in Kent with Keith and the Baynes family. No doubt my mother, six years his junior, had her eye on this athletic young visitor from an early age.
In fact I went to Oundle in Northamptonshire. It was later in life that I discovered how this alternative choice of school arose. My grandfather, Jo Horsfield, was at Christ's College, Cambridge, with Frederick Sanderson, who quickly made his name thereafter as an original scholarly mind in the world of education.
Sanderson believed in the importance of the Sciences and Engineering for an Industrial Nation and that the staff of Schools had the major responsibility for discovering the interests of every pupil and providing the right channel and encouragement to lead them to success.
Sanderson was not a cleric, not a public school boy and not a classicist, so did not fit the stereotype of his time of what a Public School Headmaster should be. He had distinguished himself at Durham University and at Cambridge where he was a Wrangler.
Note: the Mathematics Tripos at Cambridge University ranked candidates in order of Wrangler and two lower orders by the total number of marks gained. A Senior Wrangler was a mathematical star.
However he was not a narrow mathematician as his appointment as Examiner in Arts at Durham shows. As well as Honours Mathematics papers he had charge of papers on the Greek Gospels, English History, Scripture History and Logic. He was taken on as assistant master at Dulwich College in 1885. The only science taught there was Chemistry and that as a special subject. With the Governor's backing he was able to introduce the teaching of Physics for the whole of the Modern Side and to the middle forms of the Classical Side. He arranged laboratories and workshops and founded the Science and Engineering Sides. A steam engine was introduced into the Engineering laboratory. He did not believe in models; one must have the real thing. Applied Mechanics, Workshop Practice and Mechanical Drawing were later additions. At least this one headmaster saw the need for trained engineers to run the booming new industries and make them competitive.
Most of us set out to be improvers in any job we take on, but a time may come when this is not enough. The old mould has to be broken and a new start made. Here was a mould breaker. Nevertheless any new approach is treated with suspicion, so it was a bold liveried Grocer's Company that voted Sanderson to be Headmaster of Oundle School at the age of thirty-five. He took over a shrinking school of under a hundred pupils and left an expanding one with more than five hundred.
Some remarks Sanderson wrote at the end of his first term are of interest:
'I have been surprised to find that the Assistant Masters, with hardly an exception, have no idea of what hard work means. This is not altogether their fault. … But from whatever causes this want of robust energy and hard work has arisen, it has without doubt done great harm to the boys. Not only have the boys not been pushed forward, but they have acquired a very low standard of energy. … It will undoubtedly take some time to infuse a spirit of work throughout the school.'
I remember a near contemporary of mine at Oundle remarking that he was surprised to find when he arrived at the RMA Woolwich that there were fellow cadets who thought that work was something to be avoided. The Sanderson precept was plainly being carried forward after his time. A History of the Oundle Schools by WG Walker notes:
'It is not too much to claim that three headmasters of schools forming a triangle in the Midlands have given public school education in one century three great principles: Arnold of Rugby the management of the school by the boys, the prefect system: Thring of Uppingham the teaching of the whole class, not merely the promising boys at the top of it; and Sanderson of Oundle the width of the curriculum and the finding of a course of study that would suit each individual boy.'
By chance we have a link too with Headmaster Thring. His was a Somerset family coming from Castle Cary and had a great flowering in his generation. His elder brother became a peer for parliamentary work and his sister Theresa was also a woman of talent. She was grandmother to an uncle of mine. We have her fascinating scrapbook including a record of the laying of the foundation stone of the Bristol suspension bridge that is signed by Brunel.
I went to Oundle and it suited me well.
My Headmaster at the Grange had given warning that the Common Entrance qualification for Oundle would not be easy, but a pass was obtained. I believe that other preparatory schools were better at preparing pupils for this examination. At Oundle I got off to a good start in a low form. At the end of every fortnight an order of merit list was produced for each form and set. A regular ceremony then took place in the Great Hall. The Headmaster called for the orders in various groups to be brought to him and those topping lists would take them up. In a moment of glory at this first assessment I made the journey three times, once each for form, maths and French. I was promoted after my first term and again after the second, obtaining the Lower Certificate of the day there. Still aged fourteen I started my second year in the top School Certificate form on the Science side. My basic education turned out to have been sound enough.
Oundle, in Northamptonshire, is an old stone-built market town with fine buildings. It is small and compact enough for all the School's varying facilities to be within easy walking distance. The foundation of the School in 1556 is owed to Sir William Laxton who became Lord Mayor of London and brought about the long and profitable association between the Worshipful Company of Grocers and the School. It is owing to Sanderson that it grew into a major public school during the early part of the twentieth century.
Note: the Worshipful Company of Grocers, London, was originally known as the Guild of Pepperers, whose earliest records date from 1180.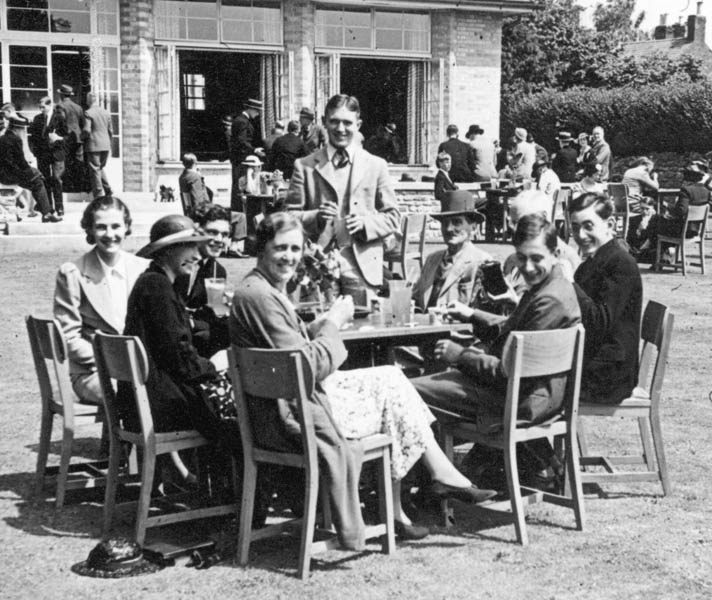 The House to which I was allotted - Dryden - did not qualify in any way as a fine building, though it had some local history. Our Housemaster, 'Tally' Hale, had known Sanderson at Cambridge. He had been delighted to accept the post of assistant master that was offered him. They moved to Oundle together in 1893. He had therefore been an Oundle master for thirty-seven years before I arrived. He was a man of great wisdom and knew exactly what to notice and what deliberately not to see. We admired and liked him. Dryden House itself was a different matter. It was part of an old Coaching Inn squeezed in between a residual pub and a private house. It provided for sixty boys without privacy of any kind. There was one large room that was home for the bottom thirty boys with a long table down the centre and one small locker for each boy down the walls. A small coal fire at one end provided such heating as there was. Arthur Marshall, of television fame, had been a boy in the house six years ahead of me and was back as a Master. He comments in his autobiography that the Black Hole of Calcutta had nothing on our small and low-ceilinged changing room for games. It had a few basins, and no showers. Two baths a week were allowed on a timed programme and cold baths each morning were routine. In winter dormitory temperatures dropped well below freezing conforming to exterior levels.
Arthur Marshall also comments that the Hales showed extreme cunning in order to avoid showing parents round the establishment. To us, having no comparisons to make, this was public school and we accepted what was there as one did many other things. The house had studies, just three rooms, perched above old stables. On reaching the upper half of the house after two years in the crowded prep room one moved over there. The first study contained fifteen boys, the second nine and the last one six. So there the head of house and the prefects shared the best of the poor options available. So much for privileged education! There was a modest yard providing some outdoor space and miserly sanitary appliances at its extremity. The study stairs had been modified by the boys so that a buzzer sounded in the largest room when the housemaster stood on the middle stair as he approached for a prep time visit. It was then the duty of the boy nearest the door to switch off the warning device in case someone else should cause a loud buzz whilst authority was with us. I feel sure that this ancient device was well known to Tally Hale, but I do not remember that he ever cheated by stepping over the operative stair.
Returning home from school in the summer we found that a caravan had been acquired for camping so that the accommodation problem was solved for tours and visiting friends and relations. This second hand acquisition bore little resemblance to the luxurious models of today. Entrance was from the back, like its gypsy counterpart, and the design was like a covered railway truck with a curved roof giving maximum height down its length. Heavy canvas tent-like extensions were fitted each side to provide boys' sleeping quarters and an eating area. The speed limit when towing was 30 mph and with little thought given to weight saving this was not a great restriction. Long journeys took time.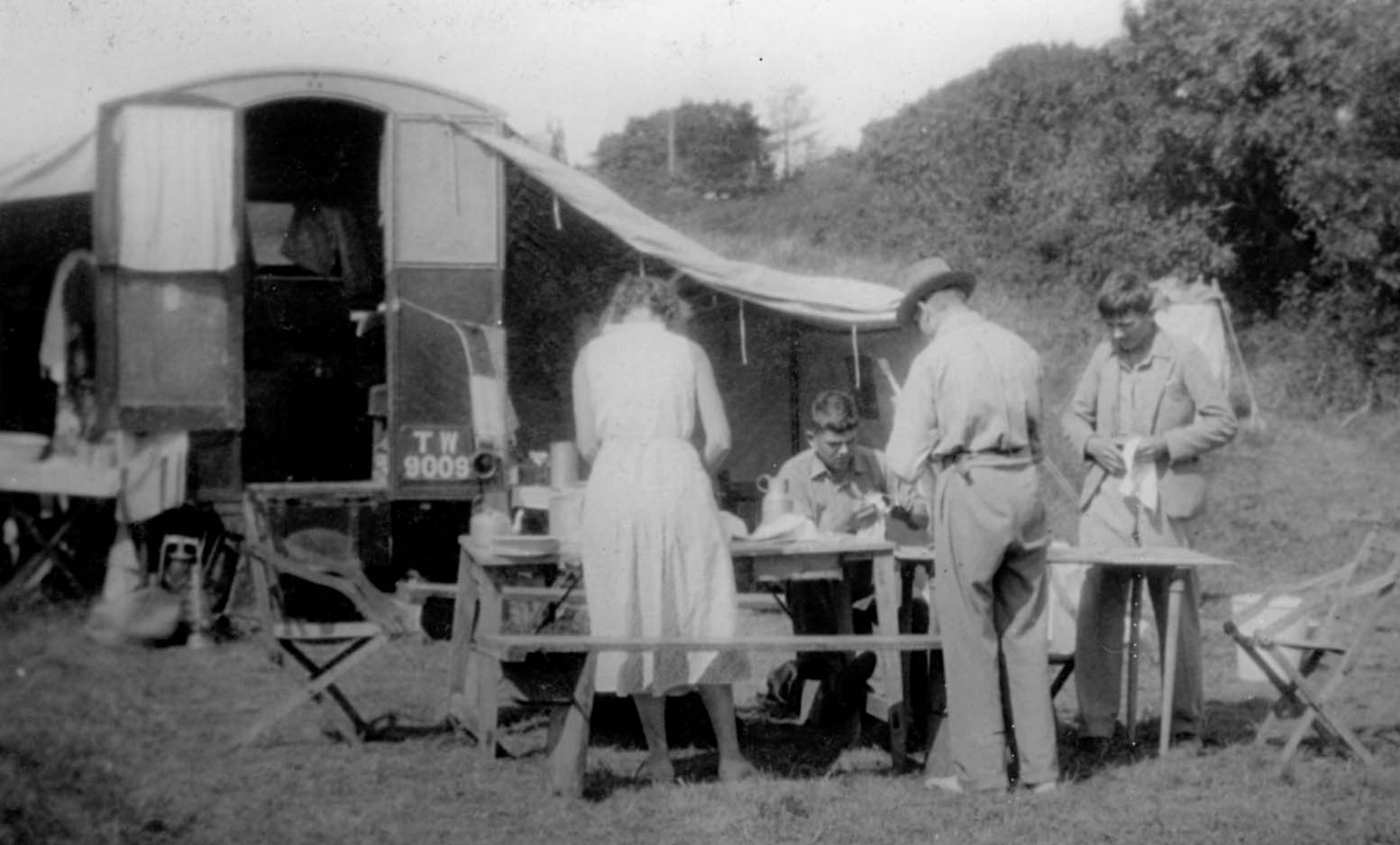 Camping sites had yet to be developed so one chose a likely field and with the farmer's permission set up camp in a convenient corner. An early trip was to Charmouth - that must have been in 1931 as I remember a walk to the newsagent to buy a copy of a Times supplement that showed that I had passed the Lower Certificate. In those days examination results were notified in this way. On another occasion we went to Boot, a famous rock-climbing and hill-walking village in Cumberland. Our idyllic site was in a minor field above the small river Esk. It rained and rained and the river rose fifteen feet but by good fortune we remained just above its reach. First acquaintance with the Lake District led to many later visits with ascent of peaks and passes, though rock climbing was not suitable as a family pursuit with our disabled members.
Back at Oundle the terms passed happily enough. It was an asset to be reasonably good at games and to represent the school in its lower level teams, but the heroes were the top performers, particularly on the rugger field. Frank Spragg, an Oxford Blue, was a brilliant coach at a time before coaching became a major part of sporting success. Ken Fyfe was probably his greatest star, captaining Cambridge and Scotland within a few years of leaving Oundle.
One of the major contributions of Sanderson was to introduce practical workshop training throughout the School. There were facilities for metalworking, a forge, foundry and woodworking, including the pattern-making of wooden models for casting. Each term one had a full week released from classrooms and under instruction in one or other of these workshops. DIY was a term yet to come but this training built valuable skills for both the professional and the amateur.
Music must be for everybody, not just the specialists, said Sanderson. Clement Spurling came to Oundle with Sanderson. There would be an orchestra and as many boys as possible in one of the parts of the Choir. Everyone else was termed non-choir and they were brought in with thundering effect at dramatic moments in major works, reinforcing now the trebles, or now another part. Spurling had professional friends who supported the concept and he brought instrumental soloists to join in. In my time I remember Clara Butt and Leon Goosens taking part in the Messiah. It is said that during a chapel service Sanderson would stop the singing of, say, the Magnificat, if it was not energetic enough and have it restarted - odd but effective. Sanderson died eight years before I reached Oundle, but like many others I feel a personal debt to him and the school he created.
One thing that the School lacked in those days was any form of career advice. When I was 15 I remember a group of us sitting down and being asked by Tally Hale to write down what we proposed to do when we left school. Having little or no understanding of the options available I wrote down 'Army', so that was decided upon. Later I formed the idea that flying might be very like skiing and that the Air Force would suit me better. The troubles of Army cut-backs and the depression worried my father, who noted that Sappers with their Engineering background found civilian jobs with ease when others had little success. A Sapper Commission depended on getting entry to the RMA Woolwich and a place high up on the passing-out list. After discussion my name on the examination list was marked 'W 30' which meant that I would go to 'The Shop' as it was called if I passed in the top thirty (out of 120).
Oundle made little special provision for Army entrance candidates. In the term of the entry exam special instruction was given in the peculiarities of the Woolwich Maths papers. This was brilliantly done with the result that I achieved marks in this subject near the top of the list, a position I failed to maintain when I got there. I was also safely within the acceptance limit that I had set myself.
Chapter 5: Catterick Camp and the RMA Woolwich, 1935
Before the end of my years at Oundle another family move took place in 1933, this time to Catterick in Yorkshire. Once again we enjoyed wide-open spaces. The Officers' Club offered many facilities and there were plenty of young around to get to know. At 17 I was able to get a driving licence with no test to bother about. At some stage an old Austin 7 was bought for a few pounds so we boys had our own mobility.
In early January 1935 I arrived to see for the first time the fine 1806 buildings of The Royal Military Academy on Woolwich Common and to join a group of others to become Gentlemen Cadets or GCs. For some reason those in their first term were called 'Snookers'. We looked a strange group for some time. All our uniform was to be tailor made and would last us for several years of commissioned service. We had been measured for hand made boots after the entrance exam months before but tailor measurement only started on our arrival at Woolwich. During the weeks before uniform was ready we were decked out in white canvas jacket and trousers topped with a workman's flat cap. There was a Hall's paint advertisement of the time showing two painters, canvas clad, marching onward carrying a wooden plank. This depicted us.
The Woolwich training lasted eighteen months and a new intake arrived every six months, each being some eighty-five strong. These numbers meant that we soon got to know our own intake well and many from the other intakes too. One of our earliest tasks was to work literally with spit and polish on the boots and leather belt, which were to be part of best parade equipment. Other cleaning was left to one of the excellent fatherly old soldiers, a first introduction to the officer's batman system.
Note: a batman was an orderly who served a British army officer.
To an extent the education at Woolwich aimed at preparing the upper level for Cambridge University. Sappers went up soon after commissioning and some from Signals after a foundation course from which many qualified for Associate Membership of the Institute of Electrical Engineers. The Cambridge group would be excused the first year of the Cambridge Mechanical Sciences Tripos so adequate preparation beyond Public School was important.
It is easy to criticise our military syllabus now as being far too closely linked to the 1914-18 war. We dug WWI trenches, learned some of the military history, worried too much about the machine gun and so on. Then there was the horse. Many hours were spent learning equitation, including how to keep the animals fit and healthy. Some of my teaching was at the hand of a French Cavalry officer of the Spahi and it was enjoyable. How was it that a third of the way through the twentieth century a move to mechanical transport was not foreseen and prepared for in a practical sense?
There was transport history all round us. A tram service connected the RMA with Woolwich Station in one direction and the Cinemas of Eltham and Lewisham in the other. Service had been interrupted briefly by an earlier course who had greased the tram lines up Woolwich Hill, bringing progress to a halt in that direction. When we set out to see a film on an afternoon off it was by tram, and we were obliged to wear full military regalia and pass inspection at the Guardroom. Nonetheless cinema was a pleasure and one that had never been open to us during school term.
The bicycle played a great part in local and not so local military travel. For this we learned Cavalry drill for forming up and movement. There were regular convoys of this type to and from the Gunner stables for equitation. For the Sapper instruction it was more complicated. We learned how to survey and make maps. For this we each needed a substantial drawing board, a heavy tripod to support it, clinometer, compass and so on. These items would be strung about us providing a sail that could be inconvenient in gusty weather. The journey to find open country was less far than it would be today but was six or seven miles each way. Even this was not the ultimate test. In the summer of our junior term there was a camp near Aldershot. A group of close on two hundred GCs formed up on cycles in pairs needing some quarter mile of road space in all. To get things going we only rode to Hounslow on the first day, to be catered for by the 7th Hussars. The major hazards were tramlines, not traffic. If crossed at a narrow angle a tyre would catch firmly in a tramline. Not only would the rider be felled but the whole convoy would concertina and take time to recover. The ride back a fortnight later was completed in steamy heat with no overnight stop.
One of the great lessons to be learned was how to be quick and accurate in detail. We will start in the gymnasium under Mr Parker the Warrant Officer instructor. PT was taken seriously and regularly and I am sure that its benefits provided a firm foundation for a lifetime of good health. Those, like myself, with some pretension as gymnasts formed a display team for performances on occasion.
Right! PT ends and we dash to the cycle store to collect our bicycles before heading for our houses to change from PT kit to breeches, boots and leggings, shirt, tie and jacket. Cap to be fitted with extra chinstrap and stick grabbed before rushing with bicycle to one's place beside the parade ground waiting for the order to fall in. Total time allowed fifteen minutes. There a rigorous inspection followed where the smallest thing out of place earned an extra drill or fatigues. This would take place at six in the morning.
Mr Parker had an unusual duty at this time. The future King Farouk of Egypt was due to come to the RMA as part of his training for monarchy. He was to be prepared physically for the demanding course and would appear from time to time in our gymnasium. He was not athletic and it was a relief to both teacher and pupil when the latter's father died and Farouk ascended the throne instead.
The Sapper element of instruction was interesting and useful - simple things like Knots and Lashings would be useful to all. There was a course in workshop practice and even time for field sketching which our ancestors did so well.
For the Gunners we had the mathematics of probability related to the problems of ranging and the design of a variety of different fuses. We made gun cotton under our chemistry teacher. Mine failed to explode.
I do not remember that Signals ever got a mention, except once. There was the Great Signals Demonstration. Four Morris Minor wireless cars were formed up on the sports ground. A controller with a wireless set sat at a table. "Advance" and the drivers moved their cars forward; "left" and they turned; "right" and they turned again. A miracle. But it is wrong to criticise. This really was the state of the art at the time.
The course was demanding and worthwhile. The company was excellent and the majority of us must have carried away happy memories. A meagrely seven of us were allotted to Signals, all coming well above the half way mark in the order of merit. Five of us had represented the RMA in one sport or another, all-in-all an acceptable package for our new Corps.
My father's military friends were of the opinion that Signals was a Corps of the future. How right they were.
Chapter 6: France, Belgium and Germany, 1936
In the summer of 1936 there was time available for a holiday between leaving Woolwich and joining the Royal Signals in Catterick Camp. My father had retired from the Army and moved south. It was time to make my own plans rather than leaning on parental arrangements. The research and planning of an expedition is an enjoyable pursuit in its own right. With my two brothers we would enlarge our knowledge of continental Europe cheaply by bicycle. Nigel, through maternal initiatives, could ride a bicycle but as a registered blind person would need a pilot. With sixteen year old Malcolm taking on this task and Nigel on the rear saddle of a tandem we could manage. Financial planning was tight but we were full of confidence. Much of what memory stores is about the difficult challenges met and how they were overcome.
Arriving in Dunkirk we discovered our first mistake. Had we joined an appropriate Cycle Club we could have brought our bikes into France free. As it was some of our good money went to Customs. We would be very short of cash until we could use tourist Marks on reaching Germany. Starting late we called it a day at some dark Belgian town. A policeman with a large Alsatian stopped us and enquired about our lack of bicycle lights, but politely directed us to the Youth Hostel when we explained what we needed. Youth Hostels, particularly well developed in Germany, served us very well throughout our trip.
Next morning, having acquired a large loaf of bread, our calculations showed that, on a ration of a slice of bread and a small beer every twenty kilometres and very few frills we would be able to reach the German frontier after one more night on the way. In the late afternoon, somewhere between Tienen (Tirlemont) and Sint-Truiden (St Trond), we saw a long line of railway trucks that looked as if they had not moved for a long time. We decided that we were unlikely to come across any better free accommodation, so mentally booked our rooms. For supper finance allowed us each to have one small fish (without any miraculous intervention) followed, when we were bedded down, by the luxury of a small piece of ex-Lax chocolate from the medical kit. We stowed the bicycles with us. If we moved off, at least they would not be lost and we might even travel in the right direction. The cold rather than the fear that the trucks would move pushed us into an early start in the morning. Fortune smiled when we stopped at what was probably a wayside farm. We washed under the pump in the yard and were treated to a breakfast of a boiled egg and plentiful supply of weak coffee. Perhaps we supplied the bread. Our enquiries about what things would cost must have shown that we were broke. I believe that it was entirely through generosity that we were only charged one shilling.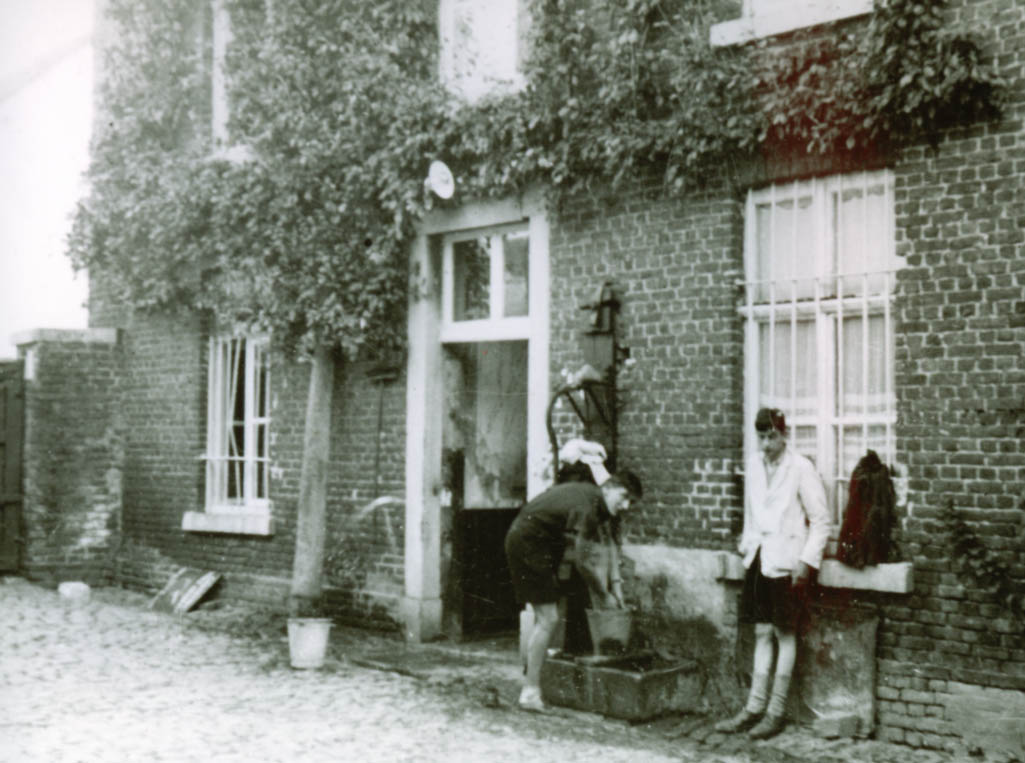 The road was hilly and hard work as we reached Liege, but morale was maintained for the rest of the journey to the frontier town of Aachen by the thought of the riches available to us when we could cash our German marks. Once again the Frontier crossing presented problems. We were asked to declare what money we were taking into the country. We replied honestly that we had none. It was then explained to us that the tourist mark had to be protected and that if we brought no money in we could take no money out. We accepted this arrangement but were taken through the same rigmarole a couple more times before, with a shrug of the shoulders, we were let through.
By train and bicycle we reached Bonn, which gave us our first inspection of Hitler's Germany. My impression remains of sparkling cleanliness, Swastika flags everywhere and no sign of antagonism to the wandering British. The German Youth were certainly benefiting from what was being provided for them. The inevitability of war resulting from Hitler's actions was by no means apparent. However dictators, Napoleon and the rest, do tend to overreach. Hitler's racist theories did show him up in a bad light. This was the time of the 1936 Berlin Olympics and every town was dressed for the occasion. Wherever one went there were displays showing the large number of gold medals the Germans were winning. Their approach was perhaps the first great professional approach to the sport. However the outstanding American sprinter Jesse Owens had given good warning of his prowess the year before when he set six new world records in a period of 45 minutes. He won four gold medals in Berlin and Hitler refused to congratulate him.
Many years later I asked a fellow Signals officer, Crew Stoneley, what the arrangements were for the 1932 games in Los Angeles in which he competed. He said that he had been called to the Adjutant's office of his unit where he was told of a telephone message asking whether he would be able to take part in the Los Angeles competition. On asking what training he should do he was told to do what he could to keep fit. He won a Silver medal in the quarter mile.
In the Royal Signals Mess in Blandford Camp there is another Olympic trophy, a statue presented by Brigadier Hawtry. It is said that he happened to be in Athens in 1896 and, as a good long distance runner, participated in and won a major distance race, the statue being his prize. He said that his philosophy was that he knew he would feel terrible at some stage of the race and that he must concentrate his thoughts on the fact that those just behind him must feel worse.
In Bonn we were met by arrangement by our skiing self-appointed Hon Godfather, Brian Palmes, who gave a helping hand in our lives now and then. It was a time for catching up on our eating.
One day the great Zeppelin, the Hindenburg, flew over the city - a most impressive sight, majestic and elegant, but a blind alley in the search for better air transport. A year later she burst into flames and was totally destroyed on arrival in New Jersey after an Atlantic crossing.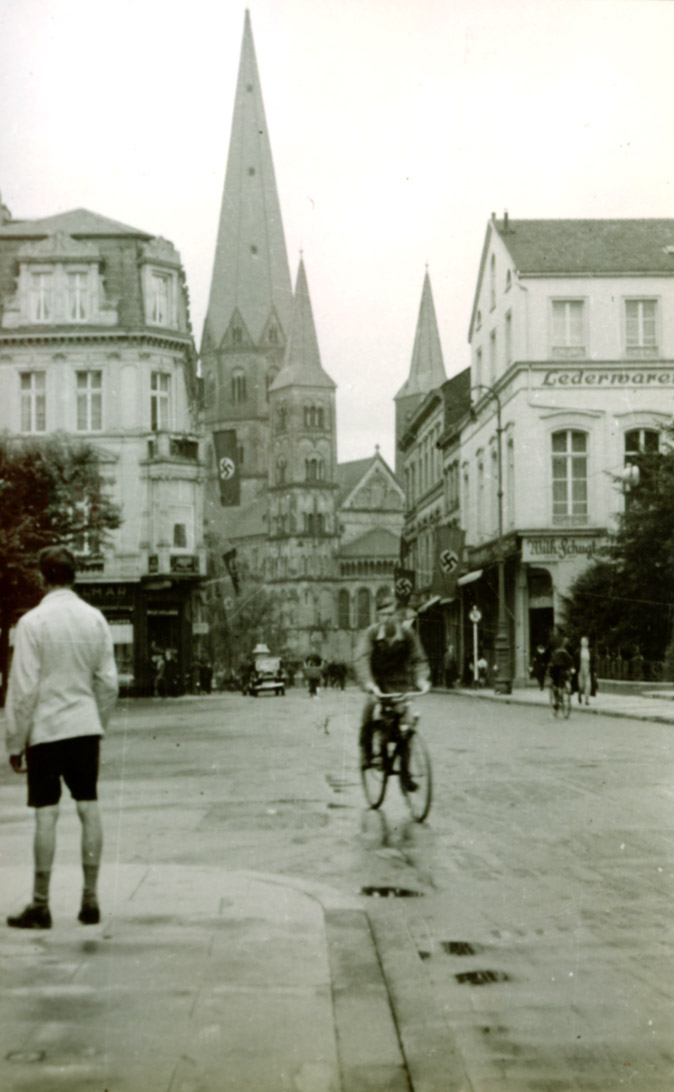 Moving on to Koblenz, with its bridge of boats which opened at times to let river traffic through and a floating swimming bath in the river, we took a river trip to Mainz, passing the Lorelei cliffs and eventually reaching Frankfurt, the home town of the poet and author Goethe. In a major square we attended a presentation of one of his plays with a cast of thousands. We could applaud it as a spectacle, but with inadequate grasp of the language we did not stay long.
To vary our route we left the Rhine to go up the Mosel (Moselle) valley that was quieter, more rural and relaxed than the Rhine. We had written home asking that some money should be sent to the youth hostel in Prüm, last call before re-entering Belgium. We were into hilly country once more and struggled on, Cointreau being our more refined stimulant at our 20km halts at this stage. The response to our message was awaiting us.
Prüm was nice but we were running late and set off to cover 100 miles through the hilly Ardennes to Phillipeville. It was a magnificent area with fine trees and good mountain roads as we pedalled hard all day. Heavy rain drenched us in the latter part of the journey and I remember great efforts to make myself tidy and presentable before going into an inn to ask for a room. My brothers waited outside in the rain until the booking was confirmed. If the rain had been snow I could imagine, when the time came, how difficult conditions must have been during the final offensive by the Germans in the Ardennes.
Our last overnight stop was in Ypres and memory tells me that war damage was still much in evidence. We attended the moving Last Post ceremony at the Menin Gate, which at that date may well have been performed by true veterans of the Great War, as one used to call World War I.
By mid morning next day we were back at Dunkirk - flat broke after buying a cheap bag of plums and with half a day until our boat was due to sail. Others have memories of the beaches of Dunkirk. We were as relieved as any of them when we got on the channel ship.
Our last worry was over when we saw our parents waiting for us at Folkestone the next morning. The magnificent breakfast in the hotel overlooking the harbour held a permanent place in our memories. Parental comment was only that we were rather dirty. We had not had much time for laundry. The only long term sufferer was Malcolm, some of whose fingers remained numb for several months after the constant shaking when guiding the tandem over rough pavé in many of the continental towns.
Chapter 7: Commissioned service, 1936-1939
It was a pleasure for me to return to the Catterick Camp that I knew. It was a big military station with plenty going on. Our group of seven new Young Officers was made thoroughly welcome from the start. We were reunited with those six months and a year senior to us, friends from our time at Woolwich.

The Signal Training Centre was composed of the School of Signals a Depot and a Training Battalion. We were allotted to one or the other of the latter units for Games, Orderly Officer and parades, in that order of interest for us. Our posting was to the School. Adjusting ourselves to the circumstances was easy. We were new members of the Signals family and were accepted as such at all levels. The Officers' Mess was a fine building but there were no rooms there for us. Our rooms were a bicycle ride away in a wooden hut of 1916 vintage. Needless to say we were often cold in spite of the smoky coal stoves provided.

What we were going to learn? The first requirement was to acquire the skills needed to qualify for the All Arms Signals course that we would attend. The main job of the course was to train somewhat older officers who were due to become Regimental Signal Officers in their own branch of the Army. Potential Regimental Signal Sergeants had a similar course. There were specified reading speeds to be met in the use of morse code, invented in 1843 and semaphore with flags, a relatively modern innovation and only forty years old. Similar reading speeds were set for signalling by lamp and heliograph. Flag wagging, as it was termed, for ingraining the morse code was great for developing the shoulder muscles and equally great for punishment if the instructor thought we were idle, when he kept us at it for too long without rest.

It was not long before we learned that we were still expected to live in the age of horse and hound. At interviews with the Brigadier Commandant we were individually asked what private means we had. Replies elicited standard responses from him, 'You can afford to hunt' or 'You can help with the beagles'. One bold newcomer, commissioned from the ranks, is reputed to have replied that his private means, probably zero, were 'private', but the routine never altered. Those who chose to hunt would be excused lectures for the day. The horse was more important than the ampere. My income was five pounds a week of which a third came from my parents. With no interest in hunting I reserved what I could for other interests.

The All Arms Courses which continued at regular intervals during the eighteen months we were there were of great value to us. Through the contacts made we came to know many young officers, cavalry, infantry, gunner and Royal Marines with the result that wherever we served we were likely to discover some friendly faces in the units of the Brigades we were in. For them selection for Regimental Signal officer was often a step to Adjutant. Peter Hunt, who was on our course, I next met with the Cameron Highlanders in 13 Brigade. I remember him taking me into the large hutted office of Lt Colonel Wimberley, the future Commander of the Highland Division. I stood in one corner whilst the CO took the one opposite me. During the interview this tall figure went through a process of stalking slowly towards me and retreating again only to repeat the exercise. It had a most mesmerising effect. Thirty-five years later Peter Hunt was General Officer Commanding the British Army of the Rhine when I was his Chief Signal Officer. He went on to become Chief of the General Staff.

Perhaps these early experiences were the forerunners of others, which impressed on me the lesson that it is people who are important and that the development of friendships and mutual trust was a key element in military success.

Much of the eighteen months training for newcomers to Royal Signals was directed towards education in what is now called electronics and qualification as Associate Members of the Institute of Electrical Engineers. Nevertheless we spent time on equitation, sword drill and workshop experience. We were kept busy. We worked a six-day week and even our Sundays, with Church parades, were not free. Sunday Church Parade, uniformed for all, took up the full morning. Half days on Wednesday and Saturday were taken up with sport. On five nights a week we donned Mess Kit for a formal dinner, on Saturdays a Dinner Jacket was acceptable and Sundays only required a suit. Guest nights were a regular Tuesday feature. The routine followed was dinner, band performance, roughhouse activities in the Anteroom and no leaving before the last guest departed. The forced jollity was, in my view, an uncivilised practice and did not deserve the classification of entertainment.

An occasional short weekend leave from lunch time Saturday could be fitted in when there was no games commitment and here my family Mafia of relations helped provide hostesses, whilst the county families of Yorkshire were very hospitable.

Two practical elements of our training stand out. There was line laying and the building of overhead telegraph routes. The cable wagon, pulled by a team of horses, was in use for laying field cable. The manning required was seven linemen, which exactly fitted our course. One member had to sit on a seat the size of a soup plate and pull the cable off a heavy drum at the speed required.

.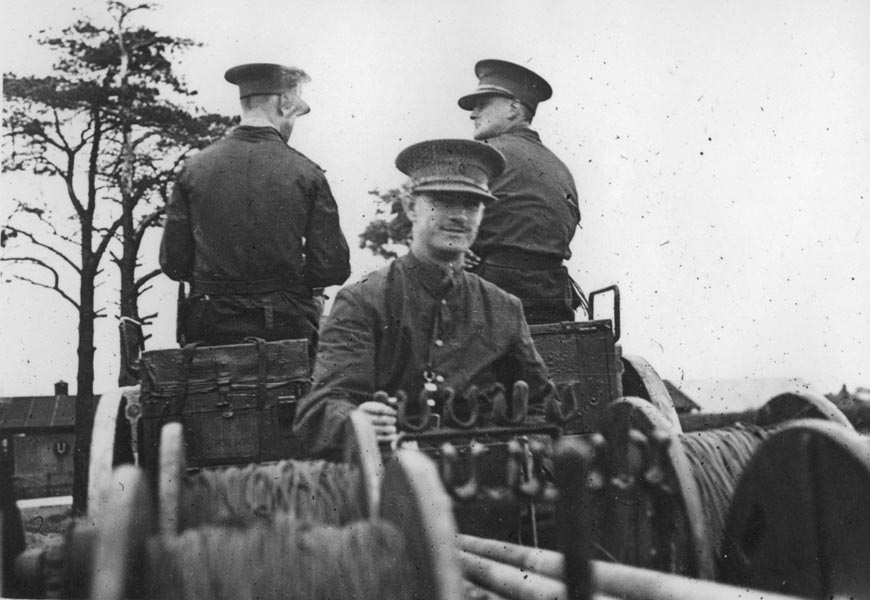 Line-laying using horses.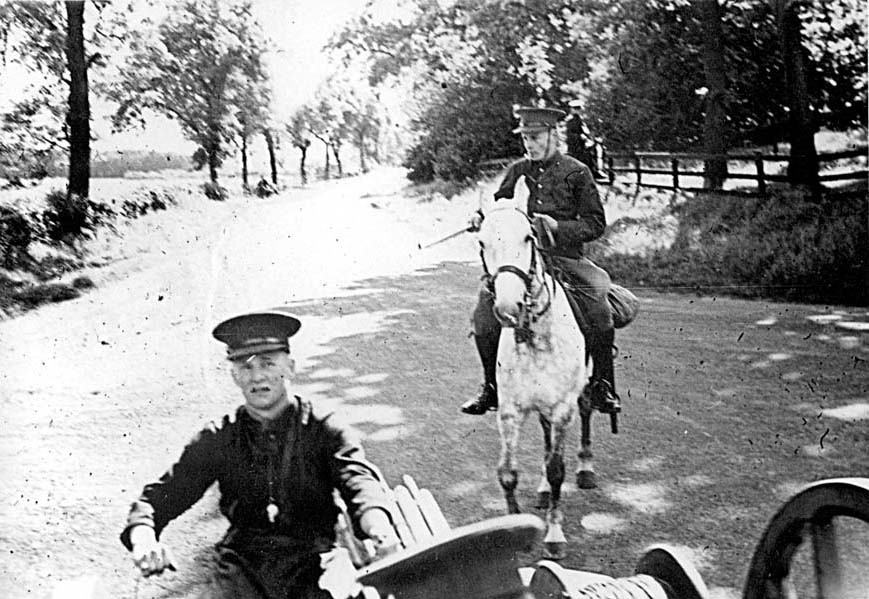 At the canter across the open moors this could be exciting and even dangerous. One member of the course before ours got a loop of cable round some fingers when at speed and was whipped off his seat, luckily without lasting damage. There would be stops. Numbers one and two would leap from the wagon when an overhead crossing was required, say at a roadside gate. With sledgehammer and jumper (a heavy three-foot long steel spike) holes were made; poles inserted with cable attached and guy ropes fixed. Then it was back on the wagon and away. Number seven followed behind, jumping from his horse periodically to make a tie back or safety improvement and at the same time making sure that his horse did not have ideas of its own about trotting off home whilst the rider's attention was otherwise engaged. The cable laid was a single core – the 'return' circuit being made through the earth – and up to 5 miles in length. After testing, the cable would then be recovered.
Richard Moberly was our instructor and I remember him saying when he had become Signal Officer-in-Chief that he looked upon the cable wagon as the best instrument there was at the time for testing what came to be known a 'officer qualities'. Later generations are reminded of this earlier equipment and its horses by beautiful sculptural representations on Mess tables of active cable wagon teams.
By the time we reached our active units a few months later, the horse-drawn cable wagon had been replaced by motorised transport. As far as Signals was concerned the horse had been abolished.
A further element of experience related to half a dozen or so mornings learning to ride army motor cycles.
As far as training was concerned another extremely important result was achieved by private enterprise. The motor car was no longer a rarity, but ownership was not widespread by modern standards. Each one of our group soon had a car of his own. A few had new models provided by indulgent parents, but in the main we had to become expert mechanics to keep our machine in working order. The skill acquired was much used by me in keeping my army transport mobile in the early days of WWII.
I was given an aged Morris Cowley two seater that cost £6. It was supposed to be handed over by a salesman outside Lords in London at the time of the Eton and Harrow cricket match that I was attending with my parents. There was some delay in the arrival of my car with the result that I had to set off in the family Alvis for a social engagement of my own, whilst my father, with morning coat and top hat, had to make do with the 'banger'. By nursing such well-worn relics we all learned a great deal about the vehicles of the age.
Leave was generous at sixty-one days a year. Two quotes might be added from different sources 'Leave is a privilege and not a right' or, in frivolous vein 'An officer is on leave unless actually required for duty'. There was also an underlying suggestion that leave should be spent in adventurous pursuits which would develop 'character' and the ability to deal with difficult situations. This direction suited me admirably. Good results could only be achieved financially by the most stringent restriction of spending at other times. For long periods I would deny myself all extras to mess bills. As others have found, such spending discipline becomes a habit that you have to live with. Private enterprise adventure training had high priority. Twenty years later adventure training became a recognised way of developing valuable qualities for all ranks.
I was encouraged to ensure that Nigel's disability did not mean that he should be left out of exciting enterprises which others were involved in. Our honorary godfather (the Hon) came to the rescue on summer leaves. He invited me and Nigel to join him on expeditions. He would provide the car, whilst we would only pay for our accommodation.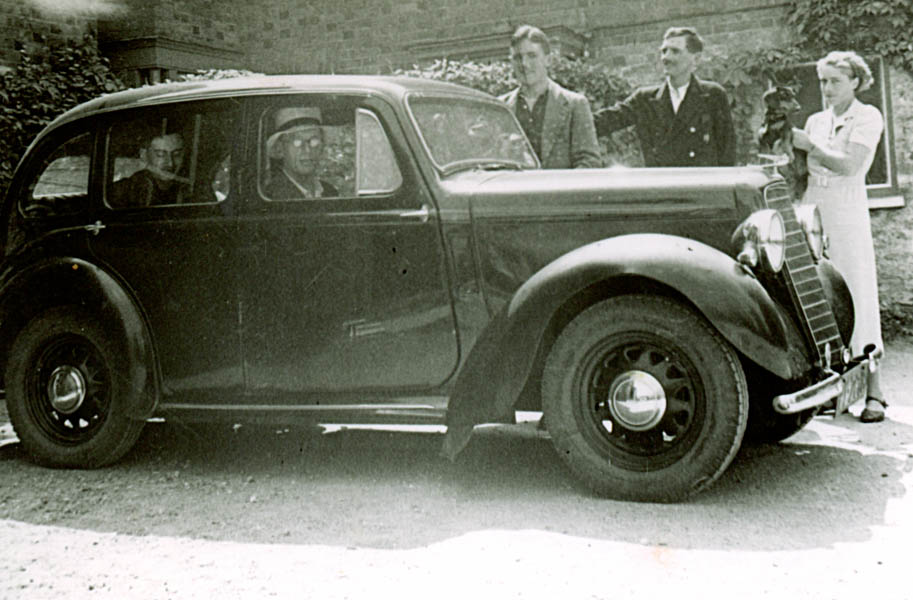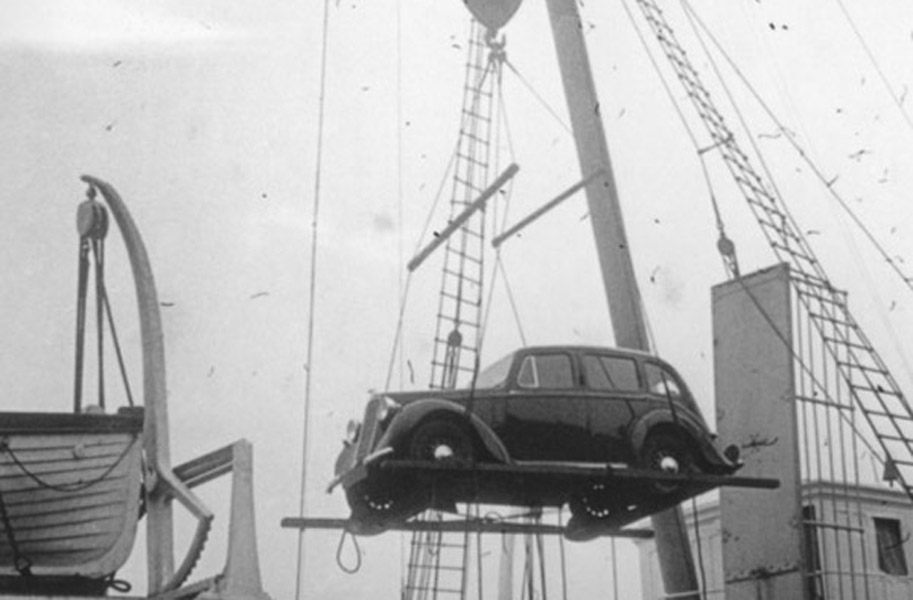 The first tour took us south through France with no firm itinerary. In Bordeaux we endured a French record temperature of 40°C and got some relief in the cellars of the Chateau La Tour vineyard in this famous Claret area.
We moved on to the small Mediterranean port of Sète, supposedly the centre for the production of Sherry from gooseberries. This was the time of the Spanish Civil War and we noted a small steamer holed by shellfire awaiting repair. Choosing a suitable hotel we found ourselves surrounded by spoken English at a time when travellers of our kind were rare. It turned out that we had arrived at the same time as a touring company of the Ballet Rambert, led by the future Dame Marie herself. They were delightful company and we attended their performances during the few days that they stayed. We met them in the hotel and on the beaches, where they had strict instructions not to get too sunburnt.
They had a young man with them as Manager who set off to swim the considerable distance to the lighthouse at the entrance to the harbour. Dame M became more and more agitated, particularly when she saw that there was a flow of ships in and out of the harbour between the swimmer and his target. The Hon and I volunteered to effect a 'rescue'. We found a boat and rowed until we reached the swimmer. He was not distressed, but our arrival was not unwelcome and we carried him back to our beach. Maude Lloyd, Prudence Heyman and Elizabeth Schooling were amongst several who were to make considerable names in the ballet world.
After their final show they set off by coach after a farewell drink which we provided. We felt it was time to leave too, intending to sleep in the open at any suitable place we found. We had not appreciated that we were running east parallel with a continuous array of étangs, extensive marshy lakes. We had hardly settled down before there was an increasing high-pitched note as millions of hungry mosquitoes homed in on promising prey. We had to move.
On our return through the Gorges du Tarn we must have passed close to Anduze, a Huguenot centre, where my Cazenove grandmother's family came from via Geneva 300 years ago, but I knew nothing of this family history at the time.
One way in which I could make ends meet was that I had become a ski instructor. I received no pay but by helping a club I was able to get free accommodation. Donald Greenland of the Dôle Ski Club had moved to Andermatt and formed the White Hare Ski Club with the idea that, with this name, he was not tied to a particular resort. It is still there.
In the spring of 1937 my brother Malcolm and I were invited to join my New Zealand friend Harold Taylor and his wife Joan for three weeks of ski mountaineering, unguided but with a ski porter and a gifted Swiss ski instructor friend from St Cergue. Our nights were spent in mountain huts with beds or bunks, wood for a fire and cooking but no staff or provisions. On the worst occasion in a hut called the Cadlimo on the Italian side of the St Gotthard Pass, it never got warm enough to melt the frost on some of the internal fittings. We climbed something over 30,000 feet and became so fit that on one occasion, after a major day's climbing, Harold and I took in an extra 3000ft for a little more skiing.
We climbed the Blindenhorn in Italy which Mussolini is reputed to have ascended and in another direction from the Albertheim Hutte up the Tiefen Glacier to the Galenstock and then down the length of the Rhône Glacier. For safety we set out in the dark, lit by a smoking candle in a folding tin candleholder. With provisions, a rope and other necessities the weight of a torch with batteries was an avoidable addition to our loads.
Above all the importance of the trip was what Malcolm and I learned from our thirty-year-old leader from New Zealand. We needed expert navigation, knowledge of weather, snow conditions, avalanche danger, mountain safety amongst others - who better than a Cambridge Wrangler to teach us. Safety was our business, not that of a tour operator, a local guide or rescue service.
Chapter 8: Catterick and the 5th Division, 1938-39
Early in 1938 our Course members were allocated to Signals units with the expectation of becoming familiar with all the functions and activities of real soldiering. Two of us were in for a surprise. We were sent to 5 Divisional Signals in Scarborough. Driving there to learn more we were told that by the time we were due to report the unit itself would have moved to Catterick, so it was seemingly joining us rather than the other way round.
Reporting in due course to the hutted Le Cateau lines there was remarkably little to be found. There was no Company to serve a Divisional Headquarters. The last of three Gunner Sections had just left with its Artillery Regiment and there was only one Brigade Section. James Yule and I were the only two officers living in Mess. Being one place above him in the Army List I could claim to be the senior dining-in member for what that was worth. When it came to allocation of duties I took over the command of 13 Brigade Signal Section, not that I remember anyone there from whom to take over. James had to be content with looking after nine men giving support to 7th Royal Tanks.
The matter of immediate importance was that the unit had won its way to the final of the Hospital Cup in Scarborough. Was it by chance or not that we had been selected for this posting. James and I happened to be two Soccer colours from Woolwich, he an expert and I a temporarily converted rugger player. Can such qualifications affect one's posting? I have been suspicious of posting organisations ever since. We lost the match on a scorching hot day after 45 minutes each way followed by extra time.
Our charming commanding officer, George Henderson, had another priority. He had been severely wounded in France during the Great War and, after evacuation to Switzerland, spent much time recovering from the loss of an eye. Later in his service he had been an early, if not the first, manager of the Royal Signals Display team with its showmanship involving a mixture of both horses and motor cycles. 1938 was mechanisation year and there were to be Motor Cycle Trials to help promote vehicle mastery in place of horsemastership. This was of immediate interest to our Commanding Officer and his two new officers were to train a team of four. With only the brief School of Signals training to build on there would be plenty of work to do. To help us was Stowers, a former Display Team Sergeant.
My Brigade Signal Section had men with plenty of skills, being composed in large part by long-service soldiers who had completed a five-year tour in India. There was apparently much truth in the ditty which started 'You'll get no promotion this side of the Ocean…'. Stowers was an excellent operator, recently from overseas, who was plainly a leader. He was a valuable all-round athlete and had achieved a good level of education either in the army or before. Nevertheless there was considerable discussion and tooth sucking before it was agreed that he should be promoted to the rank of Acting Unpaid Lance Corporal. Many of his kind became officers when war broke out and gave valuable service. I hope he did well too.
We worked hard and regularly to meet the motor cycling requirement. The moors were close at hand with steep hills, minor streams and varied surfaces right on our doorstep. The course when set would have long sections with demanding time limits for completion mixed with test sections of hill, stream or bog which should be ridden without loss of balance for minimal penalties. There was a small penalty for putting one foot down for a prod, more off for greater footwork and no points for absolute failure. Some practice was needed too in the preparation of our machines and quick roadside repairs. In the end we carried off both the team and individual Northern Command Trophies. One prod of the foot on the two circuits of the course left me in first place.
The Army Trials were in Aldershot, giving advantage to the local teams in knowledge of both the type of terrain and the local geography. Even so we achieved second place and at a later date I was invited on my personal record to become the officer in a group of twelve soldiers to compete in the Scottish Six Days Motor Cycle Trials. This was a great experience with many interesting people encountered. It took us from Edinburgh up to Fort William, out to Mallaig and several other places of note.
It was a pity we were not to be mounted on the faithful Norton 16H that we knew so well. In fact we had the twofold responsibility of competing in the trial and testing the products of four manufacturers before decision on a new type of machine for the Army. Norton, Matchless, BSA and Triumph were the manufacturers involved. I drew Triumph who gave us poor support, possibly because of too little warning.
We were only able to collect our machines at the Midlands factory at the last minute, riding directly to Edinburgh to check in. All vehicles in those days had to be run in at moderate speeds for the first thousand miles or so. Otherwise they were liable to seize up. The Triumph 350cc side valve engine lacked power, but even the more powerful makes we had were no match for the mounts of the civilian entries. We were up against class performers and would have liked to claim modest places amongst them. Nevertheless I had followed one piece of military advice which was 'get known for something'. I was a motor cyclist! Though the task set me by Colonel Henderson was an unusual one I believe it had certain merits. To be given something important to do for the sake of the unit and to be left to carry it out unsupervised could have make or break ending. If it works out right it is good for all parties.
Catterick Camp life was busy and congenial. Having left the major Signals area we were now much more part of the garrison with friends from every arm of the Service. The Officers' Club was the centre of much social activity as it was at this time in Aldershot. No one would have forecast that in a dozen years time both would be gradually fading away. Tennis Tournaments were popular and Saturday evening dances well subscribed - the Morritt Arms at Greta Bridge also being much favoured. The Lake District was within easy reach and the local countryside was magnificent. Trips home (to Benson near Oxford) were easier to fit in. At this time high quality cars of a certain age had little value. I was the owner of a 2-litre Lagonda and driving was a pleasure.
My private expedition training continued even if the military side lacked purpose. Nigel and I made a summer sortie to Norway. There is a jingle that remains in my head which describes our mission:
When I was young and Hitler small and Goering hadn't left his hangar
I went to Norway having bought a ticket on the Argonaut,
A vessel advertised to call at Bergen and Stavanger.
This is precisely what we did, Nigel, myself and the Hon Godfather, Brian Palmes. I do not remember Bergen, a Hanseatic Port and ancient capital of Norway, as being large, but perhaps we only explored the seaboard. The steep-sided grassy slopes of the fjord were spectacularly green and the whole picturesque in its very best sense. As we travelled it became apparent that this was no place for speed. Many of the roads were not metalled and, as is their way, became ribbed and very rough on the car until one learned that increasing speed to a suitable point meant that one rode the top of the ridges in reasonable comfort. On one occasion a greasy stretch caused us to slide disconsolately into a ditch. We were prepared to some extent by having brought a rope. By attaching one end to the car and waving the other at the few passers-by, one of them got the message and towed us out.
On the mountain roads another hazard appeared to be large herds of goats. In places where the road dropped sharply away on the valley side we were worried for their safety. In fact they were no problem. We found that they were superbly agile so that they were impossible to alarm and that if one moved slowly they flowed round the car like a liquid. We came to enjoy their cheese.
In Oslo we felt at ease and at home, making contacts readily. Memories in Norway and Sweden are much of trees, lakes and fine views. Plentiful trout were enjoyed long before fish farms made this delicacy easy to come by. In Stockholm the lingua franca for us was German, which was the second language at the time in Sweden. Stockholm seemed to be far ahead of Britain in planning its city and creating new buildings of style. On we went south past the great lakes to cross to Denmark at Helsingor.
This was the time of Chamberlain's fateful visit to Hitler in Bonn and there were surprises in store for us. In a central square yellow posters were being scattered about with the words displayed 'Krisen Akut' and 'Chamberlain rejser hjem' which even we could understand. Our Prime Minister's visit to Hitler had failed. Reporting to the British Consul the next day we explained our Service connections and our previous intention of driving home through Germany. What should we do? "Well", he said, "Germany is plainly off and the port of Esbjerg would not be safe. If war is declared the ferry would be stopped and you would be taken off. Your only option is to drive all the way back to Bergen, which will be a convoyed port in war. Catch a boat there." This we did. Arriving at Newcastle, the heat had gone out of the situation. There were some signs of trench-digging about, the first indication we were to see of war preparation. Back at work there was no build-up of the strength of our unit for a real job. We became an extra Depot Regiment for the training of additional recruits with drill instructors loaned to us from infantry battalions. I was myself borrowed by the Signals Training Battalion to help increase the flow of new Signals operators. I still did part time with my Brigade Section as time flowed by. There is little to record about preparations for a forthcoming war. I do not recall any efforts to consider what shape it might take or what we should be doing about it. Perhaps another ghastly trench war was envisioned and this was a thought to be stifled. The Royal Tank Corps, as it was then called, was moving (with all too little help) in the right direction and others might be making modest progress. Thank goodness the creation of good new aircraft was not thought too provocative to our eventual enemy as improvement to the Army was thought to be.
Our summer manoeuvres showed our dismal state. The event took some three or four days at the pace of marching infantry. Laundry vans and other lorries had been hired to provide essential transport as garrison vehicles were too few. Bren gun carriers were represented by small cars decorated with yellow flags and the only anti-tank protection was the Boyes rifle, an outsize version of the soldier's personal weapon and in short supply at that. Only an enemy could have taken encouragement from what went on. So the story continued with lingering false hopes of peace for a further year.
For an Easter venture leave was not restricted but uncertainty prevented forward planning so I signed on for two weeks amongst 4000-metre mountains round Zermatt, which proved to be my farewell to Switzerland for many years. The response for skiers had been poor because of other people's doubts and I found myself guided in a party of three with Jeanette Kessler, one of our leading racers, and Ripley Oddie, her fiancé. I could not have had better company. There was no mountain transport working in the spring, so the ascent of Monte Rosa, for example, was a two-day climb with a night spent in the Betemps hut. We ranged far afield, though less strenuously than Harold Taylor might have wished.
The remaining few months to the war were eked out happily enough, perhaps too much so for the several sincere friendships which were suddenly to be severed by war's declaration.
Chapter 9: World War II starts, 1939
At 11am on Sunday 3 September 1939 war started for me whilst listening to a primitive car radio parked in the town of Richmond in Yorkshire. Or perhaps I should say us, as the fair sex had not gone by entirely unnoticed in my life up to this point. For Margaret and myself the result was almost instant parting, with the hope of reuniting gradually diminishing over the years until it seemed sensible to say, without any counter attraction, "We must both now have become different people. It is best that we should live our own separate lives."
The Saturday night had been the first with lighting restrictions and new officers, Territorial and Reserve, were arriving in the Mess by Sunday afternoon, and so long-laid plans were quickly put in motion. However a picture anyone may have of formed bodies of trained troops moving off to battle locations did not apply to us. I had recently completed the three years of service required to qualify for the rank of a Lieutenant. This somehow made me quite senior and turned me into a Company Commander in a few days. This did not relieve me of other duties including my Brigade Section and a new appointment as Signalmaster at the Divisional Headquarters which was being assembled. I asked a young arrival if his call-up caused much difficulty and I was told that a had been fired from the Ford car plant for putting the door screws in with a hammer. To him this was just another job.
The first five days covered dealing with new arrivals, digging slit trenches, injections for all and packing up for a move. The second five days involved moving out to create a tented camp at Gandale nearby, digging trenches, more injections, sorting out the trade skills of new arrivals and packing up for a move. The next five days took us back into Catterick Camp to the hutted 1916 date barracks of Hooge Lines. Here we cleaned up, dug slit trenches and prepared for training. However Phil Harding, our splendid Quartermaster, rightly pointed out that much of our equipment had been left in our original peacetime stores and should be moved to our latest location. This took priority.
Late on Wednesday 19 September a message was received to tell two of us, Wilfred Jelf and myself, to be ready 'to proceed to the Tropics from midnight Friday', fifty odd hours hence. With cars and all our belongings in Yorkshire there was sorting, packing and transport home required. There was tropical kit to acquire and a dozen loose ends to tie up. The next day we were in London by nightfall with the difficulty of finding our way in a blacked out city. In the daylight, balloon barrages were a novelty and a trip to the War Office elicited the news that we might be able to have an extra 24 hours for solving our problems. Arriving home at Benson, near Oxford, I spent 36 hours there, my 'embarkation leave', and left my car garaged 'for the duration'. The train from Reading to London was standing room only and the one on to Darlington blacked out. Arriving in Catterick after midnight I found my room had been reallocated. I had to improvise.
The next day I met Major Ralph Bagnold, desert explorer, physicist, writer and brother of the author Enid Bagnold. He said that we were not under his command, but that we would be travelling together when the journey started. This meeting and what followed turned out to be a tremendous stroke of luck. A more interesting man cannot be imagined. The full moon that we had over our final waiting days brought home what a great blessing this form of lighting can be when all other lights are extinguished.
There was no hanging about. We were told that baggage should be marked a not very revealing 'X2' and we should be leaving by train at 7.30pm next day for Southampton. There we were marched to the Cunard White Star Quay to board the Franconia II. The later horrific stories of the discomfort of crammed 'troopers' with monotonous food did not apply to us. Our ship had been prepared for an expensive cruise and we were to benefit in every way, eating the fine meals intended for others. We were carried by lift to 'A' Deck where Wilfred and I were allotted a first class cabin with beds, not bunks, and a private bathroom. There was a Cunard steward to look after us.
We were able to get ashore for some shopping and I acquired an ancient typewriter for thirty shillings and a primer on touch-typing. It seemed likely to me that there would be free time available at sea to pick up a new skill. At 7.15pm we moved out into the roads, Alcantara, Empress of Australia, ourselves and then the Athlone Castle. Only the Military Police were there to see us off. The fading colours of our home country were at their best from the grey green of the sea to a huge low sun, red as the western sky and set off by rose tinted barrage balloons. A full moon rose and we drifted to a halt. It had to be dark before we came out into the Channel. At 5am a door started banging and we knew that we were on our way.
Boat drill, ship's duties and routine had to be gone through, but with so many officers the shared workload was not heavy. My term as Orderly Officer was at a rough time in the Bay of Biscay. On the credit side we had a squash court, gymnasium, swimming pool, shuffleboard and extravagant quality messing. There was plenty of time for reading, photography and regular typing practice.
There were five Signals officers on the ship and our dining table was kept constantly interested and involved in the widest range of experience and discussion at every meal. Ralph Bagnold, unconscious of rank or age difference, was interested in people and with the instinct of a great teacher the response that he could get from them. His experience and interests were wide and he wished to share them. He was a man of exceptional intellect and imagination, a great human being, who never talked down to people. There was no trace of condescension.
Later in life I came across passages in Ralph Bagnold's autobiography which spoke of his time around Ypres in 1917 and through the tragic battle of Passchendaele where he worked for a great Chief Signals Officer F.J.M.Stratton, who had important lifelong influence on his career. (See Appendix A.)
Bagnold was a man of small stature, wiry and active with a restless mind always pursuing new ideas and seeking wider knowledge. In the mid-1920s he and a band of friends stationed in Egypt carried out wide exploration of the Western Deserts. With the vehicles of the day this was no mean challenge. Navigation techniques were of prime importance and desert obstacles called for many imaginative solutions for safe travel. His last great expedition started from India, where he was then stationed. The drive across the intervening countries to Egypt was a formidable exercise in its own right. In 1927 Army life was not demanding enough for him and he retired, to be recalled from the Reserve in 1939.
I had developed my own firm belief in the importance of Adventure in life at an early age and he and I were both attracted by mountain activities. Here was someone for me to look up to.
We had touched at Gibraltar and with finer weather tropical kit was worn. We were well on our way until…
As a change from the gymnasium, squash court or swimming Wilfred and I were playing shuffleboard whilst the convoy was pursuing a somewhat zigzag course, because of a submarine shadow, supposedly seen from a French aircraft. Looking up I was horrified to see Alcantara across our bows and a short distance away. The inevitable collision took place with a crunch of tearing metal. The impact was just forward of her bridge. She hinged round on us crushing each of the swung-out lifeboats like walnuts as contact was made down the length of the ship. Some boats fell apart leaving separate ends hanging from the davits. The call to boat stations found several parties looking disconsolately at the remains of their supposed rescue craft.
In fact by good luck we got off lightly. It was said that Alcantara had been reinforced forward of the bridge for a gun mounting. Otherwise she would have been seriously damaged if not sunk. We settled down to a list of a few degrees, but were able to enjoy our usual caviar before an excellent dinner while matters were sorted out and we were on the move again.
The next day we sighted Malta's small Island of Gozo and before long the submarine nets of the Grand Harbour were pulled aside and we entered this fine anchorage surrounded by great classical buildings. Valetta was all gleaming white limestone and most attractive. At first no-one was allowed ashore. The Governor had ordered a 10pm curfew as local inhabitants were refusing to obey blackout rules.
Our cruise routine now gave us time to explore the island. In due course Franconia entered the floating dock, carried clear of the water for inspection, but it remained our hotel. Alcantara entered the graving dock, where her patching up was quicker than ours. A quick staff exercise removed the important members from our damaged ship and transferred them to others that would continue to Port Said, leaving us behind. We said our goodbyes to our guru, Ralph Bagnold, and wished him good luck in East Africa.
Never one to miss an opportunity I set off with Wilfred to learn about Malta - cave dwellings from 4000 BC, the Cathedral and defensive works of the 16th century Knights of St John and a day on the island of Gozo. Old friends were discovered and a satisfactory break from sea travel enjoyed. Buses conveying us listed explicit rules: -
Rule 10. Loaded firearms and objects having an objectionable smell will not be carried on buses.
Even so it came as no great surprise to the passengers to discover that their neighbour on the ride might be a goat.
In due course two days sailing brought us to Alexandria which, incidentally, is not in the 'Tropics' we had been warned for, where we were put on a train to Cairo.
Chapter 10: Egypt, 1939-1941
There is much to be said for life in the Services, where one is uprooted from a familiar task every two or three years and sent to some new place where different challenges and experiences will help to develop flexibility, new skills and the ability to adapt to the unexpected, something which will be particularly valuable in time of war. Billeted for the night at the Continental Savoy Hotel, Cairo, Wilfred and I met some half dozen old friends or acquaintances. Another military advantage is that the Army itself and one's own Regiment or Corps provide an immense club which is quick to welcome tribal newcomers wherever they may travel.
Wilfred and I were naturally anxious to learn what the future had in store for us on this occasion and reported as ordered to Chief Signal Officer Colonel Micky Miller the next day.
The various signposts in life are hidden, more often than not, until well after they have been passed, only to be recognised later in life. One such was waiting for us here. We were asked if either of us had any experience as a Signalmaster. I mentioned my minimal employment of this kind in Catterick and this decided our fates. Wilfred was sent to Palestine, as it was then called, and I was to join Egypt Command Signals.
Any hope I might have had of joining a unit with the standard task of serving a Divisional or Corps Commander evaporated. If any unit deserved the title 'unique', this was it. It had looked after communications over the whole country except for those specific to Divisions within Egypt. Our HQ and one Company were Cairo-based. We had another Company in Ismailia in the Canal Zone, a hundred miles to the east. This in turn provided facilities in Port Said and Suez, fifty miles away in opposite directions. There was a third Company in Alexandria, a hundred and fifty miles to the west with a Brigade Section reporting direct to Cairo a hundred and twenty miles further still along the coast. Though I never met them there were also detachments 600 miles to the south at Wadi Halfa on the Sudanese border and 400 miles to the west of Cairo at the Libyan frontier at Solum.
I was directed to Cairo Area Signals, providing communications for the ever-expanding HQ British Troops in Egypt, known as BTE, which was in overall operational control until General Wavell's GHQ Middle East was developed.
Our unit took on more responsibilities from time to time until it became unmanageable and parts of it were hived off to form separate units in their own right. Other peculiarities of our unit were to develop and will appear later in the story. For the time being I moved to Abbassia a few miles to the north which was a small military town of some antiquity. If its name stems from the Egyptian reign of Pasha Abbas it would date to the 1850s. Abbas it was who had come to power at a time when the centuries-old tie binding of his country to Turkey was weakening. In Abbassia fine stone-built housing of his time had been extended by many wooden huts. It housed several British units on the edge of the desert. There was also an important and substantial fenced-in area named 'Polygon' with tall aerial masts and the primitive equipment that provided our wireless link with the United Kingdom.
Instant gardening in Cairo's circumstances is easy. A suitable trench is dug and a few loads of Nile mud ordered. The garden then flourishes within weeks.
Cairo Area Signals had an office in a hutted area at the desert edge that included the Sergeants' Mess, a small bore rifle range and a pigeonnaire. Perhaps the concept was that pigeons could be given to units going to the Desert War so that they could send back messages to tell us how they were getting on. It is a pity that this form of communication lapsed if only because the 'fanciers' who commanded these flocks of birds were inevitably great characters such as any unit would be proud to possess.
Then there was Corporal Bottomley who approached me to talk about Motor Cycling. He had won the Egyptian trials and wondered if I would like to tour some of their course with him. I passed muster and this led to immediate acceptance by the soldiery as someone worth having.
Captain Harold Winterbotham was my Company Commander and our parish included a myriad collection of military telephone exchanges in the extended Cairo area and a lesser number of Signal Offices for message handling. For ease of access to their work a large proportion of our men were accommodated in the Kasr el Nil barracks in central Cairo close to BTE Headquarters, where they worked, and remote from us except when we visited their signal centre.
Apart from controlling and improving communications we had responsibilities which would never be given to any unit today. Harold and I were deputed to be the officers for liaison between the Army in Egypt and the Egyptian State Telephone and Telegraphs. This had the merit that we worked with and got to know several of the planning and executive engineers of the EST. Opportunities for meeting and making friends with Egyptians were few, which was a pity. Requirements for new facilities such as an Ordnance Depot in the Canal Zone or for the New Zealand Division at Maadi and many others came our way and I would be sent off with an EST representative to view the site and discuss the requirements planned. At one time when Harold was carried off to hospital the whole of this important responsibility passed to me, a Royal Signals officer with three years service.
There were delays, as much of the equipment had to be ordered from overseas.
The greatest time of complaint was the Muslim month of Ramadan with dawn to dusk fasting for all Muslims. We became the buffer between unhappy users waiting for communications and labourers carrying out at least some work whilst following the dictates of their religion. One forceful complaint that I had to deal with came from Lt Colonel Mutt Mathew who commanded 7th Armoured Divisional Signals. I feared that I was in disgrace, but shortly afterwards a message from this officer was passed to me that if I applied to join his unit, he would be very glad to have me. Although this was another clear signpost I did not feel that it was a personal choice. I was already very busy with something important, so I did not apply. It was many months before professional engineers from the UK Post Office arrived as uniformed officers and took over our tasks as staff officers operating at HQ BTE.
Egypt had always had an excellent reputation as an overseas station with a pleasant healthy climate and rainfall in Cairo averaging a little over an inch a year. Facilities for sport were excellent and a very civilised way of life was there for the taking. Perhaps it was too civilised for developing some of the tougher aspects of military service. With its Turkish overlords and local leaders too concerned with claiming the good things in life for themselves and their cronies, the nineteenth century had not been a happy one for Egyptians. The French and British had been active in the creation of the Suez Canal, which was opened in 1869, and difficulties arose over its management. In 1881 Ahmed Arabi, an army officer from the ranks, led an uprising against the Turkish and European oppressors, which complicated matters further. He was defeated in the battle of Tel-el-Kebir by British intervention under Sir Garnet Wolsey. Arabi was tried, found guilty and banished to Ceylon.
In 1884 a British Consul General was appointed under the guidance that:
'Egypt must be governed in a truly liberal spirit; its task being the duty of giving advice with the object of ensuring that the order of things to be established should be of a satisfactory character and possess the elements of stability and progress.'
Thus it came about that Egypt was governed by the British from 1884 to 1922.
In 1885 Major General Sir Evelyn Wood VC was to raise an army of 8000 from the Egyptian fellahin, the peasant farmers. Lieutenant Kitchener RE was one of his officers. It was presumably from this start that the Egyptian Army was built and was still served by a British Military Mission in 1939.
There were family connections with these activities. My Great Uncle Kenneth Baynes served with the 79th, the Queen's Own Cameron Highlanders as Adjutant at Tel-el-Kebir. In 1884-5 he served in the Sudan. Like many of his time he retired on getting married. His brother Gilbert of the 60th Rifles was a staff officer during the Nile Expedition. Kitchener deserves further mention too. Even the greatest of men have mothers and his, Frances Chevallier, was a relation of my Cazenove grandmother. Herbert Kitchener's association with Egypt and the Sudan was to be a lengthy one culminating when he was Governor for the period 1911-14.
Willie Baynes, of my mother's generation, was a judge in Cairo on the outbreak of the Great War. He resigned at the age of forty to become a platoon commander in France with the Coldstream Guards. Severely wounded, he won the Military Cross and lived on to the great old age of ninety-five.
Gradually I was getting to know Cairo and its surroundings. Both British and French influences had been strong and families of many nations had moved there and remained involved in trade, cotton, the Canal management, the Universities and the Police. Driving to BTE of a morning I would pass strings of polo ponies being trotted to the Gezira Club. The Opera House had closed but there were concerts to go to and evening entertainment prospered at clubs and restaurants, as did other pursuits at organisations of varying repute. Avenues were lined with decorative flowering trees and the central areas were well laid out with fine buildings. Flies were tiresome everywhere and flywhisks, coloured ponytails with convenient handles, became part of uniform. A 1989 visit showed me that flies had been defeated - a great improvement.
Having visited Egypt after a gap of 50 years I can see the difficulty of providing any picture of the place we lived in when first I was there. At the time I arrived the population of the city was assessed at just over one million. For us there was a five-mile drive over open desert from the Cairo zoo on the outskirts of the city to the Pyramids at Mena. Now the impression is of a city largely populated by Egyptians, with constant traffic snarl and a fair sprinkling of tourists. On a visit to the Pyramids care is needed in taking photographs to avoid a background of buildings instead of wide open desert space.
Today Cairo's population is over six million and if one includes the extended peripheral built-up areas that we might call greater Cairo the figure reaches thirteen million. The populations of Britain and Egypt are similar and Egypt has four times the land area, though only one fiftieth of this is productive.
In summary we knew a stylish cosmopolitan city such as that which attracted Edwardian visitors to a pleasant, healthy and interesting country. My FitzGerald uncle spent two months there in 1911 as Chaplain to Bishop Ryle who received medical treatment at Helouan, with the natural sulphurous smelling baths of the German clinic. They returned to participate in the Coronation of King George V. The cure was not entirely a success. My uncle notes as the Bishop's biographer that
'He certainly needed somebody by him, for the ceremony was long and exhausting, and during its course I was obliged to dose him twice with sal-volatile and once with brandy and water.'
---
I have yet to mention a surprise I encountered immediately on arrival in Cairo. I found that Ralph Bagnold was there and not far away in the East Africa to which he had been posted. I dined with him and learned his tale. There had been delays when his ship reached Port Said and he set off to visit Cairo where the newspapers were quick to report his arrival and congratulate the War Office on their wisdom in sending an expert on this country to the right place. This information was passed to General Wavell who was in Cairo, incognito, preparing for the announcement of his appointment as Commander in Chief, Middle East. He sent for Bagnold and suggested that he would be much more useful in the country he knew well rather than one he had never visited. Ralph Bagnold entirely agreed and the change in posting was made, resulting in due course in the major and original contribution Bagnold made, not only to Desert Warfare but also to the overall use of Special Forces.
Over the next year the breadth of my interests were widening through guidance and adventurous expeditions arising from the Bagnold link. I was told that the Cairo Museum was worth a visit on a particular Sunday as Lucas, important in the exploration of Tutenkhamen's tomb, would be there. This I did and following him round learned something of the detective work he carried out as a chemist. A wooden device found collapsed in a tomb would have brown markings which, when tested, turned out to have been leather ties. A three dimensional jig saw puzzle could then be carried out to establish the purpose of the item. Lucas was rather scathing about the jewellery of 1500 BC saying that it had been much better a thousand or more years earlier. Sadly the Museum closed shortly after this visit.
Censorship of soldier's mail was a laborious task. The only memorable missive I handled was a weighty one given me by my mentor, Bagnold. It was headed 'Beach Formation by Waves' and was full of the mathematics and physics needed to support his conclusions. I like to believe that this paper was the one that led Bagnold, the author, to becoming a Fellow of the Royal Society. By some mischance he was not told of this distinction and only learned about it when he returned to England in 1944.
Bagnold invited a number of us to go rock climbing in the area of the Tura caves that had provided the stone for the building of the Mena Pyramids five thousand years before. We used the area several times, passing on the way there a petrified forest, 50 million-year old fossilised remnants of trees. How Bagnold discovered interested people for such pursuits I do not know. As well as Harold Winterbotham and myself from Signals there were a Sapper, Boomer Heath and Digby Raeburn from the Scots Guards, a name I knew in the skiing world. He and I were to work together in later years on Army and National skiing committees and in the Alps.
The year 1940 was seen in with a hectic weekend. Ralph Bagnold planned a visit to several of the pyramids to the south of the well-known ones and then on to the Fayyum, the most important of the Egyptian oases. It lies sixty miles to the south of Cairo, measures some forty miles across and is fed with water by 'Joseph's Canal' from the River Nile. At its lowest point it is 150 feet below sea level and there the substantial Lake Qarun is formed. Shades of earlier times were recalled when we stayed at the Hôtel du Lac, run by an Austrian. With a population of a million, extraordinary fertility and occupation recorded for six millennia it is an area of considerable agricultural importance. As well as seeing the main town and the ancient water wheels we set off westward into the desert where I received sun compass instruction. Good navigation in the desert is of extreme importance if any considerable distance is to be travelled. We used a Bagnold-designed compass. Reaching the Wadi Rayan whole areas of the desert shone brightly, the sun being reflected by thousands of flat round fossils the size of large coins.
Further to the west lies the Qattara Depression, somewhat deeper and ten times the size. With no fresh water supply it is full of salt marshes. The steep fissured rock walls to its north, with the sea beyond, provide the gap of El Alamein, making this the vital defensive platform without an open flank where resistance could hold until the great turning point battle was fought there.
Our way out from Cairo had taken us to the step-sided Midoum Pyramid and on the way back we came to the Dahshur group, the tallest of which we climbed and then sought its entrance. I will describe what followed so that others can savour the experience without having to experience it. First we had to wriggle through some twenty feet of a tunnel of uneven stone where breathing had to be achieved without expansion of one's chest. This opened up into an architecturally fine chamber of considerable height. A second similar though shorter tunnel led to another chamber, similar except for the more powerful aroma of inhabiting bats. The release of tension on reaching fresh air was the most enjoyable part of the whole proceedings.
Returning to Cairo there was a quick change before I joined two friends for an overnight railway trip to Luxor with its fine hotels and ancient remains in an excellent state of repair. This was a festive time for many visitors. At the Valley of the Kings, reached on donkeys, a simple path led to the tomb of Tutenkhamen and once down inside we wandered through several rooms still containing the lesser artefacts of the discovery which had been made a mere dozen years earlier. Though tourists were few the swarm of local sellers of scarabs and effigies was hyperactive. We saw the New Year in amongst lively company and then returned to our overnight carriage accommodation. The next day we went by Ghary, the open four-seat horsed carriage still much in use in Cairo as here, to the great Temple complex of Karnak. The scale and magnificence of these buildings, nearly four thousand years old, is awe-inspiring. This was all too short a visit, though few wartime soldiers achieved as much during their time in the country. At Cairo station on return there were decorative red sand trails and other remnants of celebration of the return of nineteen year old King Farouk from Alexandria.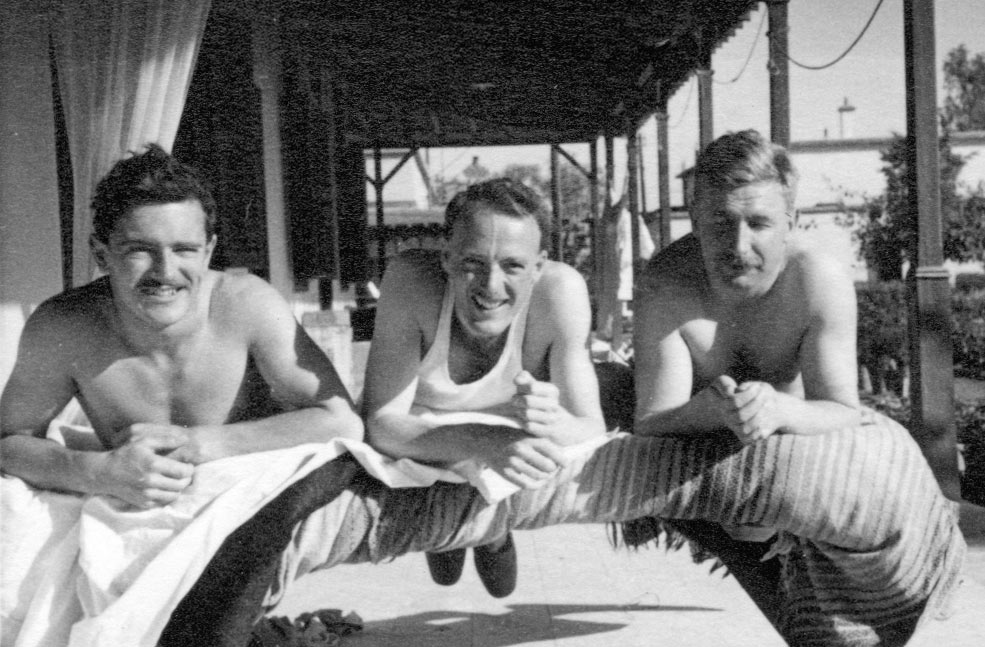 ---
In December 1939 General Freyberg visited Egypt and agreed the suitability of Maadi for the New Zealand Division which he had been selected to command. Shortly afterwards six New Zealand Signals officers joined us in our Mess to find their feet in the country before the arrival of the main body of the troops. They added to the hilarity and enormously improved the performance of our unit cricket team. The Mess also benefited from the commissioning of a number of senior British rankers within the 7th Armoured Division, who shared our Mess. They were able, experienced, and full of good humour; a very valuable resource when a great expansion of Royal Signals was taking place. The arrival of the New Zealanders in quantity brought new experiences too. There was a rugger match between the Welch Regiment, including several internationals, and a New Zealand team. The Welch climbed the goal posts to the cross bar and tied leeks for decoration. Their opponents responded by putting one of their broad brimmed hats on the top of each post.
General Freyberg was to write later -
'In those days, of course, Egypt was only a sideshow. There were only a few British troops there and we were offered the whole country, so to speak, for a camping ground.'
He was right about the low rating of Egypt's priorities at that time as there was no immediate frontier being shared with an enemy country, so that the form and likelihood of any attack was uncertain.
I saw this problem myself when I was transferred to Mersa Matruh to become the Signal officer of an Infantry Brigade. It was by no means clear to me what the intended military task was. Today, with a population of 20,000, Matruh is described as 'the principal resort on the stretch of coast known, by virtue of its mild climate, picturesque rocky coves, fascinatingly hued sea and superb beaches of fine white sand, as the Egyptian Riviera'. It is all these things but with wide open desert inland it would be easily skirted by a mobile enemy. Perhaps there were old lessons to be relearned by those who had fought in France in the previous war. With a continuous front from the sea to Switzerland there were then no open flanks.
The harbour provided a base for Cleopatra's fleet during the conflict with Augustus. For us a Headquarters had been constructed underground, with two entrances as was proved sensible when early bombing hit and damaged one of them. Overall there must have been a misguided concept that a fortress was being built. The Signals arrangements bear this out. A complex layout of underground cables had been installed. Salts in the ground soon ate away at this intrusion and when I arrived armoured cables were being used as replacements. Throughout the system there were small inspection pits where re-routing could be arranged in the event of damage. It seems to me that this was an endeavour to reproduce on a smaller scale the system operated with skill in 1916. Was I supposed to have a lineman crouching in each of these holes ready to carry out changes ordered by me? The records, I fear, had never been maintained before my time, so such orderly restitution was never on the cards. Egyptian labourers continued to develop cable trenches, much of it through hard rock with nothing but muscle power to help them.
My operators were first class, some having served a tour on intercept work in Sarafand (now called Tsrifin). They could pick a weak signal with a wavering frequency out of the air and recognise at once the hand of any operator they knew. Some claimed that the whole process of taking intercepted messages became so ingrained that the signal flowed from receptive ear to written record without conscious intervention. Continuing our international strain a number of Rhodesians joined me. One of them, seven foot tall and handling his rifle like a toy gun, looked totally out of place plying his trade crouched over a morse key. I had an Egyptian Army counterpart named Sandîd for a while but the Egyptians were withdrawn.
Following Hitler's sweeping success in France, the jackals were out and Mussolini brought Italy into the war on 10 June 1940. The next day we had their first deserter and shortly afterwards a captured civilian Governor and a Senior Officer picked up by the 11th Hussars started their incarceration as guests in our Officers' Mess. Bombing started and pamphlets were scattered: -
ENGLISHMMEN EGYPTIANS AND ARABS
OF THE WESTERN DESERT!
France surrenders arms and stops fighting against the Powers of the Axis.
The hour of England and her allies as struck at last
Italy and Germany will fall on you and punish the obstinate continuators
of a ruthless struggle which shall forever mark the decline of Democratic Plutocracies. Englishmen, Egyptians and Arabs of the Western Desert,
you slave of the criminal Government of London, lay down arms ,
because we will allow no respite tho those who will resist.
This message with its several errors was repeated in Arabic on the back.
7th Armoured Division had moved into positions of readiness. Meanwhile two lessons of war were being learned. First concerned sleep. We had moved out each night to perimeter dugouts with sleeping quarters below ground and concrete cover at one end. Raid alarms were frequent and our Brigadier insisted that every time the whole group should be herded under concrete until the all clear was sounded. After a few days the loss of efficiency through lack of sleep was marked. Cover should be taken where available but takes second place where lack of sleep endangers efficiency.
The second relates to health. Operating in strange countries and climates have often resulted in casualties from unexpected illness or disease. Today these things are better understood, but dysentery and jaundice were real problems in the early days of the Desert War. Strict hygiene drills gradually reduced dysentery and jaundice was reputedly contained after examination of the way in which inoculation needles might be passing the disease from carriers to fit men. I was carried off to hospital in Alexandria with both uncomfortable complaints. Three-week attention in the Naval hospital put me right. Air raids continued in Alex though the low intensity and the small size of bombs limited the casualties. To some extent it was a show to be watched:
'Air raid spectacle - Searchlights sweep the sky - They find - Muzzle flashes from AA guns - Bursts get closer to enemy aircraft but at the dramatic moment the target disappears round the corner of a building.'
When fit I am referred to the list of 'benevolent women' and by great good fortune am invited by Paul and Betty Greaves for ten days leave. Fat free diets and limitation of alcohol are not mentioned, as jaundice demanded later, and I have happy memories of a mutually enjoyable time which may be judged perhaps by the fact that I still get news of the surviving Betty nearly sixty years later.
Back at Mersa Matruh I learn that our Brigade is disbanded and that I am to return to Cairo. Perhaps our purpose had been to hold the ring whilst the fighting formations continued their training, taking the field when an attack on Egypt materialised.
---
The evacuation of our troops from Dunkirk ended a phase in the war, with the major operational task for the Army in Europe becoming readiness to repel invasion and preparation for an invasion of our own. This was a long-term project.
Meanwhile it was still important to carry out offensive operations wherever this was possible and it was only in the Middle East that there were land frontiers where operations were developing, thanks to the rather hesitant intervention of Italy, whose troops had advanced into the Egyptian Western Desert.
Headlines of the times talked of the successes of 'Wavell's Thirty Thousand', though I am not sure of the point at which this figure applied. There is no doubt that there were great achievements by small numbers, always short of modern equipment against much more numerous opponents. The supply line through the Mediterranean had served well when the British and French fleets were in charge, but without the French contribution as Allies, the Italian fleet was the strongest in these waters. The long sea route round the Cape of Good Hope had to be used.
As well as in the desert the Italians had became active in East Africa where they saw opportunities to increase their overseas empire from Abyssinia (Ethiopia), Eritrea and Italian Somaliland. Their neighbours were British Somaliland, the Sudan and Kenya. The Italian presence on the eastern projection of Africa could become a threat both to shipping skirting Africa and to oil supplies.
Between December 1940 and Rommel's attack on Tobruk the following May the Italians had been driven back 500 miles along the North African coast with the loss of 130,000 prisoners and the battle in East Africa had been won with Italian losses, mostly in prisoners of over 400,000. One is taught of the value of surprise in military enterprise. In this rare case it was a surprise generated by a third party, Mussolini, who set new problems for both for the British and the Germans. Perhaps we gained the most by his indiscretion. The third false step by Italy was to mount an attack on Greece, once again to the surprise of Hitler. Treaty obligations were met by Britain and a force sent from Egypt in early May. The Germans came in once again to pick up the pieces and it may have been the result of clashes of interest between Russia and Germany over Bulgaria and Rumania which led thankfully to the split up of their temporary alliance. Within three months the Germans were in charge both in Greece and Crete and the residue of our forces was back in Egypt.
In Cairo much had changed in the first year of my time in the country. Of prime importance was the development of cohesion under General Wavell and General Headquarters Middle East of Egypt, Palestine, the Sudan, Somaliland and East Africa. Not only had they been separate Commands, but also connecting communications were lacking and some of these areas reported to the Foreign or Colonial Offices rather than the War Office. The insularity of HQ British Troops Egypt before the war, none of whose units was trained or equipped for Desert Warfare, has been remarked on by Ralph Bagnold and linked with its total ignorance of Egypt beyond the Nile cultivation.
In his early time with 7th Armoured Division Bagnold had discussed some ideas with General Hobart, the foremost developer and trainer of a British armoured formation. He recommended the creation of desertworthy mechanised patrols such as had been trained in 1916. With Hobart's full agreement, linked to his forecast of likely failure, the paper was forwarded. It was turned down. To everyone's dismay General Hobart was replaced. General Creagh, the new Commander, was shown the note and resubmitted the paper receiving an angry reply that this was none of his business. Bagnold took the General on a three day Desert tour for him to learn something of the conditions in which he might be operating. On his return the General received a furious message from BTE asking how he had dared to leave his Headquarters. His comment was 'How does Jumbo (Wilson) expect me to defend the frontier without having seen it?'
Months later in the summer of 1940, when Germany had cleared the British from France and the Italians had declared war, Bagnold decided that his concept was so important that he should resort to subterfuge to sell his views. The 'usual channels' had failed twice. He arranged with a friend who had been a Cadet with him at Woolwich and was now head of Operations to have a copy of his proposal placed on General Wavell's desk. Bagnold was sent for within the hour. Wavell was on his own and the full discussion that took place is recorded in Bagnold's biography. The important intelligence opportunities were rehearsed and Wavell said "What would you do if you found no enemy preparations?". With quick thought Bagnold replied "What about piracy on the high desert?". A grin from Wavell showed that the idea was sold. Bagnold was given six weeks to form the Long Range Desert Group, with all those concerned, including BTE, ordered to give him immediate help. Bagnold received instructions on a number of important issues and came away astounded. 'What a man! In an instant decision he had given me absolute carte blanche to do anything I thought best.' There were only two queries. How did Bagnold propose to get into Libya? 'Straight through the middle of the sand sea. It's safe because it is believed to be impassable'. The other was about climate.
In this way the Long Range Desert Group was founded with a task which was both for offensive action and as a significant provider of forward intelligence.
In the Imperial War Museum Book War Behind Enemy Lines the author, Julian Thompson, records this opinion -
'The work done by the LRDG in their first year of existence… established them as probably one of the most cost-effective special forces in the history of warfare. Their 'return on investment' was consistently better, and over a longer period, than any other British special forces in the Second World War.'
The initial requirement for manpower was met largely from the New Zealanders whose progress as a Division was delayed because the ship carrying much of its weaponry had been torpedoed at sea. Responsible, self-reliant sheep farmers, accustomed to wide-open spaces would be ideal. General Freyberg was approached and permission sought from the Government of New Zealand to which he was responsible. Agreement was received to the 'borrowing' and a notice then called for volunteers for 'an important but dangerous mission'. Half the Division volunteered from whom some 150 were selected.
Ralph Bagnold's rising distinction did not stop our occasional climbing expeditions and I would be kept posted on many of his activities from time to time when we met. No doubt with careful attention to essential security I would learn of his plain clothes expedition to Turkey and his visits to Lake Chad and Fort Lami in building up arrangements with the Free French for desert co-operation. He also commended the excellent sky wave communications that the LRDG were getting over distances of a thousand miles using the simple number 11 set. Lake Chad supposedly had a population of crocodiles, though not a great risk. However with his scientists precision he did note that most of the men there were swimming on their backs.
The last and best voyage of exploration to be fitted in was late in 1940. Starting from Suez, we headed south, soon taking to desert tracks when the road ran out. The mountains inland rose to two thousand feet and storms on high ground could produce flash floods in areas of wadis, dry watercourses for most of the time. In about five miles across such an area the track had been washed right away in numerous places. A vertical drop of six feet or more could be the result, a dangerous obstacle to careless travellers. In our case earlier parties had broken down steep banks to provide reasonable slow motoring. At Ain Suchna we reached the hot springs which the Arabic name implies. The water was of pleasant and relaxing temperature, but we chose the Gulf of Suez for swimming. The beaches were covered with great varieties of seashell, coral and rock, the result of many storms in an area with few visitors to take souvenirs.
A pipeline now runs from Ain Suchna to Cairo and on to Alexandria. At that time our petrol certainly came via Suez, but not I think by pipeline. We carried fuel for our journey using the same system as Bagnold and his desert explorers had used and was still in use for the desert convoys. Square based tin containers standing two foot high contained four gallons. Each pair then had a protective wooden framework, as the tins themselves were not strong. Refuelling and cooking both relied on this arrangement. The wood provided cooking fuel and an empty tin became the stove. It would be cut to provide both air inlet and space for feeding in the wood low on one side, the top of the can being opened to allow the kettle or pot to stand safely above the fire. The system was quite satisfactory for us but the cans were not nearly robust enough for long desert journeys in army transport. Much fuel was lost and with mixed loads chocolate arrived tasting more of petrol than anything else. The German jerrycan was discovered and when production difficulties had been overcome it became the valuable container that remains to this day.
The next morning we headed south, crossing the Wadi Araba and passing el Zafarana with its lighthouse before turning inland and following a difficult track climbing 4000ft to St Paul's Monastery in its majestic mountain setting. It and its nearby neighbour, St Antony's, are the two oldest Coptic monasteries in Egypt.
The St Paul concerned was born in the 4th century, his tomb becoming a place of pilgrimage. In the 6th century a church was established there which had water supplied by three springs and some four acres to grow crops. In later times a camel convoy brought in some supplies every three months or so. It is astonishing that their meagre water supply has persisted to supply the foundation for some 1500 years. We were given courteous attention and shown round a place remote from the war taking place elsewhere. When invited to sign the visitor's book I was astonished to find that the name above mine was an unknown Horsfield. Might this be a descendant of Thomas Horsfield who published a History of Sussex in 1834?
Our return journey directly to the Nile covered some 140 miles of desert driving. This journey was easily accomplished and gave me a greater appreciation of Ralph Bagnold's journeys of thousands of miles including direct crossing of sand dunes and of a 1920s journey across the Sinai Peninsula to Petra in Jordan.
---
Compared with all these great events my own activities on returning to Cairo in the late summer of 1940 were rather mundane. I was to be employed as Adjutant of our widespread unit. This is an important step both in its own right and as a learning opportunity as the staff officer and executive of a unit Commander. Wartime expansion meant that my generation was gaining this education half a dozen and more years earlier than our peacetime predecessors. In early August HQ BTE, having grown out of its previous building, moved to the Semiramis Hotel, which was on a prime site overlooking the Nile. The Nile Hilton now stands there. The plan included separate offices for our new commanding officer, Lt Colonel Steward and myself, but after a few weeks more space problems required Fanny Steward to move in with me. A future Major General, he was a robust First World War soldier with an outgoing personality. His echoing laugh must have disturbed neighbouring offices. His 1916 memories of operations in Palestine included the moment when a mounted enemy officer appeared through the mist. Revolvers were drawn and six shots were fired by each party without a hit being scored before the horse was turned and the enemy cantered away. He was plainly well known and well liked as was confirmed by the number of his friends that dropped in. I would not have missed the oblique instruction and entertainment which came my way from this fine raconteur and his friends, but it did lengthen working hours.
It was odd to have a unit HQ in a major Headquarters and it meant that we were part staff officers and part regimental officers. It was eventually recognised that it was inefficient for me to live in a somewhat remote Officers' Mess and I was placed on the lodging list and able to choose my own roost in Cairo. I found lodgings with other military on the twelfth floor of a building that housed, on the first floor, the New Zealand Club. This was just one of the many provisions General Freyberg made for the welfare and efficiency of his New Zealand troops.
It was helpful that I arrived in Egypt with the first convoy of the war and got to know and be known by many people. Cairo filled at a great pace as formations continued to arrive from Australia and South Africa, with smaller contingents from Cyprus and elsewhere. The Poles drew particular attention as they walked the streets of the city. If an officer was seen to be approaching their military protocol required that soldiers from the ranks should halt, stand to one side and salute as the officer passed. Their progress was pitifully slow.
My unit kept well ahead on variety. Large Signal Centres handling multitudes of messages and operating day and night require many men for which appropriate provision had not been made in peace. In order to meet the demand soldiers from many infantry units were drafted in. Many cap badges could be seen amongst them. It is unlikely that we were sent the best, but they buckled to and did a good job. Similarly there was an immediate need for Cipher Officers. I believe that officers of the Education Corps were trained in this skill. More were needed and officers from several Arms were drafted in, some of whom remained with Royal Signals after the war. An even greater problem arose over operators for telephone exchanges. Signals operators were taught the drills in their training but were in too much demand for working morse keys or the primitive teleprinters then in use. The problem had to be approached in a different way.
Automatic telephony was only just appearing. We had a number of main exchanges and a multitude of smaller ones. An operator was likely to be asked for a number on another exchange which, with busy operators, could be time consuming. 'Trunk Calls' were a greater problem as there was high demand and low circuit capacity. The exchanges were operated by night as well, though with reduced numbers. Officers' wives played a great part in getting this system going and they and others of several nations deserve great praise.
To increase our international image we had two Palestinian Despatch Rider Sections. These were made up of Jewish individuals who had moved from their many countries of origin in anticipation of the creation of the state of Israel (which eventually happened in 1948). They brought with them little English, but many other languages. A Dutchman and a Swiss were helpful, particularly the former. 'Orderly Room', the procedure for Commanding Officer's legal or other enquiries, was carried out in many languages, Yiddish being a common one. At one time we counted that we were employing fourteen Nations, including one Chaldean from Ur.
One day in November I was brought an application for a telephone job from Phyllis Horsfield, a cousin I knew well, so we got in touch. She was a great friend of our family and often joined our holidays at home or abroad. From the younger end of my father's generation she was half a generation older than me. She had been staying with brothers in India when war was declared and started her way home, only to get stuck in Egypt. She became an Air Force cipher officer and moved in to my Pension. She joined Tony Cazenove as the second member of my family in the area. At about this time Airgraphs came into use. Small single page forms were photographed, flown home in bulk, printed and distributed. It no longer took a matter of months between the writing and delivery of a letter.
In October my younger brother Malcolm arrived, commissioned into the Worcestershires. He had trained at the Swiss Hotel School near Lausanne and become reasonably fluent in both French and German. Getting bored waiting in the reinforcement camp in the Canal Zone for a job I suggested that his languages might be useful. I trawled him round the Intelligence branches in GHQ Middle East and he was taken on by the intercept service, moving to the Desert after training to join a forward intercept section. He had an interesting war, through the desert, Bletchley Park and then into Europe. It was nice to have seen a little of him in the short time we were both in Egypt. Though I did not know it I was soon to move. We next met five years later.
My connections with the intercept world had grown over time too. My predecessor, Peter Lonnon, worked in this field on the GHQ Intelligence Staff and Harold Winterbotham had moved into the same service. Ronald Politzer, a Cassels publisher stayed for a while in our Pension and through him I got to know a number of the expert linguists plying their skills in Heliopolis. Cherrie Whitby and Pam Taylor became firm friends, with Ronnie Ballantine, an Airways pilot, joining in when available. His regular trips to and from Asmara brought back many items of good value from the disturbed market of the war there. Malcolm attended the wedding of Cherrie and Ronnie after I had left the country. A shared sense of humour was the most important characteristic of the group. It still is.
---
My uprooting from Egypt was as abrupt as my departure from England had been. General Penney, the Signal Officer in Chief, inspected our unit on 6 January 1942. When he discovered what I did as Company 2nd in command, he remarked to the poor newly-arrived Company Commander "What the hell do you do?" He went on to say that his Corps could not afford the luxury of such appointments at Company level. Four days later I was posted to Singapore and within the next fortnight my journey started. Preparations and farewells were rushed.
Chapter 11: Benson - Mill Lane House and the KCB
News from home over my time in Egypt was very limited. Letters would take two and sometimes three months for a one way passage by sea. Then there were security instructions about what either party was permitted to mention. The introduction of the Air Letter Card speeded things up. Rather cramped spaces on forms once filled in were micro-photographed and flown home. Printed out on arrival they were distributed. When Malcolm arrived in Egypt I learned something from him, but much was to be learned later. This is a convenient point to tell the home story.
The Horsfield family moved to Benson in 1934 when my father retired from the Army. There were no fixed ideas about where to go or what to do, except that a country location was preferred and that my mother and father would jointly be running whatever enterprise they embarked on. They were interested in finding a new way of life that would be creative and interesting with modest rewards. Their knowledge and experience in caravan activities produced a solution. If this approach is referred to as running a hobby shop, it is at least providing work that is going to be enjoyed.
The search was resolved when The KCB was discovered which included a restaurant and filling station. The business property stood on its own, back from the Benson bypass in a garden area with forecourt and parking space. A stone building with Norfolk thatched roof and pleasing appearance provided space for a restaurant and offices. It was furnished throughout with attractive oak furniture of traditional design made by craftsmen in the nearby village of Ewelme. The gardens too were suitably set out for fine weather service. The aim for this creation is explained by translating the letters KCB into 'Keep the Country Beautiful'. The motorists' needs could be provided in an attractive environment. It may not have made economic sense in the harsh world of business, but it did attract people to become regular users of its facilities. To complete the scene there was a row of petrol pumps standing between the main building and the road with their own thatched roof.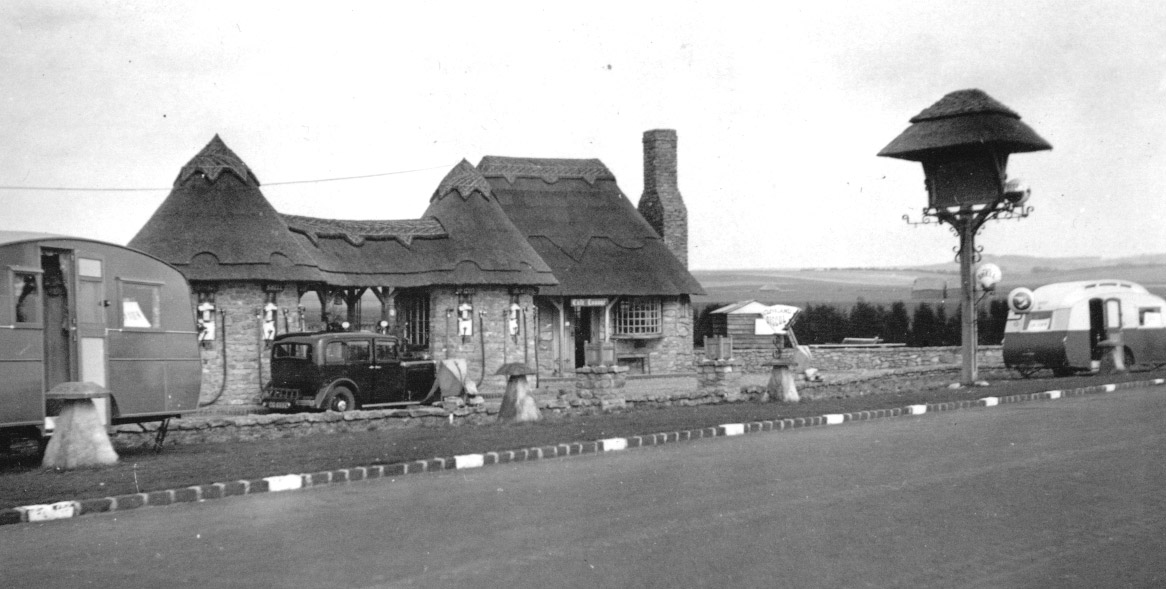 There was good space for dealing in caravans, which we had been using for holidays since 1930. A business had been devised which our parents could understand and enjoy.
Mill Lane House was bought to live in a mile or so away in the village of Benson with the Thames nearby. A millstream ran alongside the two acres of garden with its useful barns and outbuildings, as well as a grass tennis court. This was my home for the years leading up to the war.
The staffing of The KCB was amateur rather than professional, many family friends and connections being taken on with some lame ducks who needed a helping hand amongst them. The atmosphere of the place was always happy. The rewards came in unusual ways. Murray Lindner, who made Rollalong caravans, became a good friend. He was imaginative and inventive but tended to concentrate on design rather than promotion and sales. A number of his enterprises had failed and Rollalong was about to follow suit. After some hesitation my father and a friend each put up the relatively small amount of money needed to keep the company going. They became directors, initially without financial reward, and were able to keep the focus on production and selling until this became habitual. They also played their part annually at the Caravan Show at Earls Court. The pay-off did not come in the lifetime of any of the three involved in the mid 1930s but when the company was bought by the Hanson Trust 40 years later it was certainly profitable for my generation at a time when I had become a director myself.
Though one may set out to plan one's life, circumstance may well intervene dramatically. In the late 1930s a Royal Air Force airfield was being developed near Benson. This would lead to the Horsfield family trio playing a valuable part for active participants during the war years and beyond. They were an unlikely team, my father in his fifties and having lost his left arm in Gallipoli, my blind but practical elder brother and my dynamic and imaginative mother. Yet people can do much to overcome their difficulties. The 1914 war produced many lost limbs. My father played in one-handed golf championships. He also played good tennis. Balancing a tennis ball on a ring contraption on his artificial arm, he could throw it up to serve. Nigel, a voracious braille reader, was always glad to help and made excellent use of the minimal vision given to him. Both played useful wartime parts, with my mother as energetic and imaginative as ever.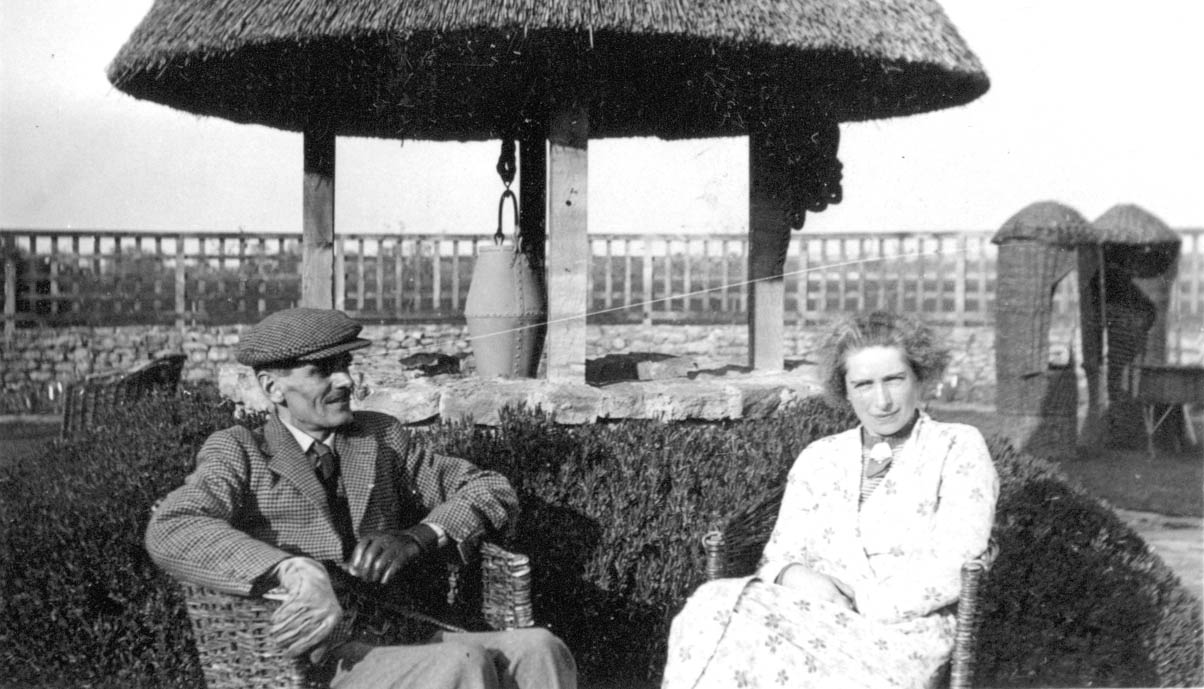 Many years later I learned much more about Benson from Air Chief Marshal Sir Neil Wheeler and his wife Elizabeth. Both had played major parts in the developing the arts of photo reconnaissance and photo interpretation and they were close friends of my parents. Elizabeth earned a special credit in her trade for identifying Scharnhorst, the German battleship, as she dashed through the Channel.
Benson became the key RAF station for building up expertise in an aspect of flying which had received all-to-little attention in the years leading up to the war. The KCB was close to the end of the RAF runway and quickly became very popular for casual off-duty visits. Like all service installations the RAF Station was soon surrounded by barbed wire. However the importance of good access to the KCB was recognised and amateur enterprise soon provided a stepladder over the wire so that no time would be wasted in visiting the restaurant and trysting-place. Communications were provided for instant recall to duty. Mill Lane House also started to offer accommodation when needed in such rooms as were not required for family or KCB staff. This was Stage 1.
Stage 2 started when it was recognised that special aircraft were needed to improve the photo service. Greater aircraft speed, range and access to higher altitudes would all increase the capability which plainly rested to a large extent on aircraft being able to evade such enemy retaliation as confronted them. These thoughts brought the conclusion that the runway would have to be extended. To carry out this change The KCB would have to be demolished and the recently created Benson bypass closed.
The service provided by The KCB was recognised as being important. How could it be continued? If Mill Lane House could be enlarged appropriately the recreational service, formerly given by The KCB, could be carried on there. Application was made with RAF support, permission given and the bonds between family and the RAF Station continued for the duration.
When I returned briefly to Benson in the snows of early 1947, I met some of the Wheeler family still there.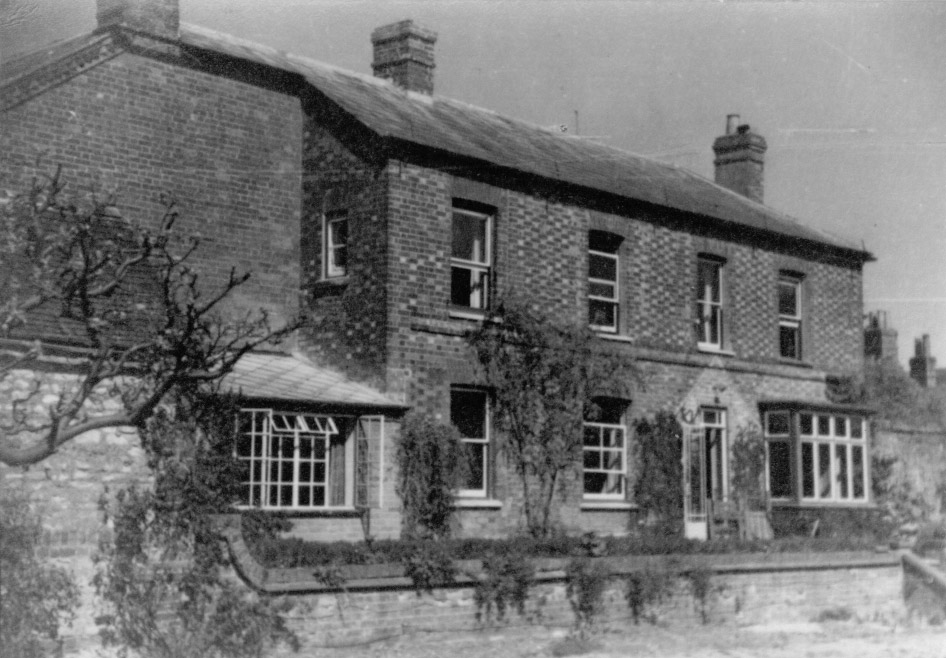 Chapter 12: At sea again - Find the Japanese, 1942
My second sea voyage was going to be different. This time there was no Cunard liner and few creature comforts. When we arrived at Suez from Cairo we found ourselves allocated to the Silverteak, a cargo ship slightly modified to carry passengers. A number of the holds had been left empty and were to be used for accommodation and messing with our vehicles and stores in other holds. The conversion may have been recent, as we had to go out into the town to buy the necessary china and cutlery to be able to look after ourselves. Toilet facilities were arranged by having some precarious cabin structures balanced over the side of the ship so that 'drainage' was direct into the sea.
The most important fighting element of the convoy was the 7th Armoured Brigade with its light tanks. Our vessel was to carry a variety of Signals sections and some Medical and Service Corps units. I met Major Bill Nicks who was commanding an Air Formation Signals Company. Promoted a short while before me he took on the duties of Officer-in-Charge of the ship's military. He had been one of the earlier members of the Corps of Signals, trained as an operator at Maresfield and a useful Corps athlete. On the outbreak of war he had been called up as a reservist, leaving his greengrocery business in Uckfield. Full of wisdom and good humour, he was a salt-of-the-earth character who commanded respect and admiration as well as affection.
He and I were the fortunate ones aboard this fast freighter, capable of maintaining good convoy speed. There were two passenger cabins. Bill and I shared one, leaving another for the next two officers in seniority. We, the privileged four, fed with the ship's officers and the regular close contact this provided greatly helped with the management of the ship. The Master was Jock Leask, a Shetland Islander, and a great human being who had exactly the right touch with all levels of his human cargo. One thing never discovered was when, if ever, sea captains get their sleep. We had reached Suez and it was getting late when Jock Leask came aboard with the news that we were due to set sail at six the following morning. Three or four of us were invited to join him for a drink. We chatted and helped with the consumption of the good quality spirits provided. Eight hours later we were still there when the Captain took Bill Nicks up to the bridge and the voyage started.
The first leg of our trip was uneventful if not always restful. On deck there are always events to capture attention. Land is sighted or a ship, porpoises or flying fish are playing or a whale is seen and curiosity gets everyone to their feet. Then there were the messages flashed by signalling lamp or semaphore flag from our Naval escort, which were easily read by many of our company and the news passed round the ship as quickly as the bridge itself was informed. At my then age of twenty-five it may seem strange to be talking about what the young officers were doing. I refer to the various section commanders who seemed to be making a good job of keeping their men interested, informed and busy in useful ways so far as this was possible in the restricted space available.
As we drew near to our first landfall full submarine watch was set and in due course Ceylon came into sight, a wonderful green picture after two years of the sands of Egypt. Colombo was very welcoming. Up to this time the sea traffic would not have been much busier than in peacetime. Now that the Japanese had entered the war there was suddenly a busy flow of reinforcement and evacuation traffic, with all sorts of people at risk. The inhabitants of Colombo seemed very much alive to this change and we felt very welcome. We awaited the orders for our convoy.
Those of the Armoured Brigade were sent straight on to Rangoon where they were able to play an important part in the retreat through Burma. Those of us destined for Singapore would have to wait until a naval escort could be provided. We set about solving any military problems, such as pay for all concerned, and discovering what provision there was for passers-by; then, with able assistance from Jock Leask, discovering the Galle Face Hotel with its lively Filipino Band, the Colombo Swimming Club and the best shopping area. It was an unpleasant reminder of the war when we met passengers evacuated from Singapore, some of them the wives of people we knew.
Having been warned that we would move on Thursday 12 February, we were told that afternoon that sailing was postponed to the afternoon of Sunday. I had not forgotten the directions given me by Cherrie Whitby in Cairo about her family tea-planting interest in central Ceylon and had already met their friends and connections in Colombo. I knew that Cherrie's sister was getting married on the Saturday. Rapid organisation saw me on the train with Pru Jackson early on the Friday morning; a very lucky Friday13th for me. We travelled slowly through beautiful and magnificent country. There were rocky rivers, jungle, high mountains, acres of tea, elephants, kingfishers, water lilies, all waiting to be photographed as one passed by.
I was picked up at a nearby station by Mr Whitby and driven to Nuwara Eliya, passing on what news I could about his daughter, Cherie, and her fiancé. Not surprisingly in the circumstances I was received as a most welcome addition to the family. I was dropped at the Hill Club where comfort and service were of the highest order. Taken for a walk by way of the golf course there were the scents of pines and gorse. There was a great dinner party involving both wedding families, which broke up in the early hours. I was charmed by Georgie the bride. I had been co-opted as an usher and wedding photographer, meeting hosts of nice people and never for a moment feeling an outsider. The married couple left in due course after the ceremony. I next met them at their Golden Wedding lunch party in Goodwood.
A night train took me back to Colombo in time to have breakfast on board the Silverteak. This was Sunday 15 February 1942, the day that Singapore was surrendered. Our departure is delayed again. At last the waiting was over and on the afternoon of Monday 16th HMS Glasgow led the convoy out of the harbour and we sailed to the east, with more ships joining us next day. Orders for black scuttles and closed portholes made the cabin very stuffy at night.
On the 16th we sail east, on the 19th we sail north, on the 21st we sail south, on the 22nd we sail north again and on the 23rd HMS Dorsetshire appears, a sad casualty at a later date, and we sail west, learning on the 24th that Colombo expects us and we arrive the next day. We believe that we were heading for Rangoon, but were too late, that we then tried Java, and failed, and were finally sent back to Colombo. We have been fortunate to survive so many potentially dangerous near-misses. On the 27th rumours that we are bound for Australia are denied and we will leave in three days time.
I met one of the Wavell daughters about this time whom I had known slightly in Cairo. By this time she had seen a good deal of New Delhi and Java. She had just arrived in Colombo from Batavia, Indonesia, and they were due to leave for Delhi on the morrow.
We saw our final destination in the middle of the month of March and another ten days disappeared in waiting outside Bombay's busy harbour, getting ashore, waiting for the Silverteak to be called in for unloading and for movement orders from Delhi. It was now eleven weeks from the date of my posting and I still did not yet know where I would find a job of work.
Eventually we left by train for Jabalpur, the centre of Signals training where we learned that we were to go to Burma and were prepared for this destination by a cholera injection. The importance of this treatment was brought home to me forcefully when one of my soldiers in Burma became seriously ill and I dropped him at a medical unit. The next day his personal effects were returned to me. He had died of cholera. It was said by a friend that he dodged a medical parade for fear of the needle.
We left Jabalpur by train for Calcutta where I had my first welcome experience of air conditioning in the Dining room of the Great Eastern Hotel. There were further delays. At this stage there was no military air service into Burma and no alternative way of travelling there. CNAC, the British-operated China National Airways Company, ran a service to Lashio and on into China. It was a dozen days or so before I was called forward on my own to make the flight. It seems that I was the only member from the Silverteak who was to reinforce our British forces in Burma at this stage.
It would have been useful during this delay to have been able to learn something about Burma. Burma is different. No European experience has any value as preparation. When I got back from the retreat from central Burma, through Assam into India I was able to see the logic of its geographical development. It is worth explaining,
The first thing to remember is that the Himalayas, the greatest mountain range on earth, lies close to the north of Burma. Great mountains only fade away slowly, producing ridges which may extend for a thousand miles or more from the main mountain area. To the west of Burma there extends a range passing through the Naga hills in Assam and the Khasi range in Burma down to the Arakan range which separates coastal Burma from more central regions. The near impossible range of a series of knife-edged 3000ft ridges and steep-sided streams was to be crossed later by 83 West African Division. 40lb head loads were the norm. For Signals this might be a charging engine or for some unfortunate a carboy, an immense bottle of similar weight, with its content of sulphuric acid for topping up lead acid batteries. Another range runs down the Chinese border by way of Lashio, down central Burma to Rangoon and further east hilly outcrops run south all the way to Malaya.
Another feature of great mountains is that they feed great rivers. Of long examples running south there are the Irrawaddy (1335 miles), the Salween (1900 miles) and the Mekong (2750 miles). The Chindwin, another major river, joins the Irrawaddy several hundred miles north of Rangoon. Even so big river steamers played a valuable part two hundred miles up the Chindwin from the junction carrying, for our forces, several trucks and hundreds soldiers at a time up river to Kalewa. River transport is important to Burma's population and much used. Rivers are large and bridges very rare. Road and rail transport is easy in the central area to the south but not elsewhere.
Burma is segmented by mountains and rivers that present major problems for military operations. The occupation of Rangoon by the Japanese in the first week of March closed the seaborne entry to the country for Britain and India as well as for American supply to China via the Burma Road. It also closed the exit door for thousands of Indian workers who suffered immense casualties as they endeavoured to trek north via the Arakan or Assam into India. Murder and disease took a heavy toll.
In Calcutta I received orders to fly to Burma on 12 April with a baggage allowance of 33 pounds. I weighed in correctly, but with a personal weight of near nineteen stone, more than a third of which was military necessities strung around me.
Chapter 13: Burma
Waiting for take-off in the small Dakota for half an hour, sitting in the hot sun and high humidity of Dum Dum Airport was the nearest I had been to experiencing a Turkish bath. Then we were away and climbing high to clear Lashio's surrounding mountains, only half the height of the 16,000 feet needed to clear the 'hump' into Yunnan, but uncomfortably unpressurised.
We were not expected, there was no accommodation; so we slept on the floor of the RAF Mess and lack of warning next day meant that we missed the one train to take us to Maymyo. This is not recorded as a complaint, but to illustrate that an attack on this country and the speed of its development meant that it was a considerable time before practical wartime organisation fell into place.
The next day we caught the train that carried us to Maymyo, a pleasant hill station to the north of Mandalay. The showpiece of this railway journey is the bridge over the Gokteik Gorge. No side members to the bridge were visible from the carriage windows and the drop below is said to be nine hundred feet. This was plainly an attractive sabotage target. Passes were needed for foreign travellers. The British could travel but thousands of Chinese soldiers were pulled off the trains until instructions explained that they were on our side. The billiard room of the Maymyo Club was our accommodation for the night. As there had been several bombing raids there was some discussion as to whether safety would be greater under the billiard table or well away from it.
For three days I waited in Maymyo where I found myself appointed as a Major to command Burma Corps Signals. It was hoped that the men I had brought from Egypt would arrive, but hope faded. However I will use this delay to explain some of the background. Today there will be few people who carry a clear picture of the times. There is also the fact that most writers have recorded what was going on in the south. The north has its story to tell too.
What was taking place in Burma was of interest to the Chinese, the Americans, the British, the Indians and, of course, to the Burmese themselves, quite a number of whom had a somewhat misplaced hope that a Japanese victory would give them the freedom to govern themselves. The Japanese had invaded China in 1937, so those two countries had been at war for several years. Gradually the Japanese gained control of the eastern seaboard of China. Chunking had become Nationalist's new, if temporary, capital. The material help that China was receiving from the United States, and to a lesser extent from Britain, could only continue if a new supply route could be contrived. This led to the development of the Burma Road up from Rangoon through Lashio to the Chinese border of Yunnan and on to Kunming and Chunking.
Supplies of vehicles and equipment arrived at Rangoon by sea and had to be driven the thousand miles and more to Kunming, often in vehicles that had arrived crated and were assembled at the docks. India and Britain were already allies and Burma had come under British control in 1886 after the last of the Burma wars that tended to arise from attempts of the Burmese to capture Indian territory. The loss of the sea routes made it of high importance to improve land routes between China, Burma and India. Air transport was minimal at this early stage but was to play a major rôle in the later operations of the Burma war.
To give some picture of the early months in the north I turn to a record written by W G Burchett, a journalist at the time of Pearl Harbour and the invasion of Hong Kong. He was stationed in Chunking. The place was muddy, miserable, bomb-blasted and foggy. The news on the 7th December 1942 reported the Japanese bombing of Pearl Harbour and the sinking of the Prince of Wales and the Repulse. Early positive action came from the CNAC Manager whose pilots evacuated 275 people from Hong Kong in four days and nights before it was surrendered. CNAC passenger routes provided the only carrier service available. General Wavell travelled this way to Chunking. On his return his plane went off course, discovering its mistake when approaching Japanese-held Bangkok. By good luck they were not observed.
In late January the American Volunteer Group who had been serving the Chinese was transferred to Burma where its pilots did excellent work, though they had ceased to operate by the time that I arrived. Burchett transferred to Burma. He destroys any image one might have of the Burma Road as a great highway with regular convoys running through to China with military precision. He speaks of the scandal of the operation. Chinese trucks carry only a fraction of the urgently needed military supplies. Prohibited luxury goods are carried instead and sold at enormous profit. The road is not even running at half capacity. Valuable ten-wheeled trucks are pitched over the edge every day by sheer carelessness. Trucks are run without oil in the engines or air in the tyres and everything without overhaul. Truck drivers were the new aristocracy of China. Salaries are nothing as compared with 'squeeze' all along the line and illegal profits. Serious efforts are being made with some success to improve efficiency.
Burchett travels the length of Burma a number of times, a country of similar size to the United Kingdom. He declares that Lashio was the most interesting town in the Far East in the last months of the retreat through Burma. A thatched village a few years back has become a bustling centre of a thousand and one activities. All the important arrivals come through that way, courtesy of CNAC. Generalissimo Chiang Kai-Shek and Madame Chiang, a great character in her own right, were to travel CNAC on visits to India. The Gissmo, his abbreviated title, was still pressing for improved routes to India, having in mind a trade route as well as something of use for military purposes. Brief examination of two options led to the winding-up of work on the Yunnan Burma Railway to the Indian railhead, and exploring a route through virtually unknown country via the Hukwang Valley and over the Naga Hills to join the Indian railway at Ledo.
At this point officialdom appears to have stepped back, and left the survey, such as it was, to the private initiative of Burchett, the journalist, two oilmen from different companies and Clive North of the Burma Frontier Service who happened to turn up at the time. He had the advantage that he could speak the Kachin dialect of the area. They had two jeeps, adequate petrol and food for ten days. They would see how far they could get along the Hukwang route. Ferried across the Irrawaddy they rode the Burma Railway to Mogaung, and there exploration started. The natives had reason to be grateful to the Government, as many of them had been the slaves of the headhunting Nagas until twenty or so years earlier. Before long they reached the ultimate point hitherto attained by any wheeled vehicle. The track narrowed to a path which humans and elephants used. At streams every few hundred yards rough bridging had to be improved or improvised. Kachins were rounded up and with their dahs, simple unpointed swords, they were able craftsmen. For them it was a picnic and they worked with enthusiasm. Enjoyment rather than thought of reward seemed to be the main spur. At the end of the day they reached a point which the headman had assessed as a four-day journey. They were entering an area where no wheeled vehicle of any kind, not even a wheelbarrow, had been seen before. They could only think of a jeep as some new form of animal as is shown by their remarks translated by North.
As the engine ticked over 'It is tired, see how heavily it breathes'. Filling the radiator 'See how thirsty it is. It drinks more than a buffalo'. Feeling exhaust gasses 'It's sick. Feel how hot its breath is'. The headman intervened. 'It is a steamboat. My father has told me of such things.' The headlights caused excitement. 'Look how angry it is. Look how its eyes glare. They are fiercer than a tiger's eyes.' Thereafter there were always fifty workers or more helping the advance.
A hundred yards of swamp was made passable by tree trunks propped on Y-shaped logs driven into the mud. Two wide rivers had to be crossed, existing bamboo rafts being improved to take heavier loads and river banks graded to get the vehicles afloat and ashore. Some of the proud old Kachin men were remarkable craftsmen. All this prompted a remark from one of the team 'I dunno about finding a road to India. It seems to me that we are building one.' They had covered 160 miles of the difficult trail.
Another sixty miles including the Naga mountain range would take them to Ledo. The route was a possible one and with planning and coolie work could make a valuable escape route. 100,000 coolies from the abandoned Yunnan Burma Railway could make a start. The route developed served hundreds of thousands of troops of several nations, refugees and others. The casualty rate from disease and starvation was high but without it the situation would have been much worse.
Back in 'civilised' Burma there were major administrative failures which plagued travellers. Peacetime controls on the issue of petrol and rations could hold people up literally for hours. Arriving in Mandalay, say, the Station Staff Officer had to be found. If he was out no progress could be made. With a chit from him the correct service location had then to be found, which in the end might have moved because of bomb damage. Petrol, if found, was probably in cans, but funnels for easy pouring were either not available or absurdly small. Burchett mentions use being made of something suitable for filling paraffin lamps. Ration issues depended on numbers involved and availability of individual items. For things lacking, an appropriate 'in lieu' item had to be found. This decided, the appropriate scales had to be calculated this way and that by appropriate percentages and then fully recorded in turn for everyone in a long queue. Thankfully the military system once I had joined Burcorps was simple and efficient.
It is plain that Burma was in no way prepared for a war which came with speed, power and ferocity from a direction deemed to be unsuitable for military action.
The enemy had achieved unimaginable surprise.
Chapter 14: The Burma Retreat, 1942
On 18 April 1942 I was suddenly told at midday that I must leave at once for Burma Corps with some field cable. An old lorry was provided and with it came a Gurkha driver. We had no common language, but we made preparations Burma style. The Station Staff Officer (SSO) had to be found and a chit for petrol acquired. No maps were available and no clear idea given of where the Corps HQ was to be found. We should drive to Meiktila and find out. Three and a half hours after the start gun we got away from Maymyo and drove the winding road down to the hot plain and Mandalay, which was sadly war-torn by Japanese bombing and with many fires still burning. The SSO was found and searches for requirements from workshops, stores and issues were a failure. It was dusk by the time we got away and Burchett's Kachin villagers might have said of our transport 'there was no light in its eyes'. A Chinese military convoy started to overtake us. With their lights I could hold their speed and halted with them at their first two hourly halt. We were soon surrounded by Chinese curiosity and used the only language available to us. The Gurkha smiled, I smiled and they smiled. At the next halt they brought us sugar cane which we all chewed. Very welcome it was, as we had no provisions with us.
Our hosts halted at a destination short of Meiktila but the Captain in charge kindly provided a jeep with good lights that led us to the Army Barracks in Meiktila itself. The whole area was deserted, so we took over an empty barrack room, found water for a drink and went to sleep at two in the morning. The SSO, when we found him next morning, said that town accommodation was now avoided. With no fighter or anti aircraft opposition the Japanese flew formations of thirty or more bombers in clear daylight to the bigger townships in turn, dropping all their bombs simultaneously at a word from their commander. After a cup of coffee he told us where to look for the Corps HQ. We took the Kyaukpadaung road. Burmese names are hard to handle, but the common Kyauk comes out as Chowk. The HQ was found on a substantial grassy knoll crowned by thick woodland. It was a nice place for a picnic, though this was no picnic. The rustic holiday scene was enhanced by the wide variety of civilian cars parked casually around. These had been acquired as supplementary transport when the oil fields of Yenangyaung were being cleared before their destruction a few days before my arrival. They were a mixed blessing.
We were now in the dry zone of Burma and water shortage brought misery on many of the soldiers of the fighting units, even threatening their very survival. For our small Headquarters there was less of a problem. Chaungs, dry watercourses at this season, had invisible water flowing. With open-ended forty gallon petrol drums sunk in the alluvial bed soil, cleared of mud, water was then collected that could be baled into our own containers.
I was welcomed by the Chief Signal Officer Lieutenant Colonel McSwiney and his Staff Officer, Major Bill Chisnall and shown round. Bill, a Post Office engineer by profession, but as we were a Headquarters that produced little in the way of paper there was no staff work for him to do. Bill records the memory of his arrival. He found his CSO sitting under a tree when he had reported a week earlier. His greeting was "I can't think why you have come. All you can do is walk back to India. It's quite a long way." Nevertheless Bill was a valuable help and companion for me.
Commanders at the level of Division and Brigade were not too far distant and General Slim constantly visited them. It was Signals' job to handle written message traffic - radio voice communication not being possible. Bill brought me such information as I needed from HQ and spent most of his time usefully with my unit, such as it was. There was violent rain during my first night that had to be endured as we slept in the open. Morning sun soon dried things out.
For the first few days it seemed to be a case of jobs looking for me rather than me looking for jobs. The CSO's oilfield Chevrolet was not working. Would I please have it fixed. At this stage of the war Royal Signals as a Corps had its own Vehicle Mechanics, but I had none so took on the repair task myself. One of the general problems was that we were supplied with the aviation spirit provided for our tanks that apparently was bad for a car's valves. Luckily we had two of the Chevs in question and I made one good runner from the two, adjusting tappets, cleaning the air filter, having the battery charged and taking sound parts from the worst Chev to improve the other.
The next day I faced up to the problem that I had no clerk. The sergeant I had left in India would have been very useful. As a former Adjutant I was well aware of the need for records and reports. Choosing a vehicle I started preparing it to be our office van. It had been used for the slaughter and butchery of calves so a good deal of cleansing was required. This part done I was called upon to take some stores as a gift from General Slim to Lt General Sun, the Commander of the 38th Chinese Division. His Division had played a key part in the battle round Yenangyaung and mutual trust had brought great dividends when General Slim had placed both Burcorps artillery and the 7th Armoured Brigade under General Sun's command for the operation.
As usual no map was provided. I should drive through Kyauk Padaung and on to Gwegio. Once at the crossroads I would see the Headquarters on my left. No-one said 'You can't miss it', but I did and proceeded rather tentatively towards Yenangyaung until a 7th Hussar scout car appeared at speed towards me and the driver said it was unhealthy to go further. Between us we found the Chinese Headquarters. I was well received by General Sun and the telephones and cable I brought were welcomed. Chairs were brought and we sat in the shade and chatted. General Sun Li Jen was a product of the Virginia Military Academy in the USA and has been assessed in retrospect as being pre-eminent among the Chinese leaders. At one point in our talk, calling to a minion, he said to me "You will need a receipt." When it arrived it was written in Chinese so he added '7 Tels …' in his own handwriting. He was a man greatly to be admired.
On my return I gave lifts to several Chinese with happy smiles. It was their habit to wave you down with a stick bomb brandished in their hand. Some took this to be a threat but I feel sure that it was because they had no free hand to wave with. Calling at a fuel station in Kyaukpadaung I added the best part of a gallon of oil to the sump of my truck. The message was driven home even more forcibly that our transport was in dire need of regular attention. The next morning I discovered that two of my wartime soldiers were motor cycle enthusiasts. They were immediately put in charge of vehicle inspection and repair, a job that they did well.
The next morning I reverted to the office task and having started to run through a stack of accumulated paper when my office vehicle was commandeered and I had to work on the ground. Even this progress was stopped when I was sent off urgently to recce the site for a move of our HQ. At Wundwin we found the Chinese I had travelled down with already in situ and most other possible areas had disadvantages. The Staff Captain I was working with was the future General Walter Walker. Two more days were to pass before I was to find time to see my own unit at work. A decision had been taken to look further afield for a Headquarters site. It would pay to be closer to the great Ava Bridge over the Irrawaddy as the programme for crossing could be a tight one before its destruction.
We were sent off before the main body, which was set to move later in the day, and this time all went well. The vehicles of the main body were dispersed on arrival and as darkness came we dug in with some light from the neighbouring towns of Myingyan and Taungtha which were both well alight from bombing. In our small community headed by Brigadier Taffy Davis, the Chief of Staff, there was little formality. As well as the career soldiers there were numbers of able people from British firms or other Burma employment enhancing the quality of work. At this stage too we had several hill tribesmen, Chins and Karens, who were fine men who were to drop away before we left Burma.
Now I had a chance for the first time to meet up with the people under my command, to see what the organisation was and make a general assessment of priorities. I needed vehicle help for spare parts, so discovered the Ordnance Workshop, with success. I also visited the Field Ambulance and arranged for updating cholera injections. At this date the term Radio was not in use. We had a wide variety of wireless equipment, some of it from the Forestry Commission but our mainstay was provided by the Number Nine set, designed for use in armoured vehicles and produced in the late 1930s. It was heavy, robust and available in increasing numbers as light tanks of the Armoured Brigade were knocked out. I gradually built up a picture of our problems. When we and our formations were stationary, communications were good. However we did not have any facility for communication on the move and one HQ or another was on the move more often than not. The frequency stability of equipment of the day was not good. The result was that our operators spent their time sending calls, listening and searching the waveband with wonderful patience and perseverance until a working link was established.
The standard of skill of our experienced regular operators at this time was very high and our artist in this skill was Corporal Green, probably with a dozen years of service. If there were difficulties he would take on the task of establishing a link which, when working, could then be handed over to a less experienced hand. Gradually I established in my mind that Green was the most important man we had. The rest of us were there in his support. We had to keep the transport going so that we could travel; to keep ancient charging equipment working; to have available the acid and distilled water required for the batteries. Everyone made what contribution they could. Some civilian skills were useful. Our butcher's boy would borrow my pistol when meat arrived on the hoof and carry out his trade. We had no cook but some had better camping skills in this trade than others and so on.
The high level administrative arrangements deserve applause. After the initial attack by the Japanese in southern Burma, very little time can have been available to get supply centres set up over the country. Yet we were never kept short of rations, in fact towards the end we were encouraged to take as much as we could find good use for. We learned by their absence how important the staple foods of one's diet are. Bread, potatoes, eggs and green vegetables were not to be had. Butter was liquid as was the fat in tins of bacon. People would often speak of the simple meals they would enjoy when they reached civilisation. Though we were not a rice-eating nation we began to appreciate its value.
Whilst we were waiting it was possible to review unit organisation and responsibilities and issue clarification where needed. Late in the day orders were received for our next move and instructions issued on groupings and timings.
What I did not know until reading Ronald Lewin's book Slim the Standardbearer years later was that a key meeting had taken place on this day, 25 April 1942, between Generals Alexander and Slim and the American General Stilwell. They were the commanders who could see the realities of the moment on the ground and judge that actions proposed from above had no hope of success. The Japanese in the east were rapidly approaching Lashio. Chinese troops must withdraw through Lashio to Yunnan before the gateway there was closed to them. For British/Indian troops escape was possible through Kalewa and Assam if they could cross the Irrawaddy by the Ava Bridge, leaving, when blown, a formidable river obstacle to the Japanese.
Up at five we got the main party away. As it was some time before my group was due off I set out to find the headquarters of 1 Burma Division which was reputed to be in the area. I learned a lesson. Driving up a track on my search a few rifle shots came my way. I was not slow to turn and be off. Such shots from Burma patriots were a danger to small parties and we learned to be more careful. As General Slim said in his book Defeat Into Victory 'The country was by no means safe for solitary vehicles, despatch riders and linemen'. To explore on one's own was asking for trouble. My purpose in seeking Burma Divisional Signals was a simple one. Mutual trust between Signals units can be enhanced by personal contact. There is less tendency when communications fail to blame 'the other end'.
When we set out the RAF tender that we had for ground to air communication soon gave out and had to be towed. We had no RAF operators but supposedly we knew how to man and operate it. However as there were no friendly aircraft around during my time there it had little value. Rain and mud roads made progress slow. At a water-filled chaung two Service Corps lorries were stuck. I drove my car through and one of my trucks failed. We were still in an age when relatively few people had driving experience. In 1938 Drivers H/T, standing for horsed transport, were being retrained as Drivers Mechanical Transport and it was assumed that if the H/T could look after a horse, then the M/T variety could look after a truck. Those who drove our vehicles were not military drivers but those who happened to have some private driving experience. Few had off-road experience and they had to learn as they went along. My motor cycle trials experience in Catterick stood me in good stead. We had a small number of Chevrolet 30cwt trucks, four-wheel drive and a winch at the front. These were lease lend vehicles, released from crates and constructed on the docks of Rangoon, being too late for driving to China. Taking one of these through, in thunder and rain, I winched out those that were stuck and thereby created a track which most of the others followed without help. My party was rewarded with the gift of a 40-gallon drum of petrol. Spare fuel had high value. Having cleared the fine Ava Bridge and nearing our destination we pulled in to the side of the road and slept uncomfortably in our vehicles. It was 3am. At six we completed the journey.
We were to have two days of relative peace whilst the main effort of our HQ was overseeing the movements of the various formations and units over the Ava Bridge. Our priority was servicing the small charging engines that were becoming unreliable. Once again this was amateur work as the appropriate technical trades were not with us. This was DIY warfare long before those initials had any meaning. We went through all the stores we were carrying, finding vehicle parts we did not know of, hidden wireless stores and much of no value to us. Eventually we had listed stores in numbered cases and a pile we back loaded in case it was of use to someone else.
The next morning rumours of a move enabled me to get the main party packed ready and away, but work on some of the transport was only half done. We disabled a couple of cars and transferred a good radiator from a dud to a runner before getting going on our journey. As dusk approached I had a puncture and whilst the three vehicles were parked we heard what sounded like a two stroke engine which we ignored until tracer fire showed that it was a small Japanese aircraft. After its second run at us we climbed from a thorny ditch only to receive a burst from the tail of the enemy which we considered most unfair. No hits were recorded. It did not occur to us that there might be Japanese in the neighbourhood. At Monywa mortar fire could be heard, though in an indiscriminate manner. We traced it to a railway wagon, loaded with ammunition, which was on fire and moved on to Alon where flames showed that it had recently been under attack. This was where we expected to find our HQ. Leaving two trucks there I made a twenty-mile sweep to no avail. We slept hungry by the side of the road. This area I connect in particular with the sickly smell of the rotting flesh of mules and refugees.
April 30th was the most testing day of all for my small unit. We found the HQ in an area with Buddhist connections, providing thatched roofing for the few. Everything was normal until evening when General Slim was taking his meagre dinner. Some white-faced officers appeared and when questioned one said "The Japs have taken Monywa and if you listen you will hear them mortaring." The Japanese had advanced rapidly on the western side of the river and were now closer to Corps Headquarters than we were to any of our formations. Emergency Operations messages carrying information and orders had to reach subordinate commanders most urgently and this could only be achieved by our morse operators. As already stated, this could only meet with success at times when these headquarters themselves were not on the move. I remember an anxious night moving round from one detachment to another, giving moral support if nothing else and occasionally getting encouraging news, and eventually falling asleep where I sat some time after four in the morning.
This was the end of a phase. The main concern of General Slim now was to extract his Corps to the safety of Assam where fresh units would be able to take over the defence line of the Shenam Heights.
There is a tale told by Bill Chisnall that I find hard to place in time. He was accompanying his Chief Signal Officer who had been called for by General Slim. They were sitting in a tent having a discussion when a motor cycle stopped outside and a young subaltern burst in, with the cry "We are surrounded. I have just been shot at. No point in hanging around here." The great Bill Slim turned to his Chief of Staff "This is serious Taffy - better get some tea."
Attention now turned to getting our formations back to Assam mainly through jungle country noted for its virulent variety of malaria. The monsoon rains would become due in a few weeks and their early arrival might enormously increase our problems. The Japanese might be a threat up the Myittha Valley to the west, parallel to the Chindwin, but whatever they sent there would be getting further and further from their main thrusts. At 6 o'clock we stood to, the military term for readiness against attack. Breakfasted, we loaded our vehicles and waited impatiently for the start. Some forty silver planes flew by and delivered their bombs on Shwebo; most fortunate that the Japanese had not changed their strategic targets to the likes of our vehicles and us. Setting off we had forty miles of reasonable road and then the track started. For a while it led over paddy fields, but these gave way to jungle as we went on. At dusk we chose a camping site. We were told that in a further twelve miles we would have to leave our vehicles. We would await the moment. Without vehicles no communications could be provided. However we did take the hint and prepared to be able to dispose of those trucks least important to us, with similarly classified equipment. Much of our personal equipment had low priority too.
In the morning we were up early and on our way but soon experienced a major blockage which held us up for hours. The cause of our delay was a steep hillside where construction work was still going on. Hairpin corners would have been the longer-term solution, but shortage of time ruled this option out. A zigzag was provided, forward down the first leg, backward down the second and so on. A very slow process. We suffered much from dust. Every vehicle throws up its quota and we drive without windscreens.
At dusk a 7th Hussar officer joined us. He provided gin and we fed him. There were thousands of fireflies and a full moon set off this great occasion! The next morning brought us down into the Schwegin bowl by the River Chindwin. There was a substantial steamer loading and when called forward I drive through sticky sand up weak planks and on board. It seemed to me that a minor modification of the ship would allow one more vehicle aboard on each six-mile trip up river. This was approved so that we are able to take two of our Chev trucks, loaded with Signals equipment up to Kalewa. I marched our men the mile or two to our camp site where we joined our vehicles. It was the usual grassy open space without any facilities.
The morning swim in the river was the first good wash for some time and it helped with laundry too. Certain Burma Corps links kept our operators busy and we could also help the local Signals element. Some cable was laid at Kalemyo on the River Myittha, twenty miles to the west by our usual ad hoc team. Cable usually comes on drums and reels off easily. Ours came in sacks. Finding the frame of an old wooden charpoy (a light bedstead), the cable was disentangled and rewound on that.
Going north to visit General Alexander's Army Headquarters I picked up three Warrant Officers of the Kings Own Yorkshire Light Infantry, each carrying a tidy looking canvas sack and took them twenty miles on their way. Thanking me they said that the Queen would be most grateful. I had been carrying the Regimental colours and she was their Colonel in Chief. On the way back it was good to see a friendly aircraft harassing a Japanese opponent.
Transport was giving trouble as it often did in that age. Inept driving had pulled rivets from a spring mounting. Bolts were found and a repair made. Petrol starvation on a second truck was more of a puzzle. It was eventually found that a blade of straw had lodged itself in a bend of the feed pipe. Suction from the engine would close the flow like a valve and the engine would die. We moved in stops and starts until the fault was cured.
For the journey north we are provided with transport for most of our men, whilst our own two vehicles take our equipment. After hours of rain the track is rough and muddy. A lorry ahead of us overshoots a bridge and overturns. We tackle recovery operations like ants. It is surprising how effective collective muscle power can be. We have moved into an area of fine teak trees and after eleven hours we make damp camp without cover at Tamu.
More fortunate than many that follow us we are not called upon to march until the very last leg of our journey. We march at night and the way is rough and climbing. We are into the Naga Hills. After four hours we rest by the roadside, restarting at first light for two more hours, bringing us to a point where a bridge is being built and blasting is in progress. A vehicle road has been developed from the Imphal Plain, driven over a 5000ft pass through 8000ft mountains. We climb aboard transport and are driven over the pass and down to Palel where we meet 23 Indian Division who will be holding this front with others for more than two years. Larger vehicles carry us to Kangpopki at 5000ft where HQ and officers take over the American Baptist Mission house. We have a fire and a harmonium but no furniture. At least there is cover over our heads at a time of much rain.
At this point a bout of dengue, called breakbone fever, strikes me. It appears that night-time mosquitoes deliver malaria whereas the daytime ones provide dengue. If so I am fortunate as my complaint is like influenza whereas malaria is serious. Fresh rations start to appear and are a great boon. Paperwork, which we have done without, starts to be important again. Nominal rolls are required for those who will be travelling by train from Manipur Road. Pay books have to be reviewed and balances drawn before pay arrangements can be made. We discover confusion about the time of day. Some people are using Burma time, others Assam time and the remainder Indian time. This has to be sorted out. Astonishingly, in view of my wanderings by sea and land, a letter arrives for me from my brother Malcolm in Egypt.
After a week we move on again, but soon there is a long halt. There are several one-way sections in the road and priority has been given to General Wavell, going forward to greet the exhausted units arriving from treks that for some had stretched the full length of Burma. The whole road we travel is insecure. Looking downhill earlier roads that have slipped away can be seen and much engineering is going on to ensure that at least some flow of traffic continues in each direction. The mountain scenery is beautiful as one rises to 7000ft before arriving at Kohima where a few sturdy Nagas are seen much decorated with beads. There are many beautiful birds to be seen and strings of butterflies following their leader enhance the fairy tale atmosphere. Descending to Dimapur and the railway at 400-feet the sun is shining and it is hot again.
The ensuing rail journey to Ranchi via Calcutta takes four days. For the narrow gauge section the accommodation is a hard-seated carriage. At least there is no more hanging about. Lorries eventually bring us the forty miles to Ranchi and on through dull and desiccated country to a large school where the new 4 Corps HQ is located. One of its Signals officers, John Morris MP, has cabled Churchill to get beer money for the returning warriors. Indian ranks had been sent elsewhere, so it was only our sixty or seventy British soldiers who remained together. We were well pleased with our achievement and looked forward to joining a substantial unit before returning to do battle with the Japanese.
General Slim addressed us generously. Above all we wished to serve him again. He had only been a Lieutenant General for a few months but where else would we find such a great and imaginative human being. At my lowly level it seemed to me that if a leader remains calm and purposeful the group around him quickly forms a cohesive team where every man seeks and finds contributory tasks to help all others. Cheerful acceptance of the hardships and disappointments along the line can be a great help.
There were hard times to come in Ranchi. Before long more than half the unit was in hospital with malaria. One morning I attended six funerals though thankfully only one was ours. I will not dwell on this sorry period with its concern for the sick, cleaning our equipment and us. After a fortnight I received direct orders from the Signal Officer-in-Chief to go on leave at once and report to 15 Corps Signals near Calcutta as soon as possible.
The rare opportunities for leave in war deserve good planning for which there was little time on this occasion. However with relations everywhere, as one of my contemporaries pointed out, I knew where to start. Eric Horsfield, a cousin and brother of the Phyllis I had left in Cairo, was Commandant of the Bombay Sappers and Miners in Kirkee near Poona. Enquiries fixed a date and I set out with a friend from the Silverteak for Bombay. At that time I described it as a fine city with good buildings, broad roads and open spaces. With its ten million population of more recent times it is less impressive. It soon became clear to me that big cities and bright lights were no place for me on rare escapes from duty. I spent some time in Schneider's Viennese Studio having a portrait sketched for my parents. The artist was a Jew of talent who decided that India was a safer place for him to work than Hitler's Austria.
In Kirkee my busy relations looked after us well and I found a number of friends. Eventually we had a lengthy journey to Calcutta. There was a major diversion because a bridge was down and the train had to be re-routed. I rang my new Commanding Officer, Colonel Cubby Watts, to report my arrival. He said that he thought that I had been posted to Mhow, near Bombay! Visiting the unit in Barrackpore this turned out to be true. I was to go to Mhow to join the British Signal Training Centre there and command the Officer Cadet Wing.
My next train journey was equally fraught. Arriving at Khandwa I spent a night in the waiting room only to be told at breakfast that the line to my destination had been washed away. Setting off immediately and with three more changes, the last at 3.30 the next morning, I eventually reached Mhow in the rain at 6.30 am. In six months since leaving Egypt I had been on a long sea voyage, served in Burma and Assam, finishing up with 4000 miles of travel by Indian Railways. It was time to settle down.
Chapter 15: Mhow, 1942-1943
Mhow is a town of modest size in open undulating country with the advantage of an altitude of 3000 feet. It therefore provides a climate that is never oppressive, even if the annual arrival of the monsoon is welcomed with the usual pleasure of standing out in the first rains of the season. The countryside is open, neither forested nor lacking trees. All in all it was a good choice for training establishments. The British Signal Training Centre there, STC(B) for short, undertook the revision training of soldier tradesmen after their long sea voyage from England and also ran courses for new specialities or upgrading. The Officer Cadet Wing, which was part of it, received its input from Officer Cadet Training Centres in England as well as those at Dehra Dun, Bangalore and Mhow itself in India. These had given basic officer training for all future officers. The Cadets then moved on to specialist training appropriate to the branch of the Army that they intended to join. It was a great advantage for both nations that the British and Indian components of our courses should meet and make friends with each other during the four-month duration of their Signals training.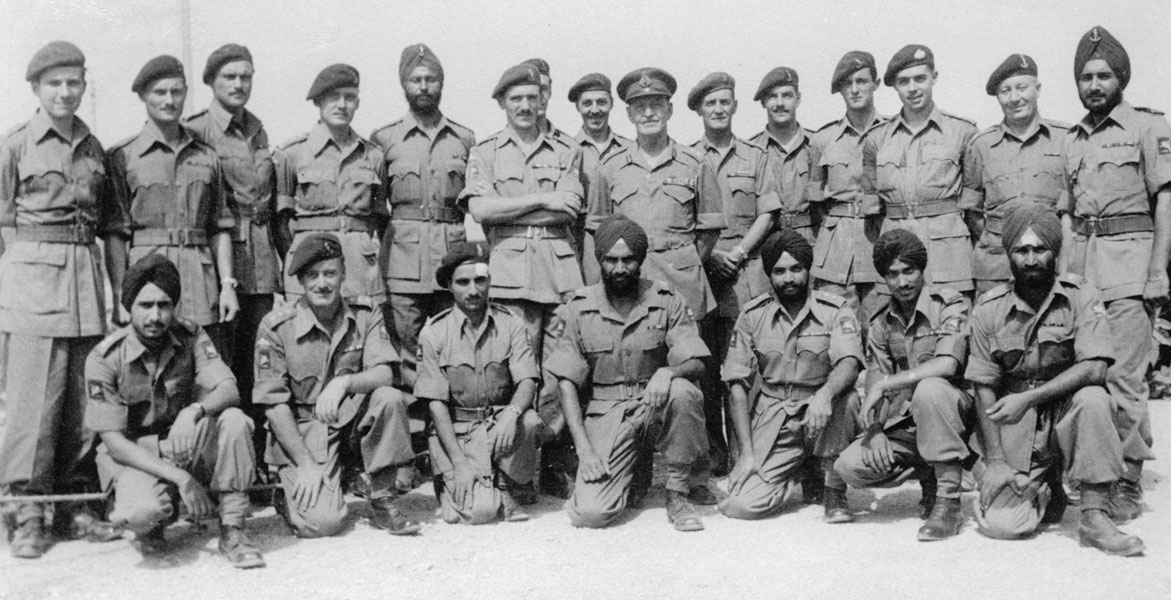 Mhow had gained in military status early in the 20th century as part of the reforms brought about by General Kitchener. With his wide experience of warfare in Egypt, the Sudan and Africa, he saw that the existing broad spread of military units over the country might usefully serve local troubles but had no merit for military action against an invader. He rightly foresaw that there were potential enemies in the north, Russia amongst them, who might take advantage of the situation if improvements were not made. He therefore set about grouping fighting units into Brigades and Divisions. Mhow became a Divisional Headquarters and formation training became part of the routine of life. The name Mhow was often associated with the expansion of its letters to Military Headquarters of War but I have never found confirmation of this. We in our turn inherited fine stone built barracks. Wartime expansion in numbers was catered for by new hutted accommodation and the taking over of civilian properties. Like other old stations Mhow had its Anglican Church and Cemetery and a Military Hospital.
As a new arrival my attention was focused on the job to be done and the people I was to work with. It is only in more recent years that I have come to wonder how it was that, as an officer of so little experience, I was given such important responsibilities and a relatively free hand in what I chose to do. For much of my time there were only two or three pre-war officers in the STC. There appear to have been two causes of this shortage of experience at this important centre of training. The obvious one resulted from the fact that operations in the Indian theatre had only started with the Japanese invasions six months before my arrival. Before that Indian Divisions, largely British-officered, had been moved to the Mediterranean area and had played and would continue to play an important part in that area including, in due course, the Italian campaign. At the same time rapid expansion of Signals requirements in the Far East soon absorbed the best of such quality as remained.
An indication of what was left is given by the nickname 'Dodo' carried by a Commandant who had left shortly before my arrival. It is recorded that he had little faith in that modern development called 'wireless'. On visiting a cadet exercise his famous uttering to a cadet sitting by his set and plying a Morse key was "Not through - thought so - where's your heliograph?"
The basic cause of the Signals officer shortage goes back many years. The Royal Engineers had been operating telegraph communications for some forty or more years before the outbreak of the Great War of 1914. The Royal Engineer Signal Service then developed and expanded immensely. Much of the new officer strength of the organisation had been drawn by secondment, as temporary borrowing was called, from Gunners, Cavalry, Infantry and Service Corps units. As the war progressed it was becoming clear that a separate Corps of Signals would soon be required. Such a Corps was created on 28 June 1920, though discussion still continued about what the requirement really was. Were Signals really necessary in peacetime? In the event of war, could the process of borrowing from other Arms carry much of the load? This had worked before, why not now? There followed a period of experiment that, in the opinion of General Nalder, our Corps historian, postponed the foundation of a satisfactory solution for the production of officers of the Corps until 1930, half a dozen years before I joined.
I do not know how the officer numbers required for the new Corps was assessed, but the target figure should have been higher. From my cadet course at Woolwich only seven vacancies were given to Signals out of a total of eighty-five students, the remainder going to Sappers and Gunners. For a new and fast expanding Corps with the added wartime demands for Signal Intelligence units the estimate, if such it was, was wildly wrong. Whatever the causes, officers of any experience were hard to come by and I had been given an important job to do. It was more important to look at our assets than our difficulties.
Somewhere in India, or perhaps back in England, there is an individual or organisation which should be permanently blessed for picking excellent officers to become our instructors at Mhow. On background experience and warm personality they could not be faulted. My job was to lead this team from civilian sources and help where I could from my limited operational experience. The team we formed of people in their mid-twenties related well to our cadets and formed a powerful engine room for success in circumstances which may not have looked promising.
Lionel Stones stood out on scholarship and versatility. One of our two PhDs, he went on to become Professor of Mediaeval History at Glasgow University. He could master a new subject overnight, as required, and made wise assessments of the students. John Everett became Chief Education Officer of Wiltshire. Two others of repute were Reg Welburn, a future Headmaster in Yorkshire, and Tug Wilson who developed a taste for overseas teaching in Malaya and Hong Kong. Later, when we expanded the scope of our courses, Reg took over the Advanced Line Courses and Tug its wireless equivalent. We had not yet learned to speak in terms of radio.
On the subject of experience, I believe that it was very difficult for some of my seniors, with no operational involvement, to relate to the requirements of the day. Scraps of information about what was being done in the training world in Britain or Egypt filtered through were looked upon as the new Gospel with items to be squeezed into our overcrowded syllabus. Relations with my Commandant, if not strained, required careful handling.
Memories of my own cadet days were of happy times allied to the need of meeting exacting standards in everything we did. At the age of eighteen almost everything has a funny side and laughter is ever near the surface. Our job with our cadets was to help them wherever we could but they on their side had to deserve helping. Many would soon be in operations and they must learn that the way we treated them should be the way they treated their soldiers. Friendship and mutual respect produce bonds that hold a successful unit together. Visiting outdoor exercises the Commandant believed in shouting when things were wrong. I did not. On one occasion he, a keen horseman, was seen to take his whip to a student, though never in my sight. All this was unfortunate. Some might say I was disloyal. Loyalty itself has to be earned and it does not override other principles.
We would receive a new course intake every month. Variation in size made planning and performance difficult. One course might bring in seventy-five newcomers who would have to be split into three classes and another might have a dozen or less which was an uneconomical number for us. It was our job to assess performance and some unfortunates had to be sent elsewhere. When a Chief Signal Officer took the trouble to write to us to say how pleased he was with the quality reaching him we accepted that we were doing about right.
The relationship between Officer Instructors and their cadets is an important one and forges links which endure for life. However this was my first real close contact with Indians of great variety, coming from many parts of the country. I was happy to find that they responded in humour and all other respects in the same way as their British counterparts. It was entirely up to us not to offend either group. On occasion the Indian required more patience. I remember on two occasions spending more than an hour with a young man who could not steel himself to jump over an assault course ditch full of barbed wire. We made endless jumps together and it was rewarding to us both when he conquered his fear and could do it alone.
One of the hazards of wartime change of unit was that there might not be a vacancy in the appropriate rank. Although the appointment I had taken up was undoubtedly important I had to revert to the rank of Captain for three months before becoming a Major once again.
Direct wartime commissioning from the ranks produced many officers who were very useful to us. I had known both our Quartermaster and Technical Maintenance Officer as Sergeants in Catterick. The latter, Dodger Green and his wife Emerald, were immensely kind to many of our officers in what was virtually a men-only community. Some new commissions from the ranks had great experience in India and were into double figures in years of Indian service before they eventually went home. Then there were others of this class, moving on to commission who came through on our courses. Most were helpful and one was outstanding. I had known Bob Edwards in Egypt as the Section Sergeant with 1st Royal Tanks. In their Regimental competition across a range of skills he was the outright winner. Arriving in Mhow as a cadet he was of immense help to his course. Carried off to hospital near its end for some major operation he was medically downgraded and became a most useful instructor.
Our workload varied but was never light. There was no break between courses and we had many administrative responsibilities too, such as censorship, postings, travel warrants and pay. On top of this we, the teachers, were required to study Urdu in our 'spare time' and pass a qualifying examination. At top pressure we recorded ninety-hour working weeks. In December I went down with malaria. Whether I had been carrying he seeds of this complaint since Burma I do not know.
Sick leave was one way of getting a break from routine, but leave without a wider interest than having a rest is a failure with me. It was our historian, Lionel Stones who steered me to Mandu, some thirty miles away, so there I was delivered with my bicycle, to be picked up a week later. I established myself in the Dak Bungalow, not so much tourist accommodation as basic housing and provision for Government officials visiting the area. Mandu, an extensive hilltop fortress of great antiquity, is situated on a landlocked island of a site that is linked to a northern plateau by a natural causeway. Its defensive potential was recognised in the ninth century when it acquired the title 'City of Joy'. It became an Afghan kingdom in 1400 and the ensuing century was its golden age, with its independence ending fifty years later. It became a ghost town invaded more and more by jungle though the skeletons of many fine buildings survive to this day. Exploration was refreshing and time well spent.
Changes came in March when a new Commandant took over and an outstanding Indian officer arrived. Brijendra Singh Bhagat, Brij for short, arrived on completion of his Staff College course. Brij was very close to me in age and seniority. He had won the Sword of Honour at the Indian Military Academy and was a first class representative of his country in every way. It was important to have good Indian representation on our staff from every point of view and particularly for our many Indian cadets. As a further family distinction his younger brother, Prem, was to win the Victoria Cross as a Bombay Sapper and Miner in the Desert War. It was exciting for me to discover the immensely high quality of Indian regular officers who had chosen to come to Signals. He was not the only one from the very top.
It was decided that he should take over from me and I would take on new responsibilities at Mhow, but that I should take leave first. I had no objections. I had learned that teaching in such company, with lively students, could be most rewarding.
Chapter 16: Kashmir & Mhow II, 1943-44
Travel in India took time and would consume a week of my leave. However I was not being rushed and even the travel would give me my first visit to what is now Pakistan. By good fortune I met a couple of skiers in Pindi Sports in Rawalpindi when searching for equipment. We arranged to share a taxi and set off together the next day. From Murree and beyond we breathed mountain air. In the early afternoon there was a landslide which stopped us for a couple of hours with blasting and heaving at work. Learning of a second disruption I walked on to find a scar running a thousand feet up the mountain leaving a rock and mud barrier across the road or where the road had been. At this point our baggage had to be carried by coolies as we climbed four hundred feet to a point where it was safe to cross. New transport was provided on the far side to take us to a Dak bungalow where we spent the night. Mile upon mile of twisting road then took us first to Srinagar and then on to Tangmarg. Here we were provided with ponies, whilst coolies portered the baggage on another long climb. Snowbound Gulmarg, lit up in the fading light, was a welcoming picture. It stands at an altitude of 9000 feet.
Ponies were also used for the ascent of the skiing mountain through magnificent mature trees to the alpine hut two thousand feet higher. The skier rode his mount with his personal servant, his bearer, carrying skis and sticks behind him. Though this sounds arduous for these mountain folk, work at this time of year was hard to come by so what they earned was very welcome.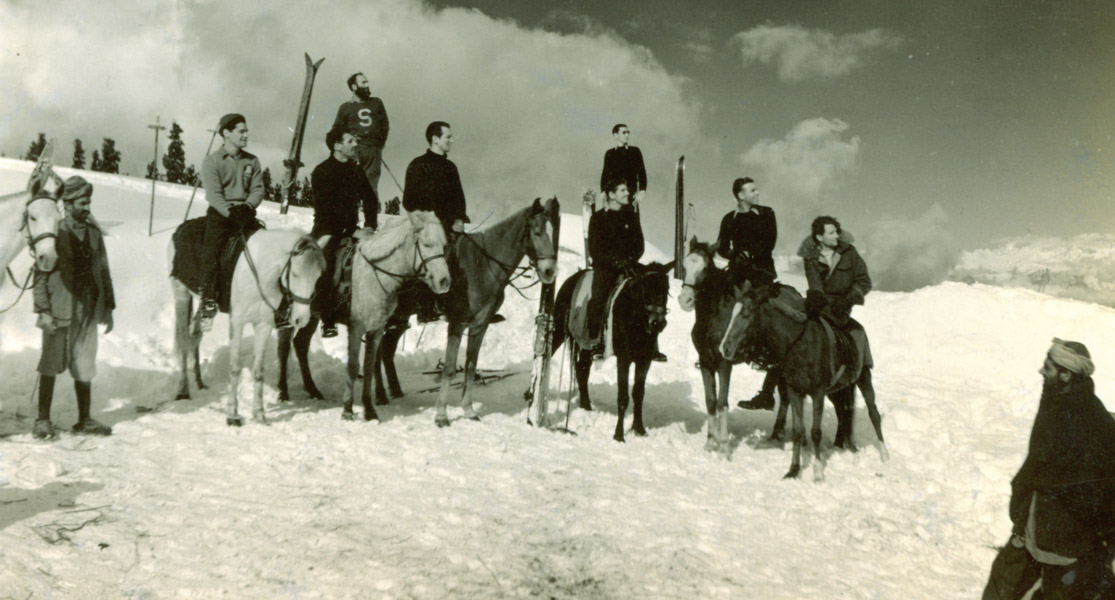 Views were magnificent with the great Nanga Parbat to the north at nearly 27,000 feet adding to the glory. Climbing to the top of Apharwat, the local mountain at more than half this figure, was a severe physical test. Nedou's Hotel in Gulmarg provided the social centre with personal rooms in a number of huts spread around it. The skiers, by and large, were capable and included some with great mountaineering experience. A Viceregal party joined us, known as the Band of Hope, the family name of the Viceroy. Bunty, the youngest, stayed on with half a dozen of us for an extra week in the mountain hut. She was full of fun and constructive humour and plainly enjoyed being away from the formal behaviour required in Delhi. At the end, with weather uncertain, I took the opportunity of setting off to Srinagar with the delectable Betty McCay to meet her friends there, explore the houseboat life and take many photographs of what was then a very beautiful resort.
John Cruddas drove us to Rawalpindi where our hotelier was greatly impressed by Bunty's formal title, The Lady Doreen Hope, and we got similar good service at the Station. The railway official deputed to look after our interests came to say that the train was waiting. He was wrong. It was on its way when we stepped out of the waiting room and there were great cries of "This is Viceroy's daughter. Stop the train…" and fortunately they did. My short Delhi stay covered meals at Viceroy's Lodge and a meeting with Major General Ralph Vyvyan, the Signal Officer-in-Chief, who had been a subaltern with my father.
My new task in Mhow, aged 27, was effectively that of Chief Instructor and second in command and involved the starting of additional courses: the Advanced Wireless Course, Senior Officers Course and Junior Commanders Course. The Long Lines Course had been transferred to Agra. This was an important moment in the history of our signalling. Up to this point our main links had been contrived by an arcane practice largely based on the human skill of our morse operators. From now on science became the major player. New equipments were flowing in and it was important that officers and senior soldiers directly connected with the provision of high level links should be properly instructed.
When I arrived back at duty the first wireless course was due to start a fortnight later and nothing was ready: no class rooms, no equipment rooms and no equipment. I do not know if the difficulty exists today but it was then ritual to do everything 'through the usual channels'. I was already somewhat of a heretic in this practice, observing that many obstacles disappeared when there was personal contact between the person in need at one end and the supplier at the other. In our case equipment was vital to the course and the Garrison Engineer could not carry out the building changes suggested without authorisation from Delhi. Within a couple of days common sense prevailed and I set off, being back in GHQ five days after I had left there. Two days were needed to clear the building permit and arrange for the release of a long list of equipment and then off by train to Agra to the Central Ordnance Depot (COD).
Frequency requirements were resolved by a visit to the Chief Signal Officer and at the COD a Signals Sergeant was the knowledgeable man who led me round from hut to hut with the list of requirements. I also got advice about rail transport. Colonel Nat Gould helped with the provision of a building to sort out what the COD provided. Nat was a great character from the earliest days of the Corps. Joining the ranks he had been a 'Rough Rider', probably in the horsed element of the first ever Signals Display Team. Later he was a distinguished Secretary of our Indian Signals Association. The next day was spent at the COD with my Signals friend deciding what to do about the NAs. If something was Not Available, what might do instead? Then there was much paperwork and the arranging of road transport for the most important items. Sunday followed with a closed COD, which enabled me to become a tourist and see the Taj Mahal. On Monday the road party left and on the next rail trucks were loaded, no loading being possible until all the paperwork was complete. The course in Mhow was launched on time.
In mid June the rains came and I invested in an airtight trunk and a drying agent. Books, cameras and the like need protection from the steamy damp if they are to survive in reasonable condition. My Horsfield cousin and near twin Nicholas arrived on a few days' leave. An artist and temporary soldier then, he was in due course granted a retrospective show at the Walker Gallery in Liverpool. We have been close friends all our lives. Ralph Skrine, a relation of my FitzGerald uncle, arrived at the OTS Mhow, so I got more family news.
Our first Senior Officers course went well. Part of it involved a tour to Signals establishments in Agra and Delhi that made me aware that much had changed during my time at Mhow. I needed to make more visits myself if the STC was to be kept up to date.
In mid-December Major General Ralph Vyvyan the Signal Officer in Chief, my father's friend, visited us. The tale of his meeting with the Commandant is astonishing. I was invited to be present. The Commandant chatted for ten minutes or so about the STC and then said "I will now hand you over to David Horsfield. He knows far more about this place than I do." I offer a historical explanation which may have brought about such an off-hand attitude. In the twenties it was considered 'bad form' to show too much keenness and ambition. An uncle of mine who commanded a Cameronian Battalion mentioned this and declared that he regretted the inhibition that resulted. A damper of enthusiasm arose from the view that it was the Regiment and nothing beyond the Regiment that was important. The Staff College was for pen pushers and no place for real soldiers. If such was the cause, the result in this instance was a Commandant who not only was slow to make decisions but often failed to make them at all. When he was away from the office for a few days the Adjutant would call me and I would do my best to clear all the pending trays in his office. It was no joy to me to be told by him that he was embarrassed by constantly leaving me to do all the work.
I had an enjoyable tour with the SOinC. Our technical training was considered good and the operator training excellent. He would send people from the Indian training centres to see what we were doing. Officer training was in our hands anyway. A nice man.
Early in the New Year of 1944 I spent a fortnight in Delhi visiting the Signals units there: Signal Offices, High-speed communications, Experimental Centre and seeing much of new equipment and methods of use. Lionel Stones and Alec Lamb had moved from Mhow to Delhi and looked after me. On a Sunday Lionel took me on a tour of Indian antiquities and impressed me by translating Sanskrit inscriptions on monuments where they occurred.
Back in Mhow a week later I was told that the SOinC had obtained a Sapper vacancy for me at the Staff College and that I should report to Quetta within a week. I left Mhow and many friends three days later. I am still in touch with two instructor survivors over 55 years later.
Chapter 17: Quetta - Kagan, 1944
Quetta is located in Baluchistan; the largest State in what is now Pakistan. Although its area is the size of the British Isles the population is only around one million, its daunting geography of jagged mountains, deserts and salt marshes only providing sustenance for hardy nomadic peoples. No monsoon rains reach this area and it is the snowmelt from the mountains that provides much of the drinking water. Any towns that exist are a British contribution starting in the middle of the nineteenth century. Rain is a rare occurrence.
Summer temperatures may reach 30ºC but in the dry air this is never oppressive. Winter was a different matter, temperatures of 30º below being quoted. My bathwater, left overnight in one of those two-handled galvanised baths of India, was carried out on more than one occasion as a block of ice. The worst wind was named the Khojak after a pass of that name leading to Afghanistan. Kandahar is probably the nearest city of any size to Quetta. Dress was adjusted to the harsh winters on outdoor exercises. The Poshteen, a goat leather coat with the substantial hair inside for insulation, was a good investment. The exterior was of yellow hue with needlework decoration and fur collar. The scent of the original skin owner was never entirely eliminated but the result was decorative and comforting.
Quetta had substantial military presence and was a family station with a good Officers' Club. Members of staff and some of the students had their wives with them. There was also a group of good friends whose husbands had departed to operational areas. After two years living effectively in a male society this was a place more like the military stations I had known in earlier years. The Staff College was a good Club in its own right. At this stage of the war there were talented people of similar age from different professional backgrounds being trained together for Staff appointments. There were bankers, solicitors, actors, teachers, engineers and no doubt many other professions represented. In this war with many movements and different associations we were privileged for the rest of our lives in the number and variety of firm friends.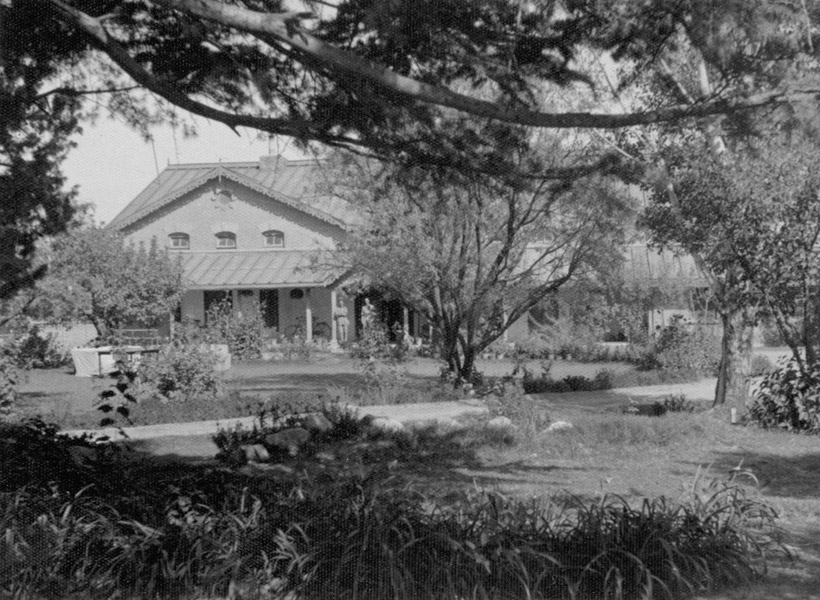 In his opening address the Commandant of the College stressed the importance of keeping fit so that we would be ready to take on arduous duties at the end of our training. This suited adventurous spirits well. Within a week five of us came together with a mutual interest in mountain pursuits. Transport could be provided on Sundays and we set about keeping fit by climbing and skiing in the neighbourhood. No doubt other instructions were given too, but that is the one that I remember.
After four months the course ended with grading and appointment to appropriate staff jobs, or that is the intention. There were five Signals officers on the course, but not one was released from Signals duties to take up a general staff appointment, not even Arthur McVittie who passed out top and received the first 'A' Grade that had been given for some time. Three of us went back to Regimental duty with Signals units and the other two to Signals Staff.
My posting for operational duty in an active service unit in Assam suited me well, as it was now two years since my part in the Burma operations had ended. During our time at Quetta the Battle of Kohima, the decisive operation of the Burma war, had taken place. In late March the Japanese had cut the vital road between the Imphal Plain and the supply line to the north. It was only later that I was to learn of the astonishing valour of a Territorial Battalion of the Royal West Kents in holding the enemy at Kohima for a protracted period until substantial reinforcements were to arrive. The Commanding Officer, John Laverty, had served in my father's battalion in my school days and had joined us in St Cergue on one skiing holiday. He must have done a secondment in Africa, as his attempts to speak French to the Swiss tended to break into Swahili. Lance Corporal John Harman, who won the Victoria Cross in the battle, was the elder brother of a friend of mine at Oundle. No soldier wishes to leave all the dangerous jobs to others. It was time for me to be told to tread the battlefield once again.
Leave has to be taken when opportunity offers and there was a standard arrangement for leave after each course. We were able to plan ahead this time. Charles Bagot my skiing friend had been in touch with me when I was in Mhow suggesting that a spring trek up the Kagan Valley would be an excellent enterprise. Tom Rolt, one of our course skiers knew Bagot, had served in the general area suggested and liked the idea, so planning started. Bagot had been instrumental in making me Editor of the Ski Club of India Annual and this trip should provide a good article. It undoubtedly sounds odd to be talking about skiing in India in July. Perhaps it would be better to say that we would be assessing the skiing potential of an area and hopefully getting a little skiing in the process on the glaciers. It would also involve trekking, a popular activity in its own right.
With high mountains and rugged scenery there are many beautiful river valleys to be seen. Some are inhabited and developed with terracing to produce crops of rice or grain; even the lesser ones have small populations with rushing rivers, fine views and tracks suitable for use with transport animals and ever-improving views of fine mountains as one climbs - the Kagan comes into this category. It was used in its time for the assault on the towering Nanga Parbat, difficult as well as of immense height. Our arrangements were rushed, with considerable help from Charles Bagot, who in the end could not come with us. The major success was that correspondence in easily misunderstood languages did result in 13 mules with four leaders and four coolies being ready for us when we arrived at Balakot. In keeping with Indian tradition Tom and I, the two sahibs, each had our own bearer with us.
The valley of the Kunhar is steep-sided and tortuous for the first 50 miles. The track takes a different line from the river, sometimes at the same level and at others more than a thousand feet above it. As is usual the second day was testing, after which legs and lungs soon accommodated themselves to what was being asked of them. We passed a trout farm that fed this good fishing river with substantial two-pound fish at appropriate intervals. A distinctive snow-covered cone of a mountaintop came into distant view, recognisably in the area we were going to and which we eventually climbed. Sometimes we camped overnight and on others made use of the Dak Bungalows that are provided even in outback areas. On the third day we crossed the foot of a major avalanche, probably two months old and on the fourth turned up a side valley away from the river at milestone sixty, setting up camp at a height of 10,000ft.
The mule handling over rudimentary bridges and foaming streams was very impressive. The views of peaks and snowfields were magnificent. An advance camp was needed for our first survey of the area. Tom and I climbed through flowery alps to a glacial pool at the foot of a glacier. There was a display of fine seracs, the ice pinnacles thrown up by the great pressures in the glacial ice. We set up our simple camp at 13,000 feet.
From there we were ready next day to climb a further 3000 feet through open snowfields and to enjoy the warm sunshine and ever-extending vistas. Skiing, we learned the expected lesson that the July sun transforms snow all too quickly from a hard frozen morning crust, to the delightful granular 'spring snow' of the European Alps. This does not last and all too soon we are left with a dull uninteresting slush. For a short part of the day reasonable skiing could be enjoyed. Good timing, the gradient of the slope and its angle to the sun all had to be taken into account. We lost one day after overnight rain and continuing showers which no doubt helped the great spread of flowers in grassy areas. As time moved on we felt ready to attempt the beautiful peak we had seen from afar.
Awake at 4am we started the long climb up the Siran glacier towards the West Siran Sir, the name we gave the peak by association with its glacier. Where mountain and glacier meet there is often a gap for which mountaineers use the name Bergschrund, the mountain crevice. Particularly where the sun is hot the rock absorbs heat which in turn melts the ice leaving a gap which may be considerable. Searching along it we found a place where crossing was not difficult. The sun was loosening small stones that rattled down the mountain though nothing substantial disturbed us. The rock we scrambled up for an hour and more eventually gave way to the snowy cone we were expecting. Kicking steps in the hard snow was strenuous and time-consuming, but eight hours from the start we were at the 16,500 foot high summit, a moment to remember. We descended with reasonable care as many accidents happen with relaxation of concentration after a successful climb. We were still roped when at one point Tom saw the possibility of easier descent out to the right of our line. I belayed for safety as he explored and soon he was swinging, pendulum-wise, below me. He regained his footing and we continued. Many years later this is a scene I can imagine running a different scenario. Supposing we had both lost our hold and had disappeared into the gaping Bergschrund far below? Had we been foolish to make a challenging climb with the limited experience we had? My conclusion is that we did behave responsibly and that judgement is developed by practice in drawing the line between folly and sensible risk.
The following morning at base camp some of the local sick had climbed to us seeking medical aid. Some of the cases were pitiful. We did what we could with the few materials available in our first aid pack. About this time my bearer set off with letters confirming our transport requirements on our return to Balakot.
For our final exploit we decided to position ourselves for ascent to a high ridge in a new direction. We selected an overnight resting place on a moraine at the foot of a glacier, or so we thought. On closer inspection we discovered that the stones of our floor were resting directly on the ice itself. However we stayed. At an earlier site a marmot had disputed our choice, but allowed us to stay. On this occasion an eagle was much interested in our activities. We did not have a comfortable night. The climb to a ridge at some 16,000 feet gave us new views including the great Nanga Parbat. With ice axes for control of speed we made a rapid descent by glissading down a long and steep sun-warmed slope.
It was now time to start our return journey to India and new appointments. We cursed the increasing heat as we descended to lower altitude. Tom had been in good climbing form, but the descent stiffened a new set of muscles causing considerable pain. He had to take it slowly. At the Dak Bungalow at milestone 36 we found distinguished company. Major General Toovey from Rawalpindi was there, a competent artist from the work we saw. I learned from him that a cousin of mine, Guy Horsfield, was now his Artillery adviser.
By foot I pressed on for Balakot as I was not inclined to trust our request for transport by letter from the snows. Tom with his leg trouble could follow on in his own time. Although the night was moonlit for a start it clouded over and at three in the morning monsoon rains poured down. I sheltered for a while in a wood and hay store being bitten by some bug that produced roundels I described as red centred and purple ringed. Dervla Murphy in one of her cycling epics mentions the same problem in the same area.
When I moved on, side streams were rolling boulders down the slope and crossings were treated with care. I reached Balakot by 6.30am, had breakfast and confirmed the lack of appropriate transport. By an odd mixture of means I reached Charles Bagot in Abbottabad and arranged for someone to pick up Tom and all our belongings when he reached Balakot.
There is great satisfaction in carrying out an expedition of this kind through planning, organisation and execution to writing up the story for publication.
Tom Rolt had been posted to Assam to take up the appointment of Brigade Major of the Lushai Brigade, a formation of which very little has been heard. In later life he always maintained that without the hard training of our expedition he would have had the greatest difficulty in reaching his Headquarters, let alone carrying out such travelling on foot as was needed when he got there. The Lushai Hills are some hundred miles to the south west of Imphal. The country is roadless and the considerable Manipur River, a raging torrent at this time of year, runs close to the Tiddim road on its eastern bank, which was much used by the Japanese.
The Brigade consisted of local levies with knowledge of the country, who were keen to embarrass the Japanese, and four of our Indian infantry battalions. The Brigade had improvised Signals, and no Sappers or Gunners. Equipment was scarce and was reminiscent of the Burma as indicated by remarks such as 'May I please have the map for a moment'. Transport was restricted to mules and porters.
General Slim records his instructions in this way:
Dislocate Japanese traffic on the Tiddim-Imphal road from Tiddim northwards. Render it useless to the enemy as a Line of Communication.
You can not rely on Air Support.
If you get into trouble no one can help you.
He goes on to say that they had reached their positions by the end of July after difficult marches of 80-120 miles over 5000ft mountains and flooded rivers.
The Brigade Commander's contribution coupled with RAF strikes achieved what their Army Commander had ordered.
As to my own future, on arrival in 'Pindi I found out that I was to join the 14th Army in Assam. I also had a chance to meet Guy and exchange family news. He had been in Egypt so had seen something of his sister Phyllis whilst there. He had little to tell of his military exploits and I only learned of them later.
Chapter 18: Assam, 1944
There was a variation in transport after Calcutta when we spent a long day being carried by river steamer to Chandpur in present-day Bangladesh which was close to Comilla on the border of Assam, the location of HQ XIV Army. There I was looked after by two Brigadiers, the Chief Engineer, Eric Horsfield - the brother of Guy - and Bill Bowen, the Chief Signal Officer, well known to me from serving under him in Burma. It was the latter who told me that I was to join 23 Indian Divisional Signals in the Imphal Plain.
The task that Eric took on with his Engineers in 1942 was an immense one. Airfields were needed urgently. Fair weather versions were made in paddy or jungle areas with waterproofed surfaces, some accommodation and fuel supply. Roads had to be developed both for general use and to transport building materials needed for all the projects. Stone was in short supply. A million tons had to be moved from the Khasi Hills to the coastal areas by Inland River transport. A fleet of Engineer boats was assembled and a boat building Company formed to build boats on riverbanks from jungle trees. Much of the work in the early days was carried out without mechanical equipment. The 120-mile coastal road from Chittagong to the south was under water for four months of each year from monsoon rains. An earth bund six feet high and thirty feet wide for the length of the road was created in six months by manual labour. The port of Chittagong was enlarged. No standard bridging was available from Europe so each bridge had its own design and construction. Crossings of numerous tidal creeks called in total for five miles of bridging.
Another high priority was the development of permanent all-weather airfields for bombers and transport planes. The Americans were flying in supplies from India to China over the hump, the high range of mountains separating the two countries. The British and Indian Engineers carried out all this vast programme of work for the United States Airforce. Add to this the need for hospitals, water and petrol supply, storage and creating and improving mountain roads to withstand heavy vehicles in all weathers. Their task was immense.
I left Comilla by modern transport, flying to Imphal, and arrived in heavy rain in mid-morning. We were sixty air miles south of Kohima where the pivotal battle of the Burma war had recently been fought, the connecting road to Imphal only having been cleared a month before my arrival. Palel, my destination, was 30 miles further to the south where, two years earlier, the newly-arrived 23rd Division greeted us as we completed our retreat from Burma. I was greeted by my new Commanding Officer, Lieutenant Colonel Reg Atkinson, familiar to me from service in the same unit when I was first commissioned. Reg was a robust and practical soldier with a cheerful 'get on with the job' approach and was well liked.
His was an unusual story. When we last met he had been a Corporal Draughtsman working in our unit Headquarters in Catterick. I believe that he had taken on this trade for a change after long service as a first class operator. He did not have any pre-war regular officers serving with him but had created an excellent team which was doing a first class job. The Corps should be proud of him. The solution of the command appointment illustrates once again the officer shortage problem in Signals. It also highlights the excellent quality of many of the experienced pre-war NCOs in the Corps. Reg's predecessor had proved unsatisfactory and Reg, his second in command, had inherited the job. I would enjoy working for him and with him.
Now that the Japanese were in retreat it was important to increase the momentum and deny them the time to build up their defences. They were a capable and determined foe but the initiative was ours. Palel is only 25 miles from the Chindwin River but a jungle-covered mountain ridge 4000 feet higher than the Imphal Plain favoured the defender. The rudimentary road over the one Pass did not offer easy passage during the monsoon season, which was upon us. The three Divisions of our Corps had the operational task of driving the Japanese back over the craggy mountains and across the Chindwin River. 23 Division was in the centre and our 37 Brigade would follow the line of the road, the other two Brigades hooking to the right and left. The operation had started so I missed the preparation period that would have been instructive, though such an experienced body of men would know what was required of them.
The Japanese were expert in selecting defensive positions where our artillery and armour could not bring weapons to bear and excavating deep and well-concealed bunkers which were formidable positions for our Infantry to clear.
Divisional HQ in Palel was at the foot of the mountain housed in bashas, simple huts roofed with atap leaves. We had a Lister diesel engine there chugging away night and day. Heavy lead acid batteries were required for every wireless set and it was unsafe to use charging sets at Brigade as enemy patrols could home in on the noise. A cautious 'milk round' would exchange charged batteries for used ones on a regular basis. The distance separating forward troops was not great. The Japanese patrols at night did not limit their attentions to forward troops and Brigade Headquarters. A Bangalore torpedo, a pipe filled with explosive, was placed by one of our buildings in Palel. It failed to go off.
Having felt something of a spectator for a couple of days I was sent off to 'Cock Box' to our Lorried Infantry Brigade where some technical help was required. It was not far but the road was described as 'pretty indifferent'. The first diversion came where Sappers were improving a bridge. The track got worse and worse with anxious moments on the hillside when opposing jeeps had to pass. In spite of four-wheel drive, low reduction gear and chains on four wheels a final hill defeated us and I splashed through deep mud on foot for half an hour to reach my destination. The technician did his job whilst I talked to Brigadier Dyer and his Brigade Major, JHL Buss, a wartime soldier. The reason the initials are remembered was that we were schoolmates at Oundle. Not only were we contemporaries but each of us had become head of house and school prefect at the same time and within this small group of a dozen the formal seating plan had us sitting side by side in Great Hall and Chapel. Leaving late, no lights were allowed and before long the outer wheels slipped downhill off the edge of the track. We spent a cold and miserable night.
In the morning we prepared for help by making tow ropes from Signals cable and were helped out by Sappers, having a further wait while a road slide was repaired. The distance was not far but the journey took five hours. Headquarters had moved up to the saddle of the pass at Shenam where tented camp and food were available.
At the Pass the track crossed from the side of one hill to another and for a moment crossing traffic could be seen by the Japanese in the valley below. A screen was rigged to give concealment. On one occasion I was with the chief gunner when we came under artillery fire. Dropping instantly to the ground we heard a voice say "Anyone get a bearing?" I suppose a muzzle flash might have been seen if we had been looking the right way. Even so it was a lesson to keep people thinking of retaliation rather than self-preservation. At this stage gunners were using anti-aircraft guns in a ground role which gave them considerable improvement in range.
Camping holidays may be spoiled by rain, but this was no holiday and going home was not an option. The next few days were busy as I began to be recognised as a team member. There was an exchange to be closed and a cable to lay from 37 Brigade to the top of a landslide for traffic control, disused cable to be rescued if there was a shortage. This was often spoken of as a 1914-18 problem but it happened with us too and all the time there was mist and rain. Dress was individual. Gurkha hats were good. I wore a gas cape with scarf tightly round the neck to hinder dribbles. Over this came a waterproof cape from which water trickled into Wellingtons. There were no drying facilities and one was permanently wet. The road was ankle deep in mud and a passing vehicle would be followed by its own stern wave of mud. Thousands of others suffered worse conditions over longer periods than I did, but this is a general characteristic of the climate that we do not forget.
The operation was going well when, out of the blue, information came that the Division would shortly be withdrawn from operations for what has come to be called rest and recuperation after its two years of active engagement. We would move to the hill station of Shillong and someone from our unit should go ahead to prepare for the arrival of our warriors. I was the obvious choice with the result that my period of active service with a commanding officer I valued was less than two weeks. With the Regimental Sergeant Major and four vehicles including a radio truck and a couple of 3 tonners we set out three days later.
Shillong lies some 150 air miles to the west of Palel, but travel is not that simple in Assam. We first went 150 miles due north to Galaghat and the Irrawaddy valley, passing through the war-torn area round Kohima with bare and anguished remnants of distorted trees and absence of natural life. There were thoughts too of the superb gallantry shown and those who died in the contest, the story brilliantly told in John Colvin's Not Ordinary Men. To my mind this battle ranks with Waterloo and General Slim with Wellington.
Two more laps took us 80 miles west to Nowgong and finally 90 miles south west to Shillong, a total of 320 miles if the roads had been straight, which they were not. With 4am starts and a night on the way we arrived for lunch on the second day. Shillong's altitude is 5000 feet, which gives it a fine climate and splendid views, for which assets it has been referred to as the Scotland of the East! The Khasia tribe and two other tribes, the Jantias and the Garos, live in the same small state. The Khasis are fine-featured people, where tribes further east are more robust.
Shillong itself is very hilly and our military occupation extended into the surrounding country. First we learned the geography. General Festing's 36th Division was moving out and we quickly made our accommodation bids with some swapping between 'Camp', the Divisional HQ representative and myself. There was plenty to do in the week available if everyone arriving was to feel that a real effort had been made to provide for their comfort and needs. Amenities were needed for both British and Indian Other Ranks. The latter came from Southern India and were referred to as Madrassis. The name stems from the East India Company days when the three Armies were titled Madras, Bengal and Bombay. They spoke many languages or dialects from the south so all were trained in English. In a way I would have liked to served with northern Indians where I could make use of the Urdu I had learned and to improve its scope, but the men I was with were cheerful and intelligent and were capable tradesmen.
Messes had to be made attractive with provisions and drinks available. [The spirits acquired from the Assam Distilleries are not recommended]. A newsroom should be ready for the men with good maps and up to date information. Replacement clothing must be available and pay arrangements made. Vehicles would need repair. Offices were needed and some accommodation required altering. Thought had to be given to Signal Centre and Despatch rider services and so it went on. Games facilities were discovered and a PT adviser told us what he had to offer to help those under training and waiting for leave. It was discovered that surface coal could be picked up in a nearby area and fires in the Messes were much appreciated.
Within ten days the Commanding Officer appeared and we had a fortnight together in which training and other requirements were discussed before he went on well-earned leave for a month. The men too departed in groups whilst for those remaining physical fitness was redeveloped and games were played. On my side there was a good deal of administrative checking to do. The only area at fault concerned various accounts, which is not surprising. Regular officers are trained and practised in auditing but it remains a mystery to others. I ran a short course on keeping accounts and the methods and checking required.
Meanwhile there was a social side to our activities. We knew of WAC(I)s in India but WAS(B)s were new to us. The pronunciation is Wakeye and Wasbee. The former, Women's Auxiliary Corps (India), performed military duties. The latter, Women's Auxiliary Services (Burma), supported a number of the service organisations. All helped enhance the holiday atmosphere of our leave. It would have been nice to stay longer. In several of the places people had wirelesses or gramophones that were faulty and we were able to put them in order, which raised our status as useful people.
Not far from Shillong is Cherrapunji, reputedly the wettest place on earth. The annual rainfall is measured in feet rather than inches, the average being 40 feet and the record being nearly twice as much. On a fine afternoon it was a nice place to picnic and it was one of the best places to collect surface coal for our fires. I made a trip of 40 miles to Sylhet to make contact with the United States Air Force and found them in steaming heat at a mere 250 feet above sea level. Whilst there I bought a truck full of quacking ducks for the Officers' Mess. On the way back there was no steep climb until we passed through a deep gorge. One could see clouds forming as the hot damp air moved upwards into cooler areas and as often as not these clouds would deposit rain on Cherrapunji above. This was the rain machine at work. The ducks liked water too. We dug a pond near the Mess and lined it with canvas. We then fed the ducks on Soya Links, unpopular sausage-shaped soya bean products that they adored. In due course we fed on very fine duck.
As the monsoon moved away our weather became much more pleasing and we could enjoy the country more. One morning I took a group on a route march down past 350-foot waterfalls, along riverbeds, up and down steep banks, largely in single file. We arrived back right on time for lunch. My audience was astonished that all this could be achieved in strange country merely with map in hand. It might well have been otherwise. Mick Garforth Bles and I occasionally rode horses of a Mountain Battery.
A debt I owe to Shillong relates to golf. Four of us played a game on the very hilly course. I decided that the small stationary ball had me beat. I have never played since and much time has been saved for other activities.
My editorial task for the Ski Club of India was not forgotten. Articles, maps and photographs came together and were sent off to Calcutta. One of them spoke of skiing in Sikkim a few hundred miles north of Shillong in the Himalayan foothills. If I was to get leave this might be a good place to go. So it came about that Reg Atkinson returned from leave and in mid-October 1944 I flew USAAF from Sylhet to Calcutta. Three of us started to plan a ten-day Sikkim trip, but I was called to Delhi. In Quetta I had expressed interest in an Airborne job and I was required for interview. I met General Eric Down, the Commander of the Airborne Division, and Colonel Douglas Pringle, who ran the Signals unit. When all was arranged I called in on my Mhow friend, Lionel Stones, now a staff officer. He handed me a telegram. 'Posted to Staff College Quetta as an Instructor. Report 20th or as soon as possible.' I was getting too popular! As it was already the 19th there was a lot to do in a hurry and no leave. Assembling kit from store in India and arranging its transmission to Quetta took time and I handed the Ski manuscript to Hruska, a Czech, for publication before catching a flight to Quetta.
I will never know, but suspect that I was earmarked for Quetta when I left there and that there were people along the line who knew that my stay in Assam would be a short one. It was certainly an honour to be wanted, as an instructor though the task it brought was a testing one.
Chapter 19: Return to Quetta, 1944
It seemed strange to be invited to report in October, almost three months before the first course for my employment, starting in late January 1945. My judgement was wrong. Welcomed by the Commandant I was told that my first to task was to get the Signals side of things right. The secondary short staff course of the time was to be replaced in 1945 by one for the Women's Auxiliary Corps. I was to visit the proposed accommodation to plan their communications both for internal use and for indoor exercises requiring telephone work. This done I was to specify the requirement to the Post and Telegraph Department and continue liaison until the job was finished. Persistence was the skill required. It seemed to me that reference to Delhi before any action was commonly offered as an excuse for delay. However a 'just in time' result was achieved in all cases. At the same time it was rightly suggested that a similar internal system at the Staff College itself needed updating. It was also realized that the Signals equipment at the Staff College was outdated and should be replaced with the new sets and devices that were coming into service both from Britain and the USA.
It soon became apparent that a protracted stay in Delhi would be needed at some stage to sort out equipment and to update myself on the very wide range of Signals duties in which I had had little or no personal involvement.
I was glad to learn that I was to be employed as a Syndicate DS, the final letters translating as Directing Staff. This meant direct contact with a group of twelve students on a day to day basis. After the sixth and twelfth weeks the groups themselves moved round. For every tutorial discussion, described as a TD, a précis had to be read by students before the discussion. Additional notes were provided for the Directing Staff. Skill in syndicate work was soon acquired. After a term at the job one member of staff stated that he could now confidently run a discussion on Greek music without any knowledge of the subject or of having studied any précis or notes provided.
Newcomers given specific subjects, Signals-related in my case, were responsible for producing appropriate précis and DS notes and also lecture scripts in areas of their responsibility. The Training Team had the task of approving all our inputs. I was certainly fully occupied during this preparatory period and was also given the opportunity to take a syndicate for a few days work. Course term time was going to be hectic, as there would be many hours of homework every day; more for the staff than the students. This would involve both preparation for coming events and working through student submissions of Operation Orders, essays and the like which had to be returned with detailed exposure of faulty 'Staff Duties' as well as comment on the soundness of a the action proposed.
It was clear that a private life was essential and this would not be achieved living in the Officers' Mess. The term chummery had been created in Delhi for groups of officers working at GHQ and allotted a house to share. We had the same sort of establishment. My abode was to be in the substantial pre-earthquake Commandant's House. It accommodated four or five single officers well, albeit with insufficient bedrooms for this number. The shortage was overcome by erecting a couple of wana huts in the garden. Their basis was a roomy rectangular tent round which mud walls were raised to head height. This may sound a rugged abode in a place where temperatures in winter were well below freezing, but I do not remember it as a great hardship. Two Staffordshire Bull Terriers passed on to me by departing individuals thought it their duty to share the bed during the worst weather.
Note: a powerful earthquake hit Quetta on 31 May 1935 - 35,000 people are believed to have been killed.
We had our own staff of bearers, cook, gardeners and so on with the advantage that we could play our part in entertaining others in this very social environment. We could play our part as hosts as well as guests and enjoy making our contribution to the life of the station.
A change of Commandant took place during my time in the job. The newcomer was Major General Steve Irwin, who had been Chief of Staff to General Slim in XIVth Army. He was therefore right up to date on events of the day.
Many thoughts and memories have been driven from my mind by an invasion that was shortly to arrive.
Chapter 20: The Feminine Invasion, 1945
The arrangements for the arrival of the Women's Auxiliary Corps (India) students were complete in time, but as far as I am aware no one had the foresight to suggest that they would change the Quetta scene in the dramatic way that they did. Whatever the circumstances in other theatres of war, many of us, students and teachers alike, had lived entirely in male society for several years, whether in operational or other employment. For myself, it was nearly six years since I had left England and this was my fourth year in the India/Burma theatre of war. Quetta was more social than elsewhere. One did at least meet the few wives of Directing Staff or students who were there, together with those who chose to stay on when husbands were sent to the wars. Elsewhere I and many others had met no mixed social life at all. This was all to change. However, what could be achieved socially was more related to the time of Jane Austen than that of James Bond.
The Women's Auxiliary Corps (India) followed the lines of the British-designed ATS, the Auxiliary Territorial Service. Both the men and the women in their separate establishments were selected for their course on the basis of performance and intelligence. They would be worked hard for six days of the week and there was a need to put aside a daily two-hour period for reading in preparation for each following day.
India provided superb formations for operations elsewhere, but only woke up to war at home when the Japanese brought active operations close in 1942. Lady Ruthven, of the ATS, arrived in Delhi as Senior Controller, with appropriate staff and recruiting centres were set up. There were many places in which women could take on tasks as staff officers and clerical, communications and other trades, thereby releasing men for operational duties. Ordnance miraculously produced khaki drill shirts and skirts in record time and the show was on the road.
One female student remarked that early training was somewhat haphazard and that at first they were regarded as a sort of elderly Girl Guide troop. But it soon became clear that the WAC(I) were to prove very useful. The Anglo-Indian girls were first class and very capable. Indian girls were slower to enlist because of parental opposition, Sikhs being some of the first Indian women officers. Those selected for commissioning were sent to Dehra Dun Selection Board. Memories of the time include the picture of a Guards Sergeant Major trying to drill WAC(I)s who were wearing saris and of a Staff College instructor giving his first lecture faced with several WAC(I)s in the front row carrying on with their knitting. One of the benefits of war came about from the mutual respect and friendship that evolved in this women's Corps.
The arrival of attractive young women anywhere is a feast for male eyes and in the circumstances described it was particularly so in Quetta in late March 1945. If those of us on the Directing Staff thought of the matter at all we would have foreseen interaction between the new students and their male counterparts, but this could hardly effect us, the DS. After all we were Lieutenant Colonels, old and staid, or were we? In the strange circumstances of the time I and other younger Staff members were teaching many students who were older than ourselves. We were vulnerable to the same attractions and reactions, the only constraints being ones of propriety in teacher/student relationships and possibly rank.
The personal war diary that I had started in September 1939 was still continuing at this time though it had become a more general record than the original day-by-day entry. It helps me to recreate the scene. I was at first a closely interested spectator, which was no surprise after years without eye feasting of this kind. It is natural for everyone to develop personal skill and taste in their judgement of others. People you want to meet and befriend are soon recognised and very rarely there may be an exciting discovery of someone who could be very special to you. My diary shows that Tina quickly became the focus of my attention.
'I noticed Tina very soon after her course arrived - she is the sort of person one does notice. Attractive of course but I get the impression of a pleasing and friendly personality and more.'
Down at the WAC(I) College one day I was talking to one of their DS when Tina came up with some problem. As she left Drew Marr, the man I was with, said "How would you like a Syndicate Leader like that?" I volunteered for an immediate exchange. From time to time I would hear nice things about Tina. People liked her - she was a popular member of society, always in demand, always happy, always enjoying herself. I continued to admire from a distance, though I still hoped to discover something of these charms for myself.
An encamped exercise was being run for male students, out at Khanzai and one evening I was talking in the tented bar with a student I had known in Catterick. He remarked that one of the WAC(I) students wanted to meet me and after an anxious pause I learned that her name was Tina. Each of us had been making assessments. Tuesday, 3rd April brought the first meeting with dinner at the Quetta Club, a quiet occasion in a mixed group, after which we walked arm in arm to Tina's Mess and sat for a while together, talking, hand in hand, before parting.
My personal servant, young Sikander Khan, my 'Bearer', then found a new job as a carrier of intellectual notes the mile or so to the WAC(I) Mess and bringing back replies. 'You must come to the Club on Saturday'. 'Of course I am coming, Nit!!' Sikander was delighted. A few weeks earlier he had been telling me that it was time I got married and settled down. When asked where I should go to find a wife he said he had heard that lots of English girls had arrived in Delhi and that I had better go there to have a look round. I was not enthusiastic! I can see that this was a wise move on Sikander's part for his own sake. Get your Sahib married off and you had a good chance of a job in an established household for life.
April was a happy month and one with increasingly good news about the war in Europe. Unconditional surrender by the Germans was talked of as being within reach. As can be imagined, Tina and I spent more and more time together whenever opportunity offered. A weekend break enabled us to get away together with Leuki from Tina's course and my Air Force counterpart. Leuki was a Dutch escapee from Java. The skiing and mountain people of my course the previous year had discovered Ziarat; a couple of hours motoring to the east and this was the place to go. The village stands at 8000 feet with juniper-covered mountains rising to 11,500ft. The trees are stunted, gnarled and twisted, reminiscent of fairy tale illustrations. A police friend, Henry Oliver, had all the contacts there and sent instructions on ahead of us. Our forest camping was hilarious and the stay all too short. A juniper fire and hot toddy improved the evening of arrival; the dust of day cleared and the stars peeped through. The morning scents of thyme and juniper were inviting and Tina and I spent our day on a minor mountain expedition with fine views.
Back in Quetta there were similarities with September 1939. Everyone listened to every radio news for a declaration, but this time one of Peace rather than War. That evening we heard 'Unconditional surrender of the German Armies can be expected in the next two days and possibly in a matter of hours'. May 8th was the day of rejoicing, but what would be the effect on us? General Slim's XIVth Army had reached Rangoon, but still to come was the recapture of Malaya for which preparations were in hand. We could expect to receive formidable reinforcements and better machinery of war at some future date. Perhaps another two years would see the job done and there would be peace for all.
Tina's course was dispersing for brief leave before taking up new appointments. In a quick rearrangement she decided to spend her leave with me and I obtained an unexpected week's leave myself. We returned to Ziarat. No description of those shared days can do justice to our magical experience. We were totally alone in this beautifully forested area with its fresh mountain air. We would talk of all the things that we were going to do in the fantasyland of the future. With Tina's creative and imaginative sense of humour there was much laughter.
Our telephoned introductions put us in immediate touch with Shah Jahan, as we called him, who was to settle us in camp and visit us mid-week to arrange provision for any needs. Donkeys and coolies were to carry tent and requirements slowly whilst we took a shorter and rougher path to our chosen destination, burning brown in the morning sun. There was no water. The streambed was dry, so we had to move on. Shah Jahan had the answer and led us to an entrancing site with a steady spring supply of ice cold water set in a grove of fine trees suitable for pagan worship. The tent could go between two trees and there was a sloping clearing for sitting and dining. A smooth sloping rock provided a sofa with magnificent views towards Shin Sobai, a neighbouring peak. The setting sun coloured it pink. We named it Bed Time Peak. When the setting sun moved off it, it was time to go to bed. We built a fireplace, gathered fuel and settled in.
The next morning BTP, some 2500 feet above us, was the obvious choice for our first ascent. It was rough going with steep slopes and long drops that Tina tackled fearlessly. My two Staffordshire Bull Terriers, Pearl and Roger, needed some help but they were excellent dogs for the climate. Different peaks were chosen day by day and in the evening we thanked each other for being the cause of our exquisite happiness. After days of this exercise the assault on Kaliphat's 11,500-foot ascent was a stroll.
Our Castles in the Air were well developed when our days ran out and we had to leave our Garden of Eden. Thoughts of it are still deeply moving. We returned to Quetta and the next morning I saw Tina off to Karachi by train.
There is little more to tell. There were brief messages: -
From me by telephone 'Darling Tina, Will you marry me?' Tina 'I must have time. We must talk and talk and talk.'
From Tina by Telegram. 'Arrived safely. Loving you terribly, softly, darling.' And another 'I can think of nothing I should like more than to be your wife.'
Before our next course arrived I flew to Karachi two or three times by Liberator or Mitchell, with the US Air Force, and everything between us was the same, after which exchanges stopped. I did not know the reason why. To speculate would be fruitless. Heartbreak is a sorry emotion. Time and circumstance bring new joy but the pain is never entirely removed.
About this time I took myself to the mountains with my thoughts, a natural reaction for me. Overlooking the Staff College is Murdar and at 10,000 feet the climb is a substantial one. In its late geological state it is jagged and lacking in any worn tracks or pathways. Once climbed, I started to descend but my mind was too little on the job in hand when I found myself at a narrow and smooth chute where I had the option of descending something which I could not climb again or going back the way I had come. I descended, which was all right except that the navigable route was working me further and further round the mountain in the wrong direction. When I reached the plain I was in new territory but foresaw a long walk ahead before finding the valley road. I was already dehydrated as I had failed to start out with a water bottle. The walk of an hour and more was not enjoyable, but at least I knew what was at the end of it. Hannah Lake, the local reservoir, provided much of the water for Quetta and supply was fed down continuous open conduit made of concrete. I could drink and drink again as I walked the mile or two downhill to our house at No 1 Hannah Road. I had been foolish. No one knew where I had gone. Were I to have an accident on this untracked mountain I would never be found, and beyond that, dehydration can rapidly affect both judgement and performance.
It is possible to classify our broken affair amongst the many and varied casualties of war. The easily understood ones are the killed and wounded and their friends and relations. There were many too who suffered as prisoners of war or from disabling diseases in hostile climates. Add to these the millions whose lives were changed because of sudden and prolonged separations, promises broken and promises kept which would have been better broken. In our minor way Tina and I were casualties in this group.
Chapter 21: Back to work, 1945
After the excitement and drama of the previous few months it was good to get back to the busy and active life of the Staff College at Quetta. The course had changed little as a result of the Japanese surrender. The work of the staff officer would not change significantly and the problems of war were, in any case, an important part of the training of all officers.
The new course that started in mid 1945 must have been the most unusual of its kind. We had students with great experience from Europe, the Middle East and the Far East. Much of the instruction was given in Syndicate discussions led by a member of the Directing Staff, each with 12 students in his group. A précis on a particular subject will have been read by all concerned overnight, discussion is then led to test and broaden the understanding. By directing his questions the DS balances the responses to draw out the reluctant and rein in those who talked too readily. All the same it was a delight to have so many experienced speakers, each ready to produce a different point of view on a subject.
The student from Europe would talk about immense armoured deployments whilst one from Burma would recall the acute problems of getting one tank with engineer assistance into a position where it could bring fire on a deeply dug Japanese bunker from which automatic fire mowed down our infantry. The European would speak of 'cab ranks' of fighter planes which could be called down instantly on specific targets, where Burma students from the earlier days could say with confidence that any aircraft seen was bound to be an enemy one, and so it went on.
Perhaps the most telling difference for those from European theatres came from an exercise on the problems of supply of ammunition, rations, fodder and other requirements in Assam and Burma. The story was built up on what might be needed by a small but remote task force. All commodities had to be transferred from lorries to Jeeps at a point where roads became tracks. Later mule transport would have to take over. A mule has to eat. Not only does it consume a share of its load each day on the outward journey, but it must keep enough for the return journey too. Mules then reach a river and the loads are transferred to large sampans with a specified weight load. We are nearly there, but the river narrows or a branching stream has to be followed. Smaller sampans have to be used, so another transfer takes place. Unsurprisingly few of the students managed to produce a workable solution in the time allowed.
There was an increase in the number of Indian students on the course. Many of their officers, wartime commissions among them, had developed fast in positions of responsibility not given to young officers in peacetime. Wonderful career opportunities in many walks of life would be open to them as the British left India in 1948. Their response to the challenge was immediate, showing once again that it is lack of opportunity rather than lack of talent that tends to hold people back. The Indian members of the Directing Staff increased in numbers too. They were the stars of our group. Even amongst them Sam Manekshaw was outstanding. He was a great leader with the sharpest of minds and a thoroughly creative sense of humour. He was one of three officers I met in Quetta who went on to become Chief of Staff of the Indian Army. General Chaudhri, the second one, had been an instructor on the course that I had attended and the third was known as 'K', his full southern Indian name of Kumaramungalum being too much of a mouthful for regular use. He had become a prisoner of war in the Desert when serving under my cousin Guy Horsfield. On his release from prison camp in Italy he appeared in Quetta. I was in touch with him again on a visit to southern India a few years before he died. In this group of the three Chiefs of Staff Sam Manekshaw had the special distinction of being made a Field Marshal in 1973.
Amongst the Signals students Brahm Kapur was soon in charge of work broadly concerned with equipment acquisition and its development. His work brought him into contact with the highest political levels in his own country, even with Pundit Nehru himself. Elsewhere he found Lord Mountbatten helpful as Chief of UK Defence Staff as well as with his United States equivalent. Another close contender for this high office was Prem Singh Bhagat VC and it was not long before I was to learn that my replacement in Quetta would be his elder brother and my good friend 'Brij'.
Those who went to Pakistan, though few, deserve mention too. There was a central policy office that wrote many of the exercises and had the responsibility for approving all the précis and other instructional material. Shahid Hamid worked in this intellectual grouping. On leaving Quetta he became the personal staff officer to Field Marshal Auchinleck at a time shortly after the latter had separated from his wife. Shahid's family became the Auk's family and was important to him for the rest of his long life. On visits to Rawalpindi long after my own retirement Shahid's charming family made me welcome on several visits. Shahid had played his part in many policy matters for the Pakistan Army and was an author of repute, having produced half a dozen or more books in the English language.
An interesting addition to our staff at this time was Wing Commander Hugh Verity who, as a Lysander pilot, had played a big part in providing the dangerous service of flying SOE agents into and out of France. He remains an essential part of any television programme on the subject.
With the surrender of the Japanese, thoughts turned to what the future held for those of us serving in India. It was abundantly clear that this was no game in which a whistle was blown and we could all go home. The War would be recorded as having finished on a certain date, but there was another name 'The Emergency' that set in hand the call up of civilians for employment in the Services. In many ways the emergency ran on into another form of conscription which was called National Service. Started in 1947, it did not end until 1960. Wartime rundown would take place slowly, for there was much still to be done.
Early thoughts were given to the plight of those who were Japanese PoWs in unspeakable conditions. Teams were set up to be sent to the many declared locations. Efforts were made with medical aid on the ground and with sea transport to bring them as soon as possible to India for hospital treatment where needed before evacuation to the United Kingdom. Indonesia provided a problem of its own particularly for its Dutch inhabitants. The Division with which I had recently served was sent to restore some sort of order and they did not return to India until the September of 1947. A figure that I carry in my head is that they suffered 1600 casualties in their time there. So the story runs on. Chinese terrorists in Malaya were subdued with British forces involved and success called 'Merdeka' achieved in 1960. In Europe the so-called Cold War was not formally declared over until 1990.
My own judgement was that there was much to do in India to help the country change from its wartime organisation to the requirements for peace. I was, in any case, fond of the country and its people. We were well aware of the debates going on which would reveal the outcome about India's future as an independent country and what this would bring for Moslems and Hindus who were in conflict.
So it was that information came that I would join the Indian Airborne Division as a Staff Officer on the completion at the end of the year.
Chapter 22: Odd Job Man
I set off for the Airborne Division in Bilaspur with a train trip of 400 miles south to Karachi. Quetta's altitude is over 5000 feet, whilst Karachi's is shown as a mere 13ft. Once there I arranged an onward flight to Bilaspur and was taking lunch when I noticed a General with Airborne wings on his tunic at a table nearby. I recognized him as Eric Down, my Divisional Commander to be, and 'reported for duty' there and then. In short time I was welcomed, instructed to stay in Karachi and given the formidable task of organizing accommodation in the Karachi area for most of his Division, including Headquarters, Divisional units of all kinds and two Brigades, each of 2000 or more men. The third Brigade would go to Quetta. For the second time in my service a substantial organization was joining me rather than leaving me to travel to them.
A modern guidebook tells me that I was in a place that was originally a little fishing village where Kalachi, a dancing girl of great beauty lived. Tales of her loveliness and charm be-dazzled strangers from far flung lands. Karachi has changed quite a bit since then. As a city of around 400,000 in 1945 it was a pleasant place. It suffered overwhelming expansion after the partition of India in 1947. It was the choice of many Moslems who found themselves in the reduced India to migrate westward to Pakistan, the newly created country of their religion. Much extra accommodation was needed. Shantytowns grew up with shacks of tin or wood or even cardboard. Karachi is now a city of seven million with properly developed buildings. High-rise buildings everywhere change the whole character of the place. Karachi was the capital of Pakistan for the first twelve years of its existence and is still the largest city in the country.
My base for starting work was to be in Clifton, on a lengthy but uninviting peninsula to the south east of the city. The area was undeveloped then and in the main remains so. Some is salt marsh, and there is little vegetation. Swimming is possible but the sand or its substitute is black and one comes out of the sea covered in small shiny platelets of mica. We took over a few wartime wooden huts there and started work. A rough and ready rugger ground was available for our recreation. Gradually the staff of Divisional Headquarters arrived and took possession.
I learned that our eventual divisional area was to be some way to the north east of the city. During the war years in Burma the Americans had developed a substantial Air Force base in the area. I had some idea of the area. Towards the end of the Tina affair I had visited Karachi a few times, courtesy of the US Air Force and knew some of the main landmarks. I was not entirely at a loss, therefore, when I was told that the Americans had departed and it was their buildings that I was to take over and prepare for our settlement there. The general location was some twenty miles away from Clifton. Driving up there in the jeep provided I recalled the monumental aircraft hangar at Drigh Road that had nothing to do with the Americans. It was built in the late 1920s when the Airships R100 and R101 were being developed and it was hoped to provide airship travel to India. Airship disasters put an end to the project, but the hangar remains. The modern Karachi airport is beyond the hangar and is very probably a development of US facilities.
Further out, the spread-out military town in an area of sparsely growing scrubland, too dry to support useful crops. All too little information was available about the buildings, their condition and previous employment. I would have to build up my own records and map of the layout. First impressions were that there was much that was good, but that in the joy of leaving India considerable wanton damage had been perpetrated which would call for repair. It would be useful to have a helper and fortune provided one. A miscreant, often in trouble, had been sent to Division from his unit. I recognized him as a member of a family I had known well in Catterick before the war. Perhaps because of this connection he was assigned to me for whatever help he could give. He was full of initiative, which was not always well directed and I can imagine that the word 'irresponsible' appeared regularly in his confidential reports. He was a willing worker, wholehearted in things that interested him and a welcome companion.
Some home leave for those who had been long abroad became available and my Staff College friend Powell Jones, who was now my senior officer, disappeared for two months leaving me very much a one man band. There was a surreal aspect to our project. We surveyed the area like archeologists, working out what various structures might have been used for and then creating the new usage, fitting organizations of different size and requirement as best we could. At the same time the military services responsible for building, repairs and supply of furniture had to be involved. Although no action was possible until the appropriate piece of paper had been received and approved locally I was convinced of the value of being known personally at various levels in the organizations themselves.
And then, out of the blue, orders were received from Delhi. I was to proceed there at once on promotion to join a team to run an all-India internal defence exercise. Brief enquiry obtained me a berth in a desirable chummery in New Delhi where I arrived to find three inmates. One I knew as a skiing friend from childhood. I had been greatly impressed by the fact that his father's firm produced powerful hydraulic buffers for the railways. Another I had known at Oundle, but the third was new to me. Next I acquired a bicycle, the main means of transport for everyone at this time. I was then ready for business.
There appeared to be great secrecy about our work at the time, though it must have been clear to everyone that, with the political discussions on the future of India going on, we were facing troublous times. There was a need to test and enhance readiness throughout the Services and Civilian organizations. Army, Navy, Air Force, Police, Hospitals were all involved and the communications which bound them all together had to work. We were shut off in a small suite of rooms with ever-increasing summer temperatures to work in. There we had a DIY approach to our work. I remember our group putting together books of instructions by hand for all participants. Each book was around a hundred pages that had been duplicated in the office. I was sent off to the Government printers to discover how these volumes could be bound under security supervision, and so it went on.
Our lunch breaks provided time to cycle to the Gymkhana Club for a quick swim and a refreshing draft of a Murree Brewery product. We certainly busy though I cannot remember making any special Signals contribution to the scheme - I was serving more as a General Staff Officer than a Signals specialist.
All this may sound too much like drudgery, but there was a bright side. Major General Ashton Wade, a Signals officer, was in charge of the project. He served with the 2nd Division in France and been involved in its reconstitution after Dunkirk. He arrived in India with the Division as a Colonel in 1942 and was immediately promoted to Major General for employment at GHQ. He later commanded Madras Area for three years - this was at a time which included preparations there for the invasion of Malaya.
When the office work in Delhi was complete it was time for representatives to visit the various Command areas to give briefings. General Wade decided to go to Southern Command in Bangalore and that I should accompany him. In this way I came to know him well. I learned that, like Brigadier Ralph Bagnold, he was one of those officers chosen to go to Cambridge when War ended in 1918. He went to Clare College; the College that I had been due to join in 1939. These two senior members of my Corps were my gurus and in my mind illustrated the value of broadening my horizons by similar experience. I kept in touch with both and admired their achievements in life long after they left the Army. Bagnold lived to the age of 93 and Wade to 96. Another great man deserves mention too. During my stay I was invited to a reception given by Field Marshal Auchinleck, that many Indian officers of all ranks attended. It was moving to see the veneration and indeed love that he had generated amongst them. I was beginning to appreciate the great human beings amongst Commanders.
Madras and Bangalore provided a change from northern India. They had much to offer, as we were to discover on a tour many years later. Soon after the all-India defence exercise completion my task was over and it was time to return to Karachi.
Chapter 23: Airborne, 1946
All the units were settled into the buildings I had allotted to them and were reasonably content, though this was no longer my business. I found that I was now the Commanding Officer of the Divisional Signals unit. My Adjutant, Lewis Golden, was an Airborne veteran who had survived the Arnhem operation and in due course wrote a critical appraisal of the battle that was well received. I knew the Indian side and he the airborne - a good combination.
The unit had been involved in serious training for many months in preparation for the invasion of Malaya. Now our aircraft were busy on other tasks. We could do useful work in upgrading trade skills and therefore pay, particularly for the Indians who were all volunteer soldiers. All airborne soldiers enjoy activities that keep them fit and these were not hard to contrive. Repatriation was getting under way and we were losing men faster than they were being replaced. There were a few minor operations to respond to that are worth recording. It must be remembered that this was a time of a good deal of political upheaval and uncertainty.
There was mutiny aboard an Indian Navy ship in the harbour and one of the ways that displeasure was shown was by firing off shells indiscriminately into Karachi. Fortunately knowledge of the correct fusing of shells was poor and few, if any, exploded. I happened to be in Clifton sitting at my desk when a shell landed close by. My sturdy Staffordshire Bull Terrier took fright and leapt into my lap. No damage was reported. Our gunners deployed in the harbour area but no assault on the vessel was needed as the mutiny fizzled out.
Reports in modern times of flooding in Bangladesh and Orissa are familiar events often displayed on our television screens. One such in 1946 called for airborne assistance to provide communications and medical help. This was easily provided and we were glad to be involved in a useful activity.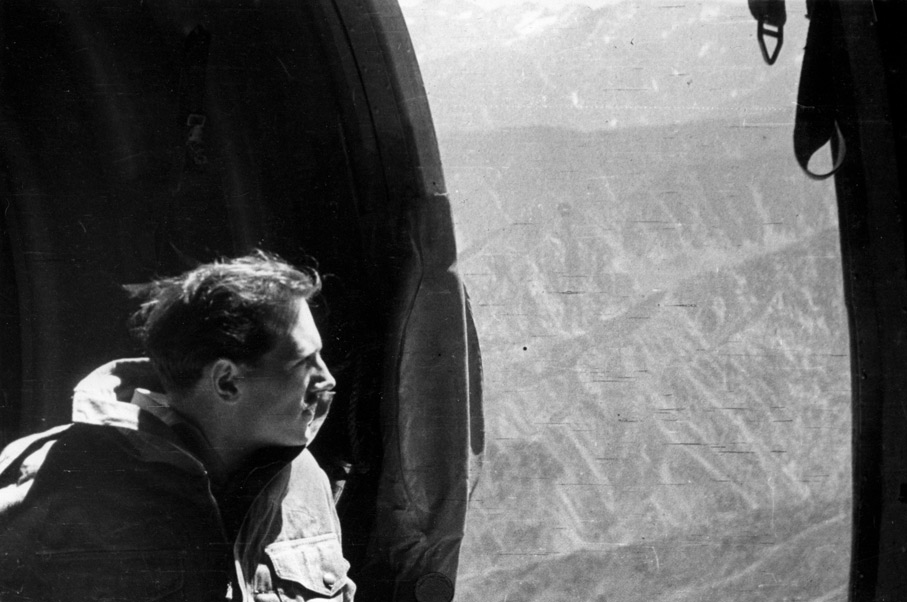 The third event of note took place whilst I was completing a parachute course near Rawalpindi. There is a small Himalayan river valley state called Chitral that is now in northern Pakistan. The ruler was dying and trouble was expected between the three brothers and their partisans to decide who should be the next ruler. I carried out an air reconnaissance in a Dakota with an Engineer officer. Would it be possible to drop some peacekeeping troops in to suppress squabbles? The pass to enter the valley on foot is 8000 feet high and it is said that the first motor car to be provided for the ruler was carried over the pass in pieces by coolies and assembled when it reached the capital, itself at 4000ft. The flight was thankfully in good weather and the views magnificent, though we travelled in the empty body of the plane, watching through a double door opening in the side. The magnificence in no way diminished when we reached town of Chitral itself on the river of the same name. Ahead was the snow-clad Tirich Mir, a peak of more than 25,000 feet. We circled a number of times to assess the dropping possibilities. With steep rocky walls on either side it was dangerous to descend appreciably but we were able to see a fast running rocky river at one side and liberally strewn rocks elsewhere over the whole area. Add to this the wayward behaviour of winds in such an area it was quite clear that we would not wish to take part in a jump in the neighbourhood. We reported accordingly and were glad to learn in due course that his Highness had recovered from his illness.
The portion of my unit in Quetta required an occasional visit. One such was to attend a parade of formidable size at which Field Marshal Auchinleck would be presenting medals to the many who had been awarded them. At that time, and for many years thereafter, public address equipment was inadequate, but our Signals did the best they could. At the last minute I was handed the pages of names and awards and told that I was to do the announcing. By this time in India I could make a reasonable attempt to pronounce the names of northern and southern Indians and of Gurkhas. The only moment of alarm came when I saw a string of letters that could not be translated into any medal I had ever heard of. Decoding the commonly used letters, D for Distinguished, C for Cross, E for Empire and so on I made a bold announcement. I am glad to say that it was never challenged.
Back at Division, more staff replacements were coming out from England with their wives and the social round had high priority as is right after years of war. The Sergeants' Mess soon built up their contacts and one does not inquire deeply into the off-duty activity of soldiers. As a camp follower in my youth and also when serving I had formed the view that a Commanding Officer in an Officers' Mess dampened initiative, so I set up house with another bachelor in one of the bungalows.
About this time I received great help from Henry Oliver, my police friend in Quetta, for which he should be ever blessed. He wrote to tell me that a decorative young lady called Sheelah Eagan, recently out from England, had been causing quite a stir in the Staff College neighbourhood. Her parents were in Karachi, where her father headed the North Western Railway organization for the State of Sind and she would be joining them. As advised I was quick to make contact and was soon a close friend of all the family. I now had my own 'Kalachi', a modern dancing girl of great beauty to equal the one of the legend of Karachi's founder. Such dreams take time. However there was much to enjoy meanwhile.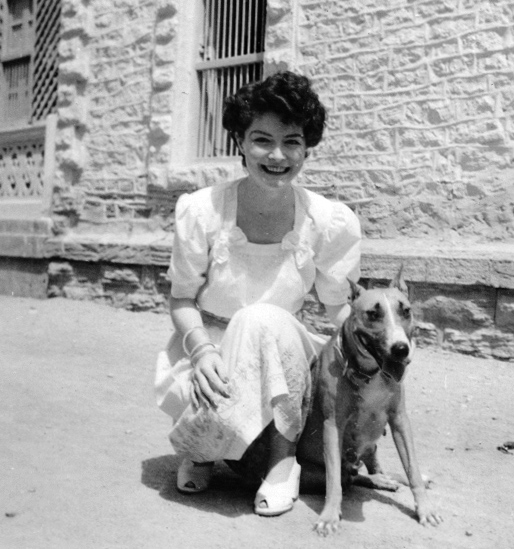 The prestigious Sind Club welcomed soldiers of a certain seniority to join. Swimming and entertainment facilities were good and dining out there was an inexpensive treat, the best remembered speciality being sherry spiked with chilies in clear soup. Nearby was the Gymkhana Club with its tennis courts and dances; a meeting place at any time of day. Beach parties were popular particularly up the coast to the north where there were several cliff-backed bays so that each party could choose its own. Wandering fishermen might offer one fresh lobsters to take home for the pot.
---
It was now the summer of 1946 and I had completed ten years service. I had travelled the world and learned much, but what general assessment could be made? In most of my appointments I had been my own master. I had not yet served in a cohesive regiment, anywhere, nor had I experienced any period of formation training such as most of my contemporaries would have had. I had played no part in any of the major operations that would drive our enemies to the point of surrender. On the other hand three years in officer training at different levels had left me with the widest selection of friends through different age groups. This was a treasure in store.
---
Those being repatriated would travel by sea. Called to Deolali (or Doolally as the soldiers pronounced it) they would be formed into drafts and called forward when a vessel was available. However air passages were coming into use too. The York, a passenger version of the Lancaster bomber, had been developed. The Lancaster, being originally conceived to carry high-density cargo, such as bombs, space for the passengers was the problem and not the payload. Those granted home leave, and I was soon to be one of them, would be flown home and back again. We had a flying fright not long before: a Dakota load of our senior officers was flying via Jodhpur to Delhi and it was dark as we approached Willingdon airfield. Instructions came over the air that we should divert to Palam. To guide him our New Zealand pilot asked for the bearing of the runway and soon he saw the lights. There was only one line of them, but this was not unusual in case of a diversion as the flares took time to light. It was very late in the approach when the pilot saw bullock carts and realized that the lights were for a road and not a runway. In a moment power was thrown on and we climbed, though not before one of the wings, near to its root, struck some obstacle. Quick pilot reactions had saved the day. We shall never know who suffered the greatest fright, the bullock-cart drivers or ourselves. In the event we landed safely and all inspected in awe the giant bite, three foot wide and half as deep in the leading edge of one of the wings. Thankfully my longer flight to England was without incident. Fuel capacity for the York did not permit the long ranges common in later years. We stopped in Cairo and spent the night in a houseboat on the river Nile, completing the flight to London the next day.
I do not recall any great celebrations or emotional scenes on reaching home in Benson. It seemed that we picked up the threads seamlessly where we had dropped them seven and half years earlier. Aware of Britain's rationing and shortages I had brought what I could of materials from India and these were put to good use. What I do remember vividly is the harshness of that 1947 winter. Not only was there an abundance of snow but our water main froze in the ground. Fortunately Mill Lane House, with stream running nearby, had a deep well and retained the ancient hand pump with which we could prime the head tank. Malcolm, my brother, had devised a Heath Robinson float and string contrivance which signalled when the tank-level was getting low. Surprisingly I seemed to feel the cold less than those who remained in England.
Malcolm soon paid us a visit. He had been released from the Army and was practising his hotel management skills at The George Hotel in Yarmouth, Isle of Wight, the owner being one of our skiing friends of many years. Malcolm would be running the skiing in St Cergue for its short season and a family party would be going there. I had more ambitious plans, setting off for Mürren in the Swiss Oberland. This was the Mecca of British skiing with its Kandahar Ski Club and the redoubtable Arnold Lunn, shortly to be knighted for his services to British skiing. Having converted to Catholicism he was mischievously referred to as the Ski Pope.
Arnie, as he was known, was the author of the British Ski Year Books that in their prime ran to 800 pages. These not only provided a record of events and equipment development but debated many issues about the way in which the sport was moving, an issue on which he was in close discussion with the prime movers of many nations. Few people in any sport can have played such an important and central role over such a long period. Another important character of the early days, a foil for Arnie, was Deggers - Alan d'Egville, skier, cartoonist and writer. As after dinner speakers these two were amongst the greatest entertainers I have heard.
The Palace Hotel in Mürren contained a small room on the ground floor called 'Room 4' that could justifiably be described as a major centre for the development of the sport of skiing in all its aspects.
It is hard to convey a picture of skiing in that age. This important resort had but one ski lift - and that a double hook that pulled skiers up the slope of the main racecourse. Piste machines did not exist, so one skied on what snow nature provided. This could be ice hard, deep and soft, miserable breakable crust or stamped out for a class or a race. Soft snow skiing and touring was a great pleasure of the age. Above all, numbers were small and one got to know a great many people.
A notice pinned to a board announced that the British Championships were due to take place and those wishing to compete should record their names. I rang Malcolm and suggested that he should take part. He agreed and I wrote up our two names. The day came, the start list shown and Malcolm was not listed. Arnie had supposed wrongly that I had written my name up twice. He raced as last man. There had been heavy snow overnight, perhaps a metre in depth. The philosophy of the time was that races should be run in 'the conditions of the day'. Arnie's view was that the best skier was the one who could handle any type of snow. He spoke of the danger of ski races becoming like Cresta and bobsleigh competitions on carefully prepared courses. He preferred courses where competitors were free to choose their own way from the starting point to the finish. His foresight was accurate. Big money professional skiing moved exactly in the way he foresaw, providing a spectacle that could be sold and presented to audiences sitting in armchairs.
On this occasion the few controls intended were removed and everyone had free choice and Malcolm, more of a ski mountaineer than a racer, was the winner. The slalom race was a different matter. This form of race on steep slopes, with every turn marked by a 'gate', was relatively new. Few people had appreciated that it would be a help to use shorter skis. In fact most of us only had one set. Arnie had unwisely told Malcolm that, with his lead, he was bound to win the Championship. Malcolm was beaten into second place.
In due course Malcolm received a charming letter from Arnie, saying how sorry he was that he had deleted his name from the entry list. However he was delighted that Mr A N Other who had taken part in so many races had at last become the British Downhill Champion.
---
Back in England enquiry showed that my recall to go to university was a strong possibility. I made a snowy drive to Cambridge to see the admissions tutor for Clare College and sought advice and assurance that there would be a place for me. It was interesting to discover that he, Nick Hammond, a classical scholar, had won a DSO in Greece where his modern Greek was valuable. Another Clare don, well into his 50s, had taken to parachuting as part of his medical work on parachute injuries. The contribution from such learned men in all ways, including research, was valuable and laudable.
It was well into spring of 1947 when it was time to return to Karachi. There was still snow on England's south coast when I embarked on a flying boat. This was the most comfortable and gentlemanly way to travel. The 'boat' has to be large enough to float and the payload is limited, so there is plenty of space. The weight problem also influences the quantity of fuel to be carried. We flew first to Biscarosse, a lake by the coast near Bordeaux, and then on to Catania on the coast of Sicily. There we spent the night comfortably in a hotel. Our second day brought a landing on the Nile at Cairo before proceeding to Iraq where we landed at Habbiniyah on a lake near Baghdad. A night was spent there in circumstances not up to the standard to which we had become accustomed. The third day saw us welcomed at Karachi where I received the warmest of welcomes and enjoyed the busy life of my last few months in India.
I missed the disastrous development of slaughter and mayhem of the separation of Pakistan from India in 1948. It is a sorry tale. It is no good considering what might have been done better. Terror released on such a gigantic scale was hard to forecast and impossible to stop before it had run its course.
Chapter 24: Back to School - Ripon, 1947
There were a dozen or more officers, warriors from Engineers and Signals, who had been selected to go up to Cambridge in 1947, but we learned that there was a substantial hurdle to be cleared first. There would be a Qualifying Exam to be run at Cambridge that would eliminate those who failed to pass. This was not taken lightly and the War Office gathered us together in Ripon to polish up what remained of our knowledge of mathematics.
I needed a car, but it was not a question of walking in to a showroom and driving out with the model of one's choice. Industry had been busy on other things and was only slowly arranging to look after such needs. The wily foresaw an opportunity. They were early in getting put down on lists for new models. Another new car was ordered as soon as the first car was delivered. When this second car arrived a couple of years later it would nearly be paid for by the second hand value of the first. I had no skills in this sort of market and had to do what I could. My father, one handed, could drive Armstrong Siddleys with manual gear change on the steering column. He had a fine large model that was referred to as 'Queen Mary'. I picked up rather a smart drop-head variation of the same breed that, not unnaturally, became 'Princess Elizabeth'. It served me well.
Arriving with the Sapper Regiment in Ripon I discovered that my Commanding officer there was the man that had been my Company Commander when I was a cadet at Woolwich. We were now of the same rank. The fortunes of war were very varied even for those that had survived physically unimpaired. Prisoners of war had often missed out on several promotions. In war you went where you were sent and did the job asked of you. It was not a time for self-seeking. I learned nothing of Colonel Gayer's war, for that was his name, but am most grateful for his example in command of our cadet company. Commanders at any level come in different patterns. There are martinets, bold and courageous leaders, nitpickers and so the list builds up. Gayer achieved high standards calmly and helpfully. I describe him as a good human being, a high classification in my book. The instruction in Ripon was first class and when it came to the test some two thirds of us met the required entry standard.
There were family friends near York who I stayed with from time to time. I remember going to a Hunt Ball on one occasion and wondering in the early hours what it was we were all up to. Was this a relic of the five-and-a-half-day working week when there was only the half day of Saturday for riotous entertainment. Sunday had to be quieter. The issue is unimportant in itself. What it brought home to me was that in settled times we all grew up accepting the social structure in everything we did. After the war every old concept was being looked at with new eyes. One of the few advantages of war is that it stimulates new ideas in a valuable way - much good can result.
It was of interest to me to be serving in this part of Yorkshire as my mother's family, by name Baynes, came from the neighbourhood. Many people today enjoy tracing their ancestors and this had also been a popular pursuit at the end of the 19th century, usually with professional help. I knew that a book, Bayne of Nidderdale, had been produced on the initiative of a Mayor of Ripon, John Baynes, who was not a traceable relation. The publisher in 1896 was William Harrison of Ripon and I found a stationers shop of this name. No surprise was shown when I asked if they had a copy of this elderly book. "Send for George," someone said. George had been a lad in the shop for decades. "Yes", he said, "I think there is an unbound copy tucked away" and sure enough there was. I bought it and had it well bound in Cambridge.
The River Nidd runs down a Dale, to the west of Ripon to Pateley Bridge at its foot by way of Fountains Moor. The habitation in the upper reaches is remote even today. As in the Swiss Alps those living in isolated mountain villages often know their genealogy well back through the centuries. The book contains a detailed family tree for our branch from 1593 down to my mother's generation, with short biographies of many of the participants. There is an interesting speculation that takes the story back to the 12th century and beyond, but I could not follow it up at the time. I was far too busy and indeed preoccupied.
---
Back in India, Sheelah and her parents had moved to Alwar State to the northeast of Jaipur. Her father Rex had retired from his long service work and taken employment with the Maharaja. Alwar had suffered the desecration of the time; all Moslem edifices had been razed to the ground. The exchange of letters between Ripon and Alwar was amongst the highest priorities at both ends of the link. Visiting the Signals HQ Mess in Catterick Camp I took post in one of the two phone boxes and made my first inter-continental telephone call. When it was over Sheelah and I were engaged to be married. I have long thought that there should be a well-polished brass plate on the site to record the event.
---
The large entrance hall of the Mess that we had to abandon as a result of one of the Army reorganizations is panelled in oak by Robert Thompson of Kilburn. His trademark, a carved mouse, appears on every piece of furniture made in his workshops. In these days when the computer and its mouse play such an important part in our communications I consider that Signals might use Thompson's traditional mouse in our Corps heraldics. Thompson happens to have been born in Kilburn Hall where my branch of the Baynes family lived for nearly 100 years from 1650.
Course completed, I drove to Montford Bridge in Shropshire to stay with my godmother Eleanor Beauville, a lady of character. She said that she could not have survived the recent winter, the worst for 60 years, if she had not been able to keep her circulation going by sitting with her feet in the plate warming oven of her Aga. She also claimed to have won praise at a Conservative meeting when she presented the local Member of Parliament with a dozen eggs, died a handsome blue. With egg rationing this was no mean prize.
Driving back to Oxfordshire I told my mother of my engagement. Having seen the charming and glamorous photographs I had brought back with me from India, my choice was applauded, particularly by my father.
Chapter 25: Cambridge - Clare College
Driving north towards the city of Cambridge, the bronzed autumn leaves signalled an English autumn. I was twenty-one when last I saw such a scene and this was a decade later. Everything in my world was good and the future had much to offer. Then, within days of my arrival, a telegram and then a telephone call told me that Malcolm was at death's door. On a foggy evening on the Isle of Wight he was returning home on his ancient motorcycle. Striking a grassy bank he was thrown so that his head struck a signpost. This was before the age of the crash helmet that would have saved him. He survived but a few days. He had been the herald of happiness and new times when born in 1920 after the setbacks of my parents in the 1914 war years and now he was gone. One friend wrote to me of the 'David and Jonathan' link between Malcolm and myself. We had never learned that this closeness was unusual in families and very special. The Oundle School Laxtonian magazine published an In Memoriam by a contemporary that said:
'I do not remember anybody disliking him even for a single minute throughout his entire stay at Oundle Those who knew him have a vivid memory of a strong and happy personality.'
It was a relief to me to be surrounded at Cambridge by my friends from Ripon. We had been scattered to different Colleges in the University, so I became familiar with several beyond my own, particularly Corpus, Johns and Trinity, the latter favoured by my family in the two previous generations. I had been on the books of Clare since 1939 through Harold Taylor my skiing friend. Harold's talents had been well tested since becoming a Wrangler, working first under Lord Rutherford, another New Zealander, in the Cavendish Laboratory. Having continued a Territorial Army connection started in New Zealand he was soldiering again on the outbreak of war. He became Senior Instructor in Gunnery at Larkhill. He was the first non-regular officer to receive the Lefroy Gold Medal for furthering the science and application of artillery. In 1945 the Vice-Chancellor asked for Harold's return to Cambridge where he became University Treasurer.
No one will dispute the statement that Clare is a beautiful College. Founded in 1326 its mediaeval buildings suffered fire and decay with the advantageous result that the site was cleared three hundred years later and an architectural gem constructed. It is said to have the air of a Renaissance palace. Standing next to King's College, each serves to show off the other. In 1650 sanitary arrangements were primitive and even with improvement remained so. In snow, frost or moonshine the lightly clad inhabitants of the various 'staircases' could be seen proceeding across the courtyard to their ablutions with sponge bag or other requirements. I was allotted rooms in the new buildings of Clare, approached across the river Cam by the oldest bridge in Cambridge and woodland pathway to the 'Backs'. In a 1930 building, my room was comfortable and convenient.
Our evening meals were taken in the fine hall with ceremonial grace on the arrival of the High Table members of College. As far as I was concerned this was where one got to know other members of College, though seating gradually stabilized so that one's companions remained the same. Rationing affected the menu and whale sometimes appeared. My main reason for supporting the preservation of the species was to avoid having it on my plate again.
Officers from the RMA Woolwich were excused the first year of the degree course, though we took in an extra term of six weeks duration during the long summer vacation. The prescribed course was called Mechanical Sciences, so contained much that was not appropriate to Royal Signals. It was suggested that after success in the degree course we should stay for an Electrical Part 2 year that focussed more clearly on our needs. Looking back our difficulty is more easily perceived. The words transistor and electronics had yet to be coined and the computer was known to be a room-filling device using untold numbers of wireless valves. It would be another dozen years before computer training started in the Army and, in a dozen later still, we had satellite communications. A further difficulty for adjustment arose from the experience of nine years of practical application, often under pressure and now the basis of our learning was theory.
We were surrounded by those leaving the wartime Armed Forces who were attending University before starting on new careers. A select group of them had chosen a 15th century galleried inn as their lunching place. They called themselves the Felt Takers. They were exchanging their Services headdress for the Bowler Hat. A few of our group became Hon Felt Takers for the duration. Life was good and much was going on so education in its broader sense was going well.
Ralph Bagnold wrote of Cambridge experience starting in 1919 that he worked reasonably hard, but this was not the only priority. He would acquire a wide outlook and recover some of the missing years of youth. To me this points up the differences of out two wars. The grinding pressures and horrors of trench warfare in France over many years robbed many survivors of their youth. There were stern challenges in the 1940s, but much more effort went into training both of the individual and the formations in which they served. Whatever the pressures, our conditions were better than theirs.
It was not long before the skiing fraternity got together as the Christmas vacation was traditionally the time for the Oxford-Cambridge races and for the British Universities team to take on the Swiss Universities in St Moritz. Financial restrictions on money taken abroad might prevent both events. However 1948 was an Olympic year and this saved us. The Ski Club of Great Britain told us that we would be included in a group of British racers who would be allowed to train in Switzerland. Each of us would be allowed to take five Swiss francs a day for personal expenses. The value of this sum was illustrated on arrival in Scheidegg. The best dressed member of our group had a suit pressed on arrival. This consumed his allowance for the day.
All travel was by train and our University group moved round more than most. Baron Franchetti wrote from Italy. He had been educated to Oxford and invited us to stay in Cortina for our own races and a further race against the Ski Club 18, a team of similar status that included his two sons. Both the Swiss and the Italians we met were delighted to welcome us back after the misery of the war years and we were not averse to staying in top class hotels with no bills to pay. Returning to the Oberland we took part in the final British Team selection race. Two of us gained places high enough for the Team but were not picked as we had missed most of the qualifying races.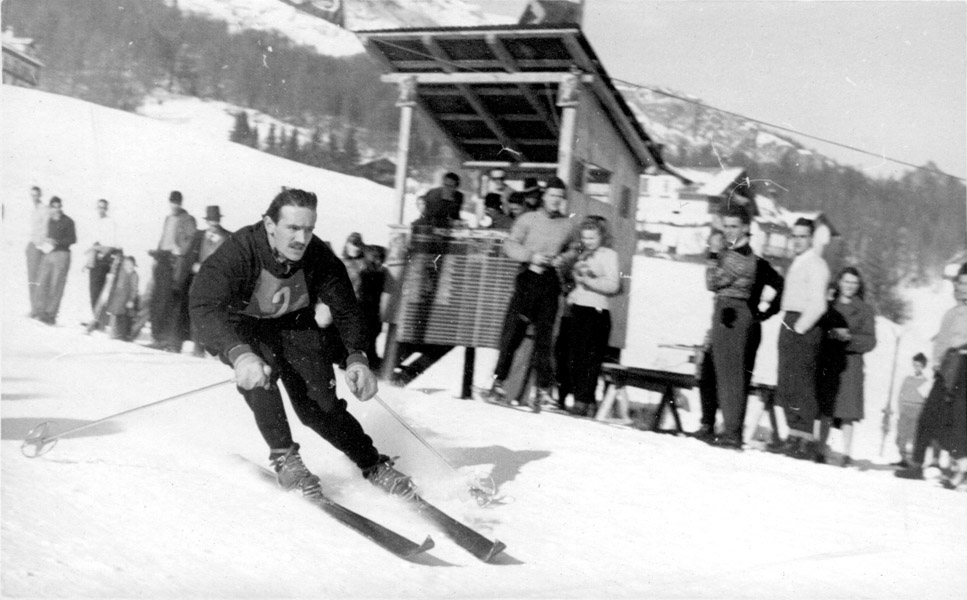 However I began to be recognized in the skiing world. I was invited to join the Committee of the Ski Club of Great Britain and became Secretary of the British Universities Ski Club.
Mention can justifiably be made of a family contribution to women's education connected with Cambridge University. My father's maternal grandmother was a Garrett and the family had great pride in the achievements of two sisters of this family in the 19th Century. The first, Elizabeth Garrett Anderson, is widely known as the first English female doctor to qualify in England. The younger, Dame Millicent Garrett Fawcett, was no less distinguished as her title indicates. Her husband and daughter have a part in the Cambridge story too.
Elizabeth qualified as a medical practitioner in 1865 shortly before her 30th birthday. She practised as Mrs Garrett Anderson M.D., rather than as Dr Anderson. She was also keenly interested in improving the opportunities for women to get a sound education. Emily Davies, the founder of Girton College, was a close friend and it was in the Girton enterprise that 'E.G.A.' made her contribution to the University. A friend of mine who knew her in Penge late in her life told me of her abbreviated title. She became Mayor of Aldburgh, the first Lady Mayor recorded.
Millicent was eleven years younger than her sister. She was equally interested in women's education but extended her efforts into suffrage, getting the vote for women in elections. She was a suffragist and not a suffragette, and it was the latter that chained themselves to lampposts and caused disruption in many ways. They got the publicity. Millicent became the President of the National Union of Women's Suffrage Societies. The battle for the vote was long and drawn out with Royal assent on 6 February 1918. As part of their celebration Sir Hubert Parry was approached and asked to compose music for Blake's Jerusalem. Remember the gallant ladies of the struggle for the vote when you hear this choral work.
In 1857 Millicent, aged twenty, married Henry Fawcett who was fourteen years her senior. He had been 7th Wrangler at Cambridge in the Mathematics Tripos, which I take to mean that he was the seventh in order of those obtaining 1st Class Honours. He became a Fellow of his College. Two years later he was blinded in a shooting accident. Nevertheless he was elected for the chair of Political Economy at Cambridge, became Member of Parliament for Brighton and in due course Postmaster General. His initiatives included Parcel Post, Postal Orders and sixpenny telegrams. He also introduced those little devices that tell us to this day the time of the next collection at every letter box. As a further contribution to society he was a strong advocate of the employment of women.
The tale of this extraordinary family does not end there. His daughter Philippa also read Mathematics at Cambridge, although there was still no machinery for awarding degrees to women. The results for men were read out and the male Senior Wrangler named. Next came the results for women. Phillipa headed the list with the additional information that she had gained 400 more marks than had the senior wrangler. She joined the resident staff of Newnham College.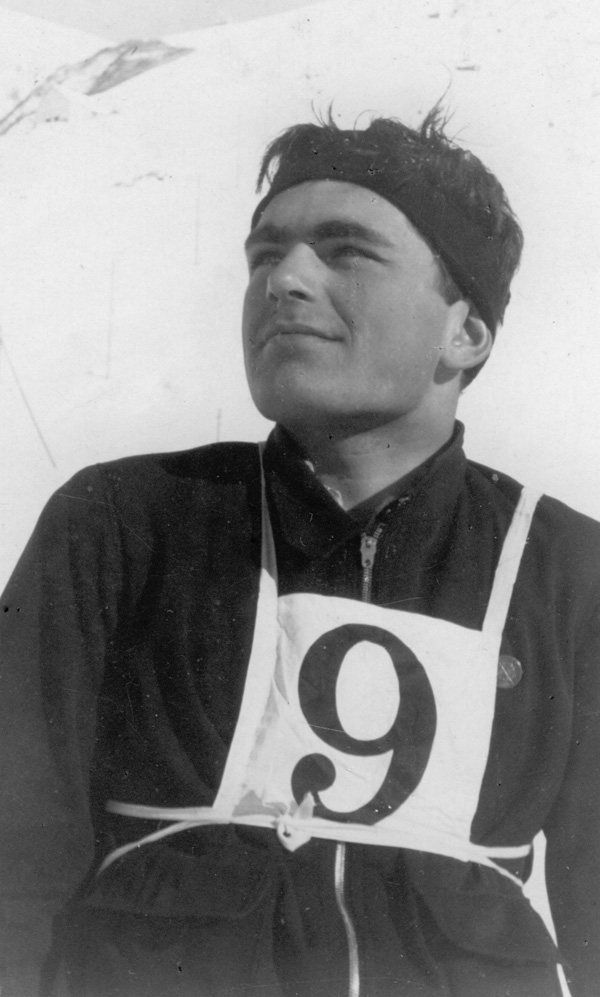 Chapter 26: Matrimony, 1948
News from India eventually came that Rex Eagan would be retiring and arriving in England in the mid-summer of 1948. Sheelah and her mother would come ahead and the wedding should take place soon after Rex's arrival. Amongst our military group there were several of us, around the age of 30 (and more in my case) who were taking the same important step. Cambridge being a short-term location the majority looked for rented accommodation. I had a special problem. My parents were moving to Rye to be near my mother's artist brother and, with a smaller house to go to, there was plenty of good furniture to fit out a house for us. I decided to buy and my search went wider and wider. With little building during the war there was not a great deal on the market. I eventually picked on a small and attractive house in the village of Elmdon, some twelve miles from Cambridge in a hilly corner of Essex. With six rooms and a garage there was plenty of space, with the only oddity that one had to come down the stairs from the bedrooms and go through the kitchen to get to the bathroom. The house was called Mendips, the area in which we now happen to live. We renamed it The Strawberry Patch, a name that every shop in Cambridge, having heard it once, remembered as soon as we mentioned our name.
It is always a trial for a bride to be to meet her future in-laws, however well intentioned they are on the basis of photos seen. Sheelah still remembers the shyness of youth at this inquisition. She should have had no worries. As far as the wedding was concerned I was to play a full part in its organization, having had at least some experience of the practice in England. I took as my model a family wedding before the war in St George's Hanover Square that had been a great success. My uncle, Canon Maurice FitzGerald, would conduct the service.
Large family gatherings were particularly important now that the war was over and London, with its railway tentacles, provided the best means of transport. Petrol rations were far too important for such travel. A number of our Ripon group took advantage of the final flowering of the capital city wedding, only to be outdone by a lifelong friend of our Cambridge group, Colin Cowan, who was married in Canterbury Cathedral. Londonderry House served well for the reception and Gunter's ran it, as they must have done almost daily at this time.
All went well until the week before the wedding, when a telegram arrived from Rex Eagan; 'I am having difficulty in getting a flight. Could we delay the wedding by a week?' The answer was No, but he made it.
Honeymoon arrangements were complicated too. We had been offered the loan of a cottage on Majorca but the Spanish requirement was that we should enter the country with a minimum of three pounds per day each. This was more than the amount we were allowed to take out of England and in any case all of our allowance had to be preserved for University skiing at the end of the year. We settled for Eire. With none of the war worries it was a land of plenty as evidenced by large steaks and all the trimmings on arrival in Dublin. Hiring a car we drove along the south coast to Cork and Skibbereen before heading north through Bantry and Killarney. This was probably our last view of totally unspoiled countryside filled with wild flowers and country people who had never visited a large town. On our return, no-one who knew me was surprised to learn that we had climbed Carrauntoohill, the highest point in Ireland.
Arriving at our house in Elmdon on a Sunday, our furniture had been moved in but we were locked out. However a side window was slightly open and I was able to climb in. We had successfully burgled our own house. Next day we visited the solicitor handling the purchase and told him our story. Ah! He said. You have got into the house so you are all right. I have not handed over the keys before checking that payment has been cleared, so I am all right. Let me now complete the circle by a telephone call. This done we were handed the keys and entered the house by the front door without any bridal wish to be carried across the threshold.
We had returned from rural Ireland to rural England. There is a range of minor hills that extends from the Chilterns up into Suffolk with the flat country of Cambridge and southern Essex on either side. We had woodland full of orchids and hilly walks with hedgerows filled with wild flowers. Before long we had a golden cocker spaniel to enjoy these surroundings. His pedigree name of Clever Clarence was useless for calling him to heel, so he soon learned to respond to Pagan. Our village of Elmdon rated a small school and a good pub, but had grown little from the rated population of 500 at the beginning of the century. Appropriately there were a small number of properties for the 'gentry'.
A large meadow climbed away from the back of our house where splendid Percheron carthorses grazed. An occasional Fordson tractor was to be seen. The common use of this machine traction had awaited the production of a suitable large rubber tyre that was only achieved shortly before the outbreak of war. There was a fine herd of the small black Dexter cattle with firm warning that the diminutive bull did not make friends easily. Across the road was the powerful Mr. Clarke, a road mender in a profession that had no great future. As our garden help he would arrive with his eight-tine fork and put a vegetable bed to rights more quickly than any machine which I have since possessed. Our neighbour, separated from us by three immense walnut trees, was the village postmen. Elderly in our eyes, he would do his daily rounds by bicycle.
All too soon it was time for the long vacation term and I started a commuting life through country lanes with no motorway obstructions. The term provided a good opportunity for carrying out a long list of experimental work with detailed writing up. The importance of this work had been stressed. I have since doubted the value. From my own teaching experience at Quetta Staff College I put great value on the issue of printed précis on subjects and syndicate discussion of them to bring the message home. In my view the note-taking practice of the day and too little attention to good use of the time available was not efficient. It would have been better for me to have read more of the many books recommended to me. Whether I would have done so is a question that cannot be answered and no doubt University teaching has changed a great deal since my time.
Chapter 27: The Heyday of British Amateur Skiing
For most of the war years I had been working as my own master. This meant constant assessing of problems, choosing a solution and then setting to work. Had I just arrived at Cambridge from school I would have sought a leader to follow. As it was I was looking for an activity to develop. In the new University year I was now Captain of Skiing and in the next two years skiing provided the outlet for thought and constructive action. In the event we were approaching the end of an era. The Ski Club of Great Britain had been formed in 1903 and fifty years later much of the climbing of ski slopes was still done without mechanical aid; the preparation of racecourses, if done at all, involved stamping by competitors. The financial opportunities related to drag and chair lifts and the development of equipment and clothing had yet to feed an important industry. Piste machines to prepare whole areas for comfortable skiing would not start to arrive for a decade or more.
Travel agents were rare. One travelled with a continental rail timetable in one's baggage and worked out, with the help of a concierge with local knowledge, the waits and changes along the way to a new destination.
My Oxford counterpart and I had to work out our plans together. Claus Huitfeldt was a Norwegian we knew well from the 1948 competitions. With a father working in England during the war he was one of the few from his country educated at Eton and Balliol. It was through Claus that we became involved in the most spectacular event ever to involve University skiers. He rang me to say that the Norwegian Ambassador had contacted him with a proposal. 'Twenty-five of Norway's top ranking ski-jumpers will challenge British ski experts to a contest on Hampstead Heath. It would be appreciated if Oxford and Cambridge would take part in their own event after the main competition was over.' What were my reactions? There were no British ski-jumpers capable of competing with the Norwegians, so we would enjoy a demonstration of great skill. There were no ski-jumpers at all at Oxford and Cambridge, but downhill racers are accustomed to being airborne over moderate distances and we would do the best that we could. We should pursue the invitation and hope not to chicken out. On the basis that 'I will do it if you will' we went ahead. It turned out that the local Ski Association in Oslo had been running a summer competition of the kind with imported snow for some years and this was an extension of their experience. A 60ft runway tower much enhanced the natural slope of the Hampstead hill. It was built of steel scaffolding giving appropriate launching speed, take off and run-out for the skiers. Forty-five tons of snow was shipped to London in insulated containers and chemically mixed for survival before being laid. No snow was available for a run-out, so a liberal stack of hay was spread to check speed safely for the competitors. Those who sat down before this braking point stopped comfortably. Those who tried to stand had an unplanned roll in the hay, much to the enjoyment of spectators.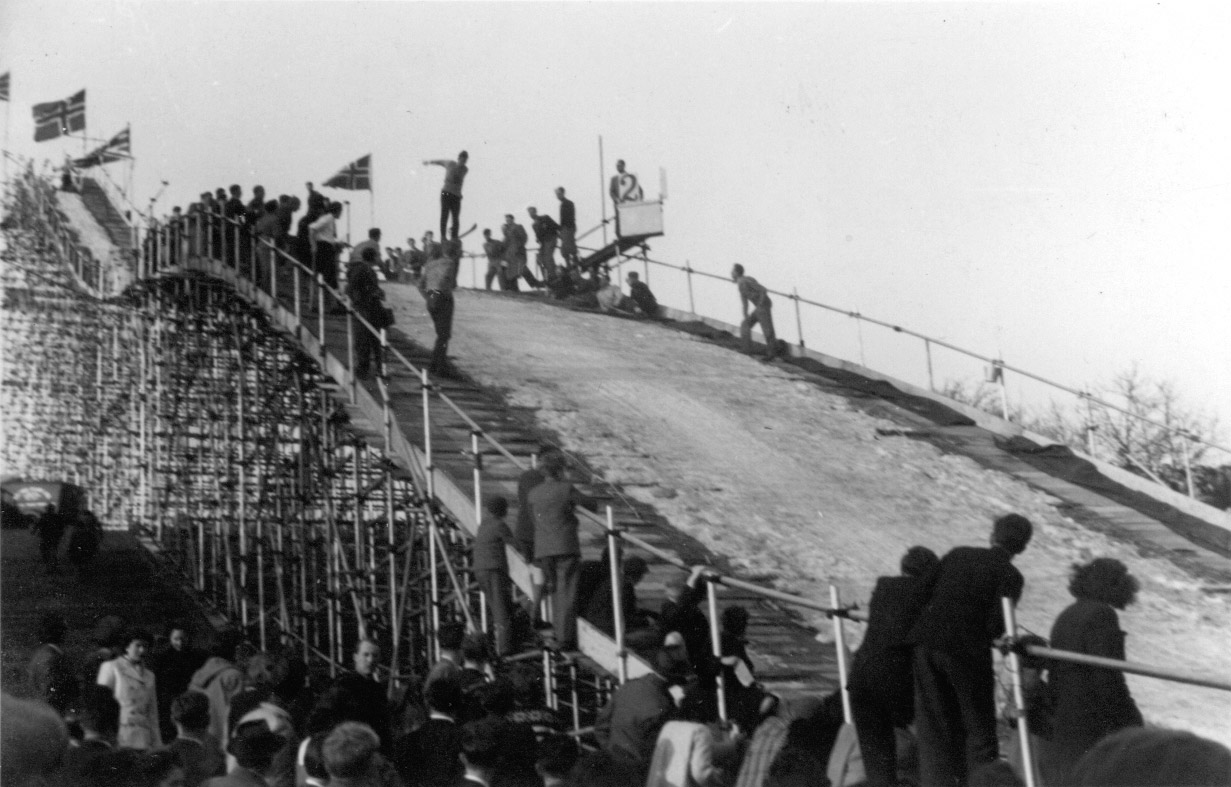 A crowd of 52,000 was there to watch the beautiful demonstration by top performers, though it was not encouraging for us to see that Bjornstadt, the World Champion, had a fall on his second jump.
Everyone remained to watch our less professional performance that followed. With borrowed jumping skis and without any chance of a practice jump I found myself poised at the top of the run-in with a narrow carpet of snow visible and then the take-off; beyond that was grass, or there would have been but for the 50,000 spectators. 100,000 eyes focussed on each small figure in turn as we prepared for launching, each of us looking, and perhaps feeling, like someone contemplating suicide at the top of a multi-storey building. As in any race the discharge of adrenaline and excitement takes over when the start is made. As a comparison between the experts and the beginners the best jump was a little over 90 feet, whereas my modest contribution was two jumps of over 60 feet. This was a memorable day.
---
For the future of our University races in the Alps we looked back with pleasure on our entertainment in Cortina and the suggestion of another race against the Italian Ski Club 18 made us choose Sestrière for our meetings over Christmas in 1948 and 1949. With initiative from the Fiat motor company Sestrière had been developed very well before the war against the concept of what a modern ski resort would require. To be sure of snow so early in the season it was important for us to go high and Sestrière stood at 6000 feet. Traditionally we would set off after supporting our team at the Varsity match at Twickenham.
We wanted to take a substantial mixed party. This alarmed a Don who foresaw glaring licentious headlines about Oxbridge behaviour in the Daily Mirror. He need not have worried. The travel and holiday industry that exists today had yet to be formed. We took on the arrangements including the channel crossing and overnight rail journey to Modane, with buses to drive us up the mountain. We did not know if any previous University enterprise of this sort had been tried, but our support was immense with a group of 300 taking part, a third of them providing feminine support. This was a success for the resort, for the whole party and for financial support for the team who would thereby be able to remain in the Alps, despite currency problems, for further races.
As the buses climbed their way from the main line station there was no sign of snow. This was a bad year, though Sestrière was better served than most places. Snow started to fall as we arrived and skiing was always possible, though courses for our races were shorter than we would have liked. The Fiat Car Company ran an outing to Turin that was popular for the non-racers and all in all it was an exuberant and enjoyable holiday.
As the main party went home it was time for the teams to move on to St Moritz for the Anglo Swiss races. Before the war Andrea Badrutt of the Palace Hotel had been supporting this event between the British Universities Ski Club and the SAS, our Swiss equivalent, and this was to be a great reunion to restart the event. We were the guests of the Badrutts in this, one of the world's top hotels. We were ushered to the Vieux Gril, a spacious room with nursery murals that was to be our dormitory. For the rest we were full guests amongst the glitterati and genuine celebrities of the world, many of whom we could recognise. At a fancy dress evening there was an astonishing display, led by hotel guests from the great Parisian fashion houses.
Snow was short here too. Herr Kasser told us that the behaviour of the Alpine choughs told him that there would be snow. The birds were right, but what they did not say was that gales would then blow most of it away again. We practised as best we could. Races on shortened courses were eventually run and the meeting with the Swiss greatly enjoyed. St Moritz looked after us well over many years. One hotel ran a winter holiday scheme for members of the Army Ski Association and in 1997 the resort staged a brilliantly organised 50th Anniversary celebration of the Association. Aged 80, this was the last time I put on skis. We ran our Inter Service Championships there, often with a celebrity of our own. I remember Field Marshal Auchinleck there being entertained in the Mayor's Parlour. With a smoking candle in his hand he was hoisted high to sign his name on the ceiling.
Our next move was to Grindelwald for the British Championships, where, once again, there was a shortage of snow and the course shortened. There was breakable crust for much of the surface and we each showed our individuality by stamping out the line that we proposed to take. These conditions suited me and I won the downhill with sufficient time in hand to make up for my moderate slalom experience. I was British Champion and collected a further fine cup as Army, Navy and Air Force Champion. This Cup dated from before the First World War.
It was sensibly realised at the time that the holiday skiers from countries without great mountains could never compete on equal terms with those who lived in good skiing areas. The term 'Lowlanders' was invented to cover the likes of the British, Dutch and those of mountain countries who lived and worked in the plains. There were several events in this category. We went to Mürren for the Duke of Kent Cup. The snow was good but this time there was fog. The fog experts amongst who were favoured in these conditions. The general rule about racing in the conditions of the day still seemed to apply. Our last racing before returning to Cambridge was at Arosa for a Lowlander International that brought together men and women's teams from Britain, Belgium and Holland. These were most enjoyable encounters and there was high-class competition from our opponents.
There is nothing new to tell about the following season except to explain how it came about that amongst many better skiers I again won the British Downhill Championship and thus, with Malcolm's help, getting the Horsfield name on the cup in the three years in which we competed. I can only put it down to the fact that much of our skiing had been off the piste and in all conditions of snow. There were two other tips that we followed. The first related to choice of line and its preparation. Do not follow the obvious line. On one occasion I remember a short cut which involved dropping down through a hedge onto a beaten track. The second preparation was to pick out the points where the surface was bumpy or the snow bad and to arrange our descent so that turns would be taken before or after bad passages and never on them, thereby reducing the chance of a trip.
Chapter 28: Sandhurst Instructor, 1950
In due course orders came through to say that I was to become an Instructor at the Royal Military Academy, Sandhurst, but I was going to lose my wartime temporary rank of Lt Colonel and be a Major once again. However I would not be required at Sandhurst until September. Meanwhile there was an odd job to be done at the War Office in the Signals Directorate. At the same time there was much to do in preparation for life in Camberley. Army living quarters were not yet provided on a generous scale and I would have to find my own accommodation. Selling one house, buying another and living 60 miles from my London job gave me a busy summer, but within a month or so of term starting we had our own house on the edge of the Sandhurst estate.
The spacious parkland that surrounds the buildings of the Staff College and Military Academy contains woodland and lakes as well as fine buildings, parade grounds and playing fields. It was a peaceful island beside a busy road to the west of England and the haphazard development of Camberley itself. On the Sandhurst estate extra buildings have constantly been fitted in without spoiling the gracious effect of the whole. I could cycle to work through the woods in a few minutes. There were no office hours in term time and events at all hours called for our presence. One officer summed up the situation in this way; 'The only time I meet my wife in term time is in bed'. On the other hand holidays came at fixed times. There might be holiday activities with cadets; I took parties skiing, for example, but leave was liberal.
This would have been the fourth year of regular Army courses after ending the wartime routine. Nevertheless everything was spick-and-span with strong Brigade of Guards influence. Social change was already influencing the intakes which now attracted cadets from a wider span of schools which was all for the good. Circumstance also influenced the selection of staff. Wartime experience brought many young officers to high rank early and a convenient shelf was required for them in a place where they would be useful - and what better place than the Academy? The breadth of experience was wide, both in variety and geographically. Airborne, Armour, Special Air Service, Special Boat Service and behind-the-lines men of the SOE all had their place with us. Of those serving there with me were some 24 or so rose to Major General and half a dozen of these went through to full General, including one to Chief of the General Staff. There were others of high quality who thought it better to get out of the Army immediately as it would take many years to reach the rank of General. They judged that industry would provide greater rewards in quicker time and had the talent to prove their forecast right. A further sign of the times was that decorations for gallantry were legion, up to the level of the Victoria Cross worn by Pat Porteous. Humbling!
I took command of the Signals Wing, running communications instruction for all cadets. Today every youngster is familiar with electronic systems, but not so then. Our cadets might find themselves in operational zones soon after commissioning. The Berlin blockade was over and troops had left Palestine, but the Malayan Emergency, the Korean War and the threat of operations in Germany meant that many young officers might find themselves in action soon after they left us. They must be prepared. And then, before my first term was over, the odd job demon struck once more. I was told to report to the War Office for interview by a Colonel in a Training Branch.
A Whiteshod Winter Warfare Course was due to start in the New Year and the intended officer selected to run it had gone sick. Was I qualified to take on the task? Snow and mountains were familiar to me and I had some experience of warfare, albeit entirely in the Tropics. Would this be enough? Apparently it was and the unheard of took place. I was borrowed from Sandhurst.
First I would have to get to Austria. Military travel to mainland Europe relied on a system called Medloc. One reported to Harwich and caught a military ship to the Hook of Holland where a military train awaited. From amongst those travelling the furthest a senior officer was appointed Officer Commanding Train and a senior Warrant Officer became Train RSM. I had the first-named appointment on the return journey. I had to 'sign for the train'. Halfway home a carriage was removed as an axle box was overheating. Thankfully I was not required to pay for the loss. Discharging our load in appropriate places as we went, we eventually reached the Villach/Klagenfurt area on Austria's southern border with Slovenia. Those who had further to go to their military station in Trieste awaited the arrival of coaches from Italy that would take them there.
There can have been few nicer places than Austria to be stationed at this time. There were lakes and mountains giving skiing, sailing and mountaineering and I saw no signs of war damage. On instructions from Headquarters I set off by train for a small mountain village that had come into use as a Leave Centre. Access was primitive. Instead of a cable car there was a chain of large buckets, suitable for carrying up building material or bringing down timber. Installed in one of these with my baggage I was carried aloft and started preparations for receiving my students. The head Austrian ski instructor showed me the terrain. He seemed to be putting me to a severe test as he descended at speed and eventually when he stopped he found me beside him, rather to his surprise. He told me that he had been going ahead so that he might see how well I came down. First points to me. We got on well.
When my course arrived it was plain that the first thing needed was to train them in some fairly basic skiing techniques so that we could proceed safely in the mountains. After discussion with the Commandant and the head of Ski School it was decided that a fortnight should be devoted to this training in which I cold play no useful part. My time would be better spent in learning what I could about the progress in Army skiing in Austria and Germany and for this purpose I should go to Bad Gastein, a few stations away, where the Army Ski Championships were to be held. I was welcomed there and was invited to help, to race also if I wished, which I did with success. What I saw was most impressive. Most of those racing, particularly those from the ranks, could only have had two or three years' experience, yet they were fit, brave and committed. In particular they were team members and determined not to let their team down. Of particular importance were the langlaufers, cross-country skiers with target shooting included in their circuit. With extremes of exertion in the skiing element, accurate shooting was very demanding. What better training could there be for a young soldier? A further development from this meeting was that I became a member of the Army Ski Association Committee.
Back with my trainees, the Ski School had done a good job. We could now learn about moving and living in snow-clad mountains, albeit at a slow pace. Some of this was new to me, in particular 'snow holing', which has some similarity to igloo building. Choosing a suitable site with deep-banked snow from which blocks could be cut for building was left to the experts. This was hot work on a sunny afternoon, two and four man accommodation holes were excavated with suitable 'beds' on which sleeping bags could be unrolled. The making of an entrance called for the use of snow blocks. Two essential points had to be remembered. If tightly sealed, oxygen starvation would be a danger. A vertical hole had to be made for fresh air. A ski stick, resting on its basket, would be inserted from above. This should be raised and shaken from time to time, particularly if it was snowing during the night. The second hazard was less obvious. Anyone leaving the snow hole at night might find it impossible to locate the entrance in the all white surroundings. Some marking was essential.
The students had planned an early morning start for a patrol to an alpine hut supposedly used by the enemy. This led to some minor frostbite problems, so we learned about that. Thereafter withdrawal took us over higher ground where the mist was thick. The danger is that the leader may inadvertently step over a precipice. A ski stick or glove should be thrown ahead of the party. If it lands on a solid surface it is safe to advance. I came across just these circumstances with a cadet party I took to the Cairngorms. We and the glove survived, but accidents certainly do happen in this area to the inexperienced.
We moved to Mallnitz and climbed the 11,000-foot Hochalmspitz in foul weather. Another lesson was learned. High on the mountain one of our group fell and lost his spectacles. Extreme short sight meant that he had to be guided slowly down the mountain, turn by turn. Arriving at our lodging we were introduced to a recovery brew called Eierbeer. Two raw eggs were added to a litre flagon of beer with brown sugar to taste. It was effective, however unattractive it may sound.
Back at base a sauna had been arranged in genuinely Nordic fashion. The hot steamy room was large and the cold plunge in an icy stream which flowed past the hut. This can be correctly described as an unforgettable experience. The course over, I was invited for a short stay with General Mike West in his fine house on the Worthersee so that he could be fully informed of my experiences.
Later in the year my Sandhurst job was changed and I found myself in Inkerman Company of Old College to serve one term in the Company before coming its commander. Sandhurst had three Colleges: Old, New and Victory, each with Company names from battles of the age they described. It was not until much later that I discovered a strong family connection with the Crimea. My mother had a great-uncle in Lt General Thomas de Courcy Hamilton VC. She may even have met him, as she was 15 when he died. Having already served in South Africa he was with the 68th, the Durham Light Infantry, in the Crimea. Having fought at Inkerman in November 1854, he then took part in the lengthy siege of Sebastopol. The Russian besiegers had been preparing for months for great effort. On 11 May 1855 they had captured a small battery on the front of the 68th. Hamilton called together a few men and with a sabre and bayonet charge drove the enemy away before the guns could be spiked. The VC award was not formalised until 1856, but a few earlier acts of gallantry were included.
Working in a Company meant that one had close contact with some 80 cadets and got to know them well. At their impressionable age many became friends for life. Twice each year a third of the group would be commissioned and new replacements would arrive. One Sunday there was a mysterious telephone call from my College Commander. 'The Commandant wants to know what school you were at'. This enquiry, unusual then, would never be made today. What could it mean? We had heard that the young King Hussein of Jordan was to come to Sandhurst. Could it be that I was to join the shortlist from which selection of a Company Commander would be made? The next day we knew that King Hussein would come to Inkerman. No doubt considerations of Platoon Commander and Company Sergeant Major were included. We could produce a good team. In the Sandhurst tradition he would be addressed on parade as 'Mister King Hussein, Sir' and the great Academy Sergeant, John Lord, would explain to him 'I call you Sir and you call me Sir'. King Hussein adopted this courtesy for the rest of his life, as I and other visitors were to discover.
Shortly after term started the young Harrovian arrived. He was self-assured, with a ready smile, and it was soon apparent that he intended to join wholeheartedly in everything that went on. This was a nice change from those few of our cadets who seemed to believe that Sandhurst did not apply to them. He mixed well with his contemporaries and showed constructive good humour in such ragging as went on. There was a memorable incident soon after he arrived. I stepped out of my office into the passage and found him waiting there. The conversation went like this: -
"I have learned that you have been recently blessed with the birth of a son."
"Yes, our son Crispin is doing well."
"I would like to give you this."
A paper bag was produced from behind his back. It contained a silver porringer.
"Thank you very much, it is most generous. Academy rules are strict and I shall have to get permission to accept it."
"It is not for you, it is for the baby."
Plainly we had a great diplomat with us. The story was passed upwards and permission given.
In addition to the normal syllabus various visits were arranged for our Royal pupil. Professor Boswell was put in charge of the programme. He had been the Lecturer in General Education when I was at Woolwich and moved to Sandhurst when the older establishment closed. A brilliant lecturer himself he gave talks to newcomers on this important aspect of our work. The three of us saw The Times being produced and lunched with the Worshipful Company of Grocers. I attended the Motor Show with King Hussein and his London Ambassador and went to Goodwood for motor racing. As we stood together with the Duke of Richmond I called the Duke 'Sir', the Duke called the King 'Sir' and he correctly used the same appellation for me. We joined Raymond Baxter and listened to him broadcasting the race whilst Stirling Moss circled the track.
Before long it became apparent that he could not be spared from his country for more than one term, so he was promoted at intervals, first to intermediate and then to senior so that he could pass out as an officer at the December Sovereign's Parade. He left with our very best wishes and a belief that we had all learned something from him about friendship.
Life was busy, but so was the social life and home activities. Our Visitors Book shows much activity and those of us with our own houses were busy with developments. If husbands were busy the wives, including those of Staff College, had their own programme. Fifty years later Sheelah and I still meet friends from that pram-pushing epoch. We would entertain our senior cadets to lunch in-groups. Sheelah maintains that they concealed themselves behind a hedge until zero hour and pressed the bell as it struck. She had to be ready. We found it better to find things to do rather than sitting round making conversation. This included washing up. King Hussein held a drying up cloth for the very first, and presumably for the last, time in his life.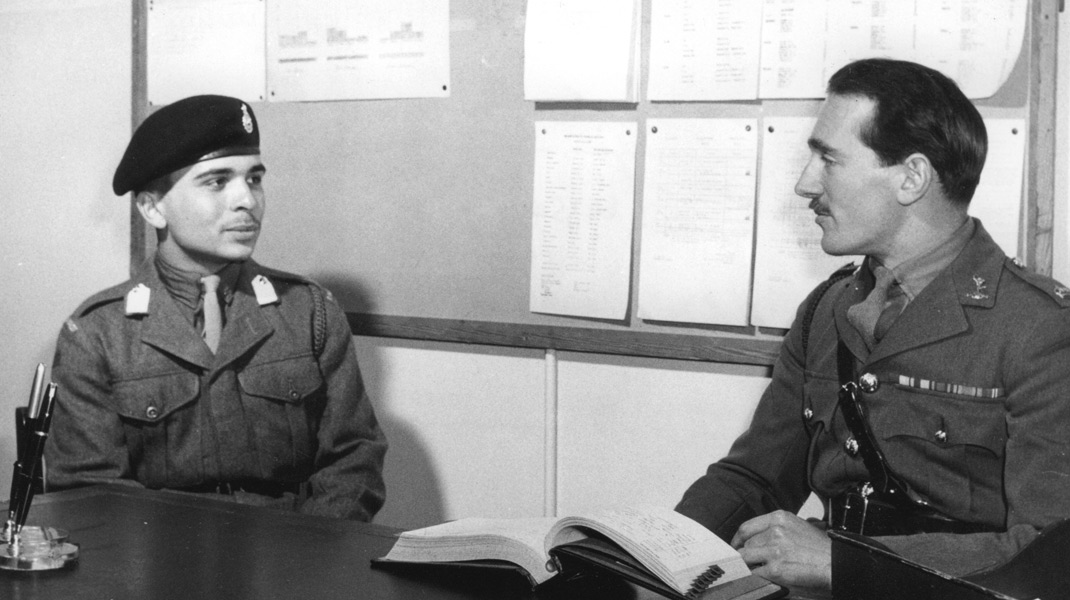 Chapter 29: War Office Outpost, 1955
My posting from Sandhurst in 1955 took me to an outpost of the War Office in Stanmore in the fringes of northwest London. Fortunately there were a number of people living in the Camberley area who were prepared to share with me the daily one hour drive each way so that it was not too burdensome, in spite of the intricate diversions caused by major roadworks. We could remain in the house we had bought. One of the team for much of the time was Colonel Arthur McVittie, for whom I would be working. In spite of our difference in seniority we had been on the same course at Quetta Staff College.
My new task was to control the postings of all Signals officers of the rank of major and below. The normal tour of a regular officer in any one job was two to three years. National Service officers were only available for less than half this time. Woven into the overall pattern came long courses with officers posted to training establishments. Unexpected retirements, sickness or death and the creation of new appointments or units produced a constant flow of wild cards. Promotions to Lieutenant Colonel would remove key officers from my control and leave further gaps to be filled. Added to these problems was an overall shortage of officers so that a percentage of vacancies had to be accepted.
The job made anyone in my chair a centre of attraction. The customers included, first of all, the officers I was posting. They could produce personal or family problems, preferences for particular theatres or career advice. The office of the Signal Officer in Chief would issue directions for me to follow and Chief Signal Officers, Commandants of Schools and Regimental commanders would present me with their worries to see what help I could give. Nevertheless, as a people job, this was full of human interest. Beyond that, I had been away from British service within my Corps for fourteen years. I now got to know and be known by as wide a span of our officers as anyone could hope to achieve.
The first surprise of the fortnight set aside for taking over was that Michael Fletcher, my predecessor had no desk, or rather he stood at the sort of desk I imagine that accountants used when working on heavy ledgers. The whole briefing was carried out standing up. He explained that when he had taken over he had two staff Captains to help with the work. One of them had been posted away six months ago and the other was on the point of leaving also without replacement. My sole assistant would be an Executive Officer of the Civil Service, Bill Wicks. Amongst other introductions I met members of the Military Secretaries Branch with whom I would be working.
I had not been long in post when General Sir Cameron Nicholson, the Adjutant General, entered my office. He was personally taking the trouble to visit separately all the majors carrying out officer postings for the different branches of the Army. His message was simple and long overdue. He said that it was absurd that nearly ten years after the end of the war we were only giving officers two months warning of an impending posting. In order to give individuals and their families reasonable time for planning we should move quickly to a six months warning system. This meant a sudden compression of an extra four months work into our timetable. Whatever the message, it was most impressive to find a member of the Army Board carrying this message personally to young majors.
Bill Wicks, my E.O. was a jewel. He had a deep knowledge of all aspects of the 'system', plenty of practical common sense and a great sense of humour. We set to with a will and became an excellent team.
The first thing for me to do was to get the hang of the sources of information on which decisions could be based. There were establishment tables, and an array of volumes containing a slip for each officer giving basic data of all kinds including current unit, date of appointment and any special qualifications. Then there was a hardback folder for each officer of assessments by Commanding Officers in annual confidential reports. The Military Secretaries Branch maintained each officer's report records and the so-called Personnel Branches, such as mine, could draw them out when selections had to be made and postings considered.
Quite rightly there were stringent rules for safeguarding information in these folders, but I and those like me had to be able to respond with quick solutions to varied problems and we were forbidden to retain any notes from reports even though they would improve selection procedures. Similarly, if one needed a specialist, an Arabic speaker, a parachutist or any of a dozen others, one would have to wade hopefully through several hundreds of record slips to identify possible qualifiers.
It seemed to me, and certainly to those I served, that quick response was an important part of my job. I therefore applied with success for a change of this War Office rule in so far as Personnel Branches were concerned and I employed an officer between postings to check every officers' record slip and place an appropriate coloured marker indicating special skills on those slips deserving one. Search for a particular skill could then be limited to those slips with the right colour tab on them. Updating was easily done when reports passed through the office. If only we could have had computers!
After reaching the goal of a minimum of six months warning the pressure of our everyday work lessened. There was time to consider the general philosophy of postings that I had never considered before. First came the interests of the Army that included the development of individuals in a wide range of skills. Second came the interests of the different branches of the Army. Each wants a share of the important jobs in the service. Thereafter come the interests of the individual that, without guidance, may go no further than choosing a nice place to go to when it is time to move. Individuals needed educating on how to build a career. It seemed to me that in Signals we were innocents surrounded by experts in the older tribes. We needed to become more expert within ourselves and in our relationship with the Military Secretaries Branches.
From these thoughts, my growing experience and the variety of questions I was constantly asked I drew conclusions. There would be value in planning tours of units to pass on information on the system in operation; the way we handled requests; how we hoped to achieve fairness between individuals and in career management. In the end I was able to carry out this plan for the United Kingdom, Germany, Cyprus, Libya, the Canal Zone of Egypt and Jordan. For me this turned out to be an important education on the status within the Corps as well as giving an understanding of the conditions and activities in each theatre.
When I visited units in Germany war damage was still much in evidence. Many roads were in poor condition. Because of inadequate drainage severe frosts had thrown up frost 'boils', inches high, which had to be watched for and negotiated with care. My locally-employed driver explained to me that in Germany driving was war. The discipline and rigid rules that were to come were not yet in evidence. In Cyprus it was the Makarios age of internal Greek/Turkish trouble. Dinner in a restaurant in Limasol was called off half eaten when shots and explosions were heard in the neighbourhood. In the Canal Zone there was excellent sailing, but the wider interests of Egypt opened to me by desert explorer Ralph Bagnold were less in evidence, perhaps through no fault of those serving there. In the ten-year-old Hashemite Kingdom of Jordan I was lucky enough to have a free Sunday. I was provided with a Christian Sergeant of Police as guide and taken to Jerusalem and Bethlehem from Amman. At this time before the later wars the Allenby Bridge over the river Jordan was open and there was free access between Jordan and Israel.
One of the supposed advantages of my appointment was that at its end I could choose my own posting. One of my predecessors went to Canada. For myself I considered it important to go to an active major unit preferably in Germany. In twenty years service I had great variety of employment but all too little in the bread-and-butter work of an active Signals Regiment. My posting was suitably fixed to meet my needs and I set off for Zermatt to help run skiing there for the Ski Club of Great Britain.
Chapter 30: Odd Job Year, 1957
The best laid plans… I returned to Stanmore to find that my relief had been posted elsewhere to meet an emergency. I would have to find someone else and face delay; then would follow our first family move. Crispin, Antonia and Hugo would take their first trip abroad with us. We moved to Osnabrück, in Germany, where an independent Brigade was being formed and the Signal Squadron would be my command. Once again service in a Regiment was denied me. On the bright side, there was a good quarter available and perks were numerous. The pound bought plenty of Marks and we were provided with Staff, two women to work in the house and a boilerman to look after the heating.
There were also snags. There was an Armoured Brigade at Sennelager some 70 miles away that was being disbanded. I was to take over the Signal Squadron, hand in equipment not appropriate for my command and move stores, equipment and men to Osnabrück. This took some weeks. Once there active training took place and I was most grateful to an excellent operator Corporal, as I was in Burma, for producing order out of chaos on the Brigade net as only a good leader of his trade could achieve. I had but one officer, Mike Greaves, with a National Service commission, who helped greatly in achieving parade ground smartness. High standards were sought in all types of inspection. I still believe that such matters are important if soldiers are to begin to take pride in their work. Mike, I am glad to say, converted to a Regular Commission.
National Service produced some pleasant surprises. The driver of my Volkswagen turned out to be expert on bird life and his instruction was valuable. Two others on a trip turned out to be marine biologists who carried out their own research whilst I made a reconnaissance. The Volkswagens were useful runabouts but not so good for cross-country work. There is a tale of one padre, stuck on a muddy track, leaving his car in gear, engine running, and going round the back to help it with a push. He claimed that he could usually catch it up when grip was restored.
Our wireless vehicles were half-tracks, heavy and primitive. Research was needed to discover their habits. They were well past their sell-by date, as sadly, was my Sergeant Major. His replacement arrived unexpectedly with family, so we put them up until a quarter was found. Then, around an August Bank Holiday, the Suez Crisis stemming from Nasser's nationalisation of the Suez Canal in 1956 called for military preparations. I was ordered to move to Colchester with a substantial body of men where we would be issued new equipment and made up to the required strength with Reservists. For a short time we were with the 3rd Divisional Signal Regiment, commanded by Eric Swainson, a future Signal Officer in Chief. We were issued with new six-wheeled Saracen armoured cars, though much else was familiar from the war years. All our vehicles were painted a desert hue as was a small Austin 7, not ours, that had parked in the wrong place.
Moving to Tidworth we trained for desert deployments and staff and Signals got to know each other. Cornfields had been reaped and provided suitable deserts for our purposes. At some stage we drove to Instow in Cornwall where we practised driving Austin Champs fitted with snorkels in shallow seas. All this done we moved to Chickerell Camp near Weymouth and joined up with two Royal Tank Regiments. Our third regiment, The Life Guards, remained near London.
There were many useful NCOs with me of a new breed who took the lead in spreading their skills on their own initiative. A Foreman of Signals ran an updating course, showing operators how to get the very best from their equipment and a Sergeant rehearsed all the horrors of dealing with badly wounded comrades. Foresight and imagination were given full play. At a later date we met the Navy and were taken round Tank Landing Craft that we then loaded. From then on we lacked equipment for training and had no forecast about embarkation. At this point I happened to phone the War Office with some question. The answer given, the officer concerned said "Oh, by the way, congratulations." I replied that I knew no reason for his compliment, to which he replied "Perhaps I have said something I shouldn't. Something to do with Crossed Keys." This message was clear to me. I was to be promoted to Lieutenant Colonel to Command 2nd Divisional Signal Regiment. The Divisional Sign was the Crossed Keys of York where the Division was formed in 1809.
I was soon packing up and on my way back to Osnabrück, a place I had never got to know. The temporary relief who took over from me in August was able to soldier on and we moved to Hilden, near the fine city of Düsseldorf, to tackle what amounted to my fifth job in this extraordinary year. We were in the heart of the Ruhr with its coal mining and heavy industry, though countryside was within easy reach.
Instead of an Army quarter we were allotted a fine large house near to Benrath on the Rhine. Many such houses were appropriated in the early days of British occupation, though I never knew what misdemeanour qualified owners for ejection. The house came with all it occupants' furniture. The space enabled us to provide accommodation in time of need. A subaltern returned from leave with his bride, a QARANC nurse from our local military hospital. She was turned away in disgrace from her place of work so we put them up until they could find their own place to live. It was nice to get a telephone call 40 years later - their Ruby wedding anniversary - reminding us of the event and saying that all went well with them.
The garden had been very fine and we did our best to maintain it without professional help. It was a great place for our young children to play. Strawberry beds produced basinfulls daily throughout the season. Nevertheless it benefited us later, when the property was handed back, to move closer to the childrens' school.
The Barracks in Hilden, built for the Luftwaffe, were spacious and well built, but our Officers' Mess was a makeshift building in the town. Military barracks in good order served us very well.
Chapter 31: 2nd Division - Hilden
My welcome by the Divisional Commander, Major General Cosmo Nevill was unique. His opening remark was "I fold my socks like your mother taught my mother to fold socks." If there was ice to be broken this did it. I was amongst friends and, it seemed, many of them. Jock McNeil, Artillery Chief, had been one of my instructors at Catterick. The Engineer Chief and the principal Administrative Staff Officer had been cadets of my term at Woolwich. The senior Operations officer Derek Horsford and I had rarely met, but knew of each other well. We kept being asked, both in India and Camberley, if the other was, 'your brother'. To confuse matters further our wives were Sheelah and Sheila.
The welcome may have been exceptional but the circumstances were too, in the opposite sense. Although it was a dozen years from the end of the war there were many difficulties that persisted for years and we, in Signals, had some special ones of our own.
This was a time of genuine threat and uncertainty. It was plain that Russia was ready to seize any opportunity that offered them an advantage. The Berlin blockade by Russia had failed by 1949. It was an attempt to isolate the city from the West and end the allied military government of the city. The building of the Berlin Wall in 1961 was a symbol of the division of Europe into the communist countries of the east and the democracies of the west. My priorities must be governed by the situation and their consideration illustrates some of the scene of the time.
People were of prime importance and I was well served but there was little stability of tenure. A team that is constantly changing cannot expect the highest standards but we would do what we could. For the National Service element there was constant change with welcomes and goodbyes every week. The best of the officers were excellent by any standard. They gave their best and probably got the most from their experience. Of the soldiers, their time with us depended on the trade in which they were trained. Technician training consumed some half of their service, so their rate of change was highest. There were a few miscreants who wished to test the military punishment system to the full. I believe that they left with considerable respect for military authority.
My great disappointment was the arrival of two West Indians with names of Walcott and Worrell in the era of the great cricketing legends, the 3Ws - Walcott, Weekes and Worrell - yet neither of our West Indians played cricket! No trouble came to my notice of maltreatment of the coloured element. I believe that the small working groups in Signals helped a great deal. Three operators would man a wireless station and four linemen a line laying team; there could be no splitting into factions. They would develop their own team spirit and there were several of the coloured that became NCOs in charge of such a group.
Amongst the Regular officers there was change too. Many of the older wartime commissioned officers had served on; people who had enjoyed the life, including those that had been commissioned from the ranks. Their age and qualifications often made it unlikely that they would get promotion beyond the rank of Major. They were sensibly considering a second career or the return to some career they had entered on before the war started. Four of my majors left within a year and similar losses occurred within the senior NCOs who were suffering much of the brunt of the extra work which came their way in a National Service Army. Replacements at all levels came through new growth amongst those that had achieved promotion to responsible rank since the end of the war. They were different in kind from their predecessors, having developed in the changing circumstances of society and leadership.
The practical tests of our Regiment were the exercises involving several levels of Headquarters and the communications between them, with moves as the 'battle' developed. It was said that the concept for some years had been that the Headquarters of an infantry Division should find cellars to operate from. Signals conformed as far as possible, but the constant unloading of sets and equipment did it no good and communications were poor. This was probably an experimental attempt to survive nuclear weapons and maintain command communications. A counter argument might well have been that both sides had atomic devices and each would be reluctant to start using them as retribution might well prove worse than any temporary advantage gained. Woodland for concealment became popular and Signals operated from their vehicles.
There was a second wartime hangover that had much influence. The great success of Signals Intelligence derived from intercept and the brainpower of Bletchley was well remembered. This generated a philosophy which might be read as 'better to have no communications than give away information' - an over-reaction. Operators arriving from training would try and establish communications with minimum aerials and fail. They had to learn to establish communications quickly with a full antenna and then reduce power if a good link could be maintained. In a broader sense we developed the guiding principle that Signals should provide the best quality communications possible with the equipment available and giving priority for operational command. I have wondered since about my lack of Regimental service. Was it perhaps an advantage at this time that I did not come with too many preconceived ideas and had to think all problems out for myself?
One striking lesson from the exercises was that many of our vehicles were either non-starters or non-finishers of the course. Our excellent REME Light Aid Detachment was kept busy with the more serious repairs. Could we do something to improve the general standard of maintenance? The earliest misjudgement in this field went back to mechanisation in 1938. Our drivers H/T, the H standing for Horse, could look after their charges, so presumably drivers M/T could look after Motors. Wrong!
For those accustomed to motoring today, few of the minor troubles we suffered ever arise. In those days starter motors failed to compete when cold weather gave sump oil the consistency of treacle; damp weather diminished the ignition spark though towing or push-starting sometimes solved the problem. It was not easy. The German Air Force had left us an inspection bay, so I reverted to the method I had used in Burma. I found two National Service lads who were interested in vehicles and set them, with REME coaching, to run routine inspections. Faults detected could be dealt with.
It occurred to me that we might have much to learn from my counterpart with the 7th Armoured Division whose Signals developments would have been on different lines from ours. I was glad to fly to Verden with my workshop Technical Officer who would be responsible for any modifications we were to make. Standard patterns of command vehicles did not exist so DIY was the order of the day. Designs included lean-to offices to be taken down and put up in the new location.
Whilst work went ahead in the workshops, I turned my attention to Jimmy Paterson's Radio Relay Troop. This was provided with a form of communication that I had not met before. It provided four speech channels 'multiplexed' on one radio 'carrier' wave. Imagine four different tunes, each played in a different octave. These can be separated and sent their individual ways at the receiver station. This gives an indication of the method. The quality of the speech resulting was like a good modern telephone. At this time our Command communications in the British Army of the Rhine were using wartime radios. The links were somewhat tenuous with poor quality and placed a considerable strain on the officers using them. Distances between Headquarters tended to be greater than those experienced in war and this made the situation worse. How much better it would be if we could contrive a Radio Relay command system and at the same time engineer, over the same links, teleprinter connections for administrative requirements.
Further development produced a broadcast loudspeaker in the operations office so that urgent new developments could be picked up whilst carrying out other work. The result was applauded in the Division though it produced minor difficulties elsewhere. Yet, ten or more years later, our ideas formed the basis of the system planned and developed for the Army. As this development proceeded the Division was visited by the Secretary of State for War, Christopher Soames, and I was required to show him round and speak of our problems. Seeing a familiar wireless set he exclaimed, "I had one of those in my tank in 1942, shortly before I was wounded."
---
A question came into my mind: why was it that everyone knew of the great wartime exploits of the 6th and 7th Armoured Divisions, yet the 2nd Division remained anonymous?
I returned to thoughts about the great battle of Kohima 15 years earlier in Assam that ended any fear of Japanese victory. The principal player, though not the only one winning great distinction, was the 2nd Division that was, of course, part of General Slim's 'Forgotten Army'. It was time that it was remembered. A Divisional Headquarters and its Signals Regiment are such an integrated team that the initiative of recalling Headquarters' former glory for current celebration could sensibly come from Signals. I had seen the beauty of Kohima in 1942 when the tattered remnants of General Slim's Burma Corps HQ passed through. I also had involvement with an Indian Division in clearing the Imphal Plain to the south of Kohima and saw Kohima itself shortly after the defeat of the enemy was complete. The whole area resembled the worst pictures of war-torn France in 1918.
We decided to look into our Regimental past and involve our soldiers in the wartime history of our predecessors. An important discovery was that the Signals unit had been disbanded in India, so that there had been no-one to bring their story to new post-war members carrying the famous name. A new Regiment was created by renaming another Division, believed to have been Territorial that took on our name but no memories to go with it. We set out on a course of research, but the main decision was to run a celebratory event, to be called the Kohima weekend in the summer. There would be military recognition of sacrifice in a Church service and a country fair with sporting activities. This would also be an appreciation of good work done by both the hard working regulars and National Service soldiers. The latter produced many original talents as entertainers, the most memorable performer being a white mouse called Amadeus. There were numbered arches of appropriate size and customers were invited to place their money on the arch that Amadeus would choose to come out of when released by his owner. I never knew if this small performer did a full National Service tour with the Regiment.
The Divisional Commander attended our function and presented the Regiment with silver Crossed Keys, the Divisional sign. Soon thereafter we had a further reward. He decided that the new Officers' Mess building, designed for junior staff, should be ours. We could move out of our inappropriate town dwelling. The Kohima celebration continued with an All Ranks dance. In this time of bootlace ties, bother boots and the jitterbug it was quite an occasion. The development of these Kohima events is a story that can wait. Sufficient to say at the time of writing in the year 2000 that we have recently taken part in a well-attended Kohima event in York with strong support from ageing veterans of the battle from all arms of the Army. The Duke of Edinburgh took the salute as we marched past the saluting base on the southern-side steps of York Minster.
---
Back in Hilden the DPs were great contributors to our work. The abbreviated name was used to describe the Displaced Persons, mostly Polish and Czech, who had escaped their own country and taken sides with the Allies. There was little hope that they would ever be able to return to their countries of origin. Their military employment with us was as a Defence Platoon in which they had long service. They were robust and cheerful company and also very useful. On any exercise in which we were involved they seemed to have great knowledge of the country and the people with farms and lodging who could help us. I surmise that the German Army on training had always demanded help from the locals and we were given the same treatment, barns being opened to sleep soldiers and houses opened to some degree for the Staff. This helped to moderate the misery of extreme cold or wet.
At that time wartime battle dress was our clothing and the gas capes that had proved useful in Burma did not seem to be available. Our linemen suffered most. Not only were they out in the elements a great deal, day and night, but they stayed on for a day or more after the exercise finished, recovering cable. We improvised a drying tent by taking one of the cooking devices and blew heated air through hanging clothing.
I also tried to show that good work was properly appreciated. In earlier authoritarian days soldiers were rarely called to the Commanding Officer's 'Orderly Room' unless they had done something wrong. I chose to call people who had done well to my office to give praise and thanks to those that had given good service. The linemen were certainly among them and the Army Catering Corps cooks who were doing excellent work to see that all were well fed. Everyone was busy. Radio sets were made up of components rather than sub units that could be exchanged. Fault tracing under pressure was a steady routine of the times.
Odd job man employment came my way as usual. Someone remembered my Motor Cycle Trials experience and I became course setter and manager for the divisional event with similar occupation at the British Army of the Rhine. This came to an end when it was recognised that a man on a motor cycle was vulnerable. Thereafter a two-man crew in a Champ was used in dangerous times.
Similarly in skiing I was caught up at several levels. Competitions were keen in downhill and cross-country events and with modern teaching and new developments in equipment soldiers in unit teams reached high standards of fitness and skill.
Early in 1958 we learned that the 2nd and 6th Divisions were to be amalgamated and that the resulting formation was to be located in Bünde, much nearer our controlling Corps Headquarters in Bielefeld. From the Signals point of view this led to hurried study of the rules so that the best arrangements could be made for retaining Signals funds and property for the combined Divisional Regiment. I was lucky to be given command of the new unit.
It was while the arrangements were going on that I was struck down with jaundice for the third time. In Egypt and later in India the attacks had been tiresome but not severe. On this occasion it was serious, lengthy and thoroughly unpleasant. I will not dwell on it. My regiment moved and when fit enough I was moved to a hospital nearer to my new abode. Three weeks recuperative leave was ordered, which was a blessing after the busy and confused life of the previous two years. The only previous excursion I remember in Germany was to the Nürburgring to watch a great Grand Prix. The long course was nothing like the modern circuits, weaving its way through forested and hilly country where one chose one's picnic site in wide open spaces. Our young children were able to play their own games in absolute safety without close neighbours to take offence. This turned out to be one of the epic races of all time, won by the great Fangio in the year of his retirement.
Chapter 32: New 2nd Division
Our Camp at Bünde was outside the town and of modern construction, largely single storey, except for the married quarters. It had housed the 6th Divisional Headquarters as well as the Signal Regiment, but the HQ element moved to Lübbecke, some dozen miles away, as part of the reorganisation. I had no say in the matter, but accepted the change reluctantly. The Divisional Commander, his Staff and his Signals are an integrated organisation and the closer they are together the better. The result of the change was that I had an element of the Regiment at Lübbecke providing HQ static communications and three Brigade Squadrons, each at a distance. Left with me was the greater part of the mobile communications workers and their equipment. The only advantage gained was that I took over the splendour of the office of the former General Officer Commanding the Division. There was no chance to learn more of the situation, as recovery leave had been ordered.
This was the first opportunity to explore with Sheelah the advantages of living 'on the Continent', leaving our four young children with our faithful German help, Marie. There was no need to book Channel crossings and consume a day each way in the timetable of an adventure. This was before the day of the package holiday that did not flourish before the arrival of jet propulsion, bigger aircraft, greater range and higher speed. We planned our own holidays, carried them out and, with a habit copied from our forebears, produced a diary of events. Thus aided I can illustrate one summer trip.
No bookings were made so we took the wherewithal for camping in the station wagon. We could sleep in the car or alongside in small tent when the need arose. Stopping the night in Baden Baden we found it most attractive with open plains to the north and wooded valleys to the south. Though at its prime in the time of our grandparents it retained its charm. Travelling on we found the Black Forest oppressive but it opens up into country of bright green pasture with large roofed houses. Crossing the Danube and arriving at Lake Constance we camped in the car before driving along the north shore of the lake to the attractive and busy harbour of Lindau. We headed south into Austria, entering country I had skied over in the spring of 1934. We hoped to spend a night or two in the unpretentious hostel above St Anton that our small party, friends from St Cergue, had taken over. It was derelict. We made enquiries at the shop of the world famous skier and teacher of that day, Hannes Schneider, and were well received. We learned that our previous host, Herr König, had died but we would find his family at St Christoph at the mountain pass nearby. Herr Tizler would put us up at his pension. In the morning there was the scent of new cut hay being cropped on his perilous slopes with rhythmic strokes of a scythe.
Leaving the car at a saddle we climbed the 8000-foot Peischelkokf with the peak in the snows. Whistling marmots were much in evidence at this time of year and charming creatures to watch. We had brought a Collins Wild Flower guide and made what identifications we could. Frau König and her daughter were found and were delighted to recall the parties that had been their guests many years ago before Germany annexed their country.
Over the Brenner Pass we soon left major roads as we progressed to San Leonardo and then by little more than a track to Moro where we found a welcoming inn. The days there were hardly restful as we walked and climbed for four or five hours a day but they were idyllically peaceful.
The southern extremity of our trip took us to Rimini and the ancient Republic of San Marino, independent since the 4th century. Main memories are of delicious fruit and an open-air performance of Othello. Ravenna, on the way back, was a disappointment. We arrived at midday and the glorious mosaics we wished to see were locked up for the next three hours, so we pushed on to Verona that has much to recommend it. We were heading for the Bavarian Alps round Ehrwald by way of St Moritz and the Stelvio Pass, over 9000ft high and with forty hairpin bends on the descent. The good Austrian skiing area, close to the German border, was popular for our Army ski races. I intended to make arrangements for training some athletic young men of my own for a Regimental Ski team. Langlauf, the cross-country version of skiing, was probably best for beginners.
There is much to see in the German area between Munich and the Austrian border, so we took the tourist trail on a day of doubtful weather. The area had been the State of Bavaria and in the 19th century Kings Ludwig I and II spent immense sums building a series of elaborate castles. The former was forced to abdicate in favour of his son in 1864 and in 1886 the latter was declared insane. Their buildings have contributed greatly to the present day tourist industry in the area. The Linderhof might be described as a magnificent Hunting Lodge and Neuschwanstein as the ultimate Hans Anderson fairy castle. They owe much to the rococo style; both have grottoes, one of them being indoors. They take short cuts. Tapestries are created by paint on ribbed canvas. Nevertheless both are magnificent and should be seen. We recommend a later visit to the church at Wies nearby to help balance one's judgements. The exterior is plain but the interior displays Zimmermann's Rococo at its glorious best, a hundred years earlier than the other two.
Our final day in the mountains brought glorious weather and a long climb was favoured. After reaching the Coburger Hutte there was steep woodland leading to zigzag cliff paths with occasional handrails at exposed points. A cool dark green lake was passed on our way to a ridge and a wonderful display of alpine flowers, gentians being prominent. Scree faces were carefully crossed and a short rocky climb brought us to the peak of the Hinter Tajakopf after some eight hours on the mountain. This ascent was no great feat for good climbers but had one indication of its personal pride. In a small tin box there was a book which invited the inscription of our names. There were chamois to see us trespassing on their mountain as we descended.
A full day in Munich was not enough to do it justice, but we were lucky to be there at the time of a major exhibition The Century of the Rococo and such other treasures as could be fitted in. From there, with an overnight camp by the river Neckar, we reached home and four sunburned and noisy children. They had been well looked after by Marie, with good support from willing neighbours should it be required.
The move of the Hilden half of the Regiment had been well completed in my absence and the new arrivals were settling in with those of the 6th Armoured Division. There was one strange new circumstance. Across the access road from my house was a high wire fence. It contained Russians. This was no prison camp. From 1946 to 1990 Britain and Russia exchanged small Intelligence units, each in the operational area of the other. Ours was called BRIXMIS and the one seen from my windows was SOXMIS, the SO reading Soviet. The Last Mission, an excellent book by Steve Gibson, published in 1997, throws enlightenment on the British activities. We saw our Russians playing volleyball to keep fit, but met them rarely. However my Quartermaster was required to meet their needs in terms of their housing, furniture, and maybe some supplies. Their Commander dined with my predecessor in command and it is said that the Quartermaster was called to see him the next day. 'Why is it that you provide your Commanding Officer with silver candlesticks for his dinner table, whilst I, a General, do not get any?' The reply that our officers possessed private property was accepted, if not believed.
Though I was to serve on until the following summer, few items need to be recorded. I was delighted to learn that the most gifted of my Squadron commanders would be my relief in Command and arranged for him to work at Corps Headquarters for six months so that he would arrive fresh to his new task. We ran two more Kohima weekends with success. I air just one complaint. I wilted at the extraordinary amount of paperwork that the system delivered daily to my office. My Adjutant bore the main brunt, but I consider that I was more desk-bound than I should have been. Certain streams of information might sensibly have been passed direct to my second in command, but this thought comes 40 years too late.
Chapter 33: Malaya, 1959
News came that my next posting was to be to Malaya where I would adopt the smart uniform of the Malayan Army and have the proud title of Principal Army Staff Officer in their Ministry of Defence. This suited me well. My desire to work in distant countries and meet new races had not diminished. The children were all of an age that they could travel with us and get their schooling at a British Army School.
Leaving London in mid-1959, we had our first experience of jet transport in the Comet 4, lodged in forward seats where there was space for our four children to play. The flight was fast and comfortable though with the limited range of the time there were fuelling stops. We landed at Haifa, with a coffee break, where Hugo, aged four, gave us a fright by wandering off on his own exploration and had to be found, hurriedly, when we were called forward for reboarding. Arriving in Singapore we were greeted by Sheelah's brother and family and the hot and humid climate that we were to live in; then on to Kuala Lumpur to complete a seventeen-hour journey. Here again, old friends who had left England before us were there to meet us. We settled in to temporary housing until a quarter was available for us.
Malaya appears hilly rather than mountainous, perhaps because jungle covers so much of the untamed area that views are few, forest covering more than half the country. It is located at the southern end of a mountain range extending two and a half thousand miles south from China, along the Burma border with Thailand and all the way to Singapore. The Malaya Cameron Highlands rise to over 7000 feet. The mountain spine effectively divides the country into two halves, though larger to the east than the west.
The city of Kuala Lumpur spreads over many hills with the Defence area with its offices and quarters occupying a hill of its own. KL, as it is called, has grown immensely in the 45 years since we left but was a fine city then, the railway station being a showpiece in Mogul fantasy style.
Malaya possessed an Army and small Navy and Air forces. General Sir Rodney Moore was the Commander of all these forces; Brigadier John Atkinson was his Chief of Staff. There were Malays in the rank of Brigadier and Colonel being groomed to take over command before very long. We also had a number of Australian officers working with us.
There were some surprises. My secretary was a Chinese Malay, smartly arrayed in a cheongsam as her standard uniform. Shortly after we were established she arrived at our temporary lodging in a smart Mercedes to take our family on a tour of the area, finishing up at her impressive parental home, appropriate to the shipping magnate who was her father.
Malaya is home to large populations of Malays, Chinese and Indians, the balance having varied over the years, labour being drawn in to operate the tin mines and the rubber plantations. Three years of wartime occupation by the Japanese had left them with economies disrupted. The Malays and Chinese had reacted differently to the Japanese though both were glad to see them defeated. Pro-communist Chinese guerrillas, though a minority of the Chinese population, had provided the backbone of Japanese resistance. They now sought settlement on terms favourable to them. The result was twelve years of military struggle that came to be known as the 'Emergency'. There was much involvement for both Malay and British soldiers.
A seemingly endless contest was gradually brought under control when Field Marshal Sir Gerald Templer was High Commissioner and Director of Operations, Federation of Malaya from 1952 to 1954. His contribution was matched on the Malayan side by Tunku Abdul Rahman, leader of the United Malay National Organisation (UMNO). Britain had promised Independence and both military and political aspects were approached together. The last of the military restrictions was removed in 1960. Singapore remained outside the new federation as a British Crown Colony.
In our time 'The Tunku' was the popular Prime Minister with a high reputation throughout the world. The relationship between him and our Ministry of Defence was excellent. All three Malayan nationalities were Malay citizens and eligible for military service. From my point of view there were good friends in each category, the only sadness being that with a largely Moslem population it was rare to make contact with any of the families.
---
As a home base KL had much to recommend it. We lived in a spacious bungalow. Temperatures remained between 21°C and 32°C day in and day out throughout the year. The air-conditioning in the main bedroom could have been a boon, but was so noisy that calls from a child could not be heard. It was never used. The high humidity is the major oppression for Europeans in Malaya and I was lucky to be of a rank that entitled me to conditioned dry air in my office. Our two domestic servants, Ah Ling and Ah Wah, lived on the premises, cooked and cleaned well and thoroughly enjoyed looking after the young. There was a good garden with flourishing orchids, bougainvillaea and frangipani. Home entertainment in the modern sense was mainly of music. Sound equipment was good and the twelve inch polythene records of the day taught us much with The Gramophone introducing us to modern composers amongst our classical purchases of many ages. A Japanese portable radio was bought that was our introduction to the transistor, the tiny device that was to replace radio valves and with its descendants lead to tremendous advances in communications electronics.
Whilst I was getting to know those of several Nations and discover my responsibilities Sheelah was discovering hers. As there were British units separate from ours, there was an Army school for our children and a NAAFI shop for stores. However the markets were much more exciting. A perky chicken could be chosen from a row of candidates and could be picked up, oven ready, as one finished the shopping round. Crab were equally fresh, crawling around on raffia 'leads' they were handed over in this state to our cook, Ah Wah. As in India there was much of local food to please us, particularly that of the Chinese, whose restaurants were superb.
Fortune smiled on Sheelah in another way. Invited to a wives coffee morning to meet others of her kind, she had a long and interesting talk with one of the crowd. As the party broke up, she advanced, pencil and notebook in hand, to get the lady's telephone number, only to meet her, similarly prepared, with the same question. Eileen Rampton had no army connections and was there by chance through the intervention of a Tonbridge friend at home with a military brother in KL. It turned out that Jack, Eileen's husband, was the Treasury representative Far East and located with the British Ambassadorial staff. His interesting employment was to travel widely over this part of the globe, gathering a comprehensive understanding of countries great and small.
The Ramptons, like us, had recently arrived in Malaya with two children of similar age to ours. When the tale of this fortuitous meeting was related in later years, as it often was, Jack would say 'When I was told of the meeting, with the suggestion that it should be followed up, I thought it most unlikely that such treasures could be found in the Army. However there were exceptions to every rule and it was worth a try!' The result was the closest of long-term friendships. With children we met regularly for swimming at the Golf Club and further expeditions were planned. The children took to the water readily and were soon aquatic; an advantage of a hot climate.
It is important for a newcomer at work in a strange place to get the look and feel of the country that one is serving. Meeting and becoming known by many individuals in their own surroundings establishes mutual understanding and is worth considerable effort. Leave was not generous, but could be saved from one year to the next. We decided to save days for a real holiday in late 1960 and do what we could within Malaya until then. There were a number of National holidays plus weekends. These enabled us to learn a good deal about our local surroundings. We explored Malacca, which had seen Portuguese sailors in the 16th century, and Port Dixon with its Malayan Military Academy. Their location provided one of the few stretches of sandy beach on the west coast, much of the rest being mangrove swamp.
We spent Christmas in Singapore with the Eagans, Sheelah's brother's family, who were soon to return to England. There we found good Clubs, fine Parks and enticing shops. I was discovering more of my family connections too. A Naval officer, married to a cousin, was serving in Singapore: John Guild, sailed our waters aboard a minesweeper and stayed with us from time to time. He claimed that it was a pleasant change to get away from the broom cupboard he lived in when at sea. He went on to be Navigator of HMS Britannia for one of the Duke of Edinburgh's great tours. Then there was Terence Oliver, a Chinese speaking missionary near Seremban, who would often call in. I had last seen him in Newcastle where his father was Town Clerk. Last but by no means least was a family with five children whose father, John Skrine, ran a solicitor's business in KL.
One Easter provided an opportunity to visit the island of Penang, 16 miles long and little more than two miles from the coast. The Sultan of the State of Kedah ceded it to the East India Company in 1785, when it was almost uninhabited. It became an important shipping port, being incorporated with Malacca and Singapore in 1826 and played a part in the distribution of Burma rice from Rangoon. The growing population was mainly of Chinese extraction with smaller numbers of Tamils from India. As in Hong Kong it produced a go-ahead community. It became a popular resort for holidays and relaxation. It has its own small mountain, 2,500 feet high with a hill railway that that carried us up, coming down the many thousands of steps on foot. There was a fine swimming pool to enjoy. The sea had the reputation of harbouring sea snakes whose bite could kill so we chose the safer option, visiting their relations in a small snake zoo. There were temples, shopping areas and stalls. All in all it was a sophisticated holiday resort of its time.
A visit to a more primitive area was for me of greater interest. A few days were spent visiting a Malay Battalion at Kota Baharu near the border with Thailand on the beautiful East Coast. Sheelah came for the ride. The trip involved crossing the mountain range to Kuantan on the coast and then heading north. There must be over 100 miles of unspoiled sandy beaches, the breeding ground of immense turtles and hardly a soul in sight. Beautiful shells of all kinds are legion and the sea most inviting. Minor rivers were crossed by rickety bridges and occasional ferries. Primitive fish were seen using flippers as legs to propel themselves across mudflats, displaying a step towards becoming land creatures. This northern Province, Kelantan, is famous for its silver work. Fine natural artists also produced attractive textiles.
We became patrons of the arts at interesting exhibitions by many young artists in KL where the British Council made the arrangements and in similar vein they laid on excellent piano concerts by well-known players.
Wildlife was interesting. A pangolin, medium dog-sized and robust with a pointed nose, was found wandering near the Officers' Mess and refused attempts to go elsewhere. It was a scaly anteater. We gave it a car ride of several miles to a jungle area where we occasionally walked and left it to its own devices. Fine orchids were to be seen high on forest trees. Lovely Brookiana butterflies with emerald bars across their velvety black wings were magnificent and Bee-Eaters were amongst the decorative birds. Atlas moths inhabited the bungalow in season with six-inch wings. They had a transparent panel in each wing to avoid hindering their vision when in flight. Nature had thought of this idea long before wind-surfers.
These events filled our first year in Malaya, a year in which we celebrated Merdeka (Independence) and the official ending of the Emergency.
Chapter 34: Wider Prospects
A 2001 article speaks of 'Unspoilt Japan - the last vestiges of an ancient world'. This comment leads me to extend my story of forty years earlier.
In our second September, Sheelah and I set off for Japan in a Douglas DC6B. This age of transition from propeller to jet aircraft was a pleasant one for travellers. Every few hours the earlier breed would land for a fuelling stop, often in an attractive place. One could stretch one's legs, take some refreshment and watch the changing groups of fellow travellers. Approaching Saigon in South Vietnam we crossed a grassy landscape with small farmsteads before landing. The American Airforce was in possession, busy with the Vietnam War. We approached Hong Kong in darkness with a glittering picture of island lights below us. As with all flights for many years to come the run in was dramatically low over the town and glittering water before landing at Kai Tak airport. We were told that typhoon Irma was moving off to the south and should not impede us in the morning. The overnight stop was restful and we were able to contact friends.
Our continuing flight in a larger aircraft took us first to the Island of Formosa, as Portuguese sailors christened it in 1590. Though it looks small on one's school atlas, it is some two hundred and fifty miles long with a population of over twenty million. It is now called Taiwan.
Sighting Kyushu, the southernmost of the four main islands of Japan, we landed at industrial Osaka before flying on to Tokyo. Our first impression was of bustle and fantastic ever-changing neon advertising beyond anything previously seen. There were feelings of total isolation in a whirlpool of activity. In 1960 little English was spoken and there was no way we could read or speak Japanese. Before leaving our Hotel on any occasion we would list first the name of our Hotel and then the names of the places we wished to visit. Our Hotelier would then write the Japanese equivalent alongside each name. Thus prepared we would point out the appropriate name on our list to a taxi driver and would be taken there. If in trouble we could at least get home by this means. General MacArthur had endeavoured to impress some American style street and avenue structure on the city with street names or numbers. In many areas the street pattern was far too complex. For some areas we would be driven to the Police post for what might once have been a village and our driver would get advice on how to find a particular address. Having solved this problem it was time to go and see John Figgess, the Military Attaché, the best possible person to give advice on what to see, or so said our adviser in the KL Japanese Embassy. How right he was. He had been in business in Japan for five years before the war. Commissioned into the Intelligence Corps he served in India and Burma until the Japanese surrender, before being attached to the UK Liaison Mission in Japan. He was an authority on Oriental ceramics and in due course knighted for his services.
We were invited to his house, warmly welcomed and had a plan worked out that would make the most of our stay. He then launched us on an especially Japanese experience at a restaurant whose owner was a fourth generation eel broiler. We were introduced with much bowing and smiling and then abandoned with the ordering done. We would have to get by on bowing, smiling and sign language. Shoes removed we were led along shining floored corridors and upstairs to a little room of our own. It is assumed that one set of diners has no desire to see another. We sat either side of a foot high table with a drink whilst our eels were caught and prepared. Eventually a girl padded down the passage, laid the tray on the floor, opened the sliding door and bowed. Lifting the tray she shuffled her kneeling way to the table, bowing again before arranging the dishes. All entries and exits were carried out in this manner with its ritual of bows and smiles. We ate with chopsticks off rough hollowed tiles, the food being served in red lacquered containers. Our menu was soup, slim eels in six-inch lengths and speared together, rice, sliced vegetable, pepper and spice. Soya sauce came in a tiny teapot and tea in bowls. It was a wonderful introduction to Japanese ways for the surroundings, the ritual and not least for the food itself, richly filling.
Tokyo provided fine museums, evening shows and the exploration of big department stores, with the bowing of courteous young ladies with the words 'thank you for coming to our store'. The theatre layout Hi-Fi Cafés were an interesting innovation. Coffee was provided whilst high intensity Beethoven poured out of high power speakers. A Japanese young man at a nearby sat, with eyes closed, energetically conducting the whole performance.
Heading north by train for a couple of hours brought us to Nikko. We met for the first time the Japanese preference for expeditions in groups of twenty or thirty. Everyone had a camera and a personal 'transistor'. The leader carried a rallying flag so that no one could get lost. At any pause in their progress cameras would come out and ever more group photos taken. Progress was slow and gave us the advantage that even modestly energetic expeditions soon took us away from the crowds.
We were heading for a mountain resort on Lake Chusenji, travelling by bus with thirty hairpin corners on the steepest incline. Many were the cars halted with heat exhaustion or other troubles as we crept by. Yet it was not many years before Japanese cars were amongst the leaders in the world and their ship builders were robbing us of a trade in which we had excelled for generations. Is there some advantage to losers in a major war that drives them towards new enterprises rather than rewards for those who brought about victory for our nation?
Our hotel stood on its own beyond Chusenji and a product of the substantial lake was displayed by a 9lb brown trout suspended in some preserving liquid by the entrance door. The area was a forested area with the Ryuzu Falls nearby. Substantial rapids rush dramatically down 1100 feet of steep bedrock. The next day brought our first major expedition. We would climb Mount Nantai, an expired volcano 8500 feet high and we were already above the height of the top of Ben Nevis. As we climbed the trees thinned and views improved. Suddenly we were alone in open woodland with silver birch, maples and ferns and higher to pine and juniper. Rough paths and log bridges brought us to autumn colours, reds, browns yellows and half greens, a delicate patchwork. From the top Fujiyama could be seen, 100 miles away and remote in a cloud sea.
Later in the day we were to experience the first of a number of simple acts of spontaneous kindness by Japanese women. During the descent Sheelah caught her cotton skirt on some protrusion and it ripped down a side seam. We were waiting at a bus stop for a lift back to our hotel when a kimono-clad woman noticed Sheelah's plight. She reached into her sleeve for needle and cotton, knelt down and repaired the damage. We smiled and bowed, as she did, the only common language that we possessed.
The next morning Sheelah enquired hopefully, from beneath four layers of blanket, if it was raining. I told her that there was fog, rain, thunder and a promise of snow, but that we were setting out all the same. We stopped at a small hotel on our way to Tachiki Temple. The mainly American inmates were complaining of the cold, with some justification in a building constructed of wood and paper. The Temple as fine with its massive bronze bells, urns and figures but there were better to come as we travelled and the sight of the day was a short walk away at the Kegon Falls. Here a solid jet of water 35 foot wide descends in an unbroken arch to a pool more than 300 feet below. Its picture is much used in tourist advertising. There was more walking, lakes and waterfalls and the addition of sulphurous hot springs in our day's wanderings. It was a good day for wildlife, a huge owl, eagle and buzzard, wild duck and a nuthatch dressed all over in the newest and shiniest of pale blue-grey suitings.
The John Figgess first suggestion had provided a marvellous start. It was now time to move on to Atami on the coast to the south of Tokyo. It was the Monte Carlo of Japan though John said that we might find it more like Brighton. However there was a 'don't miss' instruction from our far-away guide. This took us to the Toshogu Shrine. There in an area half a mile wide we were taken back to the earlier religious life of Japan. Some buildings dated as far back as the 12th century with stately three hundred-year-old cedars shading the area. By contrast the buildings, and there were many of them, were glittering jewels of ornate work in gilt, gold leaf, enamel, lacquer and all the media of the trade. This was a fitting end to our first excursion.
Arrived in Atami we read our hotel instructions. Number five stated -
Any visit of women of ill fame is not welcomed at this hotel. Your co-operation in this matter will be highly appreciated.
The morning brought bright sunny skies, the conditions in late September resembling the best of a British June. Strolling to an extensive beach it was notable that the great Pacific Ocean provides different conditions from our milder shores. Slow, heavy rollers pound the beach producing a giant sized shingle. Climbing up to a wooded hill and beyond to a wonderful viewpoint perched at the top of newly-scythed grass for our picnic. Life was good. There was little mechanisation. Women scythed and carried away their product in cotton sheets.
As intended, Atami was only a short stop on our way to a famous destination. We moved on early by bus, over the Ten Provinces Pass and down to Hakone to breakfast at the foot of a great lake of this name. From our hotel room and even whilst having a bath we could see the magnificent Fujiyama at the head of the lake through the picture windows. Lesser mountains enclosed the lake on all sides.
With increasing fitness we set off to circle the lake and climb Mount Koma on the way. Trees gave way to rush-like bamboo and eventually open views. Fine gentians were growing close to the path to enhance the mountain atmosphere. We had the climb to ourselves and discovered that lesser mortals had arrived by cable car at the restaurant close to the site where we picnicked. The clarity of the morning gave way to mistiness in the valleys that produced the picturesque appearance of mountains hanging in the air. It showed that Japanese paintings of their mountains and cloud effects, though strange to us, were based on their own reality.
Our next aim was to reach the head of the lake to catch a ferry back to our hotel. This proved to be a more severe test than expected. We began to realise how lucky we were in most European scenes where any reasonable choice of route turns out to be manageable. Here we found rush bamboo anything from knee to shoulder height with berberis more formidable still. We cut across to some woodland and found a path reaching Togendai and the ferry that would carry us home.
Our busy programme had us on the move again in the morning; first a mountainous bus route then a train, followed by a flight to Osaka. Even this was not the end as a further train journey took us to Kyoto, founded in the 8th century; it was the Japanese capital city for more than a thousand years. Though the first impression was of another very large city it turned out to contain many important treasures.
The Tozenkaku Hotel was designed to introduce other nations to Japanese living. We remove our shoes at the door of our room and step up on to the platform of our living level. A hall and two rooms are contrived with separating sliding panels, oiled paper in wooden frames. A six-inch high platform supports flowers, the telephone and the radio. One kneels to wash at the basin. Unfortunately the mirror on the wall cupboard, useful for shaving, can only be seen when standing up. At night bedding is taken out of a wall cupboard and spread on the floor. Ready for bed I cast myself gratefully, if not gracefully, onto the bed provided, whereupon three of the sliding screens, each six feet three, collapsed on me in turn. Sheelah appeared from the bathroom to find me completely concealed. So much for Japanese living!
Kyoto is full of treasures. First we visited the Silver Pavilion which is a small and ancient structure of great antiquity in a charming garden. Its purpose was to provide a suitable environment for the tea ceremony for nobility. Many of the old buildings of importance are made of wood. Practical good sense maintained their style by replacing exhausted timber when needed without altering design. As in other gardens trees and shrubs are trained, pruned, shaped and barbered with artistic skill. These are the trees that one sees in Japanese paintings. There are streams with waterfalls and pools with fine big golden carp. The Nijo Castle and the Golden Pavilion were less impressive and overshadowed by later garden discoveries.
The two main features of Japanese gardens are that they are entirely unproductive and that flowers are unimportant. The Ryuan or Zen Stone Garden is outstanding. It carries the lack of vegetation to an extreme, having no trees, shrubs, grass or water. To say that it consists of five large groups of stone set in a border of the large grained Pacific sand raked into simple furrows does not enhance the picture greatly. It is better to think of it as five great mountains in miniature rising above a cloud base. The result is peaceful and surprisingly effective. You sit quietly on the step of a pavilion and contemplate the garden that is surrounded by a plain tile topped composite wall. The pavilion itself has several rooms with good paintings including one with a gibbon admiring the reflection of the moon in a pool as he hangs by one arm from a bough.
Nearby was the Katsura Imperial Villa with three acres of gardens with pools, islands, stone arrangements, trees and shrubs, hillocks and a variety of arbours and teahouses. Its great delight is the variety of new vistas as one walks the narrow paths. The main pavilion includes a moon viewing platform and finely painted sliding screens.
John Figgess was not finished with us yet as we ticked off his itinerary item by item. The Kokadera Moss garden also had to be seen and deserved a high rating. Pools, streams and stone gardens abound. The whole area of several acres is carpeted with more than a hundred varieties of mosses of various shades and character. It is exhausting even to read of all these activities, but we were younger then.
A train journey took us to the Byodoin to see a fine example of an 11th century religious structure. The Phoenix Hall, as it is called, has a roof decorated with two of these fine birds. There is a nine-foot high Buddha seated on his lotus flower and many other good figures, mainly of musicians. In a separate tower hangs a bell renowned for being the most beautifully shaped bell in all Japan! We were now in Nara and had earned ourselves a good night's rest.
Although we were into October the sun was shining and warm as we walked to the Kokuji Temple with its imposing five-storey pagoda. Its Treasure house, dating from the 7th to 13th centuries contains elegant sculpture in wood and lacquer that was of the highest standard back to earliest times. Its figures varied from the serene Buddha to frenzied kings or guardians stamping on evil spirits. There were also lifelike images of real people, patriarchs and priests. Moving on we reached the Todaiji Temple, claimed to be the largest wooden structure in the world. Apart from being artistically very satisfying it contained an engineering miracle of its day. A Buddha, over 50 feet high, had been cast in bronze in 752 AD. It weighs some 500 tons.
Whilst feeding some carp outside the Temple there were signs of a procession forming. There were priests in their robes, men with weird masks, portable shrines and best of all little boys and girls, beautifully dressed up with artistically painted faces. In the lead was a drummer and towards the tail a couple of minor dragons. We later discovered that this was the date of the Moon Festival. We had noticed a fleet of about 30 model boats, floating on the Sarasuwa Pond. Each was some two feet long, high at the bow and square at the stern. Amidships small square lanterns were mounted, their four glass sides being decorated with pictures or writing. Long poles suspended metal baskets over the water containing kindling and firewood. As darkness came the procession reappeared and two boats pushed out, placing candles in the lanterns of the model ships. The fires were lit over the water and our entertainment was complete.
A short train journey next day took us to Osaka, where we prepared for the journey home. That evening we attended a dramatic play in a 2000-seat theatre with moving staircases to take you to your row. The play lasted over five hours and we saw much of it. People came and went at their leisure. It was reasonably clear from gestures, expressions, emotions and sword play that some great and long-past episode was being re-enacted; a final addition to our Japanese education.
It was time to return to Kuala Lumpur, physically stressed, but mentally refreshed.
Chapter 35: Wider still
An important part of our work in Kuala Lumpur was preparing the senior Malayan officers to take over command and the senior Staff appointments. Brigadier Tunku Osman would head the Army and officers were earmarked for other specialist appointments. Malaya had its own Military Academy, but needed help in a number of specialist areas for the further training of officers. In many areas for all three services Pakistan had been providing help. Like Malaya it was a Muslim country and could provide well-established training facilities.
Colonel Micky Hamid was the right man for control of training. A Pakistan tour was arranged for him and with my five years of Indian service I was to accompany him. A flight to Bangkok took us to a main air route and we flew on to Karachi where the Pakistan Navy, commanded at the time by a British Admiral, took us in hand. Pakistanis with Naval experience were needed in increasing numbers. The same situation existed in Malaya where Bill Dovers, a formidable Captain from the Australian Navy, was in command. We would make enquiries on his behalf.
Rawalpindi in the north was our next port of call. It was still the interim capital city whilst Islamabad was being built and was to remain the location of national military headquarters. A British Brigadier was amongst the few remaining UK officers on the staff and he was soon to leave but gave us a valuable briefing. Two of my fellow instructors at Quetta Staff College before partition were now Pakistani Generals. There was no doubt that the deep affection between those of us who served the war years together remained strong and was carried forward to younger generations; a heart warming experience.
A full programme had been arranged for us and this was not limited to the training help that could be provided for Malaya. Visiting the Signals Training staff I found one of my wartime officer cadets briefing us. They were experiencing the same problems as I had in Germany with ageing equipment and showed imaginative improvement work to carry them through to the time when modern replacements would arrive. There was military work for them too on the civil side, helping with communications to remote and outlying areas; a useful contribution. There was similar work on old vehicles. We visited mechanical installations where a programme was in progress to rebuild tired vehicles and extend their useful life. Factories had been established for producing weapons and ammunition. Tremendous advances had been made in a decade of hard work.
Of particular interest to me was the visit to Quetta Staff College. The old buildings of my time were to be replaced. As I was to see in later years, military buildings of the highest class were to replace older structures in many places. The Army was to be well looked after. After partition, India had to find a new abode for their Staff College and their establishment in the Nilgiri Hills in southern India is equally fine.
A visit to Peshawar in Northwest Frontier Province is remembered more for the grandeur of its ancient buildings and surroundings than any military training establishment. We were taken up the Khyber Pass to gaze into Afghanistan and given lunch at what was probably the Frontier Force Mess of earlier times. Surrounded by a high matti wall, a local village skill, we lunched al fresco in surroundings that reeked of earlier history.
The Airforce was not left out. In this area we visited an active fighter station. The strange relationship between the Indian and Pakistani officers of the former Indian Airforce were illustrated by a charming story. An Indian crew of a reconnaissance plane had entered Pakistan airspace and been shot down. The Indian Chief of Air Staff rang up his old friend and Pakistan equivalent and after the initial chat got down to business -
"By the way, have you seen one of our planes earlier today?"
"Yes old boy, I'm very sorry, we had to shoot it down."
Which brought the question -
"Are the chaps all right?"
More detail of the tour would be superfluous, but we were not allowed to leave until we had seen Lahore. If there was some military purpose I have forgotten it. I had visited the city before but with little time to admire the many palaces and fine buildings. It was where Sheelah had spent her early childhood. I was to visit it with her at a later date and description can await the time. Micky Hamid and I flew to Bangkok to be told on Christmas Eve that there were no flights to Kuala Lumpur. Mysteriously one materialised and I made it home to wife and children for Christmas.
It was business as usual until the summer of 1960 when I returned from some minor mission to discover feverish activity in all departments. The Belgian Congo government was under threat from a rising generated by General Mobutu. The United Nations intervened and Malaya agreed to send a battalion to play a part in any operations involved. A battalion had been selected and a route planned to take them by sea to Beira in Mozambique. The Ordnance branch was constructing containers that would be used for the transit of stores and could then be stacked with drop fronts for store management on arrival. Enquiries were in hand about documentation, passports and other needs. Transport was arranged for the battalion from their station on the border with Thailand to the port of embarkation. Medical arrangements were in hand both in terms of individual protection and support on arrival and so it went on. Having had no part in this preparation it is fair to say that I was very impressed with the quick reactions made. So it was that the operation was launched.
In due course it was decided at Government or military level that our senior Malayan officer, Brigadier Tunku Osman, should visit the Congo on a formal visit to his troops. I was to accompany him. It seemed that our best route was to get to Rome to pick up a flight to Leopoldville (Kinshasa). In a routine now considered barbarous our eight-year-old son, Crispin, was due to go to prep school in September. He could travel to Rome with me and spend a few weeks with my parents in Rye before term started.
Travel had its problems. In Singapore the three of us stayed in Raffles Hotel and the next morning we learned that the QANTAS Boeing 707 was delayed. When we reached Karachi we spent the night and awaited further repairs. As we disembarked I saw a tall figure in front of me that I recognised. I slapped him on the back and said "Hello Peter". This was one of those impossible coincidences that should never happen. Peter Cargill and I had known each other well in this very city of Karachi during his Indian Civil Service days in 1946. He was now domiciled in America and employed by the World Bank.
Arrived in Rome, Crispin went on his way leaving us to enquire about onward flights. We were asked 'did we have French visas in our Passports?' 'No, we were not thinking of going to France.' It transpired that civilian aircraft were not permitted to land at Leopoldville. We would be landed in the French Congo and carried over the mighty Congo River by military aircraft. Mighty the river is with raging cataracts near the capital, even though the river still has 250 miles to go before reaching the sea. Whilst waiting for visas from the French Embassy we became interested tourists.
The aircraft of the day did not fly at great altitudes. We had good views of the Atlas Mountains and other features as we headed south and a minor equator crossing ceremony with some fizzy drink took place as we went. On arrival after the cross-river flight we were fitted with pale blue UN berets and met our Malayan contingent commander, similarly garbed. There was a surprise in store. A lunch party reception awaited us and the guests included the future President Sese Mobutu himself as well as the heads of contingents with Commonwealth connections, past or present. There was no British contribution as such to the UN Force. Canada was looking after communications and I was glad to meet Indians and Pakistanis. Both countries had sent Service Corps teams and they worked together as happily as they had once done in the wartime Royal Indian Army Service Corps. Nigerian and Ghanaian contingents and probably others included British officers.
Our Malayan contingent had settled in well. Smart and well turned out they saluted anyone who might deserve it and the big smile they gave with it made them immediately popular. They had challenged other contingents to football matches and in every way made themselves part of the International force. It is a compliment to say that a certain natural innocence helped to make them firm partners in the enterprise more quickly than most.
Dining out with a Signals friend we were joined by an educated local citizen and conversed freely in French or as freely as my comprehension would allow. When leaving he asked if I could give him a lift on his way in the car provided for me. Arriving near my UN accommodation he asked if he could be taken further but I refused. Leaving the car he made a panic stricken dash across the square and disappeared. This was the first indication to me that we existed in an atmosphere of volatile uncertainty. One should be constantly alert and cautious. One British officer summed it up in this way. 'Proceed with care or you may face a sordid death with great loss of dignity'.
With the formalities of the official visit over, Brigadier Tunku Osman returned to Malaya. Colonel Nazaruddin, the Malayan commander, and I started to discover what lay in store for his contingent. We made contact with the British Ambassador who was helpful to all those with a Commonwealth association and then we sought military advice. India had provided a senior officer in the person of General Rieki. He and I had a number of mutual friends in India. His impressive title was 'Military Adviser to the Secretary General's Special Adviser'. Rather than forecasting a future job for the Malays, he mentioned that the Irish Lt General Sean MacEoin was taking over the office of Commander of the United Nations Force from his Swedish predecessor. A tour of important places had been arranged for him as part of his briefing. Rieke would add our names to the list of those to travel with him. This was the best initial briefing that we could possibly have had. Not only would we get a grasp of the geography, but we would also be able to listen to briefings in several localities.
In the short while that we waited I was able to experience some of the hospitality extended between nations. In particular I recall a Moroccan guest night with couscous, conversation in French and much conviviality.
Our flight to the east set off with a mixed bag of officials and military including two newly-arrived African commanding officers in need of the same introductory experience as our Colonel Nazaruddin. Both were strapping great men with infectious smiles. They would take over the Nigerian and Ghanaian battalions. At first we journeyed over many miles of savannah, changing to endless tropical rain forest with never an indication of habitation. Eventually we sighted the northern end of Lake Tanganyika and on landing were driven to Bukavu. We were now close to the point where the frontiers of Zaire, Rwanda and Burundi all meet. The mention to this day of enduring racial troubles in this area highlights one of the main difficulties in governing Zaire. There are more than a dozen ethnic groups in the country with French adopted as the common language. There are nine different international frontiers to be watched as well. The only seaboard is a stretch of a mere thirty miles at the mouth of the river Congo.
If this ever becomes a peaceful area Bukavu could become a delightful tourist resort. It is part of the Great Rift Valley with its lakes and mountains. At a height of 5000 feet the climate is equable. We had strawberries for tea, the first I had seen since my move to the 'Tropics'. However these were not peaceful times. At night we were likely to hear rowdies outside the hotel and find blood on the pavement in the morning. Driving on my own one day I saw an unruly crowd approaching. I turned back as it is foolish to challenge a mob.
Whilst there our United Nations Commander was making a visit to an Indonesian battalion and took me with him. I had friends who served in Indonesia in little-known operations after the Japanese surrender in August 1945. They provided an extension of the best part of a year to an already long war. An Indian Division that I had served in was involved, as was the great 5th Indian Division. There were many casualties. The 5th took the surrender of Singapore. The Japanese there far outnumbered the Indian force but accepted the task of maintaining law and order whilst the handover was taking place. No such arrangement took place in Indonesia. There was no Allied representation there when the war ended, so surrender was made to a Dutch Naval officer who had been a Japanese prisoner of war. Indonesians forcibly seized Japanese arms, arrested the Naval Captain and mayhem ensued. For the Dutch and their families there was murder, rape, imprisonment with inadequate food or water. It was not until late October that the first Indian troops began to arrive. It was nasty war executed with considerable skill.
We flew the 60-mile length of Lake Kivu to land at Goma and found a flourishing Indonesian battalion that was immediately impressive. We were at home with them from the start. They busied themselves with minor training whilst awaiting a military task.
Our return journey started to the north with a circulation of the crater of a mildly-smoking Nyiragongo volcano in the Ruwensori Range. Its sudden eruption 40 years later was to engulf Goma. After a lengthy flight over rain forest we landed at Stanleyville (Kisangani). The open-air lunch and briefings provided the purpose of our visit. Thoughts of exploration of the area by Stanley, a hundred years earlier, brought astonishment at the hardihood and enterprise of the explorers of his age.
Back in Kinshasa my visit was over. It was time to return to KL and make my report.
It was a few months later that orders came for my return to Britain in the summer, well short of the three-year tour that was planned. We would return home under British arrangements and miss the perk of travelling round the world eastward that some of my friends contrived. They were credited with the standard Malay cost of repatriation and made their own plans for the route. Towards the end of our time Jack Rampton and I set aside a week when his Treasury travels and my duties would allow us take a short family holiday together before our departure. Spencer Chapman's book of his wartime experiences The Jungle is Neutral told an interesting story of behind-the-lines activities during the Japanese occupation and the work of Force 136 in Malaya. Pangkor Island, in an isolated position on the west coast, became important to them. Submarines could be brought in there with reasonable safety, stores could be paddled ashore by folboat and personnel delivered and evacuated. Enquiries enhanced the view that this would be a place of great interest.
In the flat area of this part of the coast there is a long inlet of some 20 miles before reaching the river estuary. No road runs near the coast, so we took a boat from the nearest village for the five mile trip to the mainland fishing village and on across the two mile channel to Pangkor. There we took over the two hutted living bungalows with a simple restaurant close by. There was no shortage of good fish. The whole island with its long sandy beaches and clear water for warm swimming was ours. As on any unvisited shore there were many treasures of shells to be found.
On the seaward side there was the Emerald Isle, which was a pleasure to visit. It had been used for simple visual signalling to visiting submarines and was the shore from which Freddie Spencer Chapman was eventually to leave Malaya. We had no reason to expect then that our two families would enjoy joint exploration of distant places for the next 40 years.
We were to travel home by trooper, the diminishing fleet of ships plying to and fro carrying soldiers between home and Foreign Service in many parts of the world. This form of travel was a great experience for the children travelling with us. The Captain and crews of these vessels were skilled in their task and kept everyone well informed and entertained throughout the voyage. There was further help from a ship described as a Naval Auxiliary that took our car and an oversize packing case to England. Without even the formality of a signature the case was found months later deposited on the drive of our Catterick married quarter.
There were calls of a day or two at military stations along the way. Some friends were met in Aden where military operations were to build up over the coming years. We also had time to look round Gibraltar and rehearse the tale of an ancestor, Major General Sir John Smith, who had been in charge of the Artillery there from 1810-14 during the Peninsular War. In his younger days he had served in Canada and for nine years in America, some of it as a prisoner of war.
For our disembarkation leave we had the use of a 14th century farmhouse in Rye, long distant from any fields, that my brother had bought. Through the generations members of my family were never content unless they had a project in hand. Ours was to clear wartime and other rubble from Landgate Square, a square in name with houses remaining on two adjacent sides. It was a pleasant surprise in later years to see how all the residents had carried on the good work that we had started.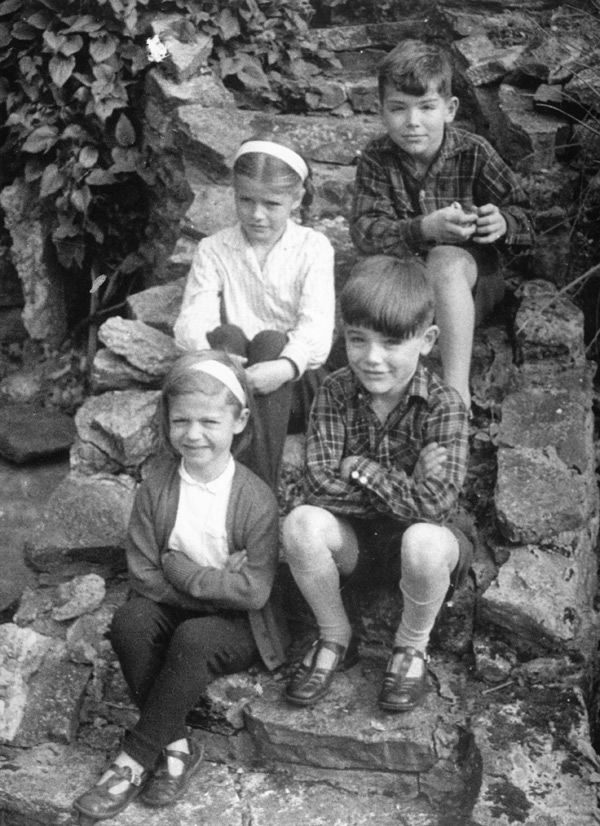 Chapter 36: Home Service, 1964
For the adventurous, one of the charms of military life is likely to be that one's occupation and place of work bring variety of location and new experience every two or three years. In times of emergency or war changes take place even more quickly. Up to this time I could record more than twenty different postings. Previous experience may dictate later employment. In my 20s I had headed the training of some hundreds of Signals Officer Cadets in India and taught at Quetta Staff College. Half a dozen years later I had taught for three years at Sandhurst. Perhaps I had become typecast as a teacher. In any case I was to become Chief Instructor at the School of Signals in Catterick.
The military decision taken, it is then up to the family to consider how the new situation will suit their needs. With four children ranging in age from three to nine it would be ideal for us. In this big Garrison town there were good facilities for most of the needs of the young with children of their own age to befriend. I would be with the family and did not have to face the tedium of commuting life to some large Headquarters at this important stage of their lives. Open moorland extended for miles from our garden fence. I knew Yorkshire well and there were endless opportunities for fulfilment in an active country life.
It was a further good fortune that this was a time of particular interest in the life story of Signals. The arrival of the transistor, first noted by me in Malaya, might be said to have given birth to electronics, as we know it today. Its extraordinarily rapid development brought the prospect of new equipment and devices across the communications world. On retirement I would be able to describe my career as 'from semaphore to satellite'.
The arrival of this tiny device with its ability to do the job of a 'wireless valve' with a minimal requirement of input power was the nearest thing to a miracle that any of us in the trade were likely to experience. Indeed it was quite hard for instructors of the old school to adjust to the new arrival. I happened to mention this problem of adjustment at the French Signal School in Montargis. The instructor I was speaking to summed it up perfectly. 'Moi, je suis tubiste' - I am a valve man.
Quite suddenly plans for future communications were of the greatest importance. A Planning Wing had been created. It was located within the School of Signals and was commanded by my close friend, Tony Brindley, who had been one of my Squadron Commanders in Germany. Solid state devices, as transistors were known, would also transform the computer world. The enormous valve-operated devices of the wartime intercept world of Bletchley would become infinitely smaller and a great deal more reliable. A small step had been taken towards the personal computer of later years.
The new communications system would be easier in the sense that each user would have their own telephone number, as is the norm today. Royal Signals would man computers which, suitably programmed and updated, would route the required call and automatically find its way round any damaged section or sections - academic work on early forms of the Internet was taking place at this time. As a practical result, the need for the laborious laying and recovering of cables at each headquarters would be reduced.
Understanding of computers was going to be important and we in Signals took on the task of running courses for all branches of the Army. With John Balmer, Chief Civilian Instructor, I visited the Civil Service Commission to meet Dr Hunt who had put his name forward for the computer training job. We liked him at once and soon he joined us at Catterick. He became a good friend and made a great contribution to Army computing, first with us and later at the Royal Military College of Science. Young officers were no longer brought up on flag signals for morse and semaphore. Believing it important that they should achieve some of the skills of an operator I had introduced some teleprinter training. By good fortune the keyboard skills acquired were soon applied in their use of computers. The courses at this time benefited from our wartime alliances. Norwegian Signals ran a skiing course each winter for a group in their School in the Jostedal area and we endeavoured to entertain them in the summer in our own attractive surroundings.
There were many organisations throughout the country that wished to be kept informed of developments in the Planning Wing. However the Wing, with many of the brightest of our young officers, was fully tied up in the technical development of the new concept. I found myself appointed to lecture on the subject on their behalf. This was no mean task, involving the Navy and the Airforce as well as the Army. The longest single journey was for Anti-Aircraft Gunners in Manorbier, Pembrokeshire, 300 miles each way. There was also a performance in Belfast for a study day there. I began to understand the merit of moving the School of Signals from Catterick to Blandford in Dorset to be closer to other Service schools. Lecturing at the Staff College, Camberley was the most useful. A fine new lecture hall had been constructed for them and Tig Gray, the Signals representative on the Directing Staff, had much to do with it. He gave much good advice on what to do and what not to do in the proposed lecture hall at Blandford. He also spoke of employing interior designers to improve an Officers' Mess and this we did at Catterick with success.
The holiday breaks for students tended to coincide with school holidays even though they were not so long. This gave us the advantage of being able to plan children's holidays ahead. In the history of holiday development this was at a time of great expansion in the camping world, with well-run camping sites to choose from. Though brought up with caravans we chose tents and a larger car to improve mobility. Buttermere became a favourite for short excursions and Helvellyn was amongst Lake District climbs. My own youth was lived in an age when one was expected to be able to walk one's age in miles. Claudia, our youngest, passed the five-year target and probably exceeded it.
Another important task, particularly for the children, was to regain contact with old friends after six years abroad. Stuart Burge and I had known each other from the age of seven. He had made a career in the theatre as actor and freelance director. It is rewarding to have friends in other walks of life than one's own. The children of the two families alternated in age, five of theirs and four of ours. The outcome of our first joint enterprise had its surprises. At about this time the BBC had chosen the Outer Hebrides for two productions. They may have been Whisky Galore and The Dark Island. Stuart had heard such powerful stories of the charm of these islands that he proposed that we should all holiday there and he booked a cottage on the island of Barra in the Outer Hebrides. With the aid of a large tent it would accommodate the large party. Perhaps fortunately, theatrical work kept Stuart too busy and we set out as a party of seven that included young Nicholas Burge. We camped rather wetly at Oban and caught the ferry to Castlebay at the south of the island. With the smaller party, the car and camping gear could be left behind in Oban.
A taxi took us the five miles to the Cockle Strand, a long beach with a surface that was sufficiently hard to be used as a runway for the rudimentary air service from the mainland. Our 'cottage' stood at one end. The owner worked in Oban in the summer so no one was there to advise us. She had provided a key. With some of the provisions we had brought with us we began to prepare our first meal. There was only one small knife in the building and this had to be used for all purposes. There had been talk of a room 'upstairs'. But examination by climbing on stacked furniture showed that the loft, that it turned out to be, was unsafe for carrying human weight. Somehow we made ourselves 'at home'. Getting supplies presented a further problem. A van passed the property twice a week and it stopped for us when the driver learned of our presence. Milk came straight from a cow. Initial stocking up was achieved by walking the five miles to Castlebay, making our purchases and getting a taxi back. We had no telephone and do not remember a post box in the area.
In spite of all the surprises we had a splendid holiday and were left with much to remember. We walked everywhere. The West Coast had mile after mile of beautiful sandy beach that we had to ourselves. We went fishing and could swim. It was perhaps a Swiss Family Robinson experience if not a Robinson Crusoe one.
---
One of the important courses run at Catterick in my time was the Telecommunications Engineering Course. During the war years young officer training was short. Specialist Advanced Wireless and Long Lines Courses extended the skills of the few. There was a pressing need to produce more qualified and skilled engineers in the war entry age bracket. Our courses were popular with overseas students and India in particular sent us officers of the highest standard. One of these, Captain Mukerji arrived in my time and was allotted a married quarter close to ours. No sooner had he arrived than his wife, Aroti, was admitted to the maternity ward of the military hospital. Here was an emergency for our ladies. Sheelah trawled the wives of Whinny Hill and collected a wide variety of objects that might be of use to the young mother and her baby daughter. There was a further problem. India is a land of many servants and Mooke - as he came to be known - had no kitchen skills. In due course Mooke became a Lieutenant General and Signal Officer in Chief of the Indian Army. He maintains to this day that it was Sheelah who taught him to cook.
Our time in Catterick eventually drew to an end. One of the great advantages of the experience was that I had met large numbers of members of my Corps of all ages. Wherever I went in the future I would be meeting old friends. Our Commandant, Gerry McGill, handed over command before I left. The new arrival remarked to me one day that we seemed to be working on a system more akin to that of Monarch and Prime Minister than the normal military rank ordered arrangement. Plainly he did not approve. I do not defend our arrangement, but believe that in our case the Commandant and his two Colonels had such a strong bond of mutual confidence and understanding that rigid top down control could have been less rather than more efficient. Our system worked very well.
Chapter 37: Adventure Holidays, 1964
It was around this time that 'Adventure Training' was becoming important in the Army to develop planning skills and adventurous experiences amongst soldiers. This was something we had done as a family for years and we were about to embark on one of the best. Stuart Burge, our theatrical friend, had been invited to produce a play in the castle at Dubrovnik in Yugoslavia. It was during the school summer holidays. He would not be allowed to take any of the money earned out of the country, so the money due would be well used in paying to take his whole family with him. Could we join up with them there? Dates fitted perfectly with the timing of my own change of job from Catterick to Southern Command in Wilton.
This was a stable period of Yugoslav history. The country, formed in 1929, was now led by the wartime hero Marshal Tito and was a Communist country that refused Russian domination. It had become popular amongst more adventurous tourists.
There was a very busy week. We packed up in the north, despatched our furniture, handed over our quarter and repeated the process in reverse in Wilton. Loading the car with our camping and other needs we drove to my parents in Rye and collected the two boys from school. We then flew, car and all, from Lydd to Le Touquet in France. Now that this option has gone one has to face the queues and crowds of roll-on ferries. This was a wonderfully quick and easy way to start our journey. We only had to drive 1500 miles over the Jura, the Swiss Alps and overcome the testing and unknown obstacles of Yugoslavia! This was long before the age of motorways and many minor roads were used.
Camping skills improved as we went. Our second night was near Geneva and we moved on to Chamonix hoping to drive through the new Tunnel du Mont Blanc, only to find that it was not yet finished. The old route took us over lesser mountains to Martigny in Switzerland and up to the Great St Bernard tunnel at 8000 feet. The none-too-new car was beginning to feel the strain. This was long before the motor industry discovered that there was much money to be made by regular servicing. Making regular oil changes made no problems, but for the rest one drove until something went wrong and then carried out a roadside repair. Stuck on an upward hairpin it became clear that the clutch was failing to disengage. A minor adjustment enabled us to move on. A garage in Martigny had no quick solution but thought that, with care, we could limp up to the 8000 foot Great St Bernard Tunnel and beyond until expert help was available.
We then followed the Val d'Aosta through a number of ski resorts I was to know well later and then the miracle; there was a motorway in the Po valley. We camped beyond Ivrea with our confidence much restored. Packed up and away by seven in the morning we pushed on to Venice and managed to meet the Burges who would embark on the Yugoslavia for Dubrovnik that afternoon. We told them our story and our intentions. My Borgward car handbook showed that there was an agent in Trieste. It was an interesting place and it made sense to enjoy exploring it whilst the car was repaired. Our camp was in a delightful site at Sustiana, just short of the main city. There was swimming, boat trips to the city and good services.
Arriving at the car agent the next morning, it was a Monday, he told me that he now dealt in Volvos. However the short, cheerful and efficient mechanic made his check and said he would effect a repair by 6pm next day. One organisation ran the hotel, restaurant, bathing beach, camping facilities and all in the main part of Sistiana bay.
The four children paddled and swam whilst the parents established camp. I walked over to see how they were getting on and was able to grab Claudia from a small pier when she got out of her depth and began bubbling up and down with a startled look on her face. Fatal accidents can happen in simple ways.
Stranded or not this was an ideal place to stay and the children were blissfully happy.
The final link to Dubrovnik was not a great distance but the journey was a testing one. The Yugoslav roads at first were adequate if rather patched and the country hilly and wild. The wide Krk River had to be crossed by ferry, but we arrived in Split, the capital of Dalmatia in good time to set up camp. Split has the finest harbour on the Adriatic coast with a broad bay and safe anchorage. Travel there from earliest times used sea-lanes. In this way it became a Roman colony in 78 BC. The Roman Emperor Diocletian created a palace there, of which little remains. Four separate Roman leaders managed separate areas of the Empire at that time. Our only complaint was that the camp area was covered in intrusive white dust and the ground was as hard as nails.
We set off early the next morning on what the AA described as 'the bad part of the journey', though Split and Dubrovnik are only 100 miles apart. We passed through Omis in its narrow gorge. With its fortress and sheltered inland waters it had been a pirate lair, conveniently placed to the south of Split and emphasising the importance of honest and criminal sea travel in earlier times. After some 40 miles we reached Podogra to discover that a major new coast road, shown on modern maps, was under construction to Dubrovnik. There was no access for travellers. We took the alternative road indicated, which edged along the shore, getting narrower and narrower until it ended altogether.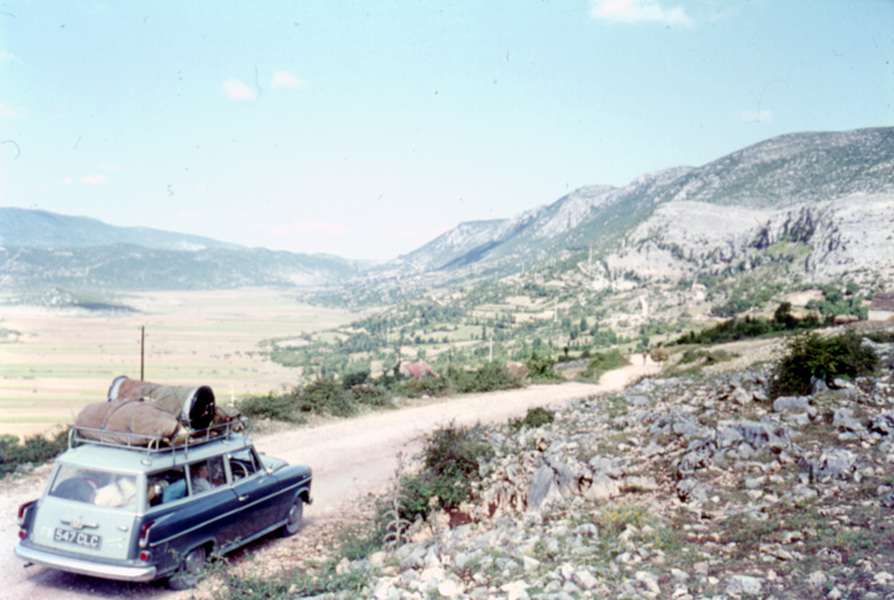 Returning to civilisation we encountered an obliging German with a map. His advice was clear and to the point:
It is almost impossible to get to Dubrovnik by car.
The roads were very bad and climbs went straight up cliffs.
A strong car was needed.
If we were foolish enough to persist, he would describe the route and the hazards.
We found no fault with his advice but pressed on all the same. We had already covered seven miles of mountain cart track, so had some idea of the problems. The initial climb into the mountains had the appearance of a goat track with primitive improvements. There were many hairpin bends as we squeezed past lorries and buses perched high on craggy mountains. Put in more modern terms this was partisan country, wild and arid, without the partisans. Such habitation as there was scraped a living by agriculture that did not deserve the name farming. Small areas were cleared of rocks for the purpose. Here and there immense stacks of rock stood beside small signs of cultivation. 15 or so miles in the hour was good progress. Arriving at the coast we were soon sent inland again. In this fairytale land nothing is normal. We had to cross a bridge over Dubrovnik's substantial major river, which surges out from its underground source at the foot of the 4000ft mountain further inland. Our shore-side camping area was soon reached, red dust not white this time, and we settled in for the night.
It was soon apparent that Dubrovnik was a very special mediaeval walled city with cool narrow streets and fine renaissance buildings. The ancient port was too small to serve modern ships so did not suffer the degradation of later development. Geography proved to be its protector. To the landward side steep and rugged mountains made offensive access difficult. To the west, however, lies the Adriatic, an important sea route from the earliest of times. Slavs ruled Dubrovnik before the 7th century with an influx of Latin refugees in early times. By the 9th century rule was exercised by Byzantium. Fortified as it was, it withstood a 15-month siege by an Arab fleet. In 1000 AD it recognised the Suzerainty of the Republic of Venice and trade prospered. In the 17th century disastrous earthquakes caused immense damage. The Republic was abolished by France in 1808, only to be taken over by Austria six years later. In 1918 Dubrovnik, the age-old city, became part of Yugoslavia.
As a centre for keeping our combined party actively busy and interested for a fortnight Dubrovnik could not be bettered, but description must be limited. Campsites are always a help as mixing with strangers is all part of the experience. This is particularly valuable for children. The variety of nations, shown by their national car markings, was exceptional, many visitors coming from central Europe. The common factor was that all our cars had suffered and we were better equipped than most for helping with minor problems.
We had several excellent beaches, primitive boating, and swimming in the clearest of temperate waters, the exploration of battlements, fortifications and fine buildings. We visited neighbouring islands and botanical gardens. The lively open-air market was always entertaining and festival open-air concerts and ballet were provided for our evenings. The young Lucy Burge, a future principal dancer of the Ballet Rambert, was more critical than the rest of us. Stuart Burge spent rehearsal time at the Lovrijenac fortress during the morning and again in the evening. We watched him at work organising crowd movement and other activities. Othello was impressive, Desdemona appealing and Iago well played but a full performance in Serbo-Croat was not for us. By night we watched an early satellite cross the skies.
It was a great asset to have together two families that knew each other well. One open-air restaurant got to know us well for lunch. The five boys would stride to one table, four girls would take another and the parents chose a third. The food was simple and popular and evening repasts produced fine local wines. It was fortunate that Stuart brought the organiser of the Dubrovnik Festival to lunch. Costa is the only name I recorded. Not only was he a most interesting man, but he enlightened us on the road system of the area. If we set off in an unlikely direction to the Southeast we would climb into the mountains on a metalled road and then on lesser country roads to ancient Mostar 'in gaunt and rugged mountains' with its many mosques and ancient bridge. This 400-year-old structure stood sixty feet high and rested on Roman foundations. Working our way to the coast to camp luxuriously on grass surrounded with pine trees. We were on the islet of Trogir which, like many coastal sites, had a long history, being founded by the Greeks in 300 BC. It was Byzantine for many centuries and Roman for several more. An aged man who showed us the Cathedral treasures was delighted to find that we were English. He patted me on the shoulder, said "English very good" and presented me with two postcards. At this time Marshal Tito had broken with Stalin and Titoism prevailed. For the inhabitants of Yugoslavia this seemed a more relaxed and friendly authority than Communism. We ended a long day's driving near the industrial city of Pula to meet Sheelah's brother and family, planning a few days in Venice together on the way home.
We had been encouraged to fit in a visit to Postonja in Slovenia. The Skocjan Caves were indeed exceptional. With a private guide we were let in through a steel door in a cliff face, and descended to the first cave with well-lit stalactites of many shapes with appropriate names, transparent curtains and those producing musical sounds when struck. Then there were silent caves and others with rushing water. We crossed a gorge by a bridge with a drop of 300 feet below us and a further 200 feet clear above us. There were caves lived in by prehistoric man and hair-raising tales of the activities of speleologists. A breed of blind fish that had lived in the dark for millennia was pointed out.
So into Italy, to the Lido de Jesolo near Venice where we rejoined the Eagan family. Here we had sand, sun and sea, but best of all an approach to Venice by sea through the islands to the entrance of the Grand Canal. We became enthusiastic sightseers for two days and continued the education in Lausanne at the excellent Swiss National Exhibition, then on to the French coast and home.
Adventure Holiday? Yes it was. Adventures involve risks and there were two occasions where alertness and quick reaction saved the day. We sympathise with those who are less lucky, both parents and those who give time to lead groups of the young.
Chapter 38: Trying Times, 1965
I had now become the Chief Signal Officer in Southern Command with the rank of Brigadier. A brief handover was completed and it was time to discover what important issues needed to be addressed in my areas of responsibility. The search was fruitless. Territorial Army activity was not great except as a club for wartime warriors who enjoyed my occasional visits. The supposed involvement with the TA for time-expired National Servicemen was not popular. 'Withdrawal from Empire' occupied most military minds. Great reforms were overdue and these awaited the arrival of General Carver as Chief of the General Staff.
The few Regular Signals Regiments in my area received their directions from the War Office or their local commanders. Once again they could be visited and help offered if any was required. The COMCAN Signal Regiment was of particular interest. The initials stood for Commonwealth Communications Army Network, linking a couple of dozen countries all over the world. This long-range world-wide system relied on immense static high-powered machinery feeding aerials suspended over wide acres on towering masts. Having enjoyed a lifetime of work under pressure with clear aims I found no satisfactory way to adjust to lesser activity. The fault may have been entirely mine.
Fortunately my location in the south of England enabled me to take up, once again, Committee appointments with the Ski Club of Great Britain, the National Federation of the day, and the Army Ski Association. This could involve participation in the running of race meetings in the Alps and training young skiers with such stalwarts as Soss Roe, the British women's champion for many years. Then came an interesting surprise. Before the days of reliable air travel the military outposts of Empire lived in splendid isolation. If they had problems they had to be solved locally. With fast-developing air travel it came to be accepted that there was value in sending senior officers to visit far-away places. This would make clear the interest of 'higher authority' in their activities and problems. Face-to-face communication was much more efficient than lengthy exchange of letters. It was revealed to me that there were several Signals outposts across the Atlantic providing communications of importance. How they came to be associated with Southern Command, I have never discovered.
A flight to Bermuda and on to Nassau in the Bahamas launched me on a new venture. Here there was a substantial area communications centre with civil as well as military staff. Minor visitors find themselves briefly important in visiting small places. One signs the visitors book of the Governor or other dignitary and on this occasion it resulted in an invitation to a lunch with a Royal visitor. Tourism was active, primarily with ship borne travellers. The island was undoubtedly popular with its military inhabitants.
I flew on to Miami for an overnight stop before enplaning for Belize, the capital of the then British Honduras - now called Belize. We had not gone far before our pilot broadcast the news that, because of some fault, we would have to go back to Miami and before that we would have to fly around for a while to burn off some of our fuel load before landing would be safe. The advantage of this change was that I got into conversation with my American neighbour who offered to show me round the Miami neighbourhood if time was available there between my other planned visits.
The Army barracks for the Belize garrison were in open plain a modest distance inland from the coast, the main component being an Infantry Battalion. Once there, formal activities were soon over and people of all ranks were telling me about the sailing, the swimming and the wild life that attracted their interest. Alternative subjects included the Mayan civilisation and the Yucatan Peninsula. Exploring inland, where training might take place, there was open rolling grassland that quite suddenly converts to thick tropical forest and becomes more mountainous. Beyond lies Guatemala which became a military threat from time to time.
It was a stroke of good fortune that I found old friends in command at all three of the main places visited on my tour. Two had been instructors at Sandhurst with me and the third had been a staff officer with the 2nd Division in my time.
A sailing expedition to one of the Cays, low islands of sand and rock, revealed a large population of ponderous pelicans along the coast. Inland delicate humming birds and decorative butterflies were a delight. Toucans were unmistakable. Belize now provides popular holidays for birdwatchers.
I was soon on my way again to Tampa on the Gulf of Mexico where a courtesy call had been arranged to a military establishment that supposedly had similar functions to our own. The truth was that they had immense resources of all kinds, whereas we had very little. The 'withdrawal from Empire' provided active occupation for our troops overseas with all too little left for other emergencies. It was impressive and interesting to be well briefed and they were kind to their poor relation. I was able to visit Saint Petersburg nearby. With its pleasant climate and excellent facilities it had become popular for the retirement of well-to-do Americans.
From there I was to fly across the arid centre of Florida to West Palm Beach and a seaside hotel. I was shown around as promised by the friend made on the Belize flight. He had many interests. A local radio service occupied him in some way and at one stage, driving in his car, I learned that the conversation that we had been having was being broadcast live to the surrounding public.
My next call would be eastward to British Guiana, calling at Jamaica's Montego Bay and Port of Spain in Trinidad. I had always thought of it as part of the West Indies, which it is, but the surprise was that it was a good deal closer to South America's Venezuela than Dover is to Calais. Once again there was a stay there to await a flight to British Guiana.
The fine hotel I was directed to was most unusual. A taxi drove me up a hill to the main entrance which led in to the usual reception desk and other facilities including a long bar with splendid views. To get to one's room one takes a lift downwards to one of the half dozen floors below, effectively down the face of a cliff. The coastal mountains of Venezuela continue through Trinidad to a height of 3000 feet. There are welcoming sounds of calypso, if not of carnival, as one emerges from the airport.
The Georgetown military welcome to Guyana, the former British Guiana, was equally warm, if not so colourful. The first surprise was that the sea was cloudy rather than crystal clear. The explanation given was that the waters of the Amazon still carry silt along this northerly shore for more than 700 miles. Both Trinidad and Guyana, as it is now called, achieved independence in the 1960s and became Republics in the 1970s. Both have mixed populations, the original peoples, displaced by earlier neighbours, killed by disease on various European occupations and reinforced by African slaves followed by Asian indentured labour. Guyana even has a Hindu minority and a Chinese community.
The opportunity soon came to let the soldiery instruct me on their interests and experience. As elsewhere there was no lack of initiative. For the most energetic here was the 150 mile trek to the South to the Kaietur National Park to view the dramatic waterfalls there that feed the Essequibo River. 750 feet high and 350 feet wide it sounds a target worth the effort. The river further south has other properties - it harbours piranha. Those I spoke to said that they sometimes swam there, so it may not deserve quite the reputation it has acquired. Other memories are of immense vehicles with wheel tops well above eye level garnering bauxite to be shipped to Canada for the production of aluminium and seeing the rare manatee or sea cow in the sluggish waters of the narrow coastal plain.
A flight to Ascension Island connected me with main line flights that took me home to England. The whole story reads like a wonderful extended holiday, that in many ways it was. What was the right balance between the cost of flights and the value of the results achieved? Years later I put the question to that astonishing polymath, Lord Solly Zuckerman, one-time Chief Scientist at the Ministry of Defence and later Chief Scientific Adviser to the British Government. He quoted industrial experiments in the USA with doubled and then quadrupled visiting. The benefit continued to rise. Visiting paid off. He put my conscience to rest.
From the historical point of view we were drawing towards the end of a long era of small military outposts in far-away stations. I have a silver pocket watch with in inscription in the back 'Lieut John Stuart, 33rd Regiment. Died at St Lucia 9th Oct 1842'. The 33rd was the Duke of Wellington's Regiment and his father Daniel Stuart, one of my ancestors. In 1800 Daniel owned the newspaper The Morning Post and was its editor. His correspondence with Coleridge, Southey and Wordsworth was published in 1889.
Chapter 39 : Ministry of Defence
I had worked in the War Office for a few months on one of the many occasions when I had been 'borrowed' from elsewhere to cover an emergency. The Ministry of Defence was adjacent, a fine new building since that time. Arriving at its portals I climbed the steps with General Sir Rodney Moore, our Commander in Malaya, who it was that had recommended me for the OBE when I left. By way of conversation I volunteered the information that after thirty years service the authorities had at last contrived to order me to work in this central establishment. His reply went better.
'Not bad my boy. I have completed forty years service and this is the first time that they have got me here'.
There is all too little of interest to reveal about the internal activities of this busy organisation even if the rules of security were to be stretched. For me it was a question of picking up the threads of progress on the projects that I had lectured on in my time at Catterick. Many separate organisations were involved and many highly qualified officers at all levels were making contributions. It was of great interest to visit the several Government research establishments involved and to learn about satellite experiments and the intricacies of providing a dial-up telephone and telegraph system between active service users who were often on the move. The system must have a high degree of security. Captains of industry were much involved with their own research and development that would lead to valuable manufacturing orders. They would be brought in on high level meetings and it was a pleasure to get to know them.
The full story of the great changes in military communications is set out in The Vital Link by Philip Warner. This was a time of astonishing rapidity in the development of components, equipment and systems. Choosing the moment to go firm on a final solution had its difficulties. Interoperability became a keyword. It was not solely an Army affair - interfacing with the Navy and the Air Force was a built-in requirement; international interest increased; Australia and Canada became involved; the United States supported the team approach. So ABCA was formed, taking its name from Australia, Britain, Canada and America. Each nation provided a Signals team working at Fort Monmouth, New Jersey. Visits there, to New York itself and to Washington all became part of my programme. I make no secret of the fact that I was able to fit in brief visits to the United Nations Building, the Gulbenkian and Fink amongst galleries and museums for my own education.
The projects had high profile in the MOD. An entry in Philip Warner's The Vital Link tells my story:
'Arriving at the Ministry of Defence in 1966 I found myself the Signals representative at the Centre of the political debates on Mallard (the project name) and it seems to me now that the greater part of my time in the MOD was taken up with this aspect of my job. As a lowly Brigadier it was a surprise, to say the least, to find myself called to the Secretary of State's Office to brief Mr Healey, his Equipment Minister Roy Mason and the Chief Scientist Sir William Cook, on the Signals view on the situation and the essential nature of the project to the Corps.' I was greatly impressed. If Lord Healey has a fan club I count myself an honorary member. Another surprise came when Edward Ashmore, then Chairman of the Defence Signal Board and a future Chief of Defence Staff, asked me to join him in his office to meet some US Navy Officers who had been sent to compare notes with their British opposite numbers on naval interest in the Mallard project. With their strong link with the Royal Navy, it was a surprise to them to discover that an Army officer should be immediately available and obviously on such good terms with the rival service to be trusted to give the briefing'.
In these late days of Empire my responsibilities covered some distant communications projects. I learned that my predecessor had arranged a tour for me to visit Hong Kong on the completion of a major rejuvenation of the telephone system there. I was booked on an Airforce flight and our first stop was at the Island of Gan in the Maldives. These numerous islands, barely rising above sea level, belong to India. They are atolls - coral reefs surrounding a submerged volcano. Gan itself is just to the south of the equator and is or was a convenient RAF refuelling station on the way to Singapore some 2000 miles away. It is 750 miles from the tip of India. We spent the night there and refuelled before continuing our journey. Those of all ranks serving there took great pleasure in telling us of their experiences on one of the larger islands and the aquatic pursuits they followed. The enthusiasm of service men in strange surroundings is always good to experience. My outward journey took me to Singapore and Kuala Lumpur before moving on to Hong Kong.
There was a pleasant surprise for me on arrival. The Commander of British Forces, Hong Kong, was Johnny Worsley. He and I had been teaching colleagues at Quetta Staff College when the war was running to an end. Now Lt General Sir John, he invited me to be his guest for the duration of my stay. Another asset was the availability of a helicopter for my transport. High points are chosen for aerials for Signals transmissions over longer distances and arrival by air at the 2000ft high locations was the best way to travel. Another experience that stays in my memory is looking down on a quintessentially British scene at Stanley. There were small figures, clad in white, on a wide expanse of green lawn. It was, I think, a Guards Battalion conducting the ritual of a cricket match.
The small ceremony of 'cutting over' from the old telephone system to the new was attended by representation of the firm that had carried out the work. They had arranged a complex device to switch over, circuit by circuit, when I pulled away a lengthy string sequence of inserts. It worked. Another communications visit took me the naval establishment on Stonecutters Island. They handled long-range high-power communications to the UK and other stations that probably covered the requirements of all three services. Their major problem appeared to be the leaky roof structure. Dripping water and high power electrical circuits do not mix well. A third communications device was a novelty, though I never discovered its owner. The visible part was a very large antenna for tropospheric scatter communications. It relied on the bending of radio waves round the world at some heavenly altitude in such a way that good communications could be maintained at greater ranges than could otherwise be achieved. Apart from enjoying the social events that came my way I digested the general military problems of the area which included the control of illegal immigration from China. Such knowledge could have future value.
Then it was back to the commuter's life in England. We had been provided with a 'hiring' in Chobham when we left Wilton. That is a government rented house employed as an officer's quarter. Three children were now at boarding school and Claudia, the youngest, could go to a good local day school. The Old Rectory was of a good size with a spacious garden. With Crispin now teenage it was important to provide the young with suitable adventures in their holidays. A Vauxhall Cresta, acquired by chance from the Rolling Stones manager, was put to good use. With six of us travelling by any other means would have multiplied the cost of any holiday we might have considered. We went skiing at Alpbach in Austria where friends were building up the popularity of the resort, particularly for Army families. The Burge family joined us there in rented accommodation. Ski School was appropriate for acquiring elementary technique, but the aim was to be able to ski as a family as much as we could in the future.
In the summer we teamed up with the Ramptons, our friends from our time in Malaya, making a party of ten with two cars, but only three drivers. After one changeover I wondered why our followers were so slow in catching us up. After a dozen miles I stopped to check the keys in my pocket to discover there the keys that they needed.
We had introduced the newcomers to camping and made our way through France and Spain to Lisbon in Portugal. The episode is a story in itself. I was born into a family that records such important travel and events. Some of them date back to 1850 or earlier. This particular event, recorded day by day, is a work of thousands of words. A short extract from the 'Landes' on the way home, gives the flavour.
'Tentage was wet when we came to pack up… We got everything under cover of the big tent and went for breakfast while torrents of rain poured down dramatically. This was quite the heaviest rain we had seen since we left Malaya four years earlier…. When it eased we returned to camp treading our way round and through pools of water inches deep. The four walls of the tent neatly surrounded one such pool, with much of our gear sitting in it. From this point the splashing about and loading up became hilarious'.
One takes the rough with the smooth.
About this time my father died. My mother, with her usual competence, sold the main house in Rye, acquired the second half of the 14th century house in Landgate Square next to my brother Nigel and set about remaking one house of the two separated halves. All was well, but what about the future? Two considerations led to a conclusion. Nigel should never be left to live on his own and it was time for me to consider where Sheelah and I would settle when I would retire in 1972. We would certainly sell the Camberley house that we had outgrown long ago. We should buy a house that would comfortably contain what in the end was four generations and it should be in the West Country.
My mother's sister, aunt Isla, lived in Somerset and elements of the family had lived in Bath since the early 1800s. There were fine old rectories to be had, but examination showed that many of the rooms were behind the baize door in the servants' quarters. This would not suit the loser in any allocation of space. We then came across a fine 'Country House' with six acres of garden but none of the open parkland around it. On good advice we chose an estate agent of similar stature to the seller and gave them instructions to acquire the house for us at a suitable price.
It was at about this time that I had the distinction of being appointed ADC to the Queen. There is always one member of my Corps that holds this appointment. The outward display of office is the wearing of the letters ADC below the badges of rank on uniform shoulder straps. A smart Aiguillette was also added for special occasions. By chance I was involved in Royal representation. One of the great names connected with the development of recreational skiing and ski mountaineering, Arnold Lunn, had died. The Duke of Kent, a keen skier and Patron of our Army Skiing Association, asked me to represent him at the funeral in Westminster Cathedral. I followed the instructions I had received, standing outside the large central door at the appointed time. The door swung open and Cardinal Heenan with clerical supporters bowed and led me down the aisle to a substantial isolated chair in front of the whole congregation. I remained in my lonely seat until the Cardinal with escorts appeared again, halting in front of me and bowing once more before attending to the service. The procedures then continued in reverse until we bowed to each other in the open air.
Arnie was a considerable author. He was at Harrow with my father, who was a year his senior. In writing of his school days he coined the word 'athletocracy' in complaining that the heroes were always the athletes, my father's classification, and never the scholars. Appropriate to the occasion I believe that it was my father's Harrow morning coat that I wore for the ceremony.
Chapter 40: North Atlantic Treaty Organisation
One of the excitements of military service, if one has been reasonably fortunate, is awaiting the decision of the Military Secretary, in consultation with one's tribal chief, about one's next employment. Earlier success or failures plainly affect the issue. I was selected to take up a NATO appointment in Supreme HQ Allied Powers Europe (SHAPE). I would, once again, be working in a foreign country amongst people of many nations. NATO had been formed in April 1949. A dozen Nations had come together to form a powerful group of like-minded countries who could act together to make a third World War less probable. At the time the main threat came from Soviet communism and there was no quick release from this fear. During the 1950s Greece, Turkey and West Germany were added to the list of participants, with Spain joining in 1982.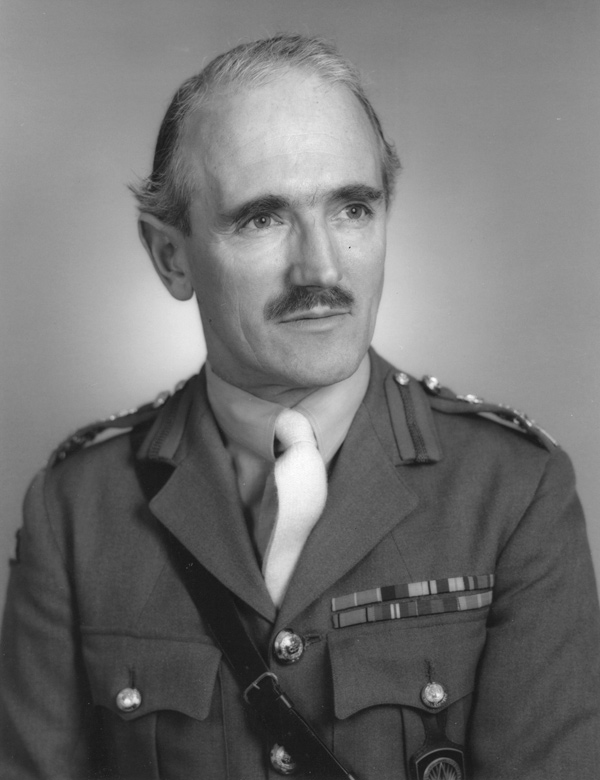 There was one defector. General De Gaulle decided to withdraw France from NATO in 1966. He referred to the domination of NATO by the USA and the intrusion of NATO on French sovereignty. France withdrew from participation in the integrated Military command structure and required NATO forces and HQ to leave French soil. Liaison with integrated NATO Staffs would continue. This was particularly unfortunate, as NATO Headquarters had been set up in Versailles with SHAPE nearby. Not only would a new country have to house these important organisations but allocation of land and major building projects would be necessary before the relocation could take place. Negotiation led to Belgium hosting the Headquarters displaced from France. NATO HQ would be located in Brussels itself, whilst SHAPE would be 50 miles to the south-west towards the city of Mons and near the village of Soignies, with its memorial stone recording the first shot of the war of 1914.
The design and building of a major international military establishment of this kind in time of peace was unique. To my mind the result was a great success. The work was going on whilst I finished my stint in Whitehall and the reorganisation was nearing completion when we moved to Belgium to join the new NATO.
We were allotted one of the officer's quarters in open land, a few minutes walk from the Headquarters buildings. There was no individual fencing, but it was noted that British occupants were the only ones who tended to develop small gardens around their abodes. With three children in boarding school we had plenty of room. Claudia attended the English language military school until she in turn could join Antonia at Sherborne.
I was now in a new world of abbreviated titles. My chief was referred to as ACOS CANDE (pronounced candy) that translates to Assistant Chief of Staff Communications and Electronics. As his Deputy I added a D to the acronym. I could not have had a better chief - German general Eberhardt Henrici was nearing the end of a twelve-year tour in his appointment. He was fluent in English and French, both verbal and written. We soon became close friends. In retirement in later years he would stay with us in England.
There were a higher layers above ACOS, several departmental deputies called DCOS before the level of COS (Chief of Staff) and then at the top the Supreme Allied Commander Europe, five star General Lemnitzer. At this time 'forty seven years a General' was an impressive supplement to add to his description.
There was a factor that made our five star commander more accessible to my level than one might suppose. 'Generals' at any level were privileged at SHAPE, and in the US Army they had Brigadier Generals, so whilst at SHAPE I was a General. Within this classification there was remarkably little stratification between ranks. Quite early in my time a Signals problem arose. The withdrawal of France separated European members north of the Alps from those in the south, yet good communications from NATO in Belgium to both elements remained essential. At the time tropospheric scatter links were introduced needing antenna systems using dished reflectors some eight metres in diameter to pass transmissions on over mountain ranges by an indirect path. With the French and Swiss Alps in the way, suitably high mountains had to be chosen in NATO countries north and south for the system to work. Application had been made to the German authorities to use the summit of the 5000ft Feldberg in southern Germany. The Lande, the provincial Council, had appealed against this usage.
General Lemnitzer needed convincing evidence that there was no reasonable alternative before asking the German Government to overrule the Lande. I was deputed to brief him. A British Guards Brigadier warned me 'it will be rather like briefing the Almighty, but it will be all right', which it was. I came to admire this American approach to senior rank. I was 'above the salt' and the trust given to our level was not misplaced. Another odd privilege was that 'generals' had special SHAPE number plates on their private cars for ease of recognition. My number was 0043 - nearly 007.
I am not aware of any published SHAPE policy on visiting subordinate Headquarters, but it was plainly important that the many nations involved should be made to feel that they were partners in a great new organisation and not mere subordinates. It was not long before my travels started. There had been a SHAPEX, a major Staff Exercise, before I arrived and a Signals exercise, SIGEX, was planned for the future. In my first week I was required to attend a NATO meeting in Brussels to discuss the subject. In a short time it became clear that the total responsibility for organising and running this exercise was being passed to me. It would be necessary for me to visit half a dozen countries to give a warning brief to civil as well as military authorities that would be involved. Civil and military meetings were not always in the same place.
In those days travel was developing well, but the package holiday had yet to make a real impact. It was therefore a great opportunity to spy out new countries as part of my duties. The programme planned for me was not rushed, personal contact in each country having its value. Athens was the first port of call and memories of British wartime activities still raised interest. There was no difficulty in showing appreciation for Greek kindness and skill in showing off major features of the city. A flight took me to Istanbul where I was met by a United States officer who was to conduct me to Izmir. It was a fortunate arrangement. When he checked in for our flight he was told that our seats had been reallocated to someone else. With his knowledge of the ways of the country this was soon put right. Izmir, the classical Smyrna, is a thriving coastal city, but a disastrous fire in 1922 left little sign of antiquity. The NATO Armed Forces HQ is outside the city. Quartered Arms on a paperweight given me shows crescent Muslim moons and Christian crosses. It was to be years later that we were able to explore southern Turkey. It has so much to offer.
A flight took me to Ankara and brought home the knowledge that much of the country is mountainous and rises to a modest 6000 feet in the neighbourhood of the city. Here I was in the hands of the Turkish Army. The officers I met were impressive, forthcoming and excellent company. Business completed I returned to Istanbul with a day to spare and time to get some idea of the immense range of opportunities for future visits in retirement; then it was back to Belgium via Rome.
The northern tour started in Norway and was of greater interest as a country with a fine war record and a continuing Russian threat too close for comfort. A tour had been arranged that would take me right up into the Arctic Circle. My guide wore the medal ribbon of the DSO, given for extreme gallantry as the young officer he must have been at the time of the award. We visited Ryukan, the site of the daring raid on the heavy water factory that set back Hitler's nuclear weapon programme, and then moved north to Bergen and beyond. For their communications they had mountain-top relay stations. One that we visited had to adjust alignment from time to time to combat movement of the ice on which it stood. It was a happy and interesting tour. As a race we find it very easy to share friendship with the Norwegians and it was certainly so in this case. Contacts made on such tours genuinely build confidence between the Headquarters involved. Welcome was equally warm in Denmark.
---
Back in SHAPE the family were learning more about the facilities available. The shopping mall met many requirements and favourable pricing had been negotiated for many items including petrol. Entertainment between families of different nations was encouraged in our British brief and was something that we enjoyed. Germans would arrive punctually with the gift of flowers or a bottle of wine. Italians would be late but reliably broke down barriers of excessive formality. The Americans were barbecue kings, which was probably the best solution where language difficulty was part of the problem.
Our children on holiday made excellent use of the hobby facilities, leatherwork, photography, and simple jewellery amongst them. Belgium, Holland and Luxembourg do not take top places in holiday promotion, where sunshine and 'relaxation' rate high. In many ways an opportunity to live in the Low Countries is an excellent way to carry out purposeful and active exploration of the many places of interest, particularly for those who have no great ambition to relax.
There might have been time for more, but orders were received for me to move to Mönchen Gladbach in Germany on promotion to Major General.
However there was one last trip. There was a single French privilege left to officers. We could be treated as honorary members of their officers club in Paris. In my mother's generation contact with Cazenove cousins had continued. With the aid of a cousin we arranged to visit cousins with the distinguished name of d'Hauteville, who looked after us well and matched our children in age. Some of them lived in Algeria, so have presumably now moved to France.
Chapter 41: Norway
We had launched an adventure holiday for our children from England before we left for SHAPE. All four had ages in double figures and their skiing was improving. We would go to Norway and choose the springtime with its warmer weather and longer days. The first step was to contact Claus Huitfeldt, my Oxford skiing friend, and seek his advice. He lived in Oslo. In the event he generously offered great help in a variety of ways. We should stay with him and his family when in Oslo. He owned a second property in the skiing area, that sounded like a hutta which may have been similar to Alpine huts elsewhere, though much superior to anything called a hut in England. Planning went ahead.
A well-loaded car would carry the six of us and all our essentials and this suited our experience. However there were other complicated arrangements at the start that could easily have gone wrong. I went to London for a day's work, whilst Sheelah loaded children and car. Driving to Immingham in Lincolnshire she located the terminal for Tor Anglia, the Ferry Company. She then drove back to Grimsby to meet my train arriving at 8pm. All went well. We embarked, supped and slept in preparation for the night drive through Sweden. At 11pm the next night we docked at Gothenburg and before long were on our way with the children packed like sardines in their sleeping bags on top of the luggage.
Neither Sweden or Norway Customs were interested when we crossed the frontier and we pressed on, following the map Claus had sent us through Oslo and up the hill to Vettakollen. This took us into the snows. The great Holmenkollen ski jump lies a little further up the hill. Parking at four in the morning we entered the door left open for us and were soon distributed to our rooms.
Claus' wife Jonne was recovering from pneumonia, so Claus gave us breakfast before departing for work. Carl, aged ten, had already left for school, so Birgitte, aged seven, joined us and sized us up. We explored Oslo on our own, visiting the new Edouard Munch Museum, lunching and shopping. Supper was Norwegian style around 5.30 with children going to bed early whilst Claus briefed us for our travels, with particular emphasis on arrangements for our stay in the hutta and where we would meet Claus, who would guide us there after our week in Geilo.
The drive to Geilo followed a valley, the Halingdal, through Fla and Gol, Al and Hol. What nice easy names to remember. We were to note Hol as we would be meeting Claus there a week later. The traffic-free road ran alongside many picturesque lakes with the course of the river carved out by the annual snowmelt. The result is convenient gradients for road-makers and valley space for the railroad that travels an indirect route from Oslo to the major port of Bergen on the west coast.
Before offering any description of the skiing facilities in Geilo at this time it is important to say that ski resorts of the day do not resemble those of the twentieth century. They were closer to the age of climbing by muscle power and stamping out practice areas on skis. We were grateful for the simple drag ski lifts that there were. On the plus side there were minimal queues and no weekend invasions to make for long delays.
The hotel was small and friendly with a good sprinkling of British families. If asked for comments, all would say that the food was magnificent. Children and hotels do not always mix well but Geilo produced an ideal environment for our tribe. All of us would agree that the food was magnificent and that meant that it suited all ages. Breakfast was taken seriously with several courses and the Smorgasbord lunch with self-help could not have been bettered. Fish, crab and eel came from a not-too-distant sea and there were several choices of meat. Then followed caramel or chocolate pudding with the alternative of fruit salad. One staggered out clasping an apple or orange to eat on the mountain. Vigorous skiing was essential between meals. Getting away from the lifts we climbed and explored, running down through trees on untrodden snow as well using the manicured pistes.
There would be no ski lifts when we moved to the Huitfeldt property so we spent our last afternoon climbing for two hours on a marked route to a mountain hut and skiing back on unmarked snow to the populated skiing area. That done we made what preparations we could for an early start in the morning. This included buying provisions for our isolated stay. Meeting Claus at Gol, he led us to Hovet to explore a charming little 900 year-old wooden church, then on and up to the limit for motor transport. The next part of our journey was across an extensive lake and there was no hesitation about the solidity of the snow-covered ice. An ancient snow-track with a cabin for us and a towed sledge for the baggage awaited us. It was a slow old thing and could only manage our baggage, not us, for the final steep climb to the hutta . Leaving the sledge on the lake, we piled the baggage into the snow-track while we climbed on skis.
The hutta, standing a few hundred feet above the lake and facing southwest, looked its best on this fine sunny day. As a rescued farm building of some antiquity it had been treated with sympathy. Even so the roof had been beyond recovery and had to be rebuilt. The addition of an extended porch did nothing to spoil the character of the building.
Though less than 30 feet long, the one living room seemed spacious. One corner housed the kitchen and washing area, another the parents' bunk bedroom and in a third, partially separated by an 'L'-shaped fireplace, was a corner sofa. A substantial dining table stands in the remaining open space. Above is a loft divided into two dormitories in which the central standing space is little over five feet high, diminishing towards each outer wall, but who needs more when lying down?
All this was explained by Claus, who was to remain with us for the weekend. The noise of wind the following morning told us that the weather had changed. We set off to trek the two kilometres across the lake to a more sheltered valley, climbing to the ridge of Ynglesnosi, which I take to translate appropriately as the English Nose. Wind assisted, the return journey was easier. Afternoon exercise was the creating of a snow-hole. Large snow building blocks were cut with a shovel to build walls. We could all sit there out of the wind but we made no effort to turn it into sleeping accommodation such as I had experienced in Austria. Back in the house a good wood fire is kept burning. Our evenings are comfortable though we do not say up very late.
At the end of our stay the snow-track arrived on time and took us to the car that started at once, frozen as it was. There were even signs of spring as we drove to Oslo and gave a full report to the Huitfeldts. We were all convinced that another visit to the country would be essential but made the most of our last day. We started with a visit to old friends, Digby and Addie Raeburn, both skiing champions and now working at the NATO Headquarters. We moved on to the Park containing the Vigeland statues, the Viking Ship Museum and the Folk Museum. The latter deserved at least a full day on its own to do it justice. In the evening we met the most interesting of guests. They included Tønne Huitfeldt, brother of Claus, who was to become a General and his wife Elly, and Arild Smith Kielland, Secretary General of the Association for the Advancement of Skiing. English-sounding names are shared with the Norwegians. A medical Colonel Alf Johnson and his wife Tullen, a cousin of our hostess, had an interesting history. During the war he reached England via Russia, India, South Africa and Newfoundland. He was later parachuted back into Norway. He had also served in United Nations operations in the Congo and Gaza. Even if one wished to, it is difficult to compete in the conversation of such company.
Away early in the morning we arrived in Gothenburg with time to spare. We discovered that we were to sail on the maiden voyage of the Tor Hollandia, which meant a smart new ship, and plenty of flowers. A maiden voyage attracted greater attention in those far-off days. Arriving in the Humber we met an escort of tugs and a fire-fighter with all its sprays going, whilst we had all our signal flags hoisted to make a colourful picture. There was a big reception at Immingham with at least a couple of mayors decked out in their formal robes but we played no part in the shore-side festivities.
Chapter 42: Finale, 1969
With the move to Germany in 1969 I would enter my last years of military employment. Given a free choice I could not have made a better posting. Although more than 20 years had elapsed since the end of major war, stable peace in Europe was by no means assured. Russia was powerful and it was vital to show that the western world was trained, armed and ready to resist and defeat any incursion that might be planned. Service at SHAPE and then in the defence of the west was real soldiering. In addition it offered an interesting time in new surroundings with good facilities for our children who would be commuting to public schools in term time. They would make many lifelong friends with us during holidays. There would be no commuting but much travel for me. I wanted a people job as my last, for me more interesting than the paper and policy of the General Staff.
I have nothing against staff work. There is a ladder to climb from one rank to another and in peace time one gets a foot on the bottom rung on qualifying at a Staff College. This works well in peace but other priorities operate in war. For one reason or another, apart from being the Signals instructor at Quetta Staff College, it was 15 years before I took this first step, becoming principal army staff officer in the Malayan Ministry of Defence. I have no complaints.
Throughout one's service one looks out for old friends after each move. I was not to be disappointed. The General officer in command for most of my time was Sir Peter Hunt. He and I had been on a Regimental Signalling Officers Course together in 1937 and in the immediately ensuing peacetime years he was Regimental Signals officer of the Cameron Highlanders whilst I commanded the Signals section of the Brigade we were both in. Further back still my Gunner counterpart would be Johnny Cordingley. He and I had been close friends as 'Gentleman Cadets' or GCs at the RMA Woolwich. There were links with many more.
Though there had been changes in Germany in my ten-year absence the threat from Russia continued. The establishment of NATO with major contributions from several countries including Germany stabilised the situation. Attack is only likely if the prospect of success is reasonably high. We were part of a formidable force with the active role of demonstrating the futility of taking us on. To meet the threat the distribution of military formations had been revised, fighting formations to the east and Higher Command to the west.
The Headquarters I joined at Rheindahlen had been purpose built near Mönchen-Gladbach. The country site, less than an hour's drive from the frontier meeting point of Belgium, Holland and Germany, made good sense for the task of the time for this international organisation. A fine military town had been created for the Headquarters of the NATO Northern Army Group together with HQ BAOR, the British Army of the Rhine. A few miles away another area was developed for a busy Air Force station managed by the RAF. The whole was a major project and similar in concept to the SHAPE American design. There was a bank and shopping facilities, with the British NAAFI prominent, Clubs of various kinds were included, married quarters of all levels and all soundly built and laid out. We were well provided for.
Royal Signals responsibilities included the provision of ground communications at the two RAF stations. With four active Divisions, Corps Signals and an independent Brigade in Berlin this may have been the largest British peacetime command ever experienced. Berlin was of particular interest as many of its problems were unique. The city of Berlin, though well inside the main Russian Zone, was divided into four small zones of its own, one of them being British. Its communications were an important part of my responsibility.
The earlier problems of Berlin had not been forgotten. Our contingent there had to be sustained by a constant flow of supplies that required freedom of use of the road route through Russian Zone territory. In 1948 Russia had denied this access. This act cut off all land-transported supplies, reinforcement and equipment. A major air supply operation saved the day. In 1949 access by road was reopened, though under rigid Russian control. We stuck by the rules. Timed on entry to the zone and again on arrival at our destination ensured that no illegal deviations had been made. Our observation of the antiquity of farm tractors and other machinery on the journey illustrated how backward they were in many ways compared with the development of the time in the West.
For my purposes it was usually best to use air travel to the military airport there, but the road route had to be experienced. From the Signals point of view, both British and American, the chosen site was the so called Teufelsberg, the Devil's Mountain. On high ground there are fewer obstructions between sender and receiver and that suits communications. The site takes its name because it was made from all the rubble created by the bombing of the city during the war.
It was in 1961 that the Berlin Wall had been built and Checkpoint Charlie was the limit of eastbound travel as far as we in the Army were concerned. It was part of one's education to see the wall and the controlled traffic moving to and fro. Our Brigade was well established and looked after. With no tourist crowds in the city one could find a place at high-grade concerts and operas without previous booking. With fine open water for sailing and spacious woodland around, relief was easily found from the built-up areas. Late in our time in Germany my wife and children followed me and my staff car by the land route to see the city. They were able to enter East Berlin and see some of the fine museums there. In retirement I was able to follow suit and it was this time that good news reached us.
In preparation for leaving the army I had made a plan that involved my widowed mother and my blind brother Nigel. We would buy a house large enough to provide groups of rooms so that we each had our 'house' for living, cooking and sleeping areas. We would be able to be as together or as separate as suited the occasion or our individual wishes. This was a time when many stately homes were being pulled down for lack of buyers. Not only were the surviving properties absurdly cheap, but fine furniture from those destroyed was not only easy to buy but an excellent investment. On the wise advice of a house agent I had given them instructions to negotiate the purchase of Southill House in Somerset for us. They took their time, measured in years rather than months, and now said that the moment to buy had arrived. We paid and the property was ours.
Southill stood on a hill above the village of Cranmore between Frome and Glastonbury with fine views over Mendip country with its diminishing forest of that name. The substantial house dated from Elizabethan times but had been radically reshaped by John Wood the Younger, the great Bath architect, around 1770. The selling of houses in Rye and Camberley took no time in our absence, back in Germany and my mother, well used to army moves, spread the furniture to the rough and ready plan that we had agreed between us.
Back in Germany our minds were much engaged with matters in England. Nevertheless we made good use of the opportunity to explore interesting country from Rheindahlen. Maastrict in Belgium was an easy drive and Venlo in Holland provided a good introduction to the bulb industry. Improvements in Signals equipment were taking place slowly but that story is best told in the book The Vital Link by Philip Warner. I had first known Philip as a civilian instructor at Sandhurst in the time I taught there and it was a pleasure to work with him and many others in giving the support that he needed.
As a closing thought before leaving Germany I turn to the subject of 'Sport'. It is important that soldiers should keep fit and for this purpose good games and athletic pursuits are encouraged. According to their skills senior officers presided over their speciality and Winter Sports came my way for those involving snow. 'Sport' in those times involved all standards in a variety of activities and there was something for everybody. Television has gradually stolen the word sport for gladiatorial performances of all kinds where those that should be taking exercise are herded into stadia and obesity becomes a national problem.
British soldiers of both sexes are adaptable and will turn their attention quickly to whatever activity is offered by the country of their military station. Much of the credit must be given to the young officers of the day who are ever ready to take the lead in encouraging enthusiasm for their own chosen sport and building good teams. Downhill racing calls for a balance of courage and judgement. In team races the whole team suffers if you fail to finish and team members do not wish to fail. The langlauf or cross-country ski races had greater military value. Teams of four faced an arduous course that included target shooting with time penalties for any target missed. Steady shooting and fast climbing demand remarkable fitness. At a later date Field Marshal Carver came out for the championships in Austria. I took him to watch activity on the shooting range. By chance the team to arrive was from a Signals Regiment I had once commanded and the four team members shot perfectly. There were no penalties. It was a proud moment but the tale must return to 1972.
Time was running out in Rheindahlen. I was formally 'Dined Out' in style by my old Regiment where Alan Yeoman was in Command. He had arrived at Sandhurst in my time there and was well on his way to becoming a Major General himself. Arrival at Southill ended more than 50 years of itinerant life, father and son 'following the drum'.
Chapter 43: Resettlement, 1971
Those leaving the Services at the retirement age of 55 can be expected to seek some employment elsewhere. Provision is made in various ways to ease the difficulties of finding appropriate jobs in the wider market. I was waiting to be resettled. We had returned to Southill to find that the establishment was running smoothly. My mother, with twenty years of movements between army quarters, knew the problems. Still there was much that she had planned that awaited our help. Meanwhile I put my name down for a course in 'Business Management' and awaited a vacancy.
There was a large coach house in the courtyard behind our house and for convenience a cottage for the coachman. This we improved and then advertised for a couple to work for us and with us, both in the house and the gardens. There was a winding drive leading up from the road to the house and beyond it an avenue of lime trees leading to a substantial walled garden. A profusion of snowdrops and daffodils lined the walk in their seasons. The garden round the house provided tennis courts and more great mature trees. We were delighted when an army Quartermaster and his wife took on the jobs offered and became close and very competent friends.
I expect that there were many like me who had given little time to considering what sort of career might suit their circumstances. I had taken over from my father on the board of Rollalong Ltd, who produced good caravans. They were also making wooden structures for working desert villages in Tunisia where oil was being extracted. This was interesting but Board meetings do not take long. When the call came I spent six weeks in London learning about business management. This was useful but did not lead to any further activity. I remember instruction on how to write an application for a job. It was important to attract attention. At a time when single-handed sailing feats were frequently in the news, the example was given of a girl whose cunning was well thought out. Her first page ended with the words 'I have rowed single-handed (turn over) across the Serpentine'. This was expected to make the recipient say 'This girl we must see'.
Fortunately for me there was a further offer of help for job seekers. I was invited to present myself before an Advisory Board in Bristol. By some means they extracted information from me that was relevant to my commercial value. I might have thought of it myself. I had many contacts with people in high places in the communications world, at a very busy time of development. A younger member of the panel asked, "Have you thought of applying to P.A. Management Consultants? Your contacts might be very useful to them." He was right. I soon found myself accepted on a two day a week basis. By chance the retiring Managing Director had been at Oundle with me, though a couple of years my senior. This may have played no part on my selection but certainly did no harm. In due course the Air Force was brought in when a retired Group Captain was added to the group. From the Navy Admiral Cassidi found that the work level fitted in well to his already busy life, so all three services were involved. A scientific civil servant friend became useful with his knowledge of Ministry workings. Others who contributed from time to time included the German General I had worked for at SHAPE and the retiring head of SHAPE Technical Centre. I was kept in interesting work until the age of seventy when I decided to retire and as ever there are more friends that we keep in touch with in various ways.
Another call on my time came from the Ski Club of Great Britain. The amateur Club had been formed in 1903 and as in other sports professionals now had to be taken into account. The International Skiing Federation was making the rules and ours had to fit theirs. Artificial ski slopes were being developed and Aviemore became a valuable resort on Scottish slopes. Chris Congleton, a baron since the age of three, led the work and I was his deputy. It was important that we looked after Scottish and Welsh interests in the solution. With the job completed he found himself President of the Club and I was his Deputy. An interesting member of the Ski Club Committee at that time was John Hunt of Everest fame.
The long and happy story of later years cannot be covered here, but one problem will be mentioned. In every country that I had worked close friendships and mutual respect came easily. Different religions were practised without conflict of any kind. Yet it is plain that there are clerical leaders who use their power in what becomes destructive activity. What should my own position be? There is certainly value in solemn practices connected with marriage and death. These are easy to accept in principle and humanity is bringing changes for the better in some areas such as marriage or the bonding of same sex partnerships.
I have close friendships with people of many nations and inevitably of several religions. Where can we rediscover the humanism of classical times and focus on healing issues on the planet that is our home. Surely this is more important than suffering now in order to achieve a possible eternal life of greater value.
Chapter 44: King Hussein of Jordan
It was now some 20 years since King Hussein had returned to Amman to assume the active role of monarchy. I had followed his career with interest to the extent of reading any information available in newspapers. I had expected no more, but all that was going to change. We attended a Buckingham Palace Garden Party and were strolling around, as one does, when a figure broke away from his own party, at the trot, and greeted us warmly. It was King Hussein. He was very much his own man and reacted naturally to his emotional feeling without bowing to decorum. This moment was the start of a very happy train of events that would last for the rest of his life.
In 1974 King Hussein's 40th birthday was to be celebrated in a grand manner. The Jordanian Embassy told me that he wished to include friends from Britain. They were notifying two named schoolfriends from Harrow. Would I choose an officer who had been amongst the cadets with him at Sandhurst and head the group?
In the event we started out on an adventure of rare quality. The function itself was a colourful display in a country with a long history. Amman itself was important more than 2000 years ago. An encyclopaedia describes it as having ruins including 'Byzantine basilica, baths, theatre, temple, etc' and that is only Amman. We were delighted to discover that a tour of the country had been planned for us after the few days of celebrations were over. The colourful events in the capital showed off a wide variety of national and tribal dress and the general festival fever gripped everyone there. I was interested to meet Crown Prince Hassan, another most impressive member of the Royal family.
Before leaving Amman we had visited Jerash, thirty miles to the north. It was a Roman city dating from 170 BC. Much of the original colonnaded stonework is still standing to induce the feeling of a delightful and prosperous caravan trade centre. Heading south there were ancient castles before reaching Petra, the secret valley developed by the Nabateians in antiquity and a great showpiece in world terms. Some days were spent at Aqaba at the southern tip of the country which was fast becoming a popular tourist resort. Returning to Amman an invitation from King Hussein enabled us all to meet him in relaxed surroundings and thank him for superlative hospitality in his fascinating kingdom.
Over the years greetings were exchanged at appropriate times and our interest and admiration increased as Jordan's great leader became firmly established as a world figure. His son, Prince Abdullah, followed in his father's footsteps and entered Sandhurst as a cadet. For the Queen's Parade, the moment of passing out from cadet to commissioned officer, King Hussein had been invited to take the salute as her representative. We were invited to attend and it was a great ceremony in bright sunshine. In the milling crowd after the parade dismissed a young cadet miraculously discovered me. It was Prince Abdullah who shook my hand saying, "I had to meet my father's Company Commander". It was another illustration of the humanity of his splendid family.
It was in April 1987 that my blind brother Nigel died sitting peacefully in his window seat at Southill. With his limited sight he had been a popular and active contributor in many ways. For us this was surely a family affair with support from the family and the many friends he had made. We were astonished therefore when a letter from King Hussein was delivered, saying how sorry he was to learn of our loss and perhaps Sheelah and I would welcome the opportunity to visit Jordan together as his guests. A decision was easily made and we set forth on the happiest expedition imaginable.
From leaving our house to delivery back there some weeks later, everything had been arranged in detail. A chauffeur arrived to take us to our flight and Jordan Airways delivered us to Amman where VIP organisation passed us through to a Mercedes with a Warrant Officer driver who was to be ours for the duration. The programme for our stay was revealed at our hotel. Our travels were comprehensive but there is little room for a travelogue. Amman itself is full of interest as are the desert castles to the east. Jerash has been mentioned and the Dead Sea was easily visited. Wherever we travelled meals and accommodation had been arranged in advance. In the springtime countryside there was a profusion of wild anemones and other flowers amongst the trees.
Petra is a fabled place of world renown with its apparently classical buildings hewn out of the native rock. Similar stepped stairways lead up through the mountains to dramatic viewpoints. Akaba, the important harbour in the south, had developed into a fine seaside resort, well adapted for shipping and as a holiday resort. Back in Amman we were shown round the fine Arab stables by one of his twin daughters. Finally we were able to see King Hussein and thank him for the great kindness that we had met in all our travels.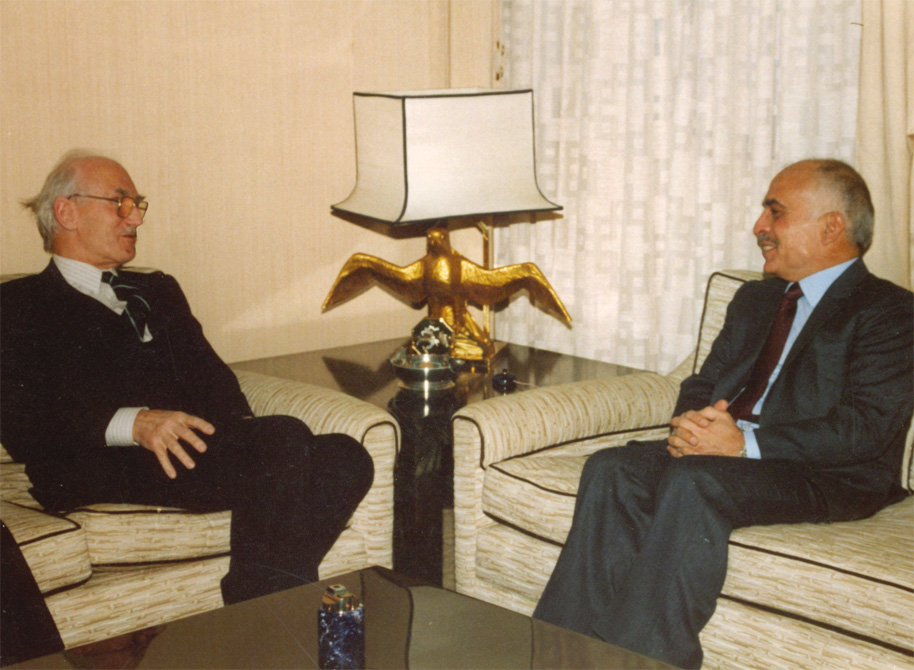 My final meeting with King Hussein took place at a Defence Council Dinner in London. His priorities had not changed. The important heads of the Services and others were lined up to be presented to the King. He happened to look round and saw me amongst those of us watching the ceremony. True to form he broke away from the great men to join the spectators, shake my hand and say how glad he was to see me there.
Dinner ended he was leaving the hall with the top table group when he broke away once again to say his farewells to me. A diplomat who was watching thanked me, tongue-in-cheek, for saving the Middle East for Britain. The king and I were not to meet again but the story does not end there. Amongst other exchanges was a letter in 1996.
'Dear Sir, It gives me great pleasure to write and congratulate you on the occasion of your forthcoming 80th birthday on December 17th 1996.
I wish you a very happy birthday and - although I am not able to personally celebrate with you - please know that you are in my thoughts on this happy day.
Sir, Noor joins me in sending you and your family our very best wishes and warmest personal regards.'
King Hussein was to die of cancer in his prime two years later in February 1999. King of a small country he had played a full part on the world stage. It was a great honour, pleasure and education to have served him. Humanity was an important part of his nature. I try to follow his example.
Appendix A: F. J. M. Stratton
Chief Signal Officer Extraordinary 1914-1918
Stratton was a Cambridge Professor of Astrophysics who had raised his own territorial unit before the war and brought it out to France. He became responsible for all the communications of Nineteenth Corps in the Ypres salient with the rank of Lt Colonel when preparations were being made for the great Passchendaele battle.
Military communications have never been so complex, before or since. In the back areas there was hardly a field without a route of 40 to 100 telephone lines running through it on hop poles. Lines ran in vast networks between this centre and that, little huts or dugouts where parties of linemen worked day and night at great terminal boards. They checked, tested and changed wires as one after another route was cut by shell fire. The complexity continued in the forward areas. Overhead wires were replaced by bundles of multicore cables buried deep in the ground. Cables ran from signal dugout to signal dugout each of which was in turn connected to scores of gun batteries, infantry brigades, dressing stations, ammunition dumps and sound ranging stations.
Complicated and ever-changing records were kept at Corps Headquarters, but Stratton seemed to have in his head the routing of every line in this vast system. Each day some arterial route would be cut, and always a short jet of soft, barely audible orders quickly came from this astonishing professor, providing an alternative communications route. Even on the eve of the big battle, when the bombardment had cut most of the main lines and when many of the linemen had been killed by mustard gas, Stratton remained calm. His plans for an elaborate makeshift were developed in a minute, without looking at any records…
For five days army headquarters lost all touch with its Corps Commanders. The Corps Commanders also lost touch with their Divisions. Our own headquarters was moving back once or twice a day. Stratton managed not only to maintain contact with our Divisions but collected all the other lost Divisions in the Fifth Army.
The final tribute from Ralph Bagnold is an unusual one.
On the morning of the fifth day of the battle I was occupying the middle compartment of a three-door canvas loo when the Corps Commander, General Watts himself, entered the neighbouring loo while his Chief of Staff settled one the other side. Not knowing I was there, they continued their conversation. The Chief of Staff said, "I can't understand that little man. I am told Stratton has had no sleep for four nights, yet he's as chirpy as ever and has a better detailed knowledge of what is happening than I have. He knows just where everybody is and has everything at his fingertips." "Yes", said Watts, "if he had chosen to be a soldier instead of an astronomer, he'd have made a better commander than any of us. But I wish he wouldn't talk quite so fast. At least he does repeat everything twice."
Postscript
After the war it was Stratton who stressed the value of a University education for officers of Engineers and Signals and Ralph Bagnold himself was one of the earliest of the group to benefit, going to Corpus Christi College, Cambridge, Stratton's own College.
Source: Sand, Wind, and War - R.A.Bagnold
Appendix B: The Kohima Weekends, 1957-2000
Kohima, on the borders of India in a corner of Assam, gives its name to a great and decisive battle fought and won against the Japanese in 1944. John Colvin gives a graphic description in his book Not Ordinary Men - The Battle of Kohima Assessed. At this stage in the war Army/Air Force co-operation had reached its highest level. Troops on the ground relied absolutely on the supply from the air of all commodities.
I did not take part in the battle. In the retreat of 1942 we had crossed the Chindwin to Kalewa, followed the track which was being completed to Tamu, over the Shenam heights and into the Imphal plain where the 23rd Indian Division was to be the stop for the Japanese over the monsoon which was breaking and beyond. I was commanding what there was of General Slim's Corps Signals.
After a few days we took the primitive road which led from Imphal to Dimapur, the railhead. Much of it was single track as whole portions slid down the unstable mountainside requiring a new section to be engineered. We had a long wait at one point, which was explained when General Wavell and his escort drove through southwards to see the continuing arrival of Burma survivors ending their long journey.
As we climbed we entered the magically beautiful mountainous area of Kohima. There was attractive bird life and strings of butterflies appeared in separate follow-my-leader groups. The few Naga tribesmen that we saw seemed to be garbed mainly in blue and red beads. All in all, after the travails of our journey this all seemed a heaven on earth.
I next saw Kohima in 1944 two or three months after the battle. 23 Indian Division, which I was with, had been driving the Japanese off the Shenam heights and back towards Tamu and the Chindwin. It had been a contact Division for two and a half years and was being withdrawn for a period of rest. We passed through Kohima, which then looked like photos of the war torn Flanders of 1918 with cruelly misshapen remnants of trees and a predominant impression of muddy hillside rather than burgeoning vegetation.
The 2nd Division provided the British contribution to the battle and this was the link for me between the early and the later part of this tale. In 1956 I was appointed to command the Signal Regiment of the 2nd Division in Germany, initially in Hilden near Düsseldorf and later in Bünde. Early on I noted that the Royal Engineers had provided the first Signals provision on the strength of the Division in 1907. 1957 would therefore be a 50th Anniversary year, which deserved celebration - something to brighten the routine for all but particularly for our National Service element. This would also give an opportunity to highlight the importance of the regiment in one of the great battles of the war. Signals Regiments do not have 'battle honours' as they commonly serve through whole campaigns, but this unit's moment of glory occupied a few terrible weeks after long training involving in particular preparation for Combined Operations. Camaraderie within the Division was particularly strong and this was to lead to unexpected developments in the event which we called the 'Kohima Weekend' in the summer of 1957. The Divisional Commander presented us with silver Crossed Keys, the Divisional sign, and we acquired the Kohima Bowl, a piece of modern silver. Later generations surmised that this represented a Japanese helmet, but this is not so.
I ran three such events and, with one small lapse, it has continued and is still going on 40 years later.
As time went by other Arms learned of the event and their veterans were allowed to join in. Divisional Headquarters took part with growing interest and gradually, particularly after the move of the Division to York, the weekend became a meeting for the Veterans of all Arms who had fought in the battle. There had long been an Officers Dinner Club, which continued its own functions but soon played a major part in all the York reunions. The Signal Regiment continued to carry out all the work involved in mounting the meetings. In a way this was a cause of regret as the new arrangement meant more work and less fun for the serving soldiers of the day. However, after seeing the enjoyment of the Veterans and meeting them during the ceremonies, few can have failed to feel rewarded for their efforts.
One of the contributions made by the Veteran organisations was, with the agreement of the Minster authorities, to reinstate part of the remaining stonework of the ruined cloister to the east of the Minster and to erect there a smaller copy of the memorial at Kohima itself. This was dedicated in the presence of the Queen Mother on a brilliantly fine Sunday. The ceremonial part of the present weekends involves an open air service and wreath laying at the memorial followed by forming up on the road at the eastern end of the gardens and a march past, led by a squadron of serving soldiers with the salute taken from the steps at the southern side of the Minster. Tourists and residents clap as the old men march by and they deserve it. After the 'eyes right' the march continues round the Minster and gives an 'eyes left' at the Memorial itself to complete the ceremony. Several of the participants are very lame but they fight their way round with the same determination that they showed in the battle itself, paying honour to their comrades who did not survive the battle and the many other comrades who have died since. The result of our effort 40 years ago is a valuable Signals contribution to many gallant men.
---